Even though hard drives are the best to store files, photos, and other data. With time and usage, there are possibilities of it being corrupt, resulting in data loss. Moreover, this is not the only way one can lose data. You might delete your important data accidentally.
If you've recently deleted photos from your PC or cleaned the Recycle Bin, you're probably wondering if there's a way to recover recently deleted photos on PC, right?
Don't worry, fortunately, there's a way to get back recently deleted photos. This troubleshooting guide will help learn the most effective way to find and recover recently deleted photos on PC and Android.
So, without any further ado, let us learn how to find recently deleted photos.
Common Causes for Losing Photos
There can be several reasons for missing photos. Here we will list the most common ones:
Emptying the Recycle Bin
The first and most common cause for permanently deleting data is emptying the recycle bin. Several users can make space on the system to delete data from the Recycle Bin without cross-checking. In case the user doesn't do that then, the 30 day empty Recycle Bin (if enabled) automatically works. This certainly helps save storage space but the photos that could be recovered are now permanently gone.
That is why before emptying the Recycle Bin make sure it has no important data.
Using Shift + Delete command
To avoid filling the Recycle Bin with some users, use the "Shift + Delete" command. This permanently removes photos, and the only option to get back deleted photos is to use an image recovery tool.
Virus Attack
Another common cause is a virus attack.
How to Recover Recently Deleted Photos
Like most users, if you are using a cloud storage service to back up photos, you are saved. However, if that is not the case and the Recycle Bin is also empty the only way to get back recently deleted photos is to use a recovery tool.
Easiest Way: To Recover Recently Deleted Photos – Photos Recovery
The best and most effective way to find, see and recover recent and deleted photos are to use Photos Recovery.
Developed by Systweak, this tool is the most accurate way to recover deleted images. To use it all you need to do is download and install the tool > select the drive that you wish to scan > select Scan mode and run the scan.
To learn more about how to use Photo Recovery to restore recently deleted images here is the complete review of Systweak Photo Recovery software.


Uncertain Ways to Get Lost Pictures from Computer
Don't want to use the third-party software, but want to try getting back recently deleted pictures? Try these ways. In case this doesn't work then you will have to use a photo recovery tool.
Method 1: Restoring Recently Deleted Photos from File History
If you keep a backup of your photos, then you can use the backup to restore recently deleted photos from the backup. This backup can be a Cloud storage backup, external hard drive backup, or File History.
Wondering what File History is? Well, File History is a great feature added in Windows 8 and 10. It automatically takes a backup of photos, videos, and other data, this makes restoring files easy.  To use it, follow these steps:
Step 1 Go to the folder from where photos were deleted.
Step 2 Next, in Windows search type "File History" > choose "Restore your files with File History" from search results.
Step 3 Thereafter, search for the photos you want to recover. In addition to this, you can view all the folder backup versions. Once the desired photos are located, select photos > click the "Green" restore button.
Step 4 If you get a dialog box to replace or skip files select "Replace the file in the destination" & recover the deleted files.
However, if you have not enabled File History, then you can use the Quick Scan option of Photos Recovery. It will help recover recently deleted photos from your PC.
Method 2: Recover My Deleted Photos from Previous Versions
Another way to recover recently deleted photos is via the Previous Versions option.
To use follow these steps
1. Right-click the folder from where the photos are deleted > "Restore Previous Versions".
2. You will now see the "Recover folder" option. In case you don't see it go to the Control Panel click "System & Security" > "System" > "System Protection" enable it.
3. Afterward, choose a particular drive and then, tap on "Configure".
4. Next click "Restore system settings and Previous Versions of files" > "Ok". You will then see "Recover file" option.
Using these steps, you can recover permanently deleted pictures from your PC.
Note:- Previous Versions on PC are copies of folders or files that are created by Windows PC Backup. Furthermore, most of the time when users try to recover files using Previous Versions, they find nothing. But, you can try out this way as maybe it works for you. Alternatively can give Photos Recovery a try.
How to recover recently deleted photos from Recycle Bin and PC using Photo Recovery
To find recently deleted photos follow these steps:
Download Systweak Photos Recovery
1. Download and install Photos Recovery
2. Launch Photos Recovery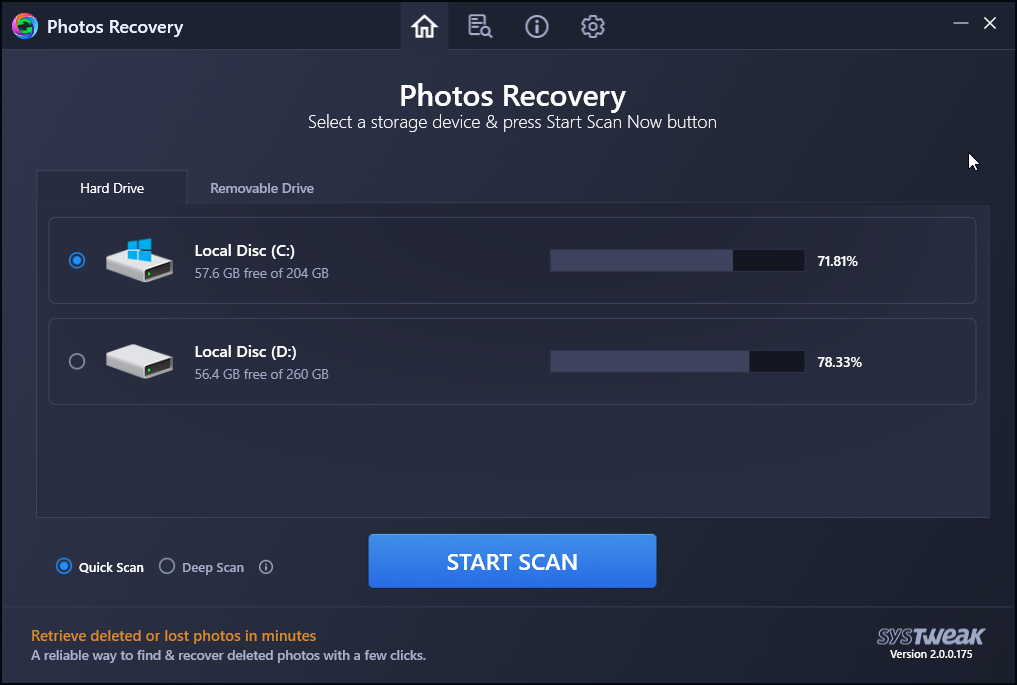 3. Select the drive that you wish to scan for deleted GIF photos
4. Choose the scan mode> START SCAN
5. Wait for the scanning to finish

6. Preview recently deleted photos > select the ones you want to restore > Recover
7. Browse to the location where you want to save recovered photos > Recover
8. Wait for the recovery to finish
That's it, using these simple steps using Photos Recovery, you can get back recently deleted photos.
Conclusion:
We hope you got the answer for how to recover recently deleted photos from the PC. Using either of the steps explained above, you can restore deleted photos. If you are looking for our recommendation, we suggest using Photos Recovery, the best image recovery tool for Windows and Android. Using this photo recovery software, you can easily retrieve recently deleted pictures. Do share your feedback and suggestions if any in the comments below.