Irrespective of the file type you have lost, recovery is one of the most useful features one can opt for. From your precious iPad to the personal computer, data can be lost from anywhere & then you start looking for recovery software (that are actually equal-to-indefinite in the market right now).
Out of those lost docs, text files, photos, & videos, you try to recover as many as possible, however, tools have limitations. Plus you need to start prioritizing the files you wish to recover because docs are something that you might already have on your emails as an attachment. So recovering docs would be a waste of time as well as free MBs you have received for recovering.
One of the most important types of files you can recover is Photos that cover most of the storage on your device. From auto-downloading photos from WhatsApp (Wi-Fi) to sharing millions of pictures on social media platforms, your device is flooded with photos. Though many of them aren't of any use but when you lose them accidentally, you try to recover all of those pictures.
Losing Photos From Your Device & Recovering Them
The thought of losing memorable moments captured in photos gives me chills & I start thinking about keeping them safe. Now there can be as many ways as you can imagine to save your photos from losing including keeping them in a hard drive or cloud storage. However, the main question is here, what are the ways you can lose your precious photos?
Let me tell you there can be many reasons one can lose images & once they are lost, the feeling is not at all good & all you want is, get those photos back.
Reasons Why Your Photos Gets Deleted Lost
Few of the major reasons you can lose your precious images are as mentioned below:
Accidentally deleting individual pictures or the entire folder
Virus & malware attacks
No backup
Hard drive or SD Card corruption
Intentional or unintentional formatting
Removing the hard drive in rough manner or improperly
Power cut while transferring photos from one device to another
Above aren't the only reasons one can lose photos but yeah, the major ones are listed above. So be a bit careful while transferring or saving photos. And still if you lose your precious photos, using a software to recovery photos is the best bet. But, is it safe to use photos recovery software?
Is it safe to use free photo recovery software?
Are you sure the free photos recovery software will recover photos from the system as it is?
Will a free photos recovery software be able to recover photos from external hard drives or corrupted hard drives?
When you will start thinking about opting for a photos recovery software, these and many more questions will cross your mind. Moreover, unless we lose our data once, we do not take care of it or create a backup. So obviously, if this is the first time you have lost your photos, there is no backup to retrieve the photos from.
Do You Really Need Photos That Bad?
Photos are quite an integral part of our lives as we capture our best & worst moments in them. But when we lose those moments for different reasons, it's like an important part is lost. And yeah, you will do almost anything to get those photos back because only you know its significance.
But to get back those photos, you cannot opt for something that will jeopardize your whole system. For example, downloading & installing a FREE photos recovery software that might make things worse & instead of recovering, deletes those photos permanently or corrupts the system throwing you out of it.
That is why the question, do you really need photos that bad? And if your answer is YES we strongly believe that you should always opt for premium photos recovery software as they come with a recovery guarantee & keep the security aspect on the top.
There are many differences between a paid & free photos recovery software, however, we have pointed out a few in the below table:
| Aspect | Free Photos Recovery Software | Premium Photos Recovery Software |
| --- | --- | --- |
| Data Confidentiality | No | Yes |
| Data Integrity | No | Yes |
| Guaranteed Recovery | No | Yes |
| Thoroughly Scanning | No | Yes |
| Recovery Storage Size | Limited | Unlimited |
Now, that we know you will be making many compromises if you wish to go with free photos recovery software, it's advised not to access the same. Plus, photos recovery is something that would require images to get back in the same condition but there is a probability image quality can go haywire with free photos recovery software. So, choosing a premium photo recovery software is a safe way to get those deleted images back. And this is where we have got just the right tool for you. It offers top notch security features & lets you recover photos flawlessly Systweak Photos Recovery.
Systweak Photos Recovery & How It Works
Considered as one of the best & effective tools to recover your precious photos, Systweak Photos Recovery is there to help get your photos back. From the situations where your accidentally deleted photos or formatted the whole drive, recovery of photos is possible with this tool. Moreover, if photos have been deleted from external storage drives as well (memory card/USB flash drive), Systweak Photos Recovery can still recover those digital images. Now that the tool has been talked so high of, it's time we explore the rich features to know if it's worth our time:
1. Home Page
Since Systweak Photos Recovery tool is fully compatible with Windows OS, let's start with downloading the tool on your PC. Post the successfully downloading, let the installation process complete & launch the Photos Recovery tool. Once launched, the very first view you will see will be the homepage of Systweak Photos Recovery tool.
Download Systweak Photos Recovery tool
Things are self-explanatory, however, you need to choose the drive from either of the tabs (Hard Drive or Removable Device) that you wish to be scanned. Please know whatever drive you select must be the same one from where your photos got lost. That's why the tool is scanning the specific path to the flawless recovery of photos.
Additionally, if you look down nearby Start Scan Now, the scanning method selection also matters in between Deep & Quick Scan.
For example, in this case, I selected Windows C drive with the quick scanning method & tapped on Start Scan Now.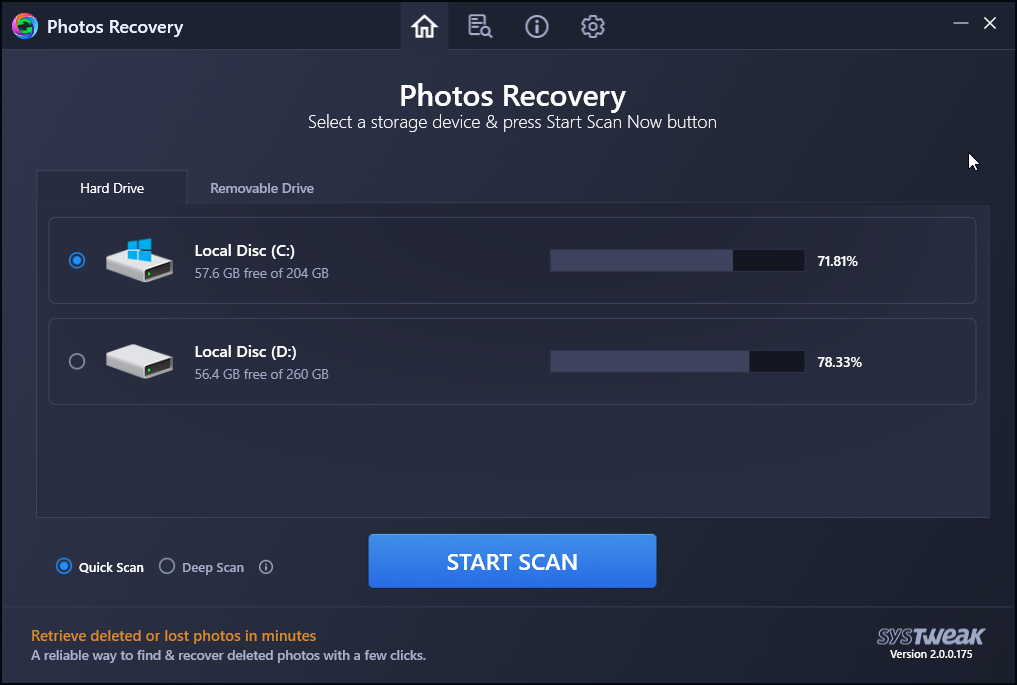 2. Search Results
Post selecting the path & scanning method, Photos Recovery starts looking for all the files in that selected location as well as the deleted photos. Since this is a quick scan, the scanning will be completed within a few seconds.
Once the scanning has been completed, the results might shock you. Maybe it's high time to get those photos back with additional ones that I don't remember at all.
3. To Be Recovered
After the scanning process to find the deleted photos is over, you will have all the information in front of you in a list view. To change the view you can click on Tree View, this is like the Windows File Explorer.
From here you can click on each photo to see the preview or can simply click Recover to get all the identified deleted photos back. Alternatively, you can also select individual photos.
Just below the preview you will be able to see all the details about the deleted picture. Since you are using a premium service photos recovery software, the quality of the recovered photos won't be compromised.
4. Settings
Now that you are extremely happy with the results from this powerful photo recovery software, let's check out the Settings section. In case you want to make a few changes to customize the tool as per your need, tap on the gear icon.
This will open Settings window for you. When you tap on Settings from the list, the above page will open up where you can make changes into General as well as Filter Options in the tool. For example, General Settings include Photo Recovery launching as well as display control with the language selection feature.
Whereas, Filter Options is a bit deeper because results are something everyone measures a tool's success to. So when you tap on Filter Options, there will be two sections. Scan Method where you have the liberty to put in the minimum & maximum size of the photos that you wish to recover. It's more like a criteria you use to narrow down the results & set limits on image size.
Another section, Scan Option asks you if you want to add only the common image forms (jpeg, jpg, bmp etc.) or the other ones as well. Because there are hundreds of image forms we don't have any idea about & it might happen that whichever photo you wish to recover can have one of those rare image types.
This is how this effective photo recovery tool covers each & every aspect to recover your photos successfully, from internal & external drives, deep & quick scanning, to recovering different types of images, Systweak Photos Recovery is your solution to recover photos flawlessly.
Wrapping Up
There are many ways one can lose photos, however, there aren't the same number of ways to recover those photos. Plus, while selecting those photos recovery tools, you need to be extra careful because some tools can literally put your security in a questionable condition. So do your research & start using tools like Systweak Photos Recovery. It lets you retrieve all types of image files deleted accidentally or lost from your PC and other storage devices.
Next Read
How to Store All Your Photos and Videos on the Cloud
How To Recover Deleted Photos From iPhone