Best Deleted Photo Recovery Apps to recover deleted photos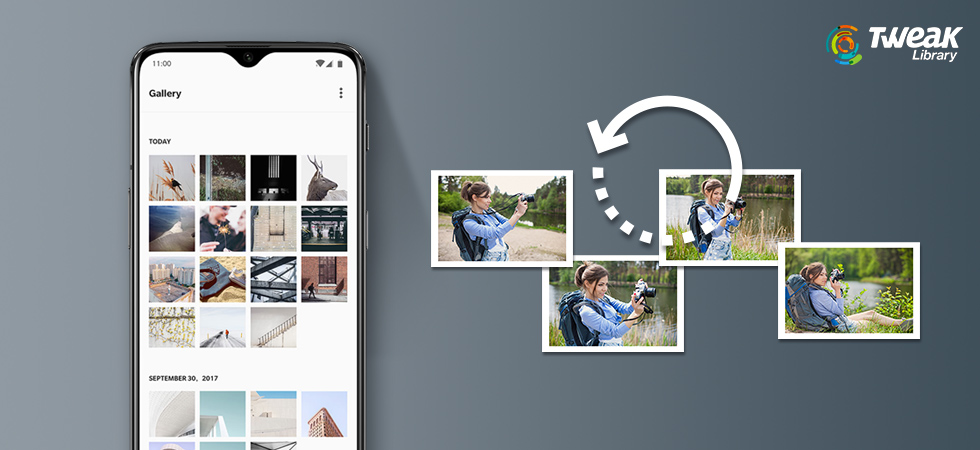 Ever encountered a situation where you were just playing with your Android device and suddenly an image or multiple photos were accidentally deleted? Fear not, recovering such photos is made simple with these photo recovery apps. The state-of-the-art apps that we enlist below will help get your deleted images back from SD card, digital cameras, and hard drive.
How photos get deleted from your Android phone?
Before we move ahead and learn about these top photo recovery apps and software, we need to first understand what caused photo deletion:
Suddenly detaching the memory card
Corrupt memory card or formatting error
Power failure while copying files
Virus attack that damaged images
Accidentally deleting photos or other files
Consecutive photo clicks without noticing memory full and low battery warnings
Now that you know some of the common reasons responsible for photos getting deleted. Let's read further to know how to recover deleted photos from Android.
How to recover deleted photos from Android?
Unlike Windows or Mac, Android does not have a Recycle Bin/Trash that you can use to recover deleted photos from. But this doesn't mean there is no way to restore deleted photos. Recovering deleted photos from Android Gallery or any other location is very easy. For this, you need third-party tools and keep certain key points in mind as they will help recover permanently deleted photos.
1. Avoid using the Android phone from which data is being data.
2. Use the best photo recovery app to restore deleted photos.
Here we will help you understand how to recover deleted photos from Android internal and external storage. Mostly, you will need a PC to perform Android photo recovery.
How deleted photos are recovered?
The reason why permanently deleted photos from Android can be recovered is that the images aren't actually deleted. What actually happens is deleted photos stop appearing in Gallery, but they exist in-memory storage that is marked unused for new data to write. Once new data is written on the location where deleted photos are, images become unrecoverable.
That's using the phone before recovering deleted data is not recommended.  As any operation like downloading a file, installing a new app, clicking pictures, etc. can reduce the chances of data recovery.
The best way to recover deleted photos is to use deleted photo recovery apps.
Here we enlist best-deleted photo recovery apps:
1. PhoneRescue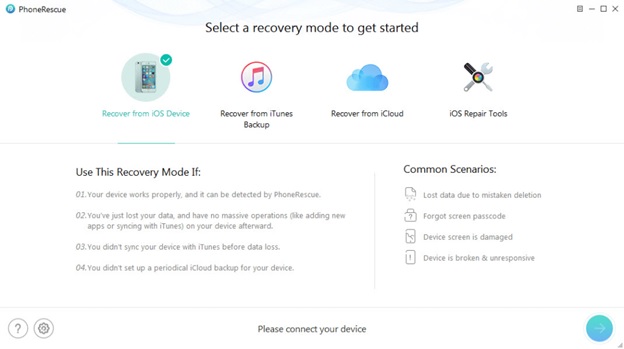 Reliable Android photo recovery tool that will help to retrieve your captured special moments. To use this comprehensive data recovery app you will install it on your PC or Mac whatever device you are using. Once installed connect your Android device to start recovering deleted photos from your Android. This incredible tool not only recovers photos but will also help to restore other data in few clicks.
PhoneRescue is simple yet a brilliant app that helps to recover most valued data. The tool is empowered with advanced data analysis and processing technologies this means you can scan and recover a major amount of your data.
Moreover, PhoneRescue will give you full control over your data. You can choose which files you would want to recover and to skip. Also, you can decide where you want recovered photos to restore – phone or computer.
2. Wondershare Dr. Fone – Recover for Android – easy photo recovery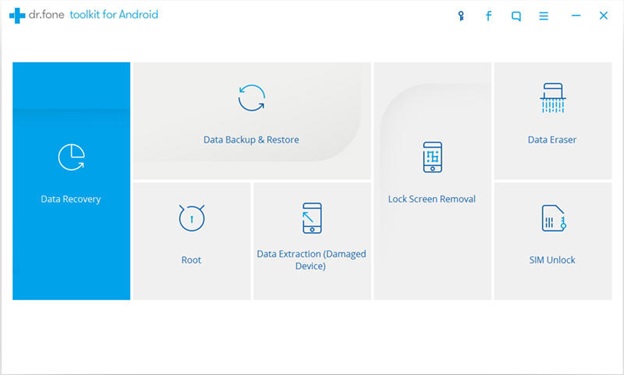 Dr. Fone is a well-known name in data recovery apps market. It's Android Data Recovery tool is amazing and is integrated with Android data scanning technologies. This tool lets you recover and restore lost photos, message, WhatsApp music, video and more.
No matter how you lost the photos, Android Data Recovery tool will help you recover photos even in adverse scenarios like broken Samsung phone, etc. This app can be used on over 6000+ devices to recover permanently deleted photos.
Recovering photos using this photo recovery app is simple, you just need to connect your Android device to the PC and let the software run a scan. Once the scan is finished you can view scan results and select files to recover. If you want to run a scan only on the internal memory, select internal storage from the two scan modes provided by the application.
3. EaseUS MobiSaver for Android – recover lost photos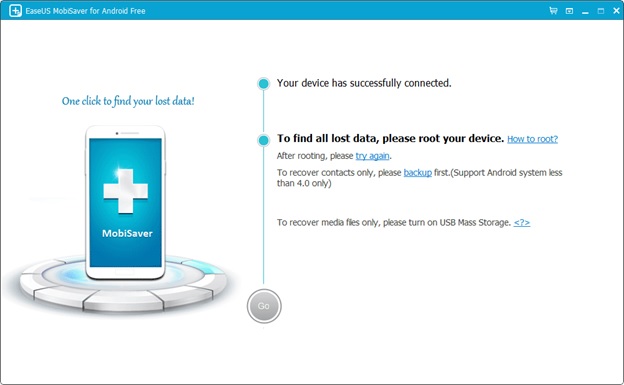 This one is the easiest of all Android photo recovery software. It helps to recover deleted photos and other data in three simple steps. MobiSaver sends a real-time notice about the data recovery to track changes to your data. In addition to this, the application shows a preview of the scanned file so that the user can check the recovery quality and then can decide if want to recover deleted photos or not.
MobiSave is designed to recover deleted photos and other data it doesn't take long to run a scan for deleted data.
4. DiskDigger Photo Recovery App – restore deleted photos from both internal and external storage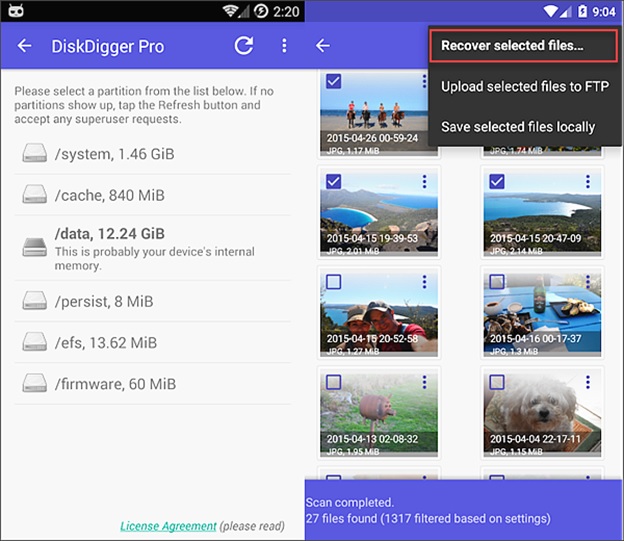 Finding an excellent app that will help you recover deleted photos from Android isn't easy. Hence, here we are with our first recover deleted pictures app. DiskDigger is an app that will help you recover images from internal and external memory. Besides, you don't need to root your device to use this photo recovery app (on a non-rooted device, DiskDigger will be able to recover a limited number of deleted photos.) To recovery full-resolution original images you will need to root your Android device.
DiskDigger for Android offers two scan modes to undelete photos. If the photos have been recently deleted DiskDiffer will help you recover them.
To restore deleted photos, you can either perform a Basic Scan or perform a full scan.
Full scan is a thorough scan that function if you are using a rooted device.
Moreover, you get a result preview window to select images you wish to recover. If you are unable to select an image it means it cannot be recovered. You can filter files based on date, file size, and name.
Note: Never recover files on the same device or drive as this minimizes the chances of data recovery. Also, be careful with Disk Digger's clean up feature as this will delete all the data stored on your phone.
5. Dumpster – photo recovery app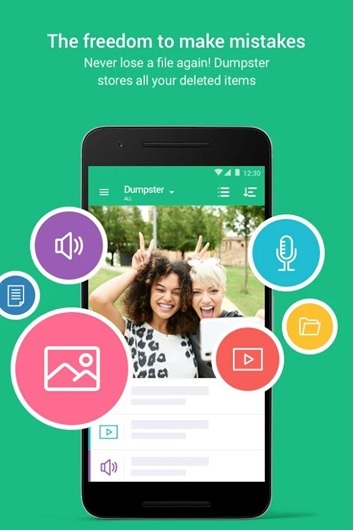 Losing photos is the biggest nightmare, if it comes to true we get disturbed. Therefore we should use backup tools to save our data. For this, you can try and use Right Backup Anywhere a cloud backup solution.
However, if you don't have a back then you have dumpster a photo recovery app that will help you recover and restore your videos and pictures.
This versatile Android photo recovery app works exactly like a recycle bin. Once the app is downloaded it automatically take a backup of deleted data allowing you to undelete photos, videos and restore them.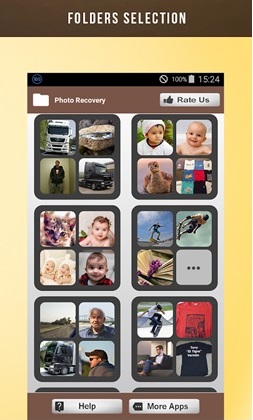 This deleted photo recovery app lets you recover deleted images from phone and external storage. Recovered images are restored to the gallery. Scanning time taken by the app depends upon on the number of deleted data.
After installing the application you need to run a scan to identify deleted photos. Once the scan is finished, choose the files you wish to recover and that's it.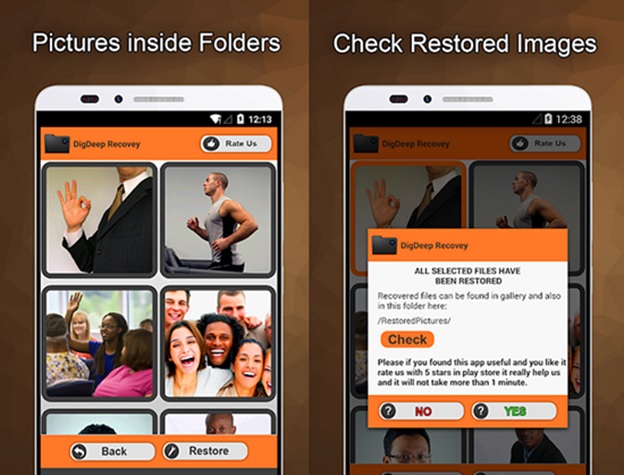 As the name suggests this Android photo recovery app digs deep to search for deleted photos. It scans both internal and external memory. Initially, the app scans files and folders for deleted images. Once the scan is finished users see a new screen with folders having deleted pictures. You can select the images you wish to recover.
Wrapping Up
You have just come across a list of top photo recovery app and software that you can use to restore deleted pictures. Now all you need to do is select the app or software of your choice and start recovering deleted photos.