Table of Contents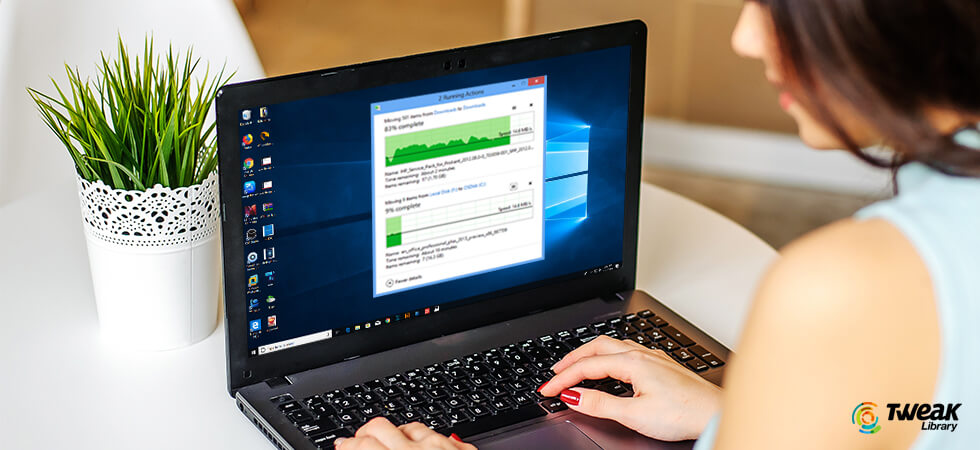 While using Windows 10, copying and pasting files is the most common task performed by both professionals and individuals. But sometimes it becomes tedious. Hence, here we list the Windows native copy and paste program that you can download on Windows 10 system. Whether you are copying or moving small data or large chunks of data there is a File Copy Utility Software for it.
These third-party file copying and moving software available in the market helps in copying at a fast file transfer speed. Plus, they provide other functionalities too.
6 Best File Copy Software For Windows 10, 8, 7
After extensive research, we selected 5 best copy utility software that is rich in features and helps in transferring files at fast speed. You can use any one of this software as per your need.
Here are our top 5 picks for fastest file copy utility software:
1. EaseUS Disk Copy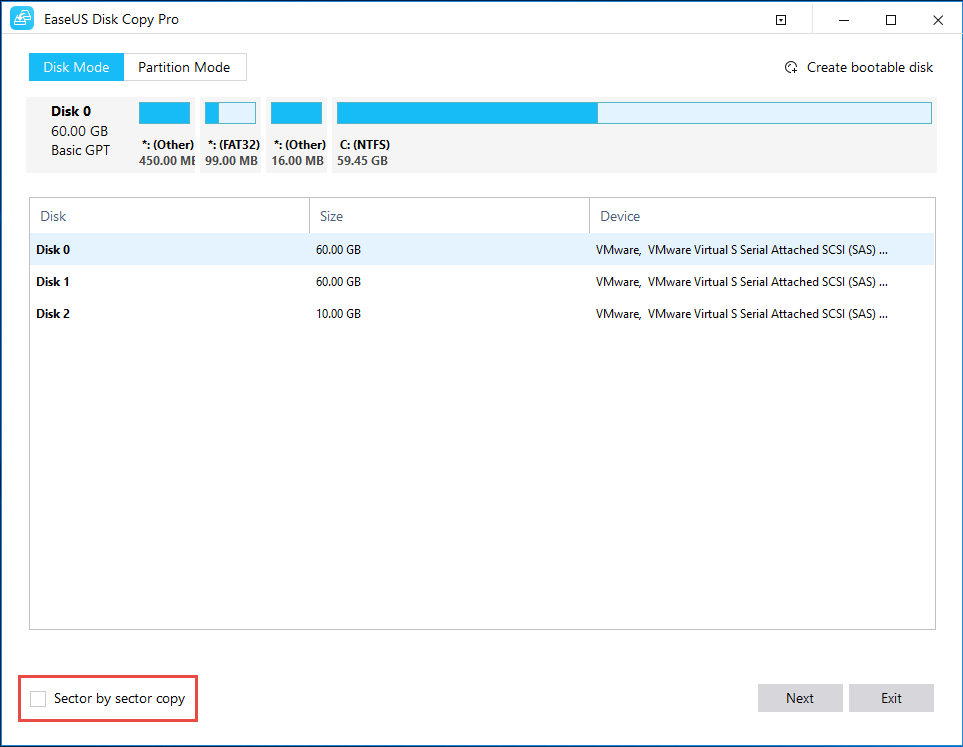 Want to restore lost data? Calm down when you have EaseUS Disk Copy there's nothing to worry. This is one of the best file copy utility software that makes an identical copy of data in 3 simple steps. Using EaseUS Disk Copy is very easy. Simply select a source disk > connect the target disk > and click to clone. You are all set. 
EaseUS Disk Copy provides sector by sector partition clone irrespective of the operating system, file systems, etc. This means you will never lose your original data while cloning. Moreover, using this copy utility software you can upgrade your hard drive, copy anything from old drive including deleted, inaccessible and lost data.  
This excellent copy utility tool comes in two versions: 
EaseUS Disk Copy Home Edition for home & personal system.
EaseUs Disk Copy Technician Edition for business users. 
This one is a worth trying disk cloning utility.  
Get it from here. 
How does a disk cloning tool help? 
Disk cloning tools help to upgrade hard drive. This means if you are running a disk with less space you can easily switch to one with more space and make room for more data. 
It helps to boost system speed: where an old disk can slow down the PC a new disk can speed up the computer. Moreover, you can clone a hard drive on Sold State Drive (SSD) to speed up your PC. 
2. Teracopy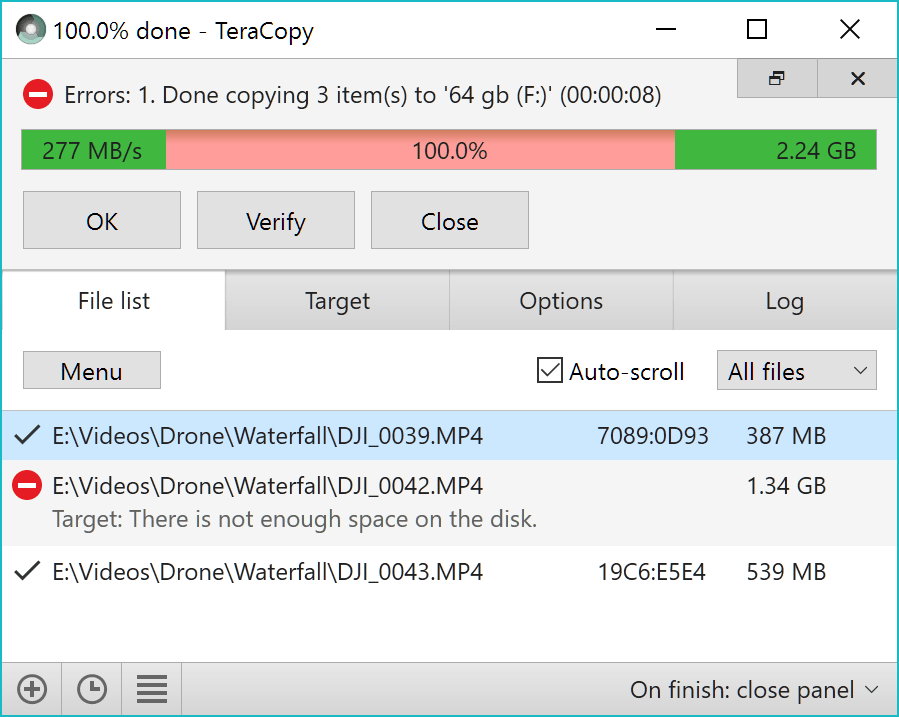 Teracopy is one of the fastest tools to copy files from one location to another. This copy utility tool is free to use and can resume broken file transfer. Plus, it skips files that cannot be copied. However, before skipping the files it will try to copy them. In case the file is non-transferable only then it will be skipped.  This help to continue copy operation without termination.
Moreover, users can skip file copy of unnecessary files to reduce copy time. Teracopy shows detected errors during the copy operation, allowing the user to recopy files that aren't copied. To prevent unwanted copying of files, Teracopy confirms drag and drop operation. You can also view the history to know about recently used folders and directory. Teracopy also shows folders that are opened.
In addition to this, Teracopy waits for network and device reconnection, to avoid operation termination.
Get it from here
3. FastCopy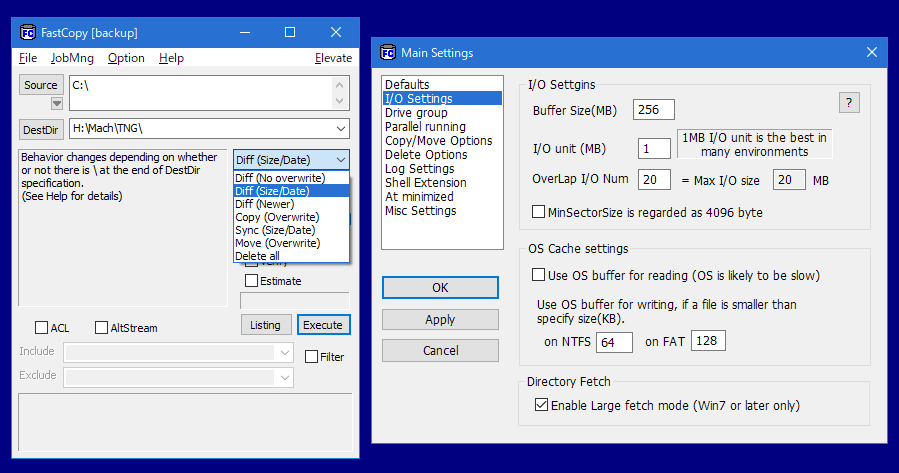 FastCopy is another free to use and open source file copy software. It is a portable software that can transfer files and folders at high speed. This open-source copy utility is available for both 32- and 64-bit Windows and works on all versions of Windows.
FastCopy, a fast file transfer software comes with a nice interface that makes copying files and directory easy. This software is faster than the native Windows copy utility software. Also, using it is very simple, by selecting the source directory and destination directory from the main window you can easily use Fastcopy software to transfer files on Windows 10 system.
Get it from here
4. Copy Handler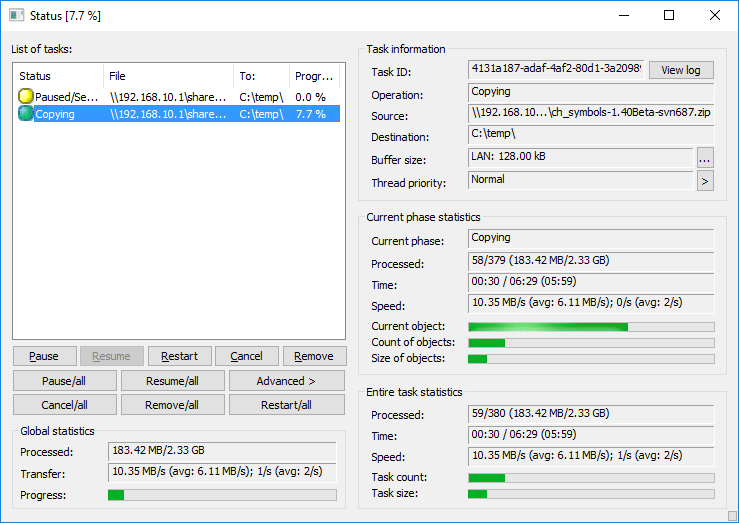 Copy Handler third on our list of best file copy utility software for Windows 10 is free to use. It is an open-source, feature-rich file copy utility software that is faster than native Windows copying software. It contains various additional features like pause, resume, restart, and cancel. Copy Handler is capable of resuming interrupted copy operation with auto-shutdown function when the task is finished. Users get to see details of the currently running task like filename, priority, files processed, sized, buffer size, current and average speed, the time elapsed, estimated time left, status, average and current speed.
Get it from here
5. UltraCopier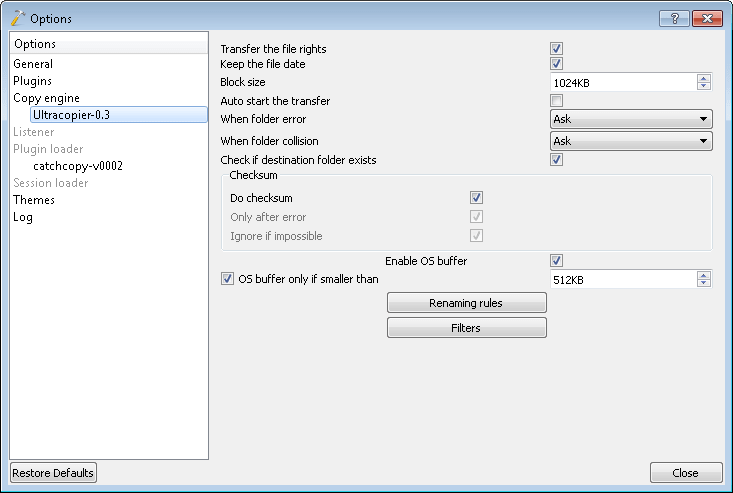 UltraCopier is another open-source, best file copy utility software for Windows. It has resume functionality, this means you can restart the file transfer from disconnected drives. It also gives you detailed information about the error while copying the files.
Using UltraCopier multiple copies and paste operations can be performed on Windows 10 system. It creates a queue for easy completion of the task. Copy and paste operations can be reordered, paused and resumed at any time on Windows 10 system.
Get it from here
Also read: Best File Sharing Software's for Windows
6. ExtremeCopy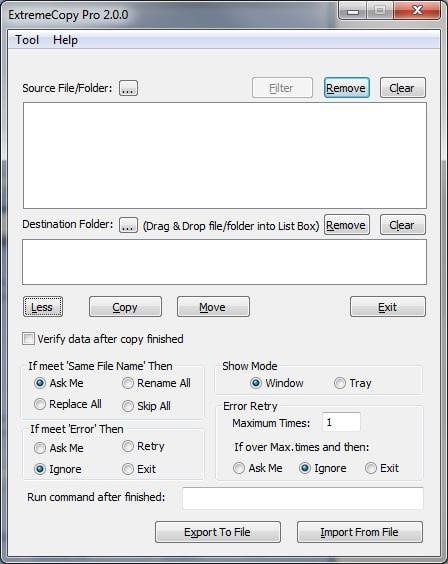 Extreme copy another fast file transfer software that will make copying and pasting operation very easy. You can directly select ExtremeCopy as it will be integrated into the Windows itself. Allowing you to copy and paste files without opening the program. Extreme copy provides different options like what action to perform, what errors occur, or if there are files with the same name. 
ExtremeCopy is available in pro and standard version.
Standard Edition Features:
•    Speed is fast
•    Verification of data after copying is done.
•    Seamlessly integrated into Windows.
•    Easily Controllable
•    Support Multiple Languages
•    Free for non-commercial user
Features in the pro version of the product
•    All Features of Standard Edition
•    Failed File Recovery
•    Copy to Multiple destinations in one task with the fastest way
•    Copy Task File
•    More Options For Copying Be Supported
•    Obtain More Support Service
•    30 days of a free trial
Get it from here
Whatever the reason is, you can always trust and use third-party software for copying and moving files on your Windows 10, Windows 8, Windows 7 PC. There are much software available in the market, so you have plenty of software to choose from.
Follow us: