Have you encountered a situation where while partitioning your hard disk drive, you have exhausted all drive letters from A – Z? You are probably baffled so as to where to go now, right? Well! You can mount a folder as a drive on your Windows 10 computer. Read the blog from start to end and we'll tell you how you can use this neat trick to get out of the soup.
Also Read: How To Delete A Partition On Windows 10
Why Choose To Mount A Hard Drive As A NTFS Folder?
Let's rephrase this question and put it this way, when would you need to mount a folder as a drive on Windows 10. In a situation when you have exhausted all the drive letters from A-Z and see the Assign the following drive letter path disabled, you can mount the folder as a drive.
That's not the only situation where you may want to mount a hard drive as an NTFS folder. Even if you can assign drive letters, you might just not want to end up creating so many drive letters. After all, scouring data from so many drives can be painfully tough. That's when you go with the second option Mount in the following empty NTFS folder. We'll talk about how you can reach these options in a little while.
How To Mount Folder As Drive In Windows 10 –
1. Open File Explorer and search for the folder location where you want to mount the drive
2. Click on the New Folder under File
3. Rename the folder e.g. Storage (you can rename the folder with the name of your choice) and click it open
4. When inside this newly created folder, again click on the New Folder under File and rename it as TempStorage (you can rename the folder with the name of your choice)
5. Now, right-click on Start and select Disk Management
6. Right-click on the drive that you wish to mount and then choose Change Drive Letter and Paths.
7. Click on Add
8. Click the Mount in the following empty NTFS folder and then click on the Browse button that you will find next to the empty area
9. Select the folder you created back in step no.4 i.e. TempStorage and click on OK. Click on the OK button once again
What If I Want To Access The Newly Created Secondary Hard Drive From The Folder Itself?
Here are the steps to do that –
1. Again right-click on the drive and then click on Change Drive Letter and Paths
2. Select the current drive letter and not the mount-point
3. Click on the Remove button and then click on the Yes option
But, What If Someone Accidently (Or Knowingly) Deletes This Newly Created Folder?
Now, let's consider a scenario. Let's say, someone knowingly or unknowingly deletes this newly created folder. Are you now going to lose all your data – the various folders and subfolders?  Needn't sweat! The actual data is still safe on the physical drive and this newly created folder was just a path.
Food for thought – When you mount a folder as a drive, isn't that a way to guard your data?
Writer's Tip –
Note: Disk issues can be hard to deal with manually. You can instead take the aid of a specialist like Advanced System Optimizer that won't just help you tackle disk issues but even optimize it for optimum performance.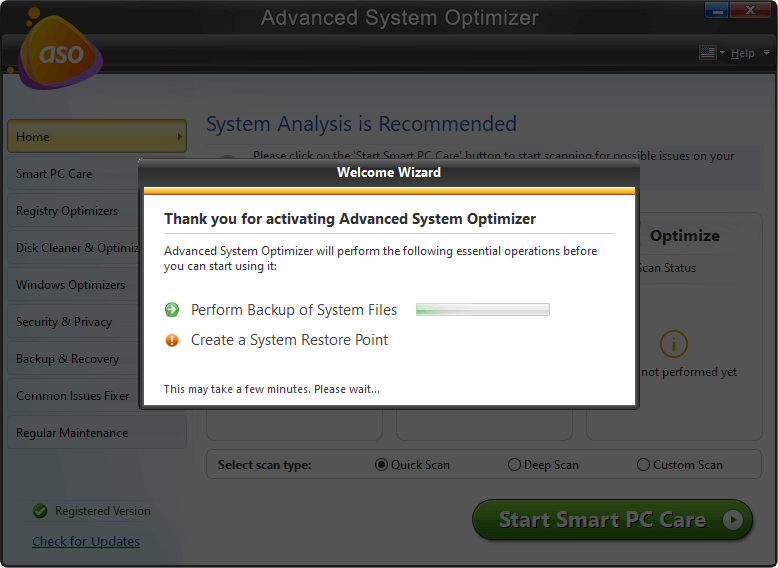 To optimize and clean your disk drivers, here's how you can use Advanced Disk Optimizer for your maximum advantage –
Click Here to Download Advanced System Optimizer
1. Download and install Advanced System Optimizer
2. From the left-hand side click on Disk Cleaner & Optimizers
3. To check your disk drives or file system for issues you can click on the Disk Tools and then choose the problematic drive, which will then be analyzed for problems
4. For clearing fragments and improve the efficiency of your disk drives, you can click on the Disk Optimizer
Price: US$ 49.95

Compatibility: Windows 10/8.1/8/7 (32 and 64 bit)
Wrapping Up
Creating partitions on a hard disk drive can be beneficial when you want to organize data more efficiently or when you want to extend your existing storage. But, with the time you may want to switch to a better option, and mounting a drive as a folder can just be what you are looking for.
And, with the help of this blog, we've done that. If the blog's been of help, do give it a thumbs up and share it with others. You can also subscribe to our YouTube channel where we frequently post interesting, interactive, and exhaustive videos on everything tech under the sun.
Next Read:
Disk Analyzer Pro- A Tool To Keep Your Hard Drive Organized
How Safe is to Recover Deleted Files in Windows 10 Hard Drive?