Table of Contents
Not being able to access files and folders is a very common Windows 10 issue and it can occur because of several reasons. One such reason being a corrupted partition on a hard disk. Oftentimes in such a scenario, you may get an error stating "the disk structure is corrupted and unreadable" just like many users.
Sometimes this issue reaches a level when recovering files and folders from a corrupted hard drive seems impossible. In this blog, we'll discuss ways you can deal with the issue. But, much before anything else, we recommend that you take a backup of all your data so that in case something goes wrong, you will at least have a safe data backup to fall back on.
Ways To Fix "The Disk Structure Is Corrupted And Unreadable"
Consider This Scenario –
You connected an external hard disk to your computer and at first, were able to transfer data smoothly. Now, when you were done with the task, you tried to unplug it, it said that it is still in use. You anyways unplugged it abruptly. But, then when you plugged it in the next time an error "the disk structure is corrupted and unreadable" flashed on your computer. Tons of data is still there inside, what would you do now?
Uninstall and Reinstall Disk Drive
In several cases, users simply uninstalled and then reinstalled the drive that gave them the issue "the disk structure is corrupted and unreadable". It is important to note that this step can't be performed on hard disk drives where you have installed Windows. Otherwise, you can follow the steps listed below –
1. Press Win + X which will open up the Windows Power User Menu and select Computer Management
2. Click on Device Manager from the left-hand menu
3. Click on the Disk Drives dropdown and then right-click on the disk that says "the disk structure is corrupted and unreadable"
4. Click on the Uninstall device option

5. Click on Uninstall and your selected drive will be uninstalled in some time. You may have to reboot your computer
6. Now, head to the Action section at the top and then choose Scan for hardware changes

The hard disk that you have uninstalled will be detected and will be reinstalled. Once again restart your computer and check if the error for the problematic drive has been resolved or not.
Recover Data Using A Data Recovery Tool
Before you proceed with some more ways to fix "the disk structure is corrupted and unreadable" issue, you might be more concerned about whether or not you will be able to recover your data. Measuring the uncertainty of whether the problem will be solved or not, the least you can do is recover the data that's there on the corrupted disk.
To do that you can take help of a recovery tool. Advanced Disk Recovery, for instance, is one of the best recovery utilities. It helps you retrieve files that are deleted or lost due to a variety of reasons, "the disk structure is corrupted and unreadable" being one of them. It helps recover videos, audio files, documents, photos and other file types.
Why Can I Trust Advanced Disk Recovery In A Situation Like This ?
In many cases, the disk structure is corrupted and an unreadable error occurs when your hard drive's Master File Table or MFT is damaged. Advanced Disk Recovery identifies all files that are deleted from MFT.
To know more about how Advanced Disk Recovery is able to recover hard disk data files, read this post.
How Does Advanced Disk Recovery Work?
Click Here to Download Advanced Disk Recovery
1. Download, install and run Advanced Disk Recovery
2. Choose the hard drive which is giving the error "the disk structure is corrupted and unreadable"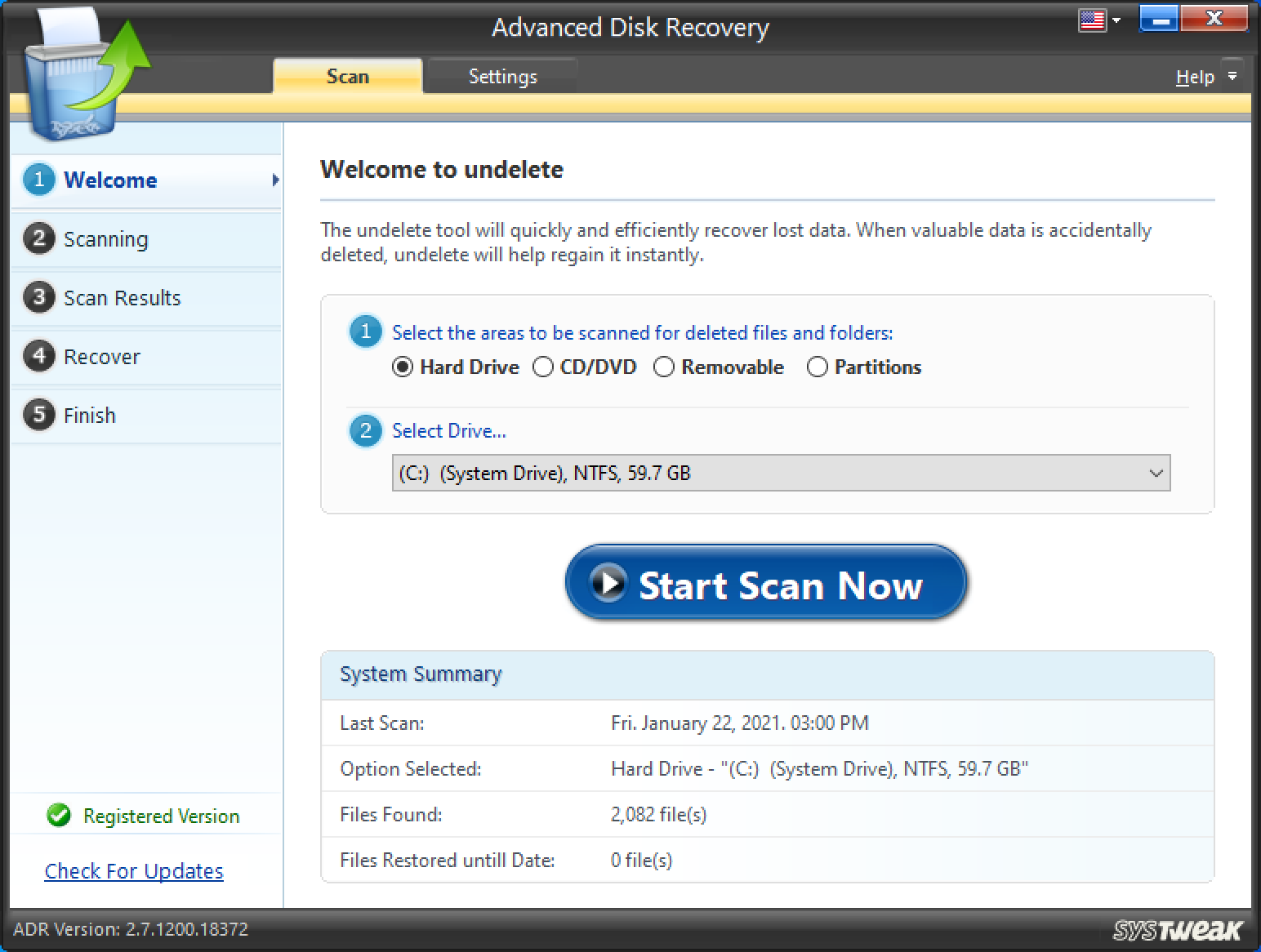 3. Select the mode of scan – Quick or Deep and as you can see you can scan for deleted files from MFT using the Quick Scan method. For an even in-depth scan, you can click on the Deep Scan radio button

4. Now all the deleted files will surface and you can restore them. But before you do that make sure your read the important note just underneath –
Very Important To Note :-
When recovering files make sure that you don't save them to their original location as this may lead to read and write operations which can render your files irrecoverable forever.
The Hardware and Device Troubleshooter Can Be of Help
Many times, "the disk structure is corrupted and unreadable" occurs when there are some issues with your hard disk. Running a hardware and device troubleshooter can be an easy way to catch hold of the issue and resolve it. Follow these steps to run the hardware and device troubleshooter and find any faults in the hard drive –
1. Press Windows + I to open the Settings
2. Select Update & Security

3. Click on the Troubleshoot option

4. From the right-hand side, select Hardware and Devices and then click on the Run the Troubleshooter option
5. Wait till the process has been completed and follow the on-screen instructions
Perform the CHKDSK Operation
The CHKDSK or check disk command is used to identify any error on the disk that you have specified. It further helps in repairing and recovering data. It is one of the most recommended ways to deal with "the disk structure is corrupted and unreadable".
1. In the Windows search bar, type cmd
2. Select Run as administrator from the right-hand side
3. When the command prompt window opens, type chkdsk n: /r and press Enter
Important: replace the letter 'n' with the drive which is giving you the error "the disk structure is corrupted and unreadable"
4. Once the chkdsk command has finished, type Exit
Wrapping Up
We hope that by trying the above mentioned steps you will be able to resolve the "the disk structure is corrupted and unreadable". If you have, do give us a shoutout in the comments section below and for more such content keep reading Tweak Library.