Table of Contents
Undoubtedly, GIF images are interesting, they add spice to our boring, busy life, but when they go missing nothing seems right. If you agree with me and miss your GIF images, read the post to learn how to recover GIF images.
"Recently my friend shared a lot of GIF images. All of them were great, and I saved them on my HDD. But I don't know what happened. Now I can't find the folder with GIF images. Are they deleted? If yes, is there a way to get back deleted GIF images? Please help."
Before we get into details and learn how to recover deleted GIF images let me tell you, once an image is deleted it is not actually "cleared" unless overwritten by new files on the drive. Due to this, recovery of deleted images, GIF files, and RAW images is possible. However, you cannot do this manually, as the human eye cannot see deleted images. For this, we need a trusted and tested GIF image file recovery program.
Realizing this and to make things easy thereby recovering GIF images we will discuss how to use Photos Recovery.
Also Read: Best GIF Cutters to To Edit GIF Images (Online/Mobile/Computer)
What is Photos Recovery?
Designed by Systweak, Photos Recovery is an advanced image recovery tool that helps to recover different image file formats, including GIF. Using it in no time, you can restore GIF, JPEG, Vector, RAW, BMP, TIFF, and other image file formats.
It offers a comprehensive scanning mode that helps restore almost all the deleted images unless overwritten.
Tip: – Once you know an important file has been deleted from the system, to recover the file we suggest stop using the system as this decreases the chances of data recovery. Also, never save the recovered file on the same disk partition. Always save it on an alternate drive.
Why use Photos Recovery – GIF Image Recovery Tool?
Completely compatible with Windows and Android this program helps recover deleted GIF files from both operating systems.
Moreover, it offers various benefits:-
1. Offers different scanning modes – Quick and Deep Scan
2. Helps recover RAW, Vector, Raster, GIF, and other image file format
3. Preview images before recovery
4. Scan both external and internal drive
5. List and Tree view to check scan results
6. Customizable
7. Set maximum and minimum photo size
8. Powerful scan engine
9. Easy to use
Now that we know what Photos Recovery has to offer and why to use it. Let us learn how to use Photos Recovery to perform GIF images recovery. For this post, we will use the Windows version of the image file recovery program – Photos Recovery.
If the GIF is removed from an SD card, or USB drive make sure it is connected before you run the tool. Once it is connected and read by the system no longer the Removable Drive option will be greyed out.
How to use Photos Recovery to Restore GIF Images?
To use this amazing GIF recovery tool, follow the steps below:
Download Systweak Photos Recovery
1. Download and install Photos Recovery
2. Open the GIF recovery tool
3. Select the target location. If it is a USB drive, click the Removable Drive option and select it.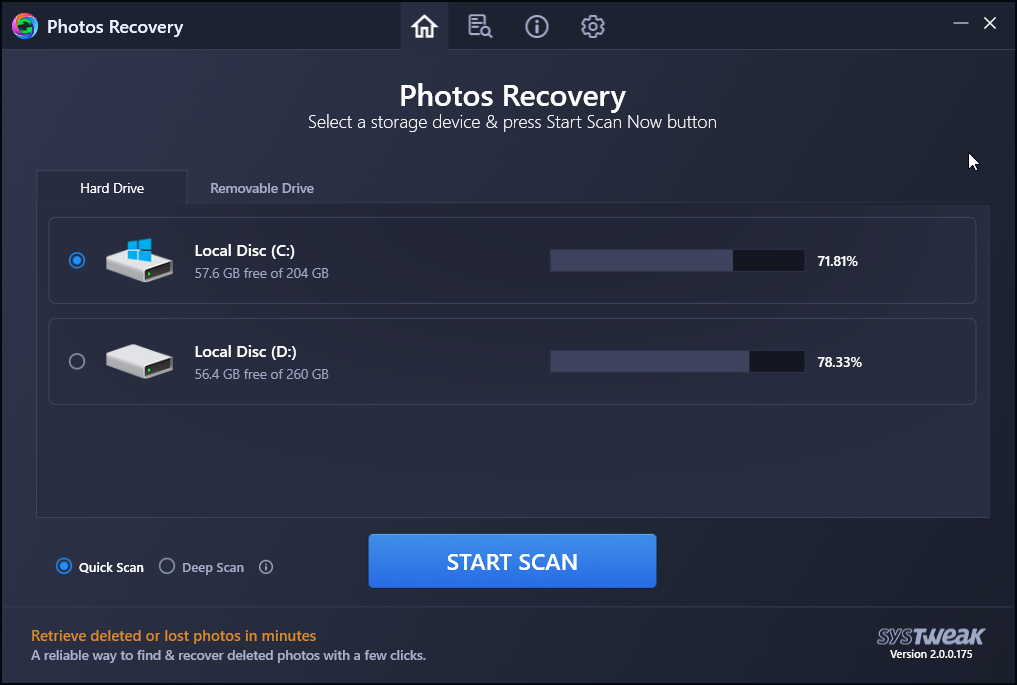 4. Thereafter, select the drive and click START SCAN to scan for deleted GIF images.
5. Wait for the scanning to finish. Photos Recovery will quickly scan for the lost GIF image files. If you can't find deleted GIF image files, when running Quick Scan, you can switch to Deep Scan. This is a more comprehensive scanning mode and helps recover even older deleted files.
6. Once done, review scan results and preview the GIF files. When you can find the ones that you are looking for, select them.

7. After that, hit the RECOVER button to restore deleted GIF images.
8. Select the folder to save recovered images.
9. Wait for the process to finish. After that to confirm data recovery, visit the folder where you saved GIF files.
Bottom Line
The above guide explains how to get back lost or deleted GIF images back with Photos Recovery – the GIF recovery software. You can download it from the link below and recover GIF and other image file formats. We hope you found the information helpful and will try and use Photos Recovery on your Windows and Android to restore deleted images and GIF files.
Do share your feedback about the same in the comments section. In case you have any doubts about the product, you can send an email to support@systweak.com