Trusted by hundreds of users, Wondershare Recoverit is one of the best data recovery software all over the world. From your deleted media files (intentionally or unintentionally) to confidential documents, you can recover everything effortlessly. However, there are many users who look for other data recovery alternatives to recover Irrespective of rich features & simple user interface, users look for Wondershare Recoverit alternatives to recover deleted files. This is what we will be exploring today to provide you with the best Wondershare data recovery alternatives to successfully recover files.
Best Data Recovery Alternatives to Wondershare Recoverit Software
1. Advanced Disk Recovery
Since we are talking about the best Wondershare Recoverit alternatives, they need to be competitive enough to give it a good fight. This is why we have put the Advanced Disk Recovery as the topmost choice for best Wondershare Recoverit software alternatives. A perfect combination of promising features, Advanced Disk Recovery is a powerful tool with quick data recovery & easy-to-use intuitive interface. Developed by Systweak, the Advanced Disk Recovery tool has been designed to ease the user's overall experience of recovering deleted files successfully. Also, there are many other rich features that would become extremely helpful while recovering data even from the external storage devices. Yeah!!
If I wish to recover my files successfully (post deletion), I need to explore Advanced Disk Recovery thoroughly.
Click Here to Download Advanced Disk Recovery
Once downloaded, go through the installation process & launch the disk recovery tool on your Windows PC.
First, you need to navigate Advanced Disk Recovery to the path from where those files have been deleted. Start Scan Now would be the next step that would start analyzing & looking for those deleted files or data.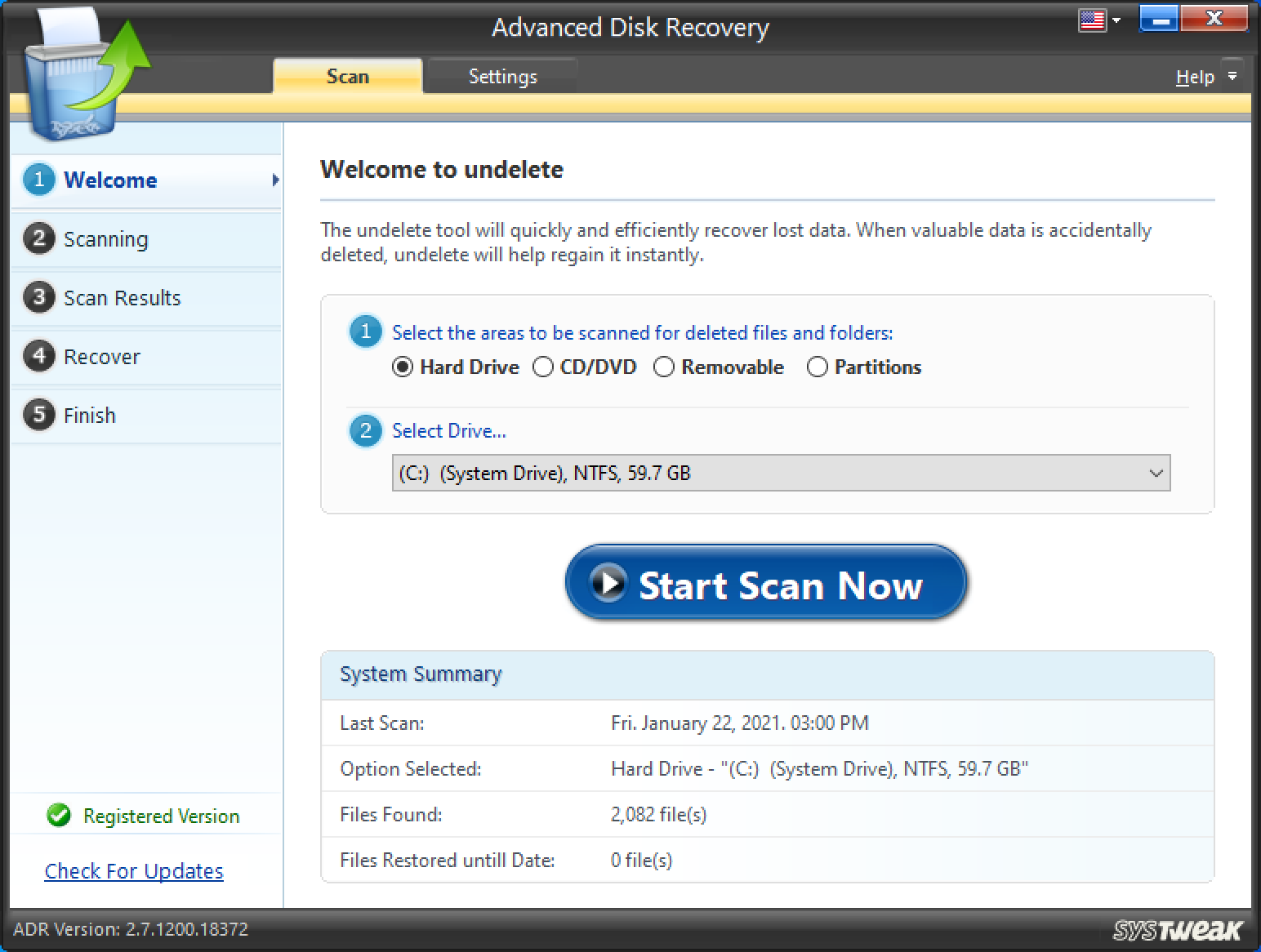 However, before that, the tool will ask you to choose the scan type (Quick or Deep) & you need to choose according to your convenience.
Once the scan type has been finalized, the Wondershare Recoverit alternative will start looking for those deleted files. You need to be 100% sure about the path because navigating the tool on different paths might end up stating, "No deleted files found".
So be crystal clear about the path & within a few minutes, you will have all the deleted files in front of you. Now, here is where the manual work starts to look through the list & start marking to-be-recovered-files.
Once you have selected those files, tap on recover & within a few seconds, those will be recovered successfully. Also, if you wish, you can easily tap on Preview before recovering those files to make sure it's the correct media file that you wanted to recover.
Other than that, there are many features which make the Advanced Disk Recovery tool one of the topmost Wondershare Recoverit alternatives to get back deleted files successfully. Those powerful features include multiple file format support, external driver support, filters to save time, comprehensive data recovery, & fully compatible with Windows OS editions.
Another well-known name in the data recovery world is Recuva which is a powerful product to get back your deleted or formatted files quicker than anyone. With an easy user interface & rich features, Recuva is all set to bring back the deleted files in no time. Like the Advanced Disk recovery, EaseUS also helps you explore both the scanning types (deep & quick) to identify deleted files without any hassle.
Click Here to Download Recuva Data Recovery Software
Apart from your computer system, Recuva has powerful features to recover your deleted files from external storage devices as well. Giving your system a quick & accurate result in the form of recovered files, Recuva is a lightweight application. It takes quite a small amount of storage space on the system drive & supports many document file formats. Surprisingly, Recuva has been developed by Piriform Software Ltd, which also developed the world famous CCleaner. So you can rely on the product as the company is in the tech solution industry for quite some time & is successful in doing so.
Also Read: Piriform Recuva Review
Previously known as Stellar Phoenix Windows Data Recovery Professional, Stellar Data Recovery Professional is a powerful tool to recover your deleted data. Fully compatible with macOS & Windows PC, Stellar Data Recovery Professional is the perfect example of speed, accuracy, & simplicity. From your crashed internal storage media devices to completely unbootable systems, this tool can recover your accidentally deleted data/media files in the easiest way possible.
Purchase Stellar Data Recovery Tool Here
Irrespective of the reasons you lost your file (unexpected system shutdown, corrupted hard drive, or emptied Recycle Bin, Stellar Data Recovery Professional is the solution for you. Not to leave as a surprise, but this powerful tool can easily recover deleted files from 4K drives as well, and that too on a dual monitor setup. Isn't this amazing!! Stellar Data Recovery Professional tool comes with 30 days money back guarantee & then you can easily opt for the premium version.
Also, the tool has been talked highly of from many years by different reputed platforms techradar, PC World, tom's guide, PC Advisor, xdadevelopers, & whatnot.
Sometimes all you need is a name & that would be enough to give you a glimpse of what capabilities it has as a product/program. Disk Drill is one of those data recovery software that doesn't need any introduction to be on the list of best data recovery software. From being a simple user interface platform to providing accurate & effective recovery results, Disk Drill is a FREE data recovery tool. Disk Drill can easily recover data from almost every data storage device (PC, hard drives, USB drive, SD Card, Digital Camera, & cellphones) you own.
And not to forget, the type of files Disk Drill can recover are quite enough that we wouldn't have in our computer system. So relax if you have lost any of your data because of sudden data loss situations out of nowhere. Disk Drill is here to do a thorough scan of your system to give you the most accurate results so you can easily recover your deleted files in no time.
Please know while using the FREE version of Disk Drill data recovery software, you are entitled to recover data upto 500 MB. However, if you opt for the premium version, you can recover unlimited data on your system.
5. EaseUS Data Recovery
For many users, EaseUS is a household name, however, for some users, it's vice versa. EaseUS Data Recovery is another strong alternative to Wondershare Recoverit software that helps users recover data accurately & quickly. One of the best data recovery tools, EaseUS Data recovery is there to help you get back files that have been deleted accidentally. EaseUS is undoubtedly one of those strong supporting systems that will take you out of data loss situations that include sudden system crash, virus attack file deletion, unexpected power off, & whatnot.
From confidential documents to self-made videos & beautiful images that you captured for lifetime purpose, everything is easily recoverable with EaseUS Data Recovery software. The tool comes with a FREE trial version that can be downloaded from EaseUS website, however, if you wish to go ahead with the premium plan, click here. The Wondershare Recoverit software alternative is fully compatible with Windows OS as well macOS editions. Also there are many reviews from reputed & well-known platforms that authenticate EaseUS''s effectiveness (as below),
"EaseUS is a stress-free way to restore deleted files. – techradar
"EaseUS Data Recovery Wizard is a powerful system recovery software, designed to enable you to recover files you've deleted accidentally, potentially lost to malware or an entire hard drive partition." – betanews
Acronis Cyber Backup has been considered as one of the easiest, efficient, & solution oriented data recovery software. Not only does it help you recover data successfully, but also it protects everything on your system. All you need to do is, start using this powerful data recovery tool with promising features & it will make sure that all the data loss situations have been taken care of. Anything you lost due to hardware or software failure, cyber-attacks, & whatnot would be recovered within a few clicks.
Specially designed for business purposes, Acronis Cyber Backup gives your system data a complete protection. Acronis Cyber Backup is all about protecting your data from different sudden attacks or system failures. And to do so, Acronis keeps protecting your system from ransomware attacks & ensures that the system data is safe & secure. Supporting more than 25 languages, Acronis Cyber Backup allows you to manage all backups remotely from any device, including your cellphones.
You can start using Acronis Cyber Backup as a trial version by tapping on Try Now & filling in the details.
Fully compatible with your Windows & macOS, MiniTool Data Recovery Software is another strong Wondershare Recoverit alternative. Among any data loss scenario where you lost files accidentally, you can use this simple yet effective data recovery software to get them back. MiniTool Data Recovery Software is capable of recovering many file formats from almost every storage device you can count. From disk partitions to virus attacks & operating systems crashing, the tool has solutions for all the situations.
MiniTool Data Recovery Software starts the process by selecting the device you wish to scan for data recovery. Whatever files have been deleted on the selected path, MiniTool will start listing them down for you to be previewed. Now all you have to do is, select the file that you wish to recover & tap on Save. Simple as that!!
You can go ahead with the trial versions (Windows & macOS) to explore the tool & accordingly can buy this to start recovering unlimited data.
8. TestDisk Data Recovery
An absolutely FREE tool to recover your deleted files on Windows PC, TestDisk Data Recovery makes the experience one of a kind. TestDisk Data Recovery software was designed to recover lost disk partitions & make the non-bootable disks bootable. TestDisk is extremely easy for both native as well as expert when it comes to accessing the same.
FAT, NTFS, exFAT, and ext2 are a few file systems, TestDisk fully supports as long as it comes to recovering deleted files. From hard drives to SD cards, you can easily recover the lost data within no time, thanks to TestDisk Data Recovery (PhotoRec).
So without wasting your time, start exploring the one of the most promising & bootable version data recovery software on your PC right away.
9. IObit Undelete
With quite an unusual name, IObit Undelete helps users recover lost & deleted files with just one click. From videos to music tracks & other files, anything can be recovered with the help of IObit Undelete. It's a known fact that data loss is a common occurrence on our PCs & that too because of situations we can't control sometimes. This is where IObit Undelete will help us out by recovering all kinds of lost files on the system.
The whole process starts with detecting the lost files on your system & few times, you need to dig in deep. Yeah!! Many times, we aren't able to detect those deleted files & in the process, might find something that was lost a couple of years ago as well. As soon as the tool finds out your files, all you need to do is preview it before recovering & that's it. You have got your deleted files within a few clicks, thanks to the promising & powerful data recovery tool, iObit Undelete.
Another promising alternative to Wondershare Recoverit, Ontrack EasyRecovery has been designed to bring back your precious data. Yeah!! The same data that got deleted under uncontrollable situations like system failure, hard drive crash, or complete system shutdown. Ontrack EasyRecovery helps you recover those files (including photos, music tracks, & videos) in the easiest way possible.
A simple to use data recovery software, Ontrack EasyRecovery comes with powerful features to recover your lost data. Irrespective of the reasons & storage devices, Ontrack EasyRecovery works constantly with internal and external drives along with memory cards and optical media. So it's highly recommended that you start using the FREE version before going ahead with the premium version.
Best Data Recovery Software As Wondershare Recoverit Alternatives
Wondershare Recoverit is already one of the most reliable & promising data recovery tools. And while you are trying to recover deleted files from different alternatives, those need to be powerful enough. This is why we have enlisted the most efficient, accurate, and powerful Wondershare Recoverit alternatives to help you make decisions easily.
Start exploring all of those best data recovery tools on your Windows operating systems right away & go with the one that meets your expectations.
Next Readings:
Recover Accidentally Deleted Photos From iPhone
Best Windows Recovery Options for Desktop Recovery