Table of Contents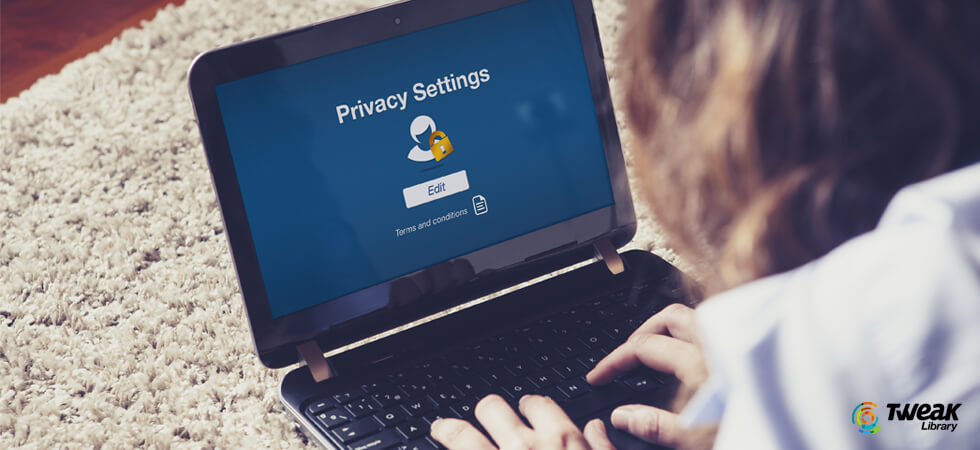 Windows 10 is by far the best and the first choice of many users. Yet, Windows 10 Security related issues keep looming over users. For instance, while Windows 10 provides you with a lot of personalized services, it collects huge amounts of data from your system like your website logs, files you access, location history, calendar details, etc. You needn't worry you can easily counter such issues Windows 10 privacy Tool.
And, needless to say, sometimes your precious sensitive system information may even get into the hands of a miscreant who would not take a moment before injecting your system with tons of spyware or malware. This is again where a Windows 10 privacy tool might protect you.
Best Windows 10 Privacy Tools:
1. Advanced System Optimizer
Advanced System Optimizer is a holistic System Cleaner but it also doubles up as a brilliant Windows 10 privacy tool. It's one tool that solves many purposes including taking care of a users privacy.  It scans and reduces the risk of any security theft on your system.
Let's try it Today by downloading the 24 Hours free trial version of Advanced System Optimizer!!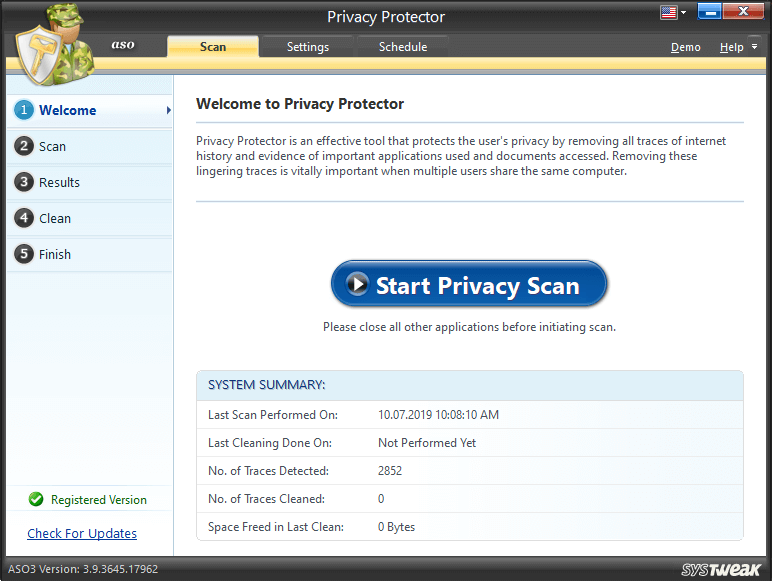 Features

Protects your privacy on your system by removing evidence of documents and applications especially if multiple users are sharing the computer with you

Protects your web-privacy by removing traces of internet history

Efficiently clears junk files, cleans up the system cache and cookies from the browser which manually isn't possible
2. O&O ShutUp10
You needn't provide every piece of personal information to Windows 10. O&O ShutUp 10 is an outstanding Windows 10 privacy tool that gives you full control of settings and functions you wish to use. The best part is that it is free of cost. The tool lets you easily manage Windows 10 security settings, thanks to its easy to use interface. You can now deactivate all the functions that you feel are intrusive.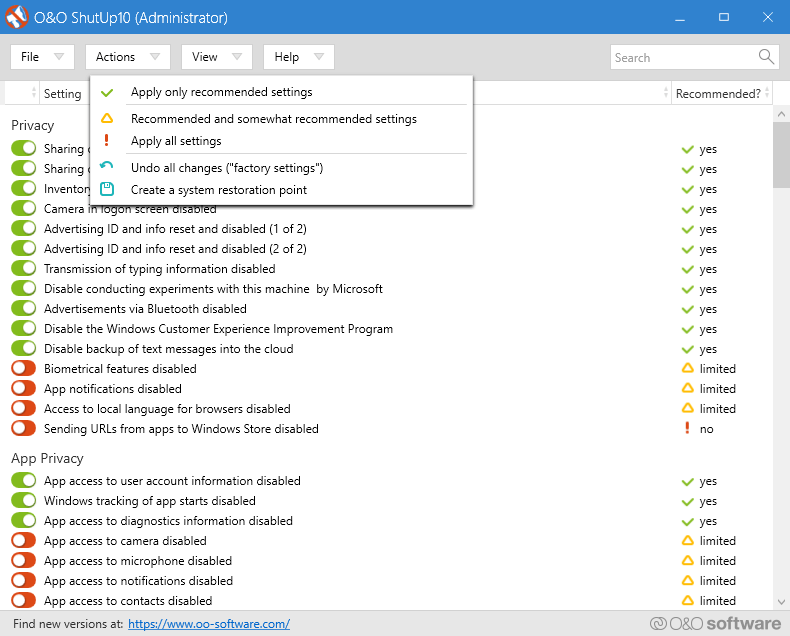 Features:
Easily control all Windows telemetry functions which are further divided into categories.
O&O Shutup prevents you from accidentally shutting off a crucial Windows 10 functionality. It does this by intelligently suggesting the options that need to be disabled and options that should not be disabled.
You have complete control on Windows 10 updates and location services
The Windows 10 privacy tool also gives you the option of creating a backup of your settings.
3. Privacy Repairer
If there is one Windows 10 privacy tool which lets you meticulously preserve your privacy, it is privacy repairer. To be more precise, this free tool comes with over 60 options specifically aimed at carefully letting you optimize your system as per your privacy needs.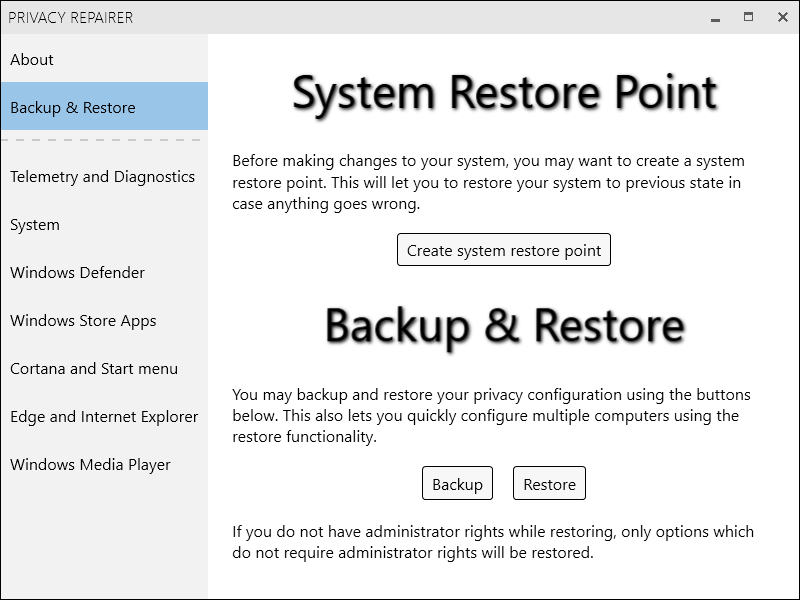 Features
Division of Windows 10 telemetry into categories and tabs so that it can easily be enabled or disabled
Moreover, this Windows 10 privacy tool also tells you whether or not it is recommended to enable or disable a setting so that there are no chances of any errors
Simple and easy to use interface with detailed information about the options that you are going to toggle.
Privacy repairer also warns of what registry keys have been affected
4. Blackbird
 While you might like Windows 10 for its features and ease of use, you might be concerned about how it at times messes up with your security. If you were all on your own, you probably would have to spend countless hours tweaking Windows 10 privacy settings but, with Blackbird, all your Windows 10 security settings would be managed.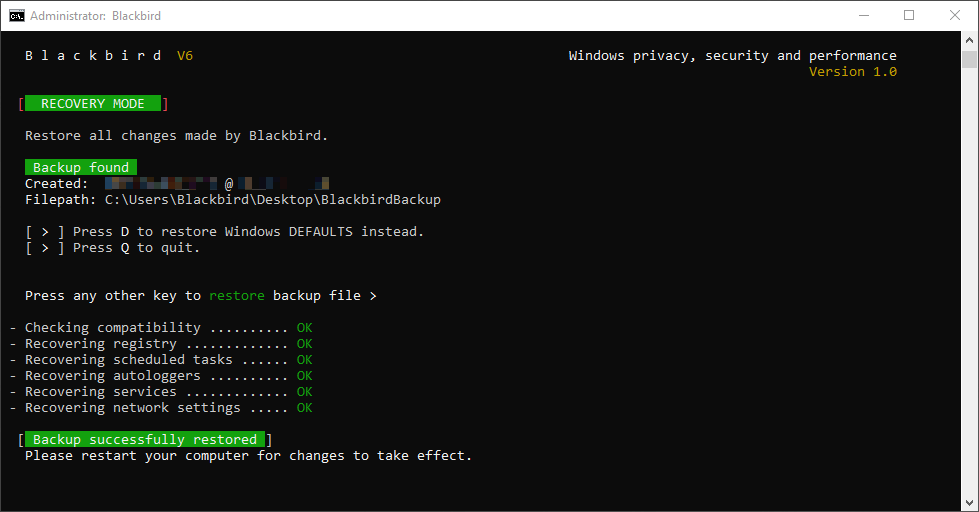 Features 
Works on all versions of Windows (Windows 10/8/7).
Completely blocks Windows Telemetry both on network and application level. In the process, it won't edit any crucial firewall settings or edit any host files
Disables more than 60 data collection tasks like restraining diagnostic data, URL, location and P2P update sharing thereby enhancing System speed.
You can even tweak Windows 10 privacy settings via Blackbird in the command prompt too
5. W10Privacy – Privacy made ​​easy
With W10Privacy you remain in full control of Windows 10 privacy settings and you can choose from over a hundred telemetry and tracking options. The app makes this process even better by dividing all these settings into groups and labeling them with tabs.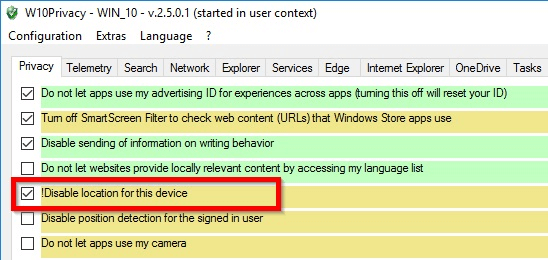 Features:
A brief description of each setting that you are going to enable or disable will be shown. Also, you would be suggested whether or not you should disable a setting
Easy visibility of options since all telemetries are color-coded in green, yellow and red which makes it easy for you to make decisions just by glancing at an option
The tool warns you if a particular setting requires administrative rights
The Windows 10 privacy settings available in the program can be also be modified using the command line mode.
To Conclude
When you make changes to Windows 10 privacy settings manually you risk the functionality which could mar the performance of your Windows 10 PC as well. Every Windows 10 privacy Tool mentioned above makes it easy for you to sift through various settings effortlessly and disable those that are seen as unwanted.
Follow us :