Blog Summary: The Tweak Library blog post highlights the best uninstaller software for Windows 11/10 in 2023. It focuses on learning different uninstallation methods, including Settings, Control Panel, Command Prompt, and PowerShell. Additionally, it provides a list of effective apps for uninstalling multiple apps at once, detailing their latest version, price, features, pros & cons, and file size. Notably, it mentions
Advanced System Optimizer
,
one of the best tools for simplifying PC cleaning.
Have you ever wondered how much space is wasted on your Windows 11/10 PC by software that you don't use or need? You might be surprised to find out that some of these programs are not only taking up valuable disk space, but also slowing down your system, causing errors, and compromising your security. That's why it's important to uninstall the software from Windows 11/10 regularly and keep your PC clean and optimized. But how do you do that? What are the best methods and tools to remove unwanted software from Windows 10 in 2023? 
Third-party uninstaller software are helpful for users who often install and delete apps on Windows 11/10 PC. It removes programs more thoroughly than the standard Windows tool; lets you uninstall multiple programs at once and frees up storage space in no time. Moreover, these programs are great for removing complicated programs. 
While uninstallation software for Windows may not be essential for everyone, if you want to prevent the accumulation of useless files downloaded during app installations, it can be quite useful.
If you prefer not to use third-party uninstallers, you can refer to our earlier post to discover various manual methods for removing apps, using the Settings app, the Control Panel, the Command Prompt, and PowerShell. 
Must Read: Best Uninstaller For Mac To Remove Apps
Top 10 Uninstallation Software To Use In 2023 (Features | Pros & Cons | Price & More)
The list comprises the most effective & useful apps you can use to remove Windows programs in batches. Check out their latest version, price, features, pros & cons, file size, and more.
1. Advanced System Optimizer
| Latest version: 3.81.8181.238 | Price: $49.95 | File Size: 16.2 MB |
| --- | --- | --- |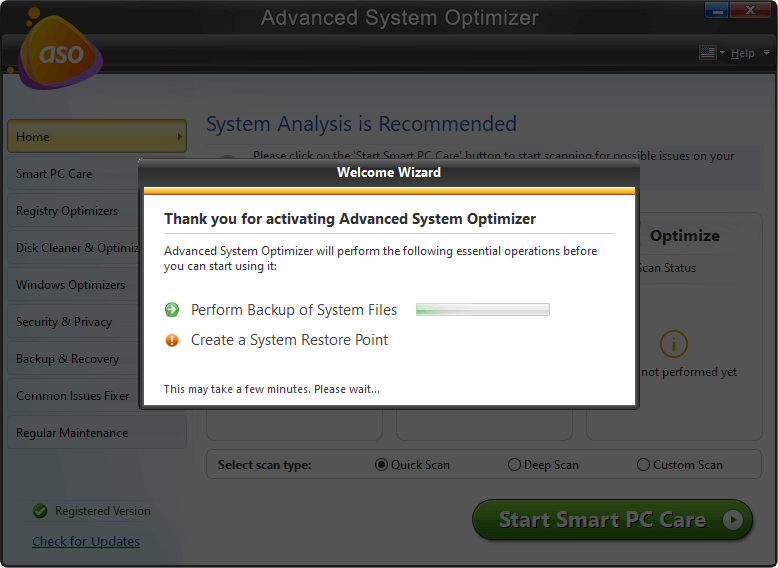 Download Advanced System Optimizer
Complete Review of Advanced System Optimizer
Advanced System Optimizer is a top-notch computer cleaning utility with a robust uninstaller that will help you remove all kinds of applications from your system along with their leftovers. The Uninstaller tool will also help you to remove junk files, and duplicate files, clean browser history, shred files permanently, optimize your Windows registry, and more Free of Cost.
Features:
Manage startup items to increase boot time.
Exceptional uninstallation feature to remove old/large files.
Lots of tools to remove junk files, caches, logs, duplicates & other redundant data.
Dedicated module to fix common PC issues.
Pros
Lots of features in one package.
Deep scanning to find a wide range of issues.
Enhance overall speed & performance.
Free cleaner & uninstaller app for novices & advanced users.
Cons
The dashboard should be improved.
2. Advanced PC Cleanup
| Latest version: 1.5.0.29138 | Price: Free/$39.95 per year | File Size: 8.3 MB |
| --- | --- | --- |
Click Here to Download Advanced PC Cleanup 
Full Review on Advanced PC Cleanup
Cleaning your PC is now easier than ever before, you just need to press a few clicks and it's done. Your computer is free from all the junk files, login items, caches, unwanted software, potential malware traces, and more. Advanced PC Cleanup is a mind-blowing PC Optimization Suite & Uninstaller tool that enhances speed and overall performance.
Features:
One-Click Care to fix all potential PC issues in one go.
Declutter your system by removing junk files, temp files, startup items & more.
Instantly identify large/old/unwanted apps & remove them in bulk.
Manage old and partial downloads & clean them to recover more space.
Pros
Comes with a Registry Fixer as well.
Check your current System Status & other PC info.
Tools for malware & identity protection.
Affordable optimization utility for Windows 10, 8, and 7.
Cons
Limited functionalities with the Free version.
3. IObit Uninstaller
| Latest version: 13.2.0 | Price: $29.99/ per year | File Size: 26.7 MB |
| --- | --- | --- |
IObit is a renowned application in the category of Best Paid & Free Uninstall Software for Windows 10 & other versions. You can search for installed applications, and find and remove the ones taking up tons of storage space. What's more, you can remove browser extensions, toolbars, plugins, partial downloads & more to restore original speed & performance.
Features:
Manage right-click context menus.
Scan & fix registry issues.
Allows users to delete bundled programs as well.
File shredder utility to permanently delete sensitive files.
Pros
Allows you to create System Restore points.
Identifies bloatware & helps in removing them in a few clicks.
Supports force-removing stubborn apps.
4. CCleaner
| Latest version:6.17 | Price: Free/$24.95 | File Size: 25.4 MB |
| --- | --- | --- |
You saw this coming, right? Well, our list of top uninstaller programs for Windows 11/10 would be incomplete without mentioning CCleaner. A pioneer in PC Cleaning & Optimization utilities features tons of features to remove Windows apps, manage startup items, remove duplicates, manage context menus & more.
Features:
Hard drive wiper to clean disk drives.
Startup manager to add, remove, and disable startup items.
Registry cleaner to sweep up residuals left behind.
Clean cookies, caches, junk files & old downloads.
Pros
Sort programs by Name, size, or version.
Portable version is available.
Highly compatible with older versions of Windows.
Cons
Doesn't support batch uninstallation.
5. Ashampoo Uninstaller 10
| Latest version: 9.00.00 | Price: $20 | File Size: 17.5 MB |
| --- | --- | --- |
Take control of what stays and what goes out of your Windows 11/10 PC! Ashampoo Uninstaller 10 is the best uninstaller program for Windows 10. It is the perfect solution to eliminate Windows programs and their traces. Additionally, it cleans temporary files that get accumulated over time and causes frequent PC slowdowns.
Features:
Clean junk files, caches & temp files in no time.
Helps in removing browser plugins, and Windows Store apps.
Perform quick online searches to find out about a specific program's legitimacy.
Managing startup items and handling running services.
Pros
Advanced deep cleaning technology
Removes complex and old setups
Keeps a history of uninstalled and installed apps.
Cons
This uninstaller for Windows receives infrequent updates.
6. Geek Uninstaller
| Latest version: 1.5.0.160  | Price: Free uninstaller app | File Size: 2.5 MB |
| --- | --- | --- |
An impressive free Windows 10 uninstall software to uninstall apps on Windows 10. This uninstaller program performs deep and quick scanning to remove program leftovers from your Windows 10/11 PC in a jiffy. Moreover, Geek Uninstaller uses Force Removal to get rid of stubborn and broken programs. Cool, right? This module ensures complete cleanup!
Features:
Sorts installed programs by name, size, date, and other parameters.
Use the Force Removal feature to delete stubborn programs.
Allows users to manage context menus.
Pros
Intuitive layout.
Portable version is available.
Supports older versions of Windows PC as well.
Cons
Limited functionalities.
7. Wise Program Uninstaller
| Latest version: 3.1.6 | Price: Free Windows uninstaller | File Size: 6.2 MB |
| --- | --- | --- |
With a clean & modern interface, here's another exceptional uninstallation software for Windows 11 & other versions – Wise Program Uninstaller. As soon as the uninstaller program removes unwanted applications from your PC, it runs a quick scan to identify leftovers and delete them to free up more space.
Features:
Force Uninstall to erase stubborn Windows apps.
Sort programs by install date or size.
Allows users to delete rogue apps from Explorer as well.
Read built-in reviews submitted by users to know more about products.
Pros
Clean interface.
A portable option is available.
Supports Windows XP to Windows 10.
Cons
Batch uninstallation causes problems sometimes.
8. Advanced Uninstaller PRO
| Latest version: 13.26 | Price: $29 | File Size: 10.2 MB |
| --- | --- | --- |
Here comes another best uninstallation software for Windows 10, equipped with all the essential features needed in an ideal Windows uninstaller. Meet, Advanced Uninstaller Pro, an exceptional software uninstaller that safely deletes unwanted apps and eliminate the associated data. Additionally, it brings a complete optimization and maintenance toolbox for your computer to enhance overall speed and performance.
Features:
Scanning for leftover registry items.
Context menu manager.
Registry cleaner to enhance performance.
File shredder to delete files permanently.
Pros
Tools to remove common PC errors.
Fix registry errors.
Supports disk defragmentation.
Cons
Other tools might clutter the interface.
9. Puran Uninstaller
| Latest version: 3.0 | Price: Free app uninstaller | File Size: 1.4 MB |
| --- | --- | --- |
Puran Utilities, a maker of popular system maintenance tools, offers a free uninstallation program under the name Pura Uninstaller. The free Windows Uninstaller works similarly to other utilities mentioned here and supports batch uninstall, force uninstalls, and so on. It ensures complete cleanup and helps to declutter your system without putting in much effort.
Features:
Sort and search through the list.
Supports identification of malicious programs.
Eliminate all the app's traces & keep the HDD tidy.
Pros
Clean & uncluttered interface,
The software uninstaller requires a low amount of CPU and RAM.
Good response time.
Cons
Receives irregular updates.
10. Revo Uninstaller
| Latest version: 5.2.1 | Price: $24.95 | File Size: 7.1 MB |
| --- | --- | --- |
Revo Uninstaller software for Windows 10 makes sure leftovers like registry items, files, and folders left by Windows' built-in uninstallation feature are completely wiped from Windows 10 system. It offers multiple scanning modes Safe, Moderate, and Advanced for effective results. If you try using this software uninstaller, do not forget to share your experience with us in the comments section below!
Features:
Helps in monitoring app installation in real time.
Notifies if an app loads at system start-up.
Stop auto-start, kill, or delete the process.
Pros
Easy-to-trigger actions.
Creates the restore point automatically.
A portable version is available.
Cons
Creates problems while uninstalling partially downloaded programs.
How To Delete Apps On Windows 11/10 PC Manually?
Try these various methods to uninstall programs like a pro:
1. Uninstall from Settings: A user-friendly approach to bid farewell to both desktop and UWP apps on your PC. Simply open Settings, click on Apps, and select Apps & features. There, you'll find a comprehensive list of all installed apps, and with a few clicks on the three-dot button next to each app, you can easily select Uninstall.
2. Uninstall from PowerShell: Take a more advanced route to remove both desktop and UWP apps using powerful commands. Open PowerShell as an administrator, type "Get-AppxPackage" to see the full list of apps on your PC, and then execute "Get-AppxPackage app name | Remove-AppxPackage" to uninstall the specific app you desire. Remember to replace "app name" with the exact name as listed.
3. Uninstall from Control Panel: This is a traditional way to uninstall desktop apps that run on x86 system architecture.Open Control Panel, click on Programs and then select Programs and Features. You'll find a comprehensive list of desktop apps on your PC, and a simple right-click on each app allows you to choose Uninstall or Uninstall/Change. Remember that this method may not work for UWP apps and could leave some leftovers after uninstallation.
Hence, we highly recommend our readers use third-party software uninstaller that can scan your system for leftover files and registry entries, remove stubborn or hidden programs, and even uninstall software in bulk.
What's Our Pick For The Best Program Remover App?
We hope this blog post has helped you learn how to uninstall the software from Windows 11 & 10 PC in 2023 using different methods and tools. By uninstalling unwanted software from your PC, you can free up some space, speed up your system, and improve your security. However, not all methods and tools are equally effective and efficient. Some of them may leave behind some traces of the uninstalled software, which can cause problems later on. 
That's why we recommend using Advanced System Optimizer, the best uninstaller software for Windows 10 & 11. It can help you remove software from desktop/laptop in bulk, along with their associated files and folders. It can also clean up your PC from junk files, malware, startup items, etc. Download Advanced System Optimizer today and enjoy a faster and cleaner PC!
Which Windows 11/10 Apps Should I Uninstall?
Wondering which Windows 10 Software to remove? Well, there are several unwanted apps, programs, and bloatware that come pre-installed on your PC. They are simply responsible for occupying tons of storage space and making your system run super-slow. We're sharing a small list of useless apps that are outdated, bloatware, malicious software, or junk you probably don't need on your computer.
QuickTime

Crappy PC Cleaners

uTorrent

Adobe Flash Player

Shockwave Player

Microsoft Silverlight

Java

Junk Browser Extensions

Manufacturer Bloatware

Coupon Printer for Windows
Additionally, consider uninstalling any Windows 10/11 software you no longer use or any large programs taking up significant space.
Frequently Asked Questions
Alse Read:
Best PC Optimization Software to Speed up Your Computer's Performance