We sometimes capture screenshots of several window screens or anything for that matter to communicate thoughts to the end-user. But, think of a situation when you have to explain a complete process to a client or create a video lesson for your students that involves some crucial concepts. In that case, mere screenshots with nothing on them might just come across as bland. Whatever it is, if capturing a screen tickles your imagination, it's time you go all in and use some of the best screen capture software.
Here's a list of some of the best screen capture software for Windows 10,8 and 7 that will help you record screens, capture screenshots and add a myriad of effects to them.
Best screen capture software for Windows
1. TweakShot Capture

Making it to the top of the list is an application that doubles as screen capture and screen recorder software. If your day comprises of demonstrations, illustrations, conferences or other kinds of presentations, you must check this software out!
Click here to Download TweakShot Capture
What is TweakShot Capture?
TweakShot capture is one of the fastest screen capture software that lets you take screenshots of your active window and record on-screen activities with just one click. You can capture any area of your screen and it will convert it into a graphics file.
The screen capture software is widely used by users coming from a variety of spheres. For instance, this software can be used for teaching and training purposes, it can make your business presentations and demonstrations more interactive.
And, even if you are using it generally you can take a snap of memories from your video chat with a dear one.
What features make TweakShot Capture special?
After you have saved a screen in the form of a graphic file, you can perform basic editing features like highlighting, cropping or even resizing.
You can create your own images and edit screenshots.
When scrolling the webpage you can take a screenshot of a complete webpage without any breaks
Easily select your desired region of an active window. You can either capture an active or a scrolling window
Want a specific color code that you wish to apply to your design? With TweakShot Capture, you can pick colors from anywhere – even from your windows screen. You can then copy the exact color code and apply to whichever object you want.
You can add annotations to your videos and images and make them more vivid
2. OBS Studio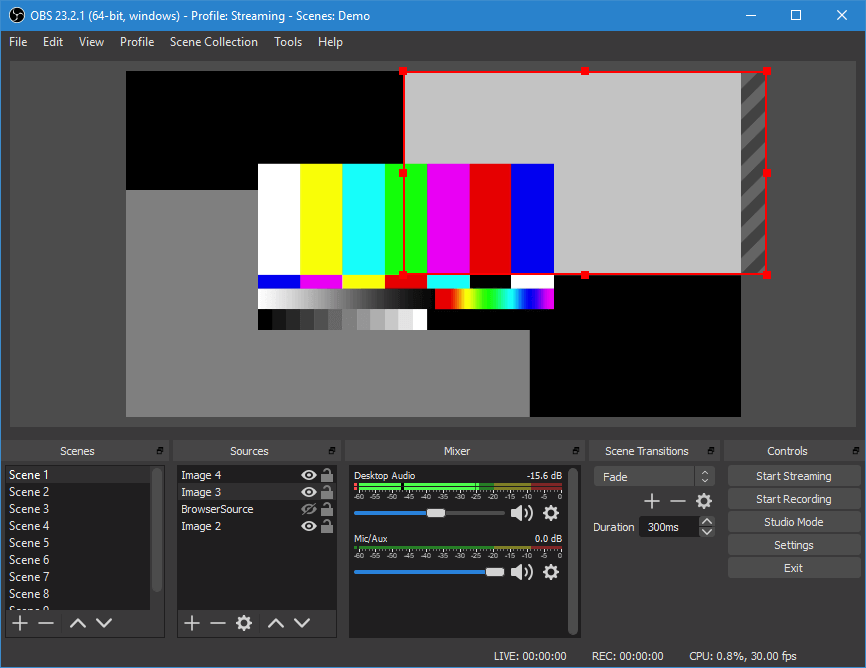 OBS (Open Broadcaster Software) studio is another widely used live streaming and video capture software which comes loaded with tons of features. One of the best features of OBS studio is that it is open-source software and is supported by a large community of enthusiasts.
Other great features of OBS studio include –
Set up as many scenes as you want and add seamless custom transitions.
You also get a very well-organized settings panel with the help of which you configure your recording or broadcast
Spice your screen recordings with window captures, images, text, webcams, browser windows, capture cards and more
Take full control of your audio and video recordings using intuitive mixers with several filters such as noise suppression, gain, and noise gain.
If your recordings are specifically made for professional purposes, you can make use of a dedicated studio mode which lets you preview your scenes before you make them live. Also, to enhance your productivity, OBS also gives you the option of setting hotkeys for every action. Which means you can start/stop recordings, switch between scenes and transitions or push to talk, all with the press of a key.
3. Ezvid for Windows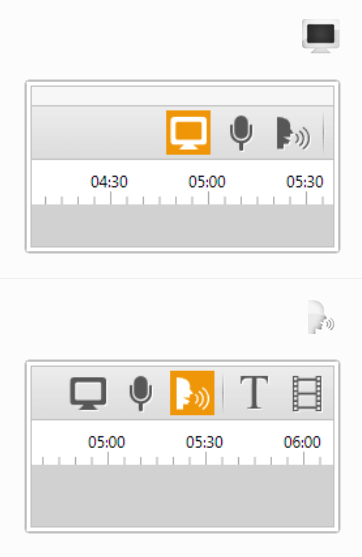 Ezvid is known as one of the easiest screen capture software available. Its ease of use and efficiency is something that makes it a hot favorite amongst gamers and movie buffs who wish to dish out video clips in the fastest way possible.
While Ezvid covers you on speed front (thanks to C++ binaries that let you take full advantage of modern video cards and CPUs), it even offers a very organized video editing and workflow panel.
Here are some of the remarkable features that this screen recorder software offers –
Integrated speech synthesis which makes your speech noise-free and professional sounding
Ezvid gives you the option of drawing on the screen
You can play with the speed of video playback of videos and create videos in minutes
There is an instant slideshow maker which can be used during official presentations
Instant Facecam
You can upload your recordings on YouTube and several other platforms
4. Free Cam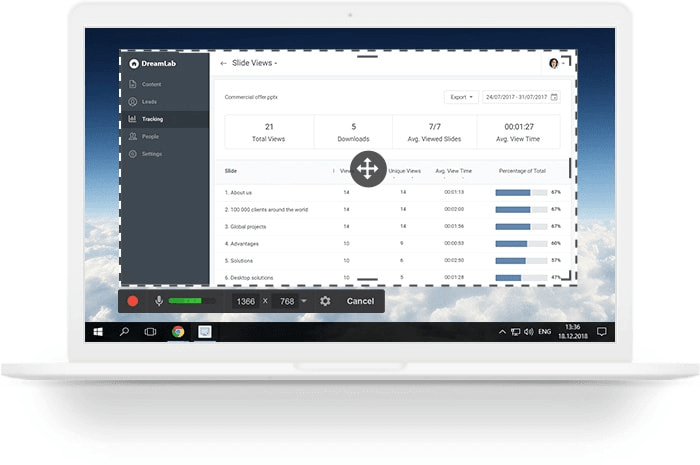 When making others familiar with a new product, skill-set or process, you would certainly admire making a video that puts all instructions in one place in a crystal-clear fashion. And, if you are wondering what tool to use – Free Cam has it all covered for you.
Free Cam is a video capture software which is a specialist in recording and editing videos and creating screencasts. Moreover, if you are a YouTuber, Free Cam even lets you share your videos with a single click.
Features that make Free Cam One of The Best Screen Capture Software Available
This screen capture software for windows 10 doesn't just let you record screens but even lets you add sounds and background music to your videos too
Record your entire screen, select a particular region or take a snap of a single window, the choice is all yours
You can separately add voiceovers using your microphone.
Want to stress on important steps and details? You can turn on mouse click sounds and highlight cursor of your mouse.
You can upload videos directly to YouTube.
Give your videos better finesse using the dedicated video and audio editor
5. Icecream Screen Recorder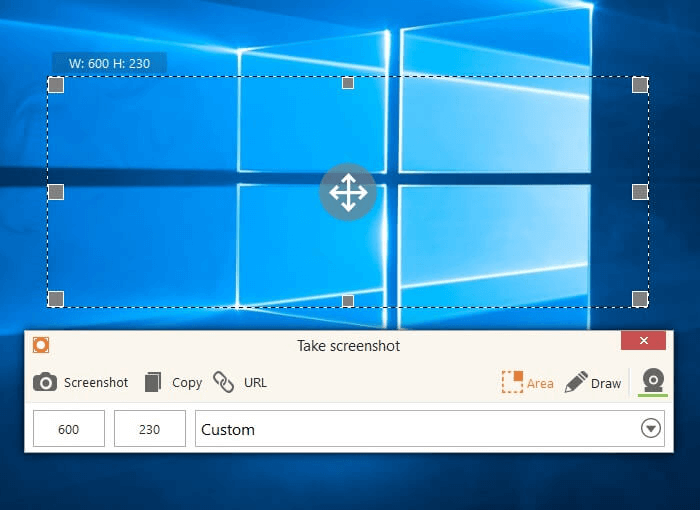 The name certainly makes your mouth water, right? Well! If you are a fan of recording screens, the features of Icecream Screen Recorder would make your mouth water too. This screen capture software lets you capture webinars, live streams, tutorials, games, app screens, and whatnot in a hassle-free manner.
And, what's even better, you can schedule your recording. Which means you can set multiple screen recordings and put a timer on each one.
Here's what all you get and can do with this video capture software –
Easily capture any area of your screen and zoom in to make your recordings more vivid
You can choose the output quality of your videos and game recordings
Add shapes, texts, and arrows to your screenshots or videos
You can even record screens with a webcam overlay
Upload your recordings on popular cloud platforms like Google Drive and Dropbox with one click
You have an option to add your own logos or watermarks to your videos
You can record a screen and save it in GIF format
Note: With the free version you get up to 10 minutes of recording time and you may not be able to add your own logos with the free version.
6. ShareX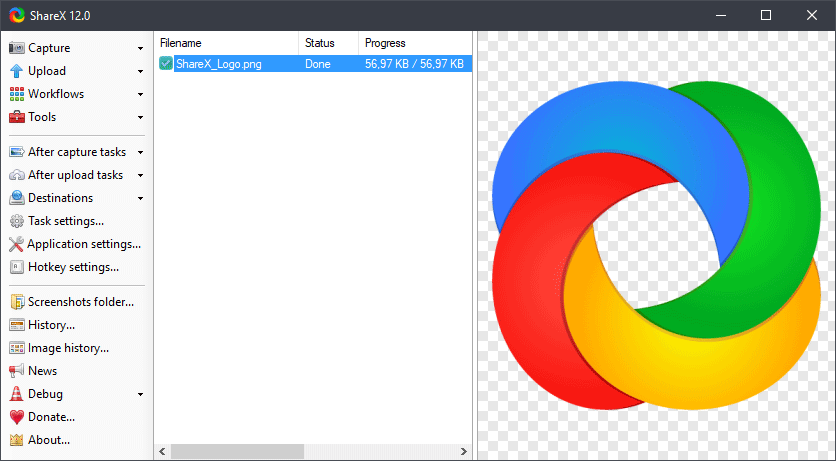 Last but not least, we have ShareX, a very lightweight tool for capturing and recording screens. And, we say that it's light, we mean it. It clocks just a little over 5 MB, unlike some other software that would weigh several times more. Another great aspect of this screen capture software is that it is open source.
Let's have a look at some of the best features of this application –
You can time screen capture using auto-capture. For example, you can capture the whole screen or window for instance and set a timer for 30 seconds
ShareX is capable of taking various kinds of screenshots like window screenshots, monitor screenshots, fullscreen screenshots, and region screenshots
You can record screen in the form of videos and GIFs
ShareX gives you the ability to capture scrollable content without requiring you to scroll down to view the rest of the content
It uses Optical Character recognition to extract text from a given screenshot when there is a huge chunk of text that can't be copied
To Sum Up
When your work or education life revolves around presentations, demonstrations, e-learning videos, the importance of screen capture software in such a professional environment cannot be stressed enough. So whether you are a corporate trainer, a teacher or a student, the above lists of some of the most efficient screen capture software for Windows will surely benefit you.
How did you like the above list? Did any of the above tools help you? Do let us know in the comments section below. Also, if you are a fan of tech-related fun stuff, we have got tons of blogs and videos for you.
Recommended Readings:
Best GIF Cutters to Edit GIF Images
The Quickest Ways To Turn Your Screen Off On Windows
5 Best Multiple Monitor Software For Windows 10
How to Speed Up YouTube Videos
5 Methods To Take Screenshots On Windows 10 PC
Follow us: