Table of Contents
Do you see multiple processes with the name Taskschd.exe running in the Task Manager? Wondering what it is? In this post, we will explain what it is and whether it is safe to disable it or not.
By offering applications and software for almost everything, Microsoft Windows is the most versatile operating system. From notes taking apps to editing apps to word editors, and more Windows has it all. But this feasibility comes at a cost and is often targeted by hackers. To fool users and to take full control of the computer, cybercriminals often camouflage malware with the name of the genuine process like taskschd.
What taskschd.exe is and is it a genuine process or not.
What is a Task Scheduler?

Task Scheduler is a built-in feature located in the system32 folder & its executable file runs by the name of Taskschd.exe. Its main function is to command the tasks that are scheduled by Task Scheduler. Using it, users can schedule any task and it is stored in the taskschd module to run automatically.
Task scheduler schedules tasks like virus check, automatic Windows updates, etc. With its help, you can also execute scripts or a program automatically.
Why do users want to remove Task Scheduler from the computer?
Some users think that Task Scheduler takes up extra memory as it is used for all the automated tasks on the computer. This myth has scared users that the speed decreases because of the task scheduler and they end up disabling it. Once they disable it, then some unexpected errors occur which can be very frustrating. The fact is Task Scheduler is very necessary and users should not disable it because users can't remember all the tasks which are regulated by the task scheduler.
Is it OK to remove taskschd?
No, it isn't okay to remove Taskschd because it is responsible for performing automated tasks. However, if you suspect that it might be infected and you end up removing it you might not experience any change but as soon as you restart the PC, then you will see the consequences like:-
msc error
Runtime Error: taskschd.msc
Module Missing: failed to register taskschd.msc
These errors are very frustrating and they can cause serious issues like not loading software, drivers or installing Microsoft-related services, etc. Working on such a computer that does not have such automated functions may make the OS useless.
A corrupt or missing taskschd could affect the functionality of the computer. If you have missing or corrupt taskschd, then you can fix it by updating Windows OS or by a fresh Windows installation.
Writers Tip:-
Removing taskschd may cause some issues like drivers not getting updated. It is advised users not to disable taskschd and to update drivers, we suggest users use Advanced Driver Updater which scans computers and provides a list of all the outdated and corrupt drivers. Advanced Driver Updater installed all the latest drivers from its vast database which helps in enhancing the performance of the computer.
Compatible OS: Windows 11/10/8.1/8/7/Vista and XP (both 32 bit and 64 bit)
Download Advanced Driver Updater
Read complete product review of Advanced Driver Updater
In addition to this, to clear malware, virus, and other infections from the system we also recommend using Systweak Antivirus. With the help of this security tool, you can keep your system protected from malicious threats.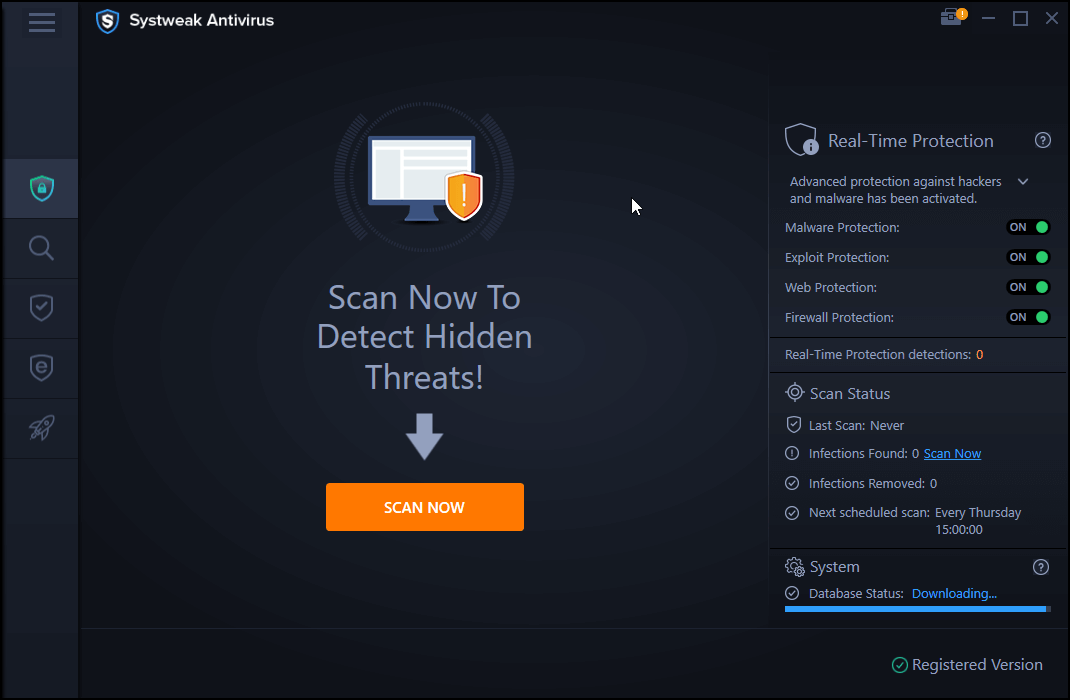 Click Here to Download Systweak Antivirus
Detailed review Systweak Antivirus
Conclusion:-
Taskschd is a module that contains machine codes generated by the OS. It is very important for all automatic functions of computers, therefore, removing taskschd is not recommended. Removing taskschd can hamper the performance of the computer by some unwanted popups. It is advised to users not to remove taskschd from the system32 folder to enjoy all automatic functions of the computer.