Pictures are the only way one can relive the memories they cherish and time with people they love. In this digital world, it has become far easier to click pictures and save them then it used to be in the earlier days. However, it has become equally easy to lose them. Just a couple of wrong clicks or a glitch in the PC system and all the pictures dear to you are gone. Hence, it is always a good idea to keep a couple of backup plans for your pictures.
However, if it has anyways happened to you and you are desperately looking for How to recover deleted photos, we have it for you. We have the right software for you to help retrieve deleted photos and it is way easier than you thought it would be, Systweak Photos Recovery.
Systweak Photos Recovery is an awesome tool to recover deleted photos even from a Formatted Hard Drive. You can easily recover deleted photos from your hard drive. To restore photos on your computer, follow these steps:
Best ways to Recover Photos from a Formatted Hard Drive
Step 1: Download and Install Systweak Photos Recovery.
Step 2: Open Systweak Photos Recover software.
Step 3: Choose the Hard Drive you want to scan to recover photos. It is especially important because otherwise it would take a whole lot of time and would show a whole lot of images that we didn't want. DOT Mark the drive you want to scan and retrieve photos from.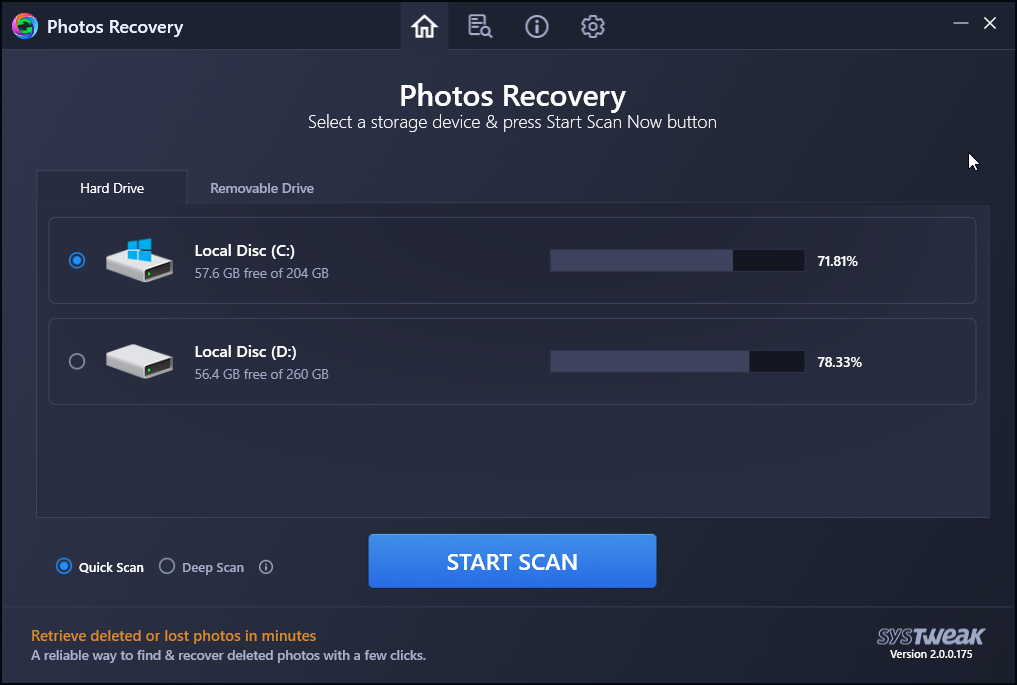 Step 4: Select the scan type; Quick Scan or Deep Scan. Quick Scan can be used to recover photos that were deleted from the hard drive using Ctrl+Shift+Del from the system. These types of files are quicker and easier to recover. Deep Scan on the other hand is aimed at recovering photos from a formatted drive. The drives that have been formatted do not contain as many traces of deleted files which makes them way harder to recover and require a Deep Scan. Deep Scan takes more time than Quick Scan, obviously.
Step 5: Click on START SCAN NOW.
Step 6: Choose the photos to recover from all the scanned pictures.
Step 7: Click Recover to retrieve the deleted photos.
Voila, now you have successfully recovered the deleted photos. Users can not only scan for the common file formats like PNG, JPG, JPEG, etc., but also other RAW photo formats like DNG, CR2, CR3, NEF, PEF, SR2, MOS, 3FR, ARI, etc., Raster Photo formats like PPM, PGM, PBM, PNM, etc., and Vector formats like AI, CDR, CGM, DXF, etc. You can change the scan options in Settings.
Systweak Photos Recovery Use Cases:
Systweak Photos Recovery is a highly versatile software and can be used in various different scenarios from recovering mistakenly deleted photos to recovering pictures lost due to system crash. A couple of use cases are:
Files Deleted mistakenly using Ctrl+Shift+Del.
Hard Drive formatted and pictures lost in the process.
Pictures lost in the process of transferring from the external drive.
Pictures deleted due to the virus definition installed on the device.
Hard Drive Corrupted.
External Drive malfunction due to improper ejection from the PC.
Conclusion:
There can be a plethora of reasons why someone would lose their pictures and even more reasons why would they need their pictures so badly. Whatever may be the case and whatever may be the reason for you to recover, Systweak Photos Recovery can provide a reliable solution for you to recover those pictures. The Intuitive interface of the software makes it even easier to use the software. You can recover unlimited number of pictures with the app. Systweak Photos Recovery doesn't just help in recovering pictures from the hard drive but also from the external devices connected to the PC. It is highly intuitive and user-friendly software and is worth every penny that you spend on it.
So, this is how you can easily recover deleted photos from the hard drive even when it has been formatted. We hope we were able to help you out in retrieving your photos and answer your questions. Do let us know how you liked the software; we love hearing from you.
Next Read
How To Recover Deleted Photos From iPhone
How To Recover Photos From An SD Card Not Readable?