Updating Windows Software is a crucial aspect to keep a PC up and running. Despite being a pain, they are worth it. Software Updates are important for various reasons such as device security, features and functionalities, etc.
Benefits of Updating Software Regularly:
Software updates help patch the security flaws present or discovered in the previous version of the application. Hackers keep looking for security flaws present in software to take advantage of it and incorporate malicious codes into the software. This can be fatal for users and data security. Hence, it is a good idea to update software regularly.
It is a heavily competitive market in the 21st century and there are always different companies looking for a void to capture the market with additional functionalities. Hence, in order to cope up with the ongoing competition, software companies keep releasing new and additional features to their product in the form of Software update. Therefore, it isn't a bad idea to update software regularly to benefit from the additional features.
Although all the data security measures are generally meant for yourself, in turn it also helps safeguard your family and friends with whom you interact very often. If your system and data is under attack, so is of your friends and family with whom you interact and send/receive data. Hence, to keep your friends and family safe, it isn't a bad idea to update software regularly.
Don't let the bugs bug you:
Software companies keep on testing and monitoring their software and observe their product's behavior under different scenarios and keep a keen eye on any report from the users about a bug or a flaw in the software. As soon as the company has substantial data about such bugs, it releases an update to resolve the errors. Bugs are inevitable in the constantly changing environment and hence, software updates keep the bugs from bugging you.
How to Download Software Updates Automatically?
No matter the number of benefits we state that updating software has, we can't ignore the fact that updating software is a strenuous task. With dozens of software installed on our PC and each releasing updates every few days, it isn't possible for anyone to check for their updates regularly, manually. Hence, we require a smart solution to the problem.
Automatic Software Updater tool is one such smart solution. Automatic Software Updater Tools are aimed at scanning, downloading, and installing the software updates automatically and provide the user a piece of mind. However, not all software updater tools are worth your trust.
We suggest using the Systweak Software Updater tool to automatically update software regularly without any hassle. Systweak Software Updater tool is an amazing software with a minimalistic user interface. To update Windows Software automatically using Systweak Software Updater, follow following steps:
Step 1: Download and Install Systweak Software Updater.
Step 2: Open Systweak Software Updater.
Step 3: Click on Start Scan to let Systweak Software Updater scan for outdated software.
Step 4: Once the scan is complete, click on Update All to update Windows software automatically.
Note: The feature to Update All Software at once is only available with the Upgraded version of the software.
Systweak Software Updater will now download and install software updates automatically. Users can also program the software updater to automatically scan and install software updates periodically at a specific time. This and tons of other features make Systweak Software Updater an absolute charm to use.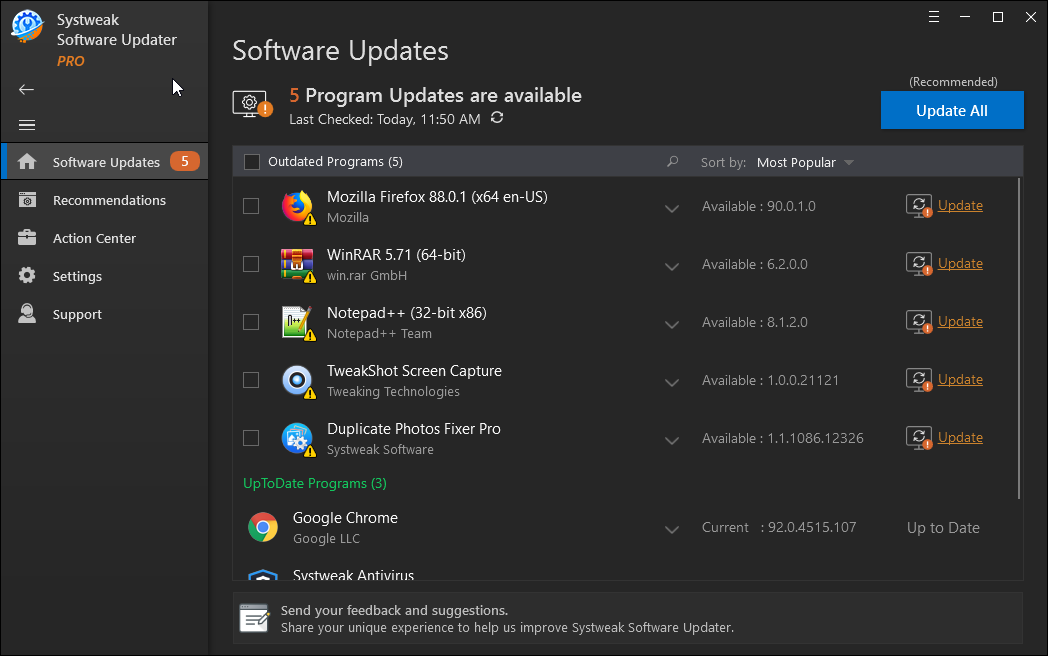 Pros and Cons of Systweak Software Updater:
Pros
Minimalistic User-Interface
A reliable tool to download Updates
Intuitive Design
Automatic periodic scans
Cons
Needs to be purchased to enjoy full functionality
With all the given features and more, Systweak Software Updater is an amazing and reliable software to use and download software updates automatically.
So, this is how you can update Windows software automatically and save yourself and your loved ones from falling prey to hackers. We hope we were able to help you out with this post. Do let's know your views, we love hearing from you.
Next Read:

How to Install Windows Software Without Junk & Malware
20 Best Free Driver Updater Software For Windows 10, 8, 7