Love streaming your favorite TV shows and movies online? If yes, then subscribing to a popular IPTV for Windows 10 can be a wise choice! But before we delve into the best IPTV players for Windows 10 (2023), let's first understand What IPTV is? & Why do you need one?
What Is IPTV Player?
IPTV short for (Internet Protocol Television) is a dedicated application/service which allows users to make their device stream a variety of multimedia content via Internet Protocol Networks. Individuals can purchase IPTV subscriptions and watch all TV Channels, Live Video & Video-On-Demand (VOD) services at any point in time over different devices, including desktop PCs, laptops, Android, iPhone, iPad, Tablet & more using an IPTV Player for windows.
Why Do You Need An IPTV?
Since Broadcast/Cable Networks are almost on the verge of extinction, IPTV simply revolutionizes the way people watch Television. It doesn't require traditional support for Antennas, Satellite Dishes, or Fibre Optic Cables to broadcast channels. IPTV Players provide access to a massive library of digital television services & other content streamed over an Internet Protocol Network. You can simply record TV Shows and watch them later.
A great IPTV Player can render a great experience while watching Television right from your desktop PC. You'll be able to boost your entertainment experience while watching your favorite shows, sports channels, movies, video-on-demand, and much more.
IPTV Formats – A Brief Overview on How IPTV Work?
When you are using an online IPTV player on your windows PC, you only need to sign up for the service and you'll be able to stream whatever you want and wherever you want. An IPTV Service basically has three formats –
Video on Demand (VoD): Lets you stream unlimited video content. Eg: Netflix
Time-shifted media: It's almost like VoD but the video content is available for a limited time, Eg: BBC iPlayer
Live IPTV: This format can be used for streaming Live events. Say, if you wish to stream your live soccer game, Live IPTV is your thing.
Also Read: How to Install and Run Android Apps on Windows 10 PC?
Top 12 Best IPTV Players For Windows 10, 8, 7 In 2023 (Free & Paid)
Without further ado, let's discuss the Best IPTV Player For Your Windows 10 PC/Laptops (2023)!
Top 5 Recommendations
Highlights
Compatibility
Price
Download Now
VLC Media Player

Most popular multimedia player for Windows.
Supports various file formats & streaming protocols.
No ads, spyware, or any sort of tracking.

Windows, Mac, Android & iOS

 

Free
Get It Here
Kodi

Complete repository for a good range of add-ons for almost everything.
Can be used to manage all your media files.
Play video-on-demand (VOD) and live TV with compatible plugins.

Windows, Mac, Android, iOS, Linux & More
Starting from $5/month
Get It Here
TVPlayer

Offers live TV channels, TV shows, Movies & Internet Radio using the M3U file system.
Simple interface with channels listed by their stations.
Supports Xbox One, Hub, Mobile devices, and PC.

Windows, Mac, Chromecast, Android, iOS & more
Free/ $9.99 per month
Get It Here
Simple TV

64-bit streamlined video from various sources.
You can also listen to online radio channels.
Supports LUA script & playlists created by other users, which can be downloaded.

Windows 10, 8, 7, Vista
Free
Get It Here
MyIPTV

Play live TV programs & videos through M3U playlists.
Trusted media player with EPG for effortless stream.
MPEG TS and HTTP Live Streaming support, to categorize channels based on channel data.

Windows & Android
Free (In-app purchases)
Get It Here
1. VLC Media Player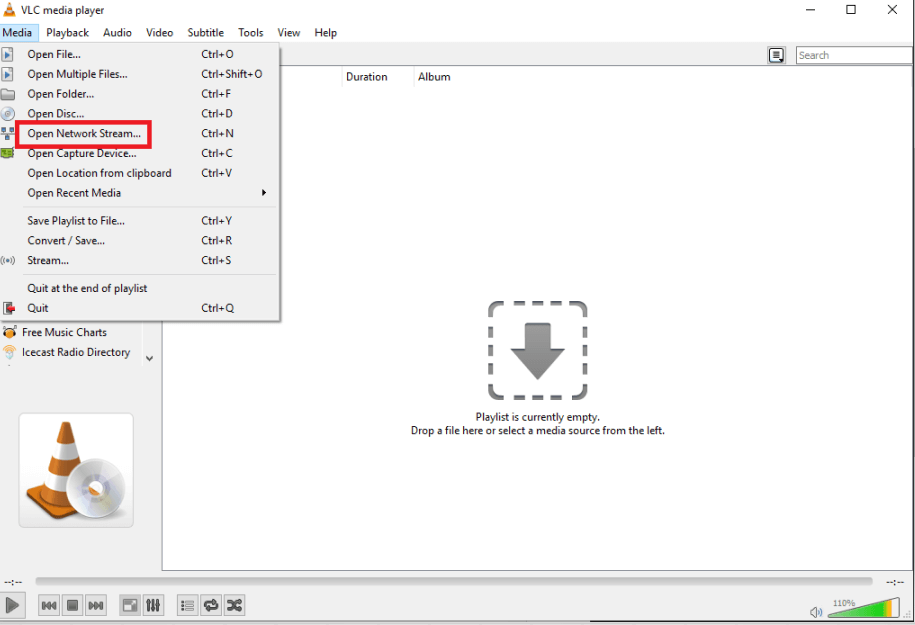 VLC Media Player is one of the widely acclaimed IPTV player for Windows 10 which doesn't just let you play your local media but even IPTV contents using m3u files. Follow the path below to live stream IPTC content.
Steps:
Open VLC media player
Go to Media
From the dropdown that opens select Open Network Stream
Paste m3U playlist
HIGHLIGHTS: VLC Media Player
Best Open-Source IPTV Player for Windows 10 with user-friendly interface.
Has several in-built codes.
In addition to playing CDs and DVDs, it can play back encrypted DVDs with the inbuilt DVD decryption library.
Its M3U file support lets you stream your favorite shows without any hiccups.
Reasons to get VLC Media Player:
Utilized as a conventional regional media player, but it supports playing IPTV content too. Multiple uses resolved!
Almost all video and audio compression file formats are supported by it.
Supports Live Streaming content across computer networks. Hence, can transcode multiple files.
2. Kodi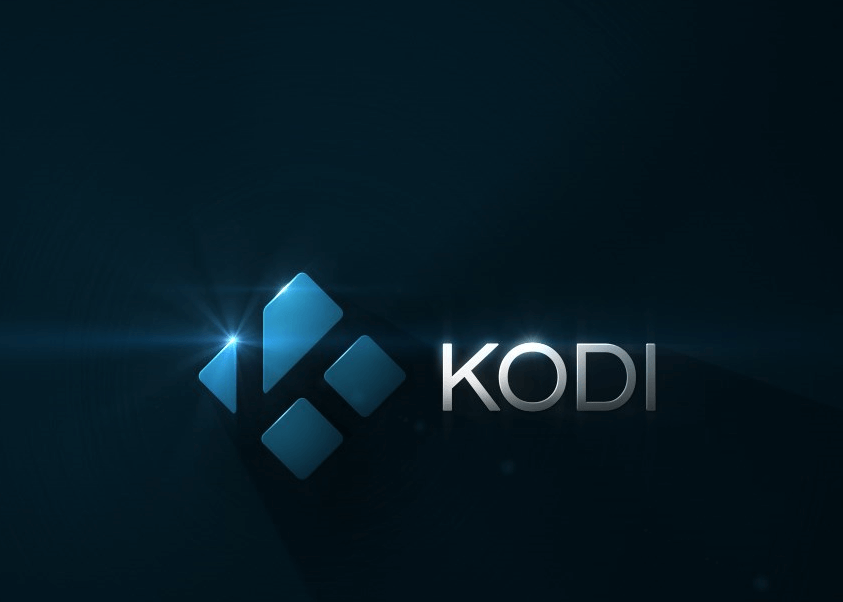 Making it to the list of best IPTV players for Windows 10 is Kodi which is an IPTV player for PC that lets you play local media as well as live digital channels and Videos on Demand (VoD).
It is important to note that there are several third-party add-ons available for Kodi but there are certain add-ons which aren't legal to use. So, you should first go through the add-on thoroughly before you install them on your PC. You can also select from some of the best VPN services to stay anonymous and protect your privacy.
Steps:
To stream content with Kodi:
After opening the Kodi application, click on "TV or Radio"
Enter the URL.
While these were some of the best IPTV players for Windows 10, you might also want to check out some of the best IPTV player apps for your Android or iOS device as well.
HIGHLIGHTS: Kodi
Supports countless add ons & plugins.
Allows users to watch movies both online and offline.
Helps in properly managing your local media files.
Reasons to get Kodi:
Straightforward UI, so that you can stream your favorite content with ease. A suitable choice for both novice and advanced users.
One of the most popular & well-programmed IPTV Players in the industry. Hence, you won't experience any hiccups while using the utility.
Compatible with almost all kinds of devices and operating systems.
Also Read: Kodi Not Working?' Use These Best Tips To Sort It Out
3. TV Player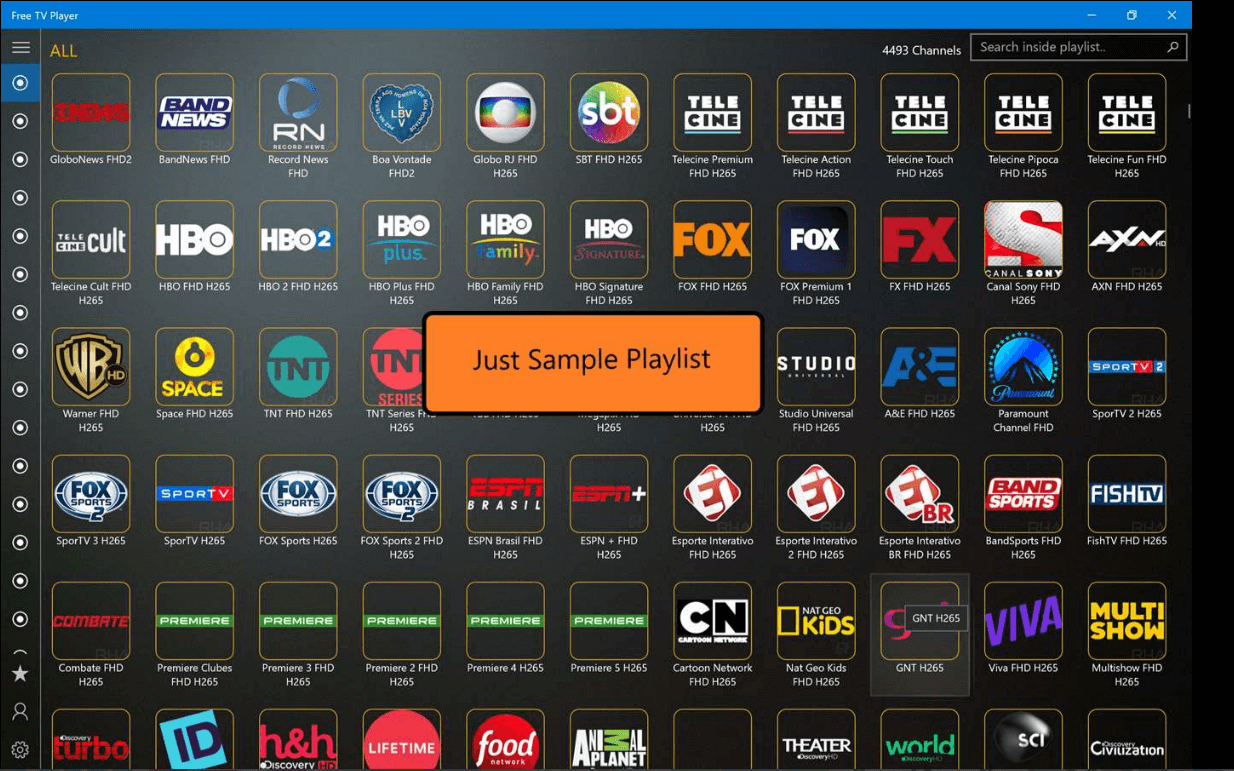 TVPlayer is one of the best IPTV players for windows 10 PC you can use in 2023. It is a free IPTV player for PC that lets you stream online TV channels, series, movies, and even listen to Radio. The application has an attractive and intuitive interface which makes it a suitable choice for both novices & advanced users. You can create a playlist according to your preference & secure it for later use.
Steps: 
Open the app.
Paste the m3u playlist URL.
Once all the channels appear, get started with unlimited entertainment!
HIGHLIGHTS: TVPlayer
Ability to stream Live TV Channels, Shows, Movie Marathons & more.
Create a customized M3U playlist to watch live content.
Allows you to watch a plethora of movies, shows, and Live TV for free of cost.
Reasons to Get a Free TV Player:
One of the most lightweight IPTV applications doesn't affect battery performance. Hence, you can binge-watch for long hours.
Supports playing Videos-on-demand (VOD) & other digital content without any hassles.
Have endless love for listening to Radio? Switch to Free TV Player and enjoy Internet Radio in just a few clicks!
4. Simple TV
What makes Simple TV one of the best IPTV players for Windows 10 is the fact that it is a portable player. Which means new entries are not updated on either the Windows registry or even Start menu without your prior approval. With Simple TV, you can customize each entry is displayed on the main window. This makes browsing channels easier.
HIGHLIGHTS: Simple TV
Allows users to correct brightness, volume, and more.
Supports downloading playlist created by another user.
Let's you indulge in the melodies of radio channels.
Reasons to buy Simple TV:
Customization can be done on the primary window to make browsing stations simpler.
Additional features like cropping video stream, live recording, snapshot ability & more, make it the Best IPTV Player for Windows 10.
Supports scheduling the recording for later watching.
5. MyIpTV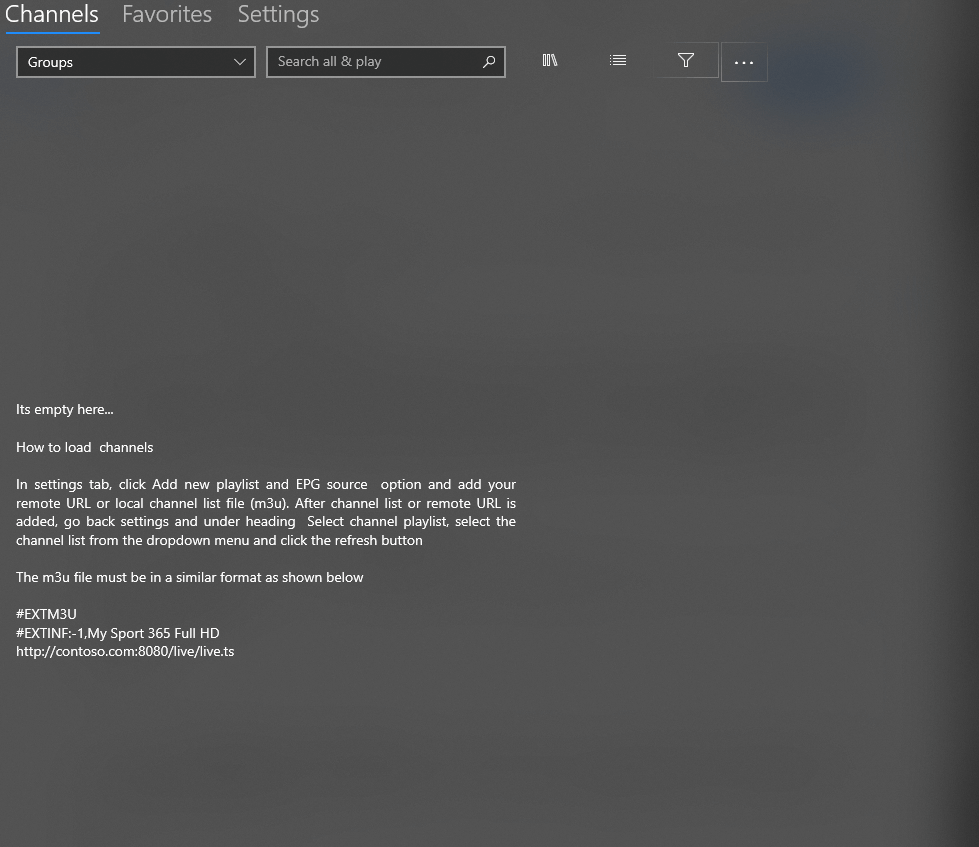 Probably the best IPTV player Windows 10, MyIPTV is easily available on Microsoft Store for free and lets you play live TV programs and videos via m3u playlists seamlessly with ease. It has an easy to use interface.
Steps:
Go to settings
Add new playlist and EPG source
Add local channel list (m3u playlist) or any remote URL
Go back to "Settings"
Select channel playlist and hit the refresh button.
HIGHLIGHTS: MyIPTV
Simple & straightforward interface.
Comes with in-built EPG support & favorites
Tons of channel filtering options to offer you the best experience ever.
Reasons to get MyIPTV:
The IPTV Players can be protected with the help of a PIN.
Supports Full HD in 1080p resolution, so that you can enjoy your favorite content in the best quality and resolution.
Easily download videos on demand using MyIPTV & use the VLC library for media playback.
6. GSE SMART IPTV
This might not be a dedicated IPTV player for Windows 10. However, as it is great tool app for Android and iOS, you can have it on your Windows PC too. If you are wondering how? You can choose from amongst several Android emulators. Our choice of preference is Blue Stacks emulator.
Steps: 
Download and launch Blue Stacks emulator and sign in
Now open Google Play Store, search for GSE SMART IPTV and install it
Add the playlist and URL
HIGHLIGHTS: GSE SMART IPTV
You can use GSE SMART IPTV with the support of Emulators on any device.
Highly compatible with almost all types of video file formats.
Brings responsive functionality to split the content according to screen size.
Reasons to get GSE SMART IPTV:
One of the most popular cross-platform IPTV Players available in the market right now. Get ready to enjoy the brilliant streaming experience ever!
Reliable IPTV Player to access live and non-live streams.
Supports a Chromecast feature, which makes this IPTV Player a unique option to choose from the glut.
7. Plex
For smart video streaming, Plex is one of the best IPTV players you should definitely consider.  It has the capability of transcoding almost any media file so that there is slow loading and less buffering. This indeed adds on to the user experience.
Steps:
Install Cigaras IPTV channel and under the Online Content head select Channels
Next up, locate and click on IPTV addon and hover your cursor on Settings (the cog icon) and click on it
Under View Playlist Settings paste the URL of your IPTV .m3u file and click on the Save button
Now look into the View playlist section and look for the TV channels or a group of channels available
Select your desired channel and you are all good to go!
HIGHLIGHTS: Plex
Fancy interface with excellent transcoding ability.
Supports streaming 4K content as well, which some of the IPTV Players still lack.
Easily adjust the streaming quality and other settings according to your preferences.
Reasons to get Plex:
One of the Best IPTV Players to enjoy buffer-free continuous streaming.
Supports a variety of video and audio formats, including MP4, MKV, HEVC, AVI, MOV, DIVX, MP3, M4A, FLAC, WMA & more.
Offers tons of free movies and TV shows to watch.
8. IPTV Smarters Pro
Though the application is made for iOS and Android devices, the same can also be used on Windows as well using Android emulators. This is the reason why IPTV Smarters Pro is also one of the best IPTV players for Windows 10 as well.
Steps:
Download Bluestacks or any Android emulator by following these steps
Once you are done with the complete process, click on the Play store icon which will launch the Google Play Store for you
Now search for IPTV Smarters Pro in the search bar
Just as you would do in the app, paste the URL/ playlist file
HIGHLIGHTS: IPTV Smarters Pro
Supports almost all types of video formats, including 4K.
Allows you to record Live TV. Useful for later watching!
High compatibility with Android & iOS devices as well.
Reasons to get IPTV Smarters Pro:
Unlike other popular IPTV Players for Windows 10, it supports several APIs such as Xtream Codes, StreamCreed, Xtream UI, and more.
It even supports multi-screens and multi-connections. Hence up to 4 users can watch their favorite content at the same time.
Provides advanced functionalities such as Parental Controls & VPN integration.
9. ProgDVB/ProgTV
Whether it is listening to online radio channels or watching digital TV channels, ProgDVB/ ProgTV is one platform to look for. It is a powerful IPTV players for Windows 10 which supports data from various sources –
Steps:
On the main menu application, select TV Sources
Now, click on IPTV Client
Enter the .m3U URL in the textbox under Playlist
Go back to the main menu and click on the Channel list
Your selected channels will now appear and you can start streaming using this IPTV service.
HIGHLIGHTS: ProgDVB/ProgTV
Universal player to enjoy IPTV contents without any hassles.
Utilize ProgDVB/ProgTV to capture TV and Radio Stations.
Supports over 45 video formats in addition to 5 streaming formats.
Reasons to get ProgDVB/ProgTV:
Highly secured IPTV Player, since two independent user interfaces are merged to create a secure network.
Has over 10 different brands of equalizers, recording features, PIP support, channel preview, and so on.
Covers multiple data types under its umbrella, including DVB-S (Satellite), DVB-S2, IPTV, DVB-T, DVB-C (Cable), ISDB-T, OTT Club & counting.
10. IPTV
Using IPTV you can stream digital channels from live media sources which are available free of cost across the web.
Steps:
Launch the app
Head to the settings option
Enter your URL
Load your desired playlist and click on
OK
HIGHLIGHTS: IPTV
The elegant interface aims to provide a modern TV experience.
Allows you to view free live TV stations from internet sources.
Support various formats and tune into multiple TV channels right from your PC/Laptop.
Reasons to get IPTV:
Allows you to play high-quality videos under low data connectivity.
Just needs access to a list of channels in M3U format to get started with pure entrainment. Completely hassle-free right?
Although the app doesn't broadcast any media sources for streaming digital content. It offers a dedicated platform where you can watch IPTV content without any issues.
11. Perfect Player Windows
Next on our list of Top IPTV Players for Windows is Perfect Player. It is probably the most popular software among the glut for streaming IPTV services. It comes with an efficient semi-transparent OSD, and users get the option to control and manage playlists in full screen. It has a clean and straightforward interface that makes enjoying your favorite content right on your PC.
Steps:
To add the IPTV channels, simply launch the Perfect Player and click Add Playlist option.
Paste the M3U playlist URL provided via your IPTV distributor and hit the OK button.
Click on the red arrow button to bring the list of channels.
As soon as your playlist is loaded, select the channel name and hit the Play button.
HIGHLIGHTS: Perfect Player Windows
Allows users to control and manage full-screen playlists.
Supports M3U, XSPF and EPG formats.
Offers a scalable OSD option.
Supports rendering videos perfectly with any screen size and resolution.
Reasons To Get: Perfect Player Windows
Offers multilingual support. The IPTV Player for Windows 11 is available in English, Spanish, Russian, Portuguese, Ukrainian, etc.
Ability to play sub-channels in small windows.
Offers a dedicated timer to stop and save videos per your preference.
12. OttPlayer
Here comes a multi-platform IPTV Player to install on your computer, smartphone, Surface Hub, HoloLens, etc. The application allows users to enjoy a variety of IPTV channels from your ISP or other sources like TV or set-top box and tablet. And the best part of using this IPTV Player for Windows 11 is everything is centralized from the official website.
Steps:
Create an account on the official website of OttPlayer.
Enter the credentials for successful registration.
Download the playlist on the respective device and enjoy watching your favorite content using this best IPTV player for Windows 11.
HIGHLIGHTS: OttPlayer 
Supports a wide range of protocols including HLS, RTSP, TS, UDP, RTMP,
Ability to watch IPTV from your ISP and other sources on the phone, tablets, or P
Supports downloading and playing playlists like M3U8.
Completely free from advertisements, making it the best IPTV Player for Windows 11.
Reasons To Get: OttPlayer
Easily manage playlist icons for channels.
Enjoy centralized controls of all your playlists and more from the official website.
Lots of performance enhancements and other improvements are frequently added, which makes it one of the best IPTV Players For Windows 11.
 That's it! You can select your desired live channel.
Frequently Asked Questions: Best IPTV Players For Windows 10 PC
FAQ 1
Is IPTV Illegal?
Absolutely! Using IPTV Players is completely legal as long as you are watching authentic & legitimate content.
FAQ 2
Can I Get IPTV For Free?
Of course, there are plenty of applications available in the market that lets you stream live Television through the Internet without costing you a penny. However, the paid services range from $10-$20/Month.
FAQ 3
Is There Anything Better Than IPTV?
Well, OTT accesses free content from third-party subscription services like Hulu, Netflix, YouTube, and more. These OTT platforms are certainly cheaper than IPTV since it proffers free content from various public channels.
To Conclude
If you have been looking for IPTV players for Windows 10, we hope that we have been of help. Which one do you think is the best IPTV player for Windows 10? We hope that you enjoyed this post and if there's any IPTV player for Windows that we missed out or if there's any tech related fact you want to share, we're all ears! Do mention it in the comments below.