A VPN ensures anonymity which means no matter what, snooping eyes will not be able to get a clue of your online activity. Yet, a question that still looms in our head is  "What does my ISP see when I use a VPN?", Can my ISP see what sites I am visiting? To begin with, your Internet Service Provider (ISP) will be able to figure out that you are using a VPN since you are going through a network to get connected to your VPN, right? But, is that the only thing they can see?
Now, since a VPN promises to protect your privacy, let's check to see what an ISP can and what they can't see beneath the surface –
Also Read: What is a VPN and What does a VPN do?
What Does Your ISP See When You Use A VPN?
When you connect to a VPN, your internet service provider knows that you are connected to an IP address that is owned by a VPN
– The VPN connection You Are Using
Your ISP will be able to see that you are connected to a server ( a server provided by the VPN) but the provider will have no clue what you are doing. The reason being that all trusted and popular VPNs have military-grade encryption because of which every small piece of information becomes encrypted.
– Your Browsing Time
Even though your ISP can't see what sites you are visiting with a VPN, they know when you connected to the internet, how long you surfed it and when you left. In other words, your ISP is aware of the connection timestamps.
– Deep Packet Inspection
ISPs sometimes use a technique called deep packet inspection or DPI to analyze your VPN traffic, Something they might use if you often use a VPN. in this technique, the data packets you send are analyzed and VPN traffic patterns are analyzed. OpenVPN is one of the most easily recognized protocols since it has a unique signature.
But, that still doesn't mean that your internet provider can see what you search for with a VPN.
– The Amount of Data Being Sent And Received
You could be using the VPN for a variety of purposes – for streaming Netflix/ HBO/ Amazon Prime/ Hulu libraries not available in your country or playing exclusive games not available in your country, no matter what your intention is, your ISP at least knows the amount of bandwidth you are using. They'll also know if you download a large file and also the amount of traffic being sent to and received by your device. Don't worry! This data is still encrypted and unreadable
– The Port of Protocol You Are Using
In the beginning, we mentioned that your ISP is at least able to figure out that you are using a VPN. One of the reasons it can do that is because it can see your port number based on which it can guess your protocol. Each of the protocols IKEv2, OpenVPN (TCP/UDP), or any other protocol has specific port numbers.
Must Read: Different KInds Of Protocol Used By A VPN
What Is Your ISP not Able To See When You Use A VPN?
The websites you visit or your web activity
The time you spent on each website
The files you download from websites
Things that you type in your search
So, Unless and until you are using a VPN in a country where it is banned, you should give VPN a shot for protecting your data online. And, as far as your ISP is concerned, yes! There are certain things they can see but not enough to dent your online privacy. Also, here are some common uses of a VPN.
And, if you are looking for a VPN, here are some of the best VPNs available. SystweakVPN, for instance, is one of the best-reviewed VPNs for Windows 10.
Systweak VPN Features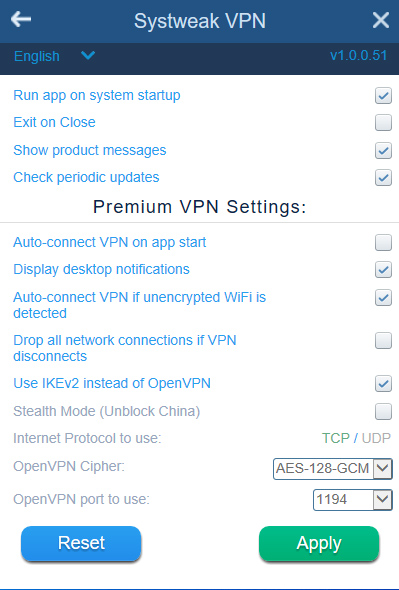 –       4500+ servers across 200+ locations in 53+ countries
–       High-speed streaming
–       Strict no-logs policy
–       AES-256-bit military-grade encryption
–       IKev2 and Open VPN protocols for speed and security
–       Kill switch enables that as soon as VPN drops, eve your internet connection drops
–       Smart DNS
Price: US$ 71.40 annually and US$ 9.95/ month
Money-back guarantee: 30 days
Click Here to Download Systweak VPN
Something To Take A Note Of –
– Why is My ISP Anyways Able To See The Above Mentioned Data?
This is because your Internet Service Provider connects you to your desired website. It works like this – you send it a request via data package, asking the ISP to connect to a VPN server post which the VPN takes the responsibility to take it to the final destination.
– Your ISP Can Block VPN Server's IP Address
Now, in the starting, we mentioned that an ISP knows that you are using a VPN. And, since they can perceive its presence, they can even block it. In which case you won't be able to connect to the blocked VPN server anymore. But under what circumstance will an Internet Service Provider be forced to take a step like that?
But, why on Earth would they even do that?
Under normal circumstances, an ISP won't have any reason to block your VPN server's IP address, but, in case, an ISP perceives that you are indulging in some illegal activity, downloading stuff you are not allowed to, then they can block your VPN server's IP address.
And, how do they do that?
By applying inbound and outbound traffic rules which would further bar you from using a VPN.
Wrapping Up:
If you liked the blog, do give it a thumbs up, for more such content keep reading Tweak Library. You can also find us on YouTube, Facebook, Twitter, Instagram, Flipboard, Pinterest, and Tumblr.
Next Readings:
Top 7 Uses of VPN – When to use a VPN