Table of Contents
Hide your data from Facebook, while still using it and posting on Facebook.
Hesitant to tap or hit the delete button to remove your Facebook account? Well, there are other ways you can follow to stop Facebook from tracking you.
Facebook knows everything about you, your weekend getaway and more. Surprised! don't be, since you posted photos on your profile page, Facebook knows about it along with additional information that you did not share.
Facebook, no longer is considered a social network. It is more of an ad network that chases you on the Internet to collect personal information, know about you and create tailor-made ads. As you plan a trip, Facebook starts tracking the websites you visit to know about your interests, what you shop, who went with you on the trip, and other data. Facebook has all this information as it collects location data too. When all this is put together it reveals more information about you than you can imagine.
The company tracks you so much that you might start to feel as if; Facebook is secretly listening to your conversations. In fact, after hearing about how Amazon's Alexa and Google Home listens to your private conversation thinking like this is obvious. However, Facebook denies listening to us via mic on phone. But this doesn't put an end to the constant conspiracy theory about Facebook.
Facebook's information collection is much more real than infiltrating your conversations.
Scariest of all is, you can't stop Facebook from collecting personal information. Even after you deactivate or delete your Facebook account (that said, account deletion will reduce data collection.) but Facebook will still have data about you. To know what information Facebook has of your click here.
As said there are ways using which you can limit these practices and data collection by Facebook.
How to keep your data safe from Facebook
Here we bring for you certain tips to keep Facebook off your info.
Step 1: Login and opt out of seeing ads
First, to stay safe online limit the information Facebook collects and uses to know which ads to display for you. To limit personal information collection by Facebook, follow the steps below:
Steps to limit personal information collection by Facebook
1. Open your Facebook account.

2. Next, head to Facebook settings > here click on Ads option present in the left pane.
3. Now, under Ad settings head to "Ads based on data from partners," option. Here click on the down arrow to stop seeing ads created on the basis of data collected from companies that partner with Facebook.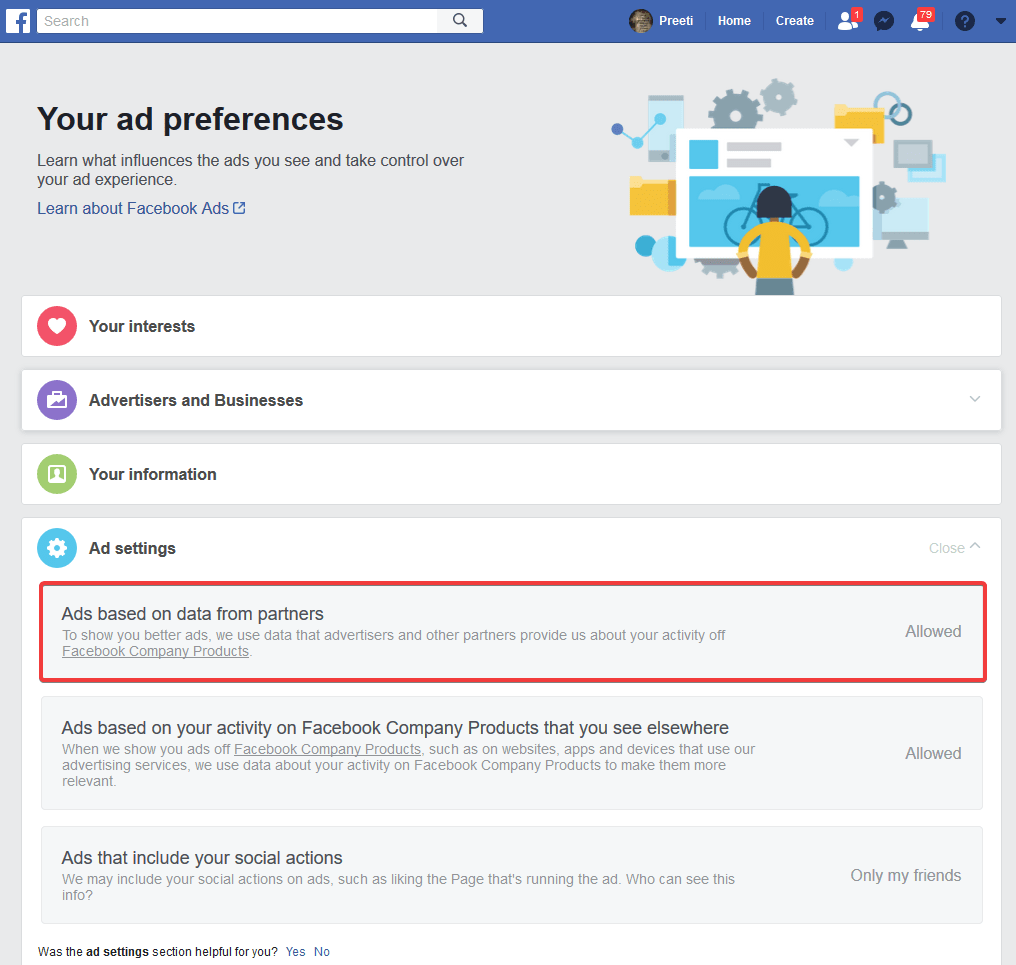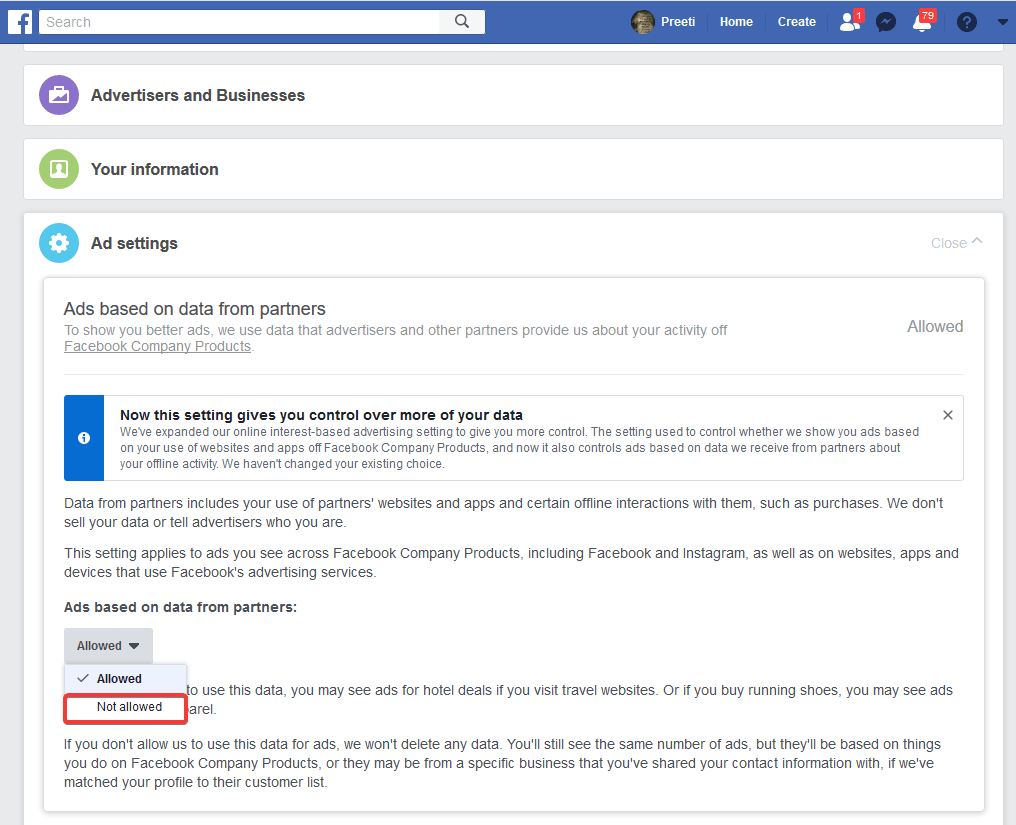 4. Next section is "Ads based on your activity on Facebook company products that you see elsewhere." Select 'Not allowed' by clicking on the down arrow to limit Facebook from collecting your personal information and showing tailor ads on outside websites.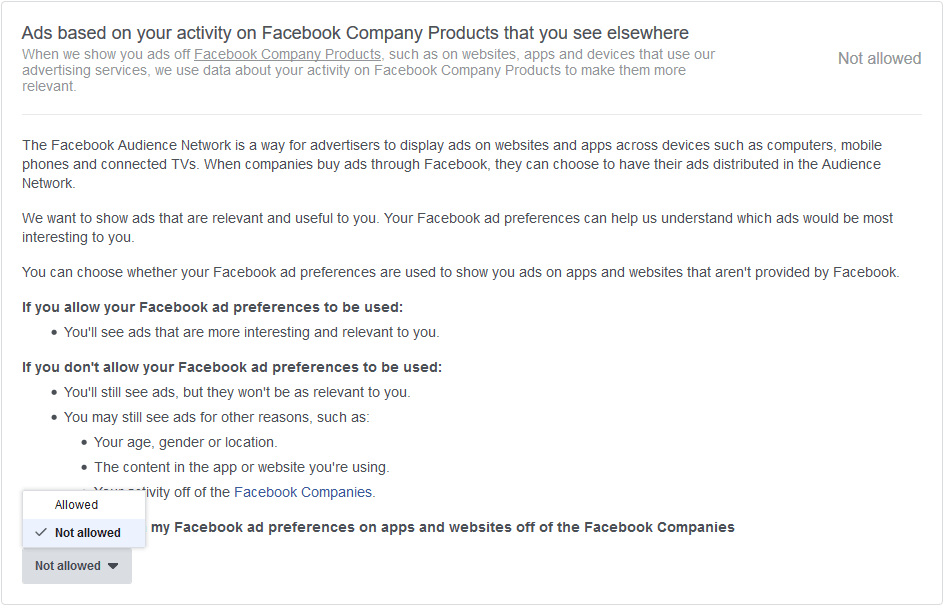 Remember, Facebook displays ads on other websites. Opting out of everything doesn't mean Facebook will stop collecting personal information. The company is still going to display ads that may attract you using your details and choices of people like you.
Step 2: Remove third-party apps from Facebook Settings
Last year's, Cambridge Analytica scandal, brought to light how Facebook and other tech giants are collecting data and misusing it. The outrage not only revealed how much data is transferred to third-party companies and businesses through Facebook. But it also brought to light practices tech giants follow to collect personal information.
However, since then Facebook and other tech giants have changed options, how third-party apps can use personal information. But still, to stay safe online it's always a good idea to keep a check on Facebook settings and know what Facebook is doing recently.
To check Facebook settings, follow the steps below:
1. Open Facebook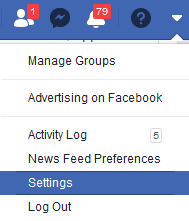 2. Head to Facebook Settings > "Apps and websites" from the left pane.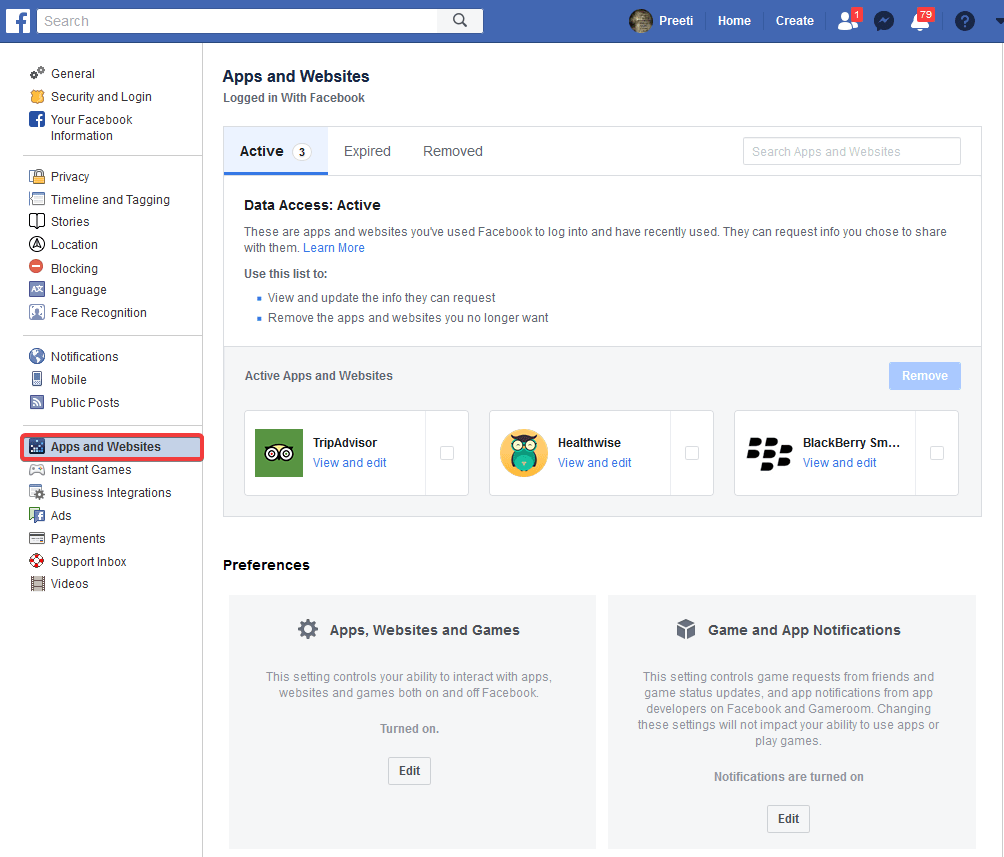 3. Here you'll see list of apps/websites you logged in using the Facebook account. Select the checkbox next to them to Remove and limit the information they can request.


4. Under Preference section, Turn off access to your account by clicking on Edit option beneath different sections "Apps, Websites and Games, " Games and App Notification.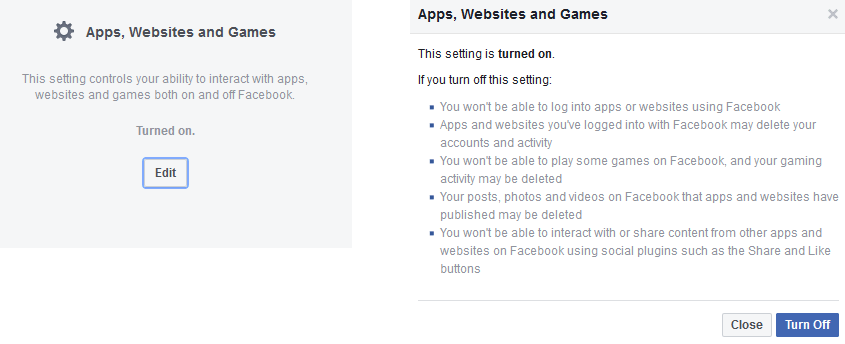 Note: If you choose to completely disconnect third-party apps from the FAcebook account, you won't be able to log in to those apps using your Facebook account or use "like" and "comment" Facebook's features.
Also Read: Beware!! Your Facebook Messenger Is At Risk of a Malware Attack
Step 3: Use browser provided blocking tools
No need to depend on Facebook to limit or secure your information. You can use browser provided tools to block Facebook from collecting personal information.
Brave browser: is one such browser that does this for you for Free. The brave browser offers private tabs that use Tor to hide identity. This means Brave browser will provide you protection from all sorts of tracking that you are a victim to without your consent.
With Brave browser, your ISPs get encrypted traffic that will stop them from tracking your location and data sharing.
Privacy Badger: A free browser add-on for Firefox, Chrome, and Opera that blocks spying ads and trackers. Using Privacy Badger, you can access the social network without being tracked even when Facebook has those trackers working.
There are other similar tools that you can use.
Safari: in-built browser for Mac users automatically blocks Facebook and other third-party services from using web trackers on websites i.e.:
–          Browser fingerprinting
–          Third-party cookies
To limit Facebook's watching ability you'd need to control these trackers.
Likewise, Firefox offers Facebook Container, an extension to split your Facebook account activity from third-party websites. This means Facebook will know about your activity on third-party sites only when the share button is used.
Step 4: Hide your location from Facebook
To limit Facebook from knowing about the people around you, disable Facebook apps access to location service on your phone and PC. This won't be enough, as your IP address discloses your location, therefore, for this use VPN to hide it.
A VPN is an encrypted connection over the Internet. Be careful while choosing a VPN, make sure you use the best VPN.
Also Read: How To Anonymously Report Abuse Online: Facebook, Twitter, and Instagram
Step 5: It's not it
Last but not least, try not to install the Facebook app on your phone. This step will surely limit Facebook from adding your contact to the personal information it already has about you. If you keep these tips in mind you won't need to delete Facebook account. This isn't it how can we forget about Facebook-owned services, like Instagram, WhatsApp, and Messenger. They all add up to data collection if you can consider quitting them too then nothing can be better.
Surely, this won't stop tech giants like Google, Amazon from collecting information. It's just that since Facebook is more visible and in news we all are after it. There are other players too that we miss out on.
Keep reading our articles to know how to limit these other giants from collecting your personal information.
We hope you like the article; do leave your comment in the section below.