Kudos! if you are all set to head towards your dream destination for exploring places, meeting people and relishing delicacies. Amidst all the sightseeing and enjoyment, you would want to have a quick glance on your social media accounts, maybe watch a video or two or maybe and occasionally email a client.
But, can you have access to all the websites and social media platforms? The answer to it is No!
You might not be able to access all the websites, thanks to geo-restrictions. In addition to this, your dependence on the Internet while traveling makes it even more difficult. But all this can be sorted if you using WiFox and VPN while you travel.
If you end up spending long hours at the airport to pass time you might need Wi-Fi access. But to have it you need to pay right?
What if I say without paying you can get access to Wi-Fi password? Surprised!
Lately, Anil Polat (a computer security engineer and travel blogger) launched an interactive map (WiFox) using which users can access WI-FI passwords of networks at the airport. Using the app is simple. The user just needs to tap on the airport name and the information about the available connections will be there. Using these details without paying a penny Wi-Fi can be accessed. Not only this, Polat regularly updates this map. This means you will get information about most of airport's Wi-Fi connection.
For those, this seems useless let me tell, you can download an offline version of the map. This means you can use it even when you don't have an active Internet connection.
Wondering in all this what role does a VPN play?
A Virtual Private Network or VPN hides your data, something that can be compromised if you are using a public Wi-Fi, say for instance, at an airport. So now you know how these VPNs will help.
Leaving aside public Wi-Fi, your own ISP (internet service provider) can sell your metadata to advertisers and third parties. With a plethora of VPN services bundling the web, it might be difficult to choose the right service. So, based on budget-friendliness, speed, jurisdiction policies, and several other factors we have a list of some of the best VPN for traveling with the help of which you would be able to seamlessly browse online content without prying eyes causing any harm to your security.
Also Read: Top 5 VPN For Windows PCs
Best VPN Services for Travelers in 2023:
1. Systweak VPN
Looking for VPN for travelling abroad? Let's start with Systweak VPN which is a great VPN for Windows 10. It efficiently improves and boosts your online privacy especially if you frequently use your personal accounts on public Wi-Fi or if you are worried about ISP throttling.
Click Here to Install Systweak VPN
What Systweak VPN Has To Offer –
It is easy to set up and easy to use

It hides your IP address and encrypts your internet traffic via secure servers. Even if the connection drops it has a kill switch that will block your device and secure your private data

You can now access all your favourite sites such as Netflix and many others without having to worry about demographic restrictions  

Your online browsing is protected by military grade AES 256-bit technology. There is no chance that your ISP will be able to barge into your anonymity
Price: Starts from $ 9.95/month
2.  Hotspot Shield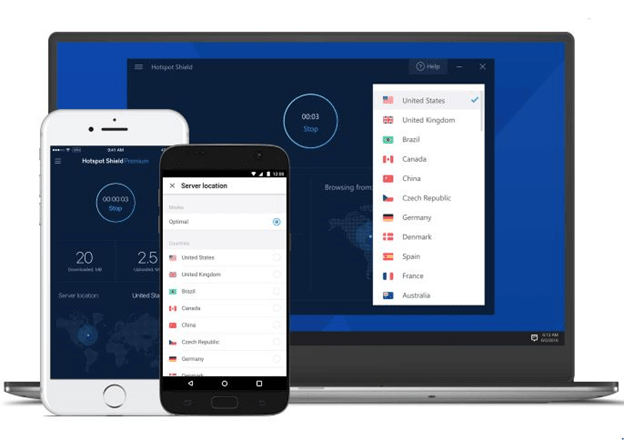 When traveling, you wouldn't want to meddle with a VPN service that takes centuries to set up or that overwhelms you with the interface. Come in Hotspot Shield, a VPN service provider that is liked by over 650 million internet users because it is one of the fastest and easiest VPNs to set up.  If you are new to VPNs, Hotspot Shield could be a great choice.
What Hotspot Shield has to offer
Extensive malware protection keeps you protected from 3.5 million malicious websites.
Ad-free access to website content with unlimited bandwidth.
Multiple device support
Price: Starts at $ 2.99/month
3. Nord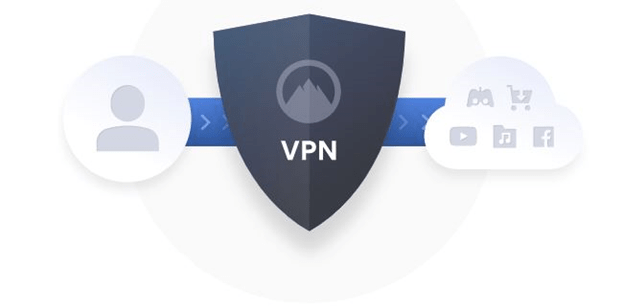 You could be traveling to China for its exotic landscapes, mind-boggling culture, mouth-watering delicacies and not to forget the great wall. But your instincts to check up on your Facebook, Gmail or Twitter accounts might not get you past China's digital censorship and firewall and if something can, it is Nord. It is the best VPN in China and countries like India, Ukraine, the United States, Indonesia, and the United Arab Emirates. No matter on what device you access your internet, Nord delivers stable and fast connection everywhere.
What Nord has to offer 
It has more than 5000 servers which boil down to less load and a wide variety of locations.
Military-grade 256-bit double encryption that keeps your data safe from malware and hackers. Apart from that, you can even bid bye-bye to ads that would otherwise make your browsing session annoying.
An automatic kill switch that blocks the apps that you have specified and your device per se from accessing the web in case there is some glitch in the connection.
Price: Starts from $ 2.99/month
Have a look: Best VPN Services: VPN Unlimited Vs Nord VPN
4. Surfshark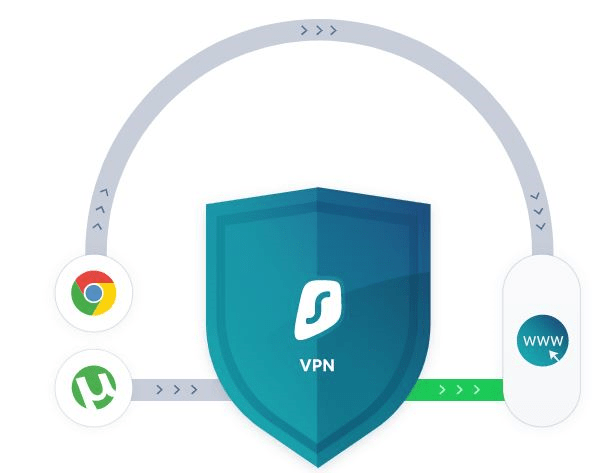 Surfshark has in place AES-256-GCM encryption with which it guards your personal data. Despite being new to the VPN scene, Surfshark is going head-to-head with the most renowned VPN providers on the block. It's one of the few VPNs to operate in countries like China. It lets you unblock some of the popular streaming services like Hulu, Netflix, Amazon Prime and so many others at great speeds. As for communicating with the interface, if you just starting out with using VPNs, Surfshark is just the right option for you since it has a minimalistic interface.
What Surfshark has to offer    
Unlike many biggies in the VPN scene, Surfshark allows you to use unlimited devices for browsing the internet.
Its in-house technology called "Whitelister" lets only specific apps to pass the VPN gateway. This is specifically great for banking apps which are vulnerable to data security threats.
With Surfshark's "Multihop" and "NoBorders" Mode you can connect via multiple servers in areas where many other VPNs might not just be able to reach.
All of this at one of the lowest prices.
Price: Starting at $1.99/month
5. CyberGhost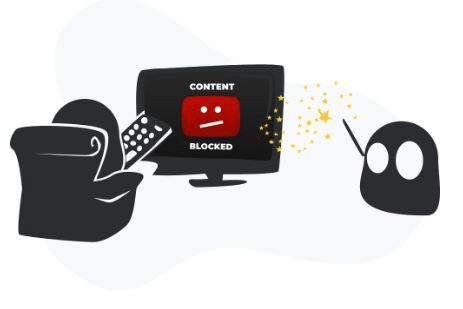 Offering you complete customization and ease of interface, CyberGhost makes your complete browsing session anonymous. It is intelligent to protect you every time you access internet at a public place like a hotel, restaurant or airport. With just one click a secure connection will be established with a fast server available.
It more than 3600 servers online and more than 20 servers in countries like Hong Kong alone, it is undoubtedly a fantastic Hong Kong VPN.
What CyberGhost has to offer
It has NoSpy servers which are powered by 256-bit AES encryption for ensuring that no third party can interfere with your security. These servers also deliver extended bandwidth so that you can enjoy seamless browsing and downloading experience on all websites.
One subscription keeps your data and identity intact on up to 7 devices at the same time.
CyberGhost offers 24/7 live chat support in 4 different languages, making it a credible Hong Kong VPN.
Price: Starts from $ 2.75/month
6. Express VPN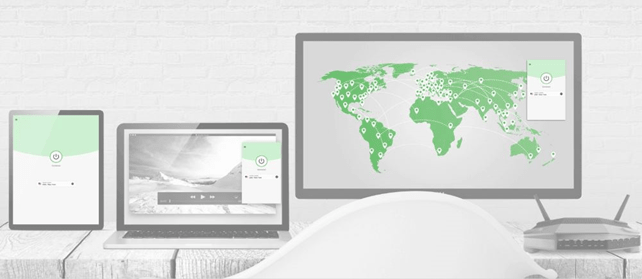 Another VPN used in China and several tourist destinations is the feature-packed Express VPN. There are travel destinations that would mesmerize you to relax and immerse in nature. Israel, for example, lures you with its Amazing beaches, rich history, and the calming Mediterranean Sea. But while you roam about on the shores of Tel Aviv or dance your way through the Israel's nightlife, identity thieves and hackers could invade your internet security. And yes! Since it lists one of the most internet-savvy nations, it does have its share of expert hackers. Only an efficient Israel VPN can save you from such prying eyes. Express VPN with more than 3000 presence in over 94 countries, is touted as one of the best VPNs for Israel.
What Express vpn has to offer
It offers split-tunneling that helps you download safely without taking a toll on your web activity and lets you use the LAN device while you're connected to the VPN.
Several security channels like HMAC authentication and server authentication are used.
Unlimited streaming and seamless access to YouTube, Twitter, Netflix, Hulu, Spotify, and several other websites.
Price: Starts from $6.67/month
7. Vypr VPN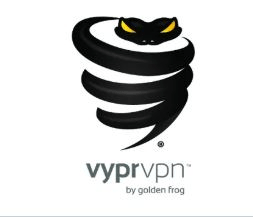 There are countries that can put you behind the bars if you browse content that is supposedly "unacceptable". For instance, Iran which is famous for its hospitality and architecture is not so hospitable when it comes to the web and may not allow residents and tourists alike to use websites like Netflix. If you are binge watcher and can't stay away from your favorite game of thrones season, grab a Vypr VPN subscription which is the best VPN for Iran.
What Vypr VPN has to offer
Vypr's in house technology VyprDNS gives you complete freedom and defeats DNS censorship using DNS filtering.
You can choose your preferred level protection, encryption, and speed.
Another Vypr's in house technologies – Chameleon makes it nearly impossible to block the VPN or reduce its speed. Also, Vypr VPN has a NAT firewall that puts any unwanted or invasive inbound traffic at bay.
Price: After a 3-day trial period you may start from one of the two versions
8. IP Vanish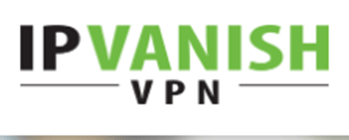 Even though countries like the United Kingdom and the USA let their citizens use the internet without restrictions, there is web content that the netizens can still not get their hands on and there could be several reasons for that. One reason you should seek a VPN for USA specific websites is to defend your data from US authorities since they can easily get your data from your ISP.
It enables anonymous torrenting.
More than 40000 shared IPs and 1300 servers present in more than 75 locations.
With Zero Traffic Logs policy no information of your VPN session is recorded.
Price: Starts at $6.49/month
9. PureVPN

Widely regarded as one of the best and the fastest VPN service providers across the globe, PureVPN is armed with more than 2000 servers in more than 140 countries. It provides you with unrestricted and secure access to all your favorite content at a lightning-fast speed.  Its credibility has been tested by experts who have concluded that it is amongst few service providers that not even 5 eyes, 9 eyes, and 14 eyes jurisdictions are able to track.
What PureVPN has to offer
With an account on PureVPN, you can log in on up to 5 devices simultaneously.
It offers you AES 256-bit military-grade encryption combined with split tunneling that enables you to filter information that you wish to get past the VPN server and then the ISP provider.
You can get your technical issues fixed with the help of an efficient customer support team that is available 24/7.
Price: Starts from $ 3.33 (70% discount)
Conclusion
This is not the end, based on your preferences apart from the VPNs mentioned above, here are a few more that you might want to consider TunnelBear, Mullvad, BullGuard, Windscribe, Zenmate, Panda VPN, Strong VPN, trust. Zone, ibVPN, Private Internet Access, Browsec VPN, HideMyAss, Turbo VPN, Hoxx VPN, AVG VPN, Avira Phantom. So, with all the tools of the trade that are going to make your travel fun, don't forget to pack your device with a VPN too!
Recommended Readings:
How to Troubleshoot Internet Not Working With A VPN Client
Fast and Best VPN Apps For iPhone – 2020
Free vs. Paid VPNs: Which Is Suitable For You?
Busting 5 Common Myths Surrounding VPN Services
Systweak VPN – Best VPN for Improved Security and Speed
How to choose VPN to Secure Your Personal Information