Probably we all are aware of behemoth like Google, Facebook, Microsoft that spy on us. They collect personal data to understand our online behaviour. Google knows what people are searching for, Facebook knows what people are interested in. And since the launch of Windows 10, Microsoft knows about location, browsing history, etc. This makes most people paranoid. But if you get to know there is an addition to this list then what?
As for Google, Google Search and Gmail aren't the only sources of user data collection. Devices like Google Home, Android and others disclose a lot like your location, liking and more. For e-commerce giant Amazon not only its primary site, but devices like Kindle, Alexa and others are a source of data collection.
After knowing this, you must be shocked?
Indeed, anyone who listens to this will be aghast.
In this article, we'll walk you through and make you aware of how Amazon is collecting data and how to delete the information collected by Amazon.
Also Read: How to Lock Down Privacy on Amazon Echo and Google Home
Amazon is the new Google for Product Searching
Google might have left Yahoo and Bing in the dust when it comes to the search engine. But Amazon has left behind Google.
A decade ago, Google was used for ALL searches, it didn't matter what you are looking for be it a pair of shoes, clothing, household things, etc. Google was the place to go. But since 2007 this trend has been changing. Amazon the e-commerce giant, has become a personal favorite for product searches.
A study by BloomReach found that 55% and a higher number of individuals use Amazon for online product searches leaving Google with a share of 28% when it comes to online product search.
This clearly shows Amazon's dominance in the online product industry. Besides, there's more than you don't know about Amazon.
What does Amazon know about you?
Through its main service, Amazon knows about what you've browsed, purchased, what you like. In addition to this, it even knows, what you've asked Alexa, read on Kindle, watched on Amazon Prime and more. Its ownership of Whole Foods, Twitch, Ring, Goodreads, IMDB and Audible are also a source of data collection that makes Amazon know a lot about you then you can imagine.
How Amazon collects the information?
As said there are different resources using which Amazon collects data and knows about you. At one hand to some, this might look as data breach while on other this might be a way used by Amazon to understand online shopping behaviour.
Here are certain ways using which Amazon collects data about you:
Amazon.com: Not only knows what you have bought, but it also knows what you have searched for, added to the Wishlist, browsed. Moreover, it even knows the address, the name of the person to whom the product will be delivered.
Kindle (e-book reader) and Audible (audio books): know about the books you've read, purchased are interested in reading or buying, have looked at and more. In addition to this, it even knows about the highlighted text in Kindle, what you looked in the dictionary, etc.
Fire tablets: a custom version of Android runs on Amazon's tablet that provides a company with an ample amount of data. Here users get the choice of using Yahoo, DuckDuckGo, Google, Bing as a search engine.
Prime Video: knows about your choice of video content, generes, language you prefer to watch, what you've watched, what you plan to watch and what you browse for.
Twitch: video game streaming service again knows about your searches, browsing the history, whom do you chat with and more.
Ring: home security company owned by Amazon that provides security gear, smart doorbells stores video for 30-120 days until a customer deletes them or relies on location.
Eero (wi-fi routers): the latest addition to Amazon's product list is Eero. The maker of mesh home routers will surely, help customers better connect their smart home devices. But for Amazon Eero is another medium to collect user data. Like any home router, Eero's device also knows about the site you visit this means Amazon will know it tool. But according to Eero it doesn't store any customer information.
IMDB (TV series and movie database): through IMDB Amazon knows about your movie and TV series taste. The choice of content you like to watch says a lot about you.
Goodreads: is not just another feather in Amazon's cap. Where this social cataloging website allows users to freely search for books, reviews, etc. It helps Amazon in building a social graph about what members like to read, search for and are interested in.
Whole Foods: It's been almost a year that Amazon acquired Whole Foods (the treasure trove of user data). Whole Foods is helping Amazon to collect shopping data. Plus, the e-commerce giant is getting insight into the same individual's online and offline shopping habits. This means more targeted ads and promotions.
Alexa: Like Google, Amazon too has a virtual assistant. Using it Amazon knows all the things you ask it. A wake word summons virtual assistant and it starts recording and collecting data. In addition, to this, there are instances when Alexa has been found collecting audio without you being aware of it. This means Amazon knows where you want to go, whom you call often and more.
This is just the begining.
What else Amazon knows about you?
Key by Amazon: An optional in-home and in-car delivery service delivery offered by Amazon to Prime members. Purpose of which is to prevent packages from being stolen. But this service will allow Amazon delivery agent to enter your house when you are not around. Although customer will be notified about the delivery and can record or see live video. But with this new service in name of delivering products ordered online Amazon will have physical access of your home.
Amazon Go: dubbed as just walk out technology is Amazon's version of the mobile application technology. With this, users can buy products without needing to formally check out. Amazon Go uses machine learning, artificial intelligence, sensor technology, etc found in self-driving cars. To make this possible Amazon used cameras and sensors to know what is taken from shelves and by whom. This again means Amazon has access to your body movement, preferences, etc.
Amazon Advertising: Supposedly, the third wheel when it comes to advertising, now holds a major position. Google and Facebook's duopoly will now turn into triopoly with Amazon Sponsored Product Ads. These ads operate like Google Ads, but they drive Amazon searchers straight to the product sold on Amazon. This again shows how much Amazon collects and knows about you.
Amazon Web Services: a subsidiary of Amazon that provides on-demand cloud computing platforms captures 32% of global spend. This web service can be used by individuals, companies, and governments, on a metered pay-as-you-go basis. Although Amazon claims it has no access to the data stored on the cloud. But the truth is yet to know. If reality is opposite than what is said, Amazon has access to your important documents, pictures, video, etc.
All this clearly show how vulnerable our data is. We take Amazon as a shopping platform but in reality, we are risking our data privacy.
How this can be handled? What can we do about Amazon collecting our personal data?
What you can you do?
Now that you know about Amazon's different services, gadgets, etc. used to collect personal data. It's time to learn how to delete this data and secure private data.
It goes without saying Amazon keeps a record of all things you've purchased. By analysing this data, Amazon can know how often you buy a specific item when you'll need it next etc. Not much can be done about this, but you can limit what Amazon knows about you, limit information collection and delete browsing history.
How to limit what Amazon knows about you?
Turn off Wish List on Amazon
1. Login to your Amazon account.
2. Click on the down arrow to see your lists.
3. Select and click the list name you wish to delete.
4. Next, click on More option present at the right corner of the list.
5. Here select Manage list.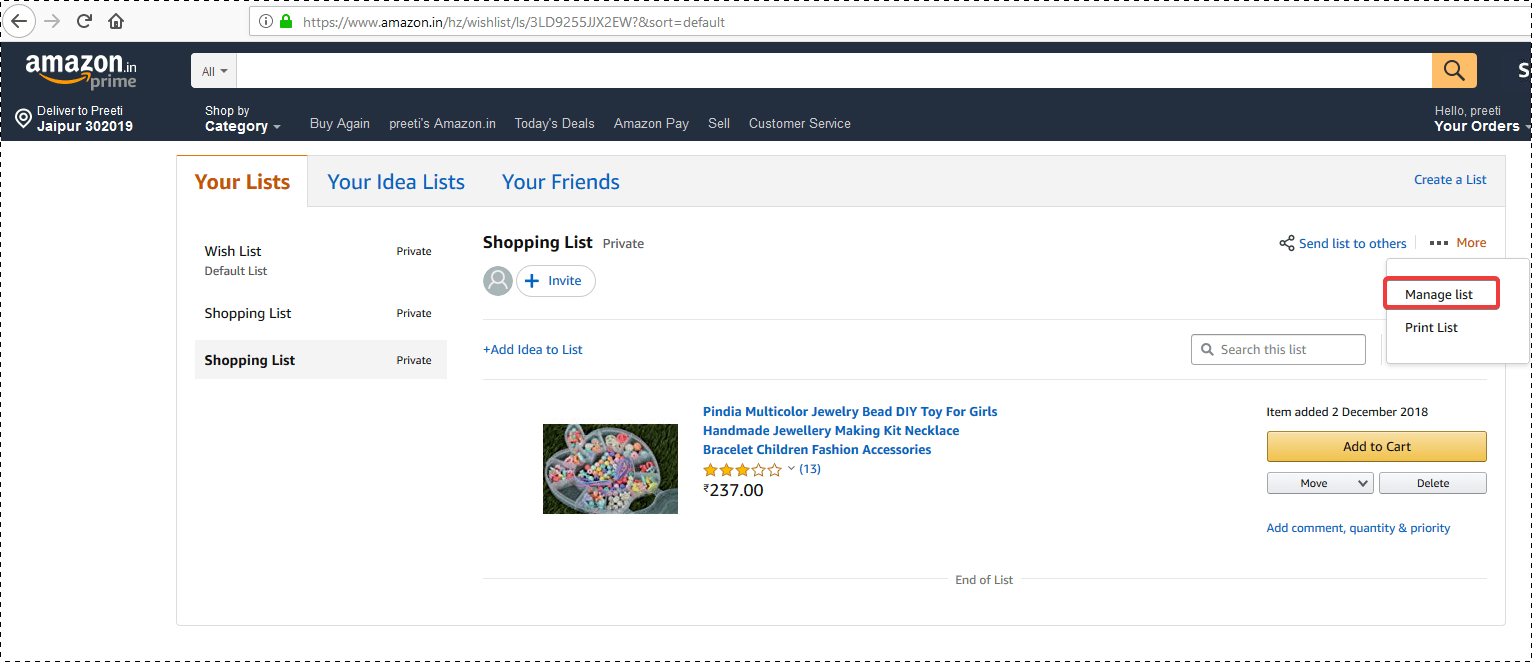 6. Next in the new window that open scroll till the end and click on Delete list.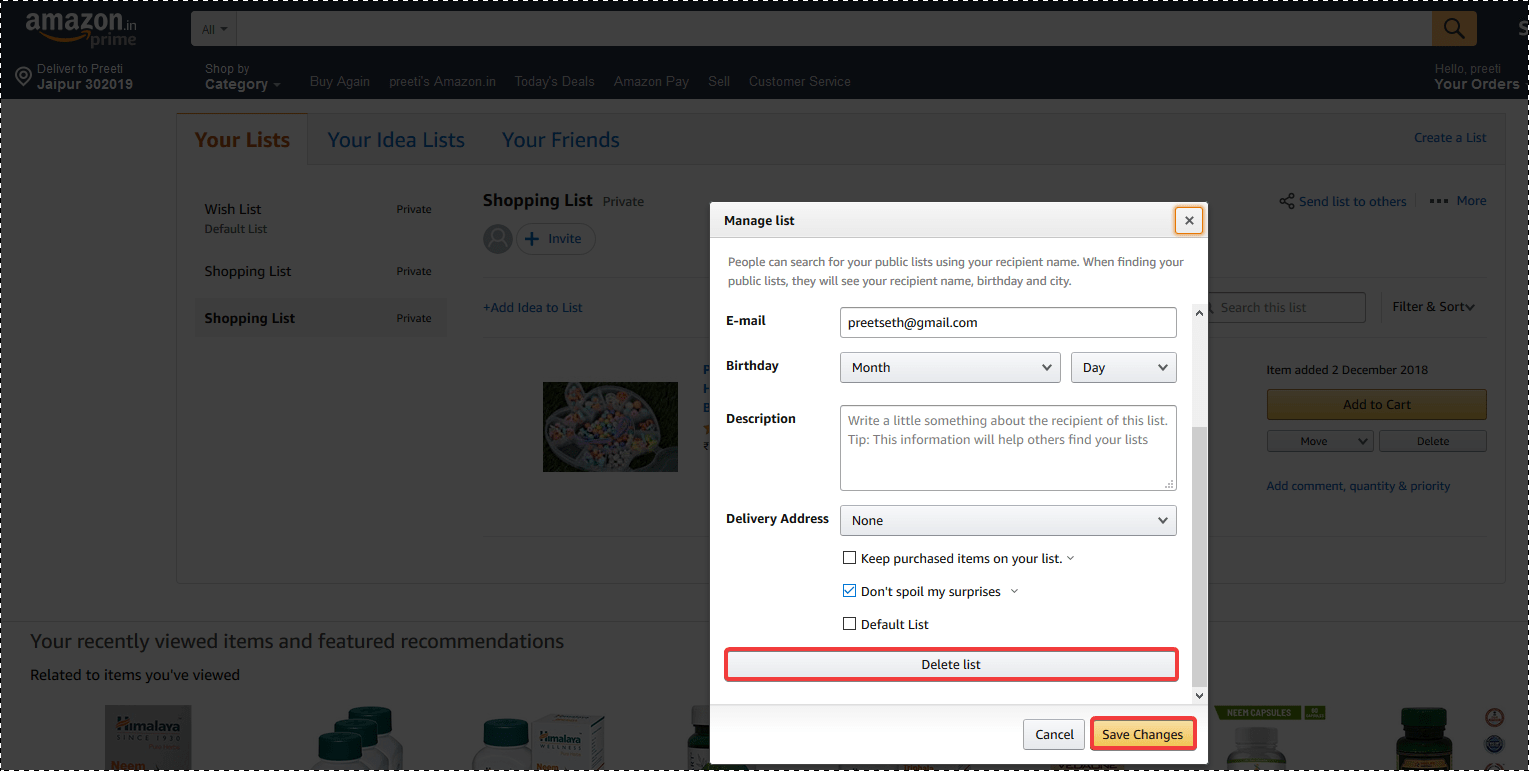 7. Click yes to confirm the deletion.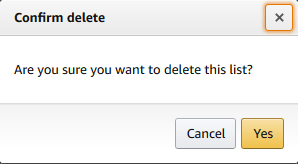 Using these simple steps, you'll be able to delete Wish List from your Amazon account.
How to delete and turn off the collection of browsing data?
Amazon not only uses Wish list to track, it also uses your browsing history to track. To delete browsing history stored on Amazon follow the instructions given below.
Steps to delete Amazon's browsing history
1. Head to https://www.amazon.com/gp/history
2. Sign in to your Amazon account.
3. Click on Manage History > Remove all items from view.

4. Next, toggle the button to left to Turn Browsing History on/off.

Using these steps, you can delete and turn off the collection of browsing data by Amazon.
How to delete product recommendations you see in your Amazon account?
Amazon knows about the product you've searched, rated or are interested in. If you want to limit Amazon from knowing all this follow the steps below:
Steps to limit and delete recommendations in Amazon account:
1. Login to your Amazon account.
2. Click down arrow next to your name.
3. Here, click on Your Recommendations.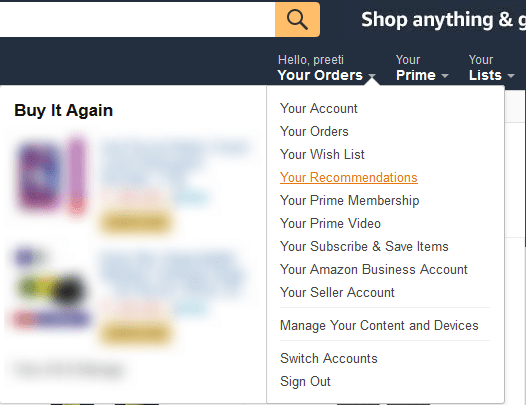 4. Click on recommended category > View All & Manage.

5. Here, toggle the switch to right to get Remove option.

6. Click on Remove button to delete the recommendation.
7. In the new window that open you'll see two options: I already own this item and I'm not interested in this item. Select the option and click OK.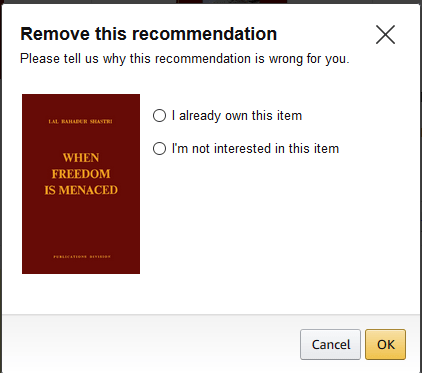 This way, you'll be able to remove items from the recommendations list.
Note: This data can only be removed it cannot be deleted permanently.
Delete Stored Shipping Addresses on Amazon
1. Click here to Manage Address Book settings.
2. Login to your account.
3. Here, click on Delete to remove saved shipping address.
4. Click Yes when asked to confirm.
5. Follow the same steps to delete all saved shipping addresses.
Delete Saved Payment Methods on Amazon
1. Click here to Manage Payment Options settings.
2. Login to your account.
3. Select the payment method you wish to delete > Click on Remove.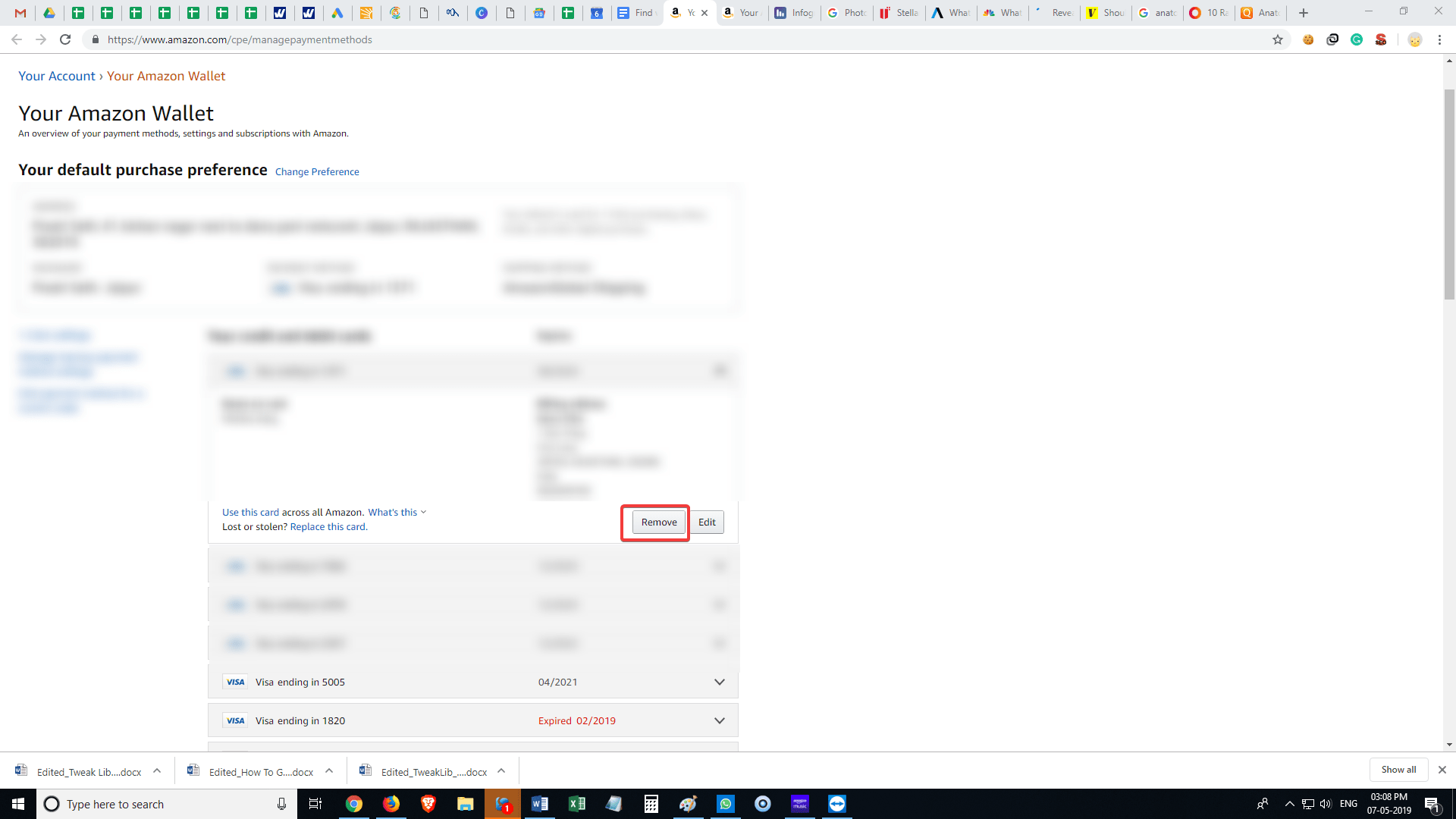 4. Click Yes when asked to confirm.
5. Follow the same steps to delete all saved payment methods.
Delete Your Amazon Item Reviews on Amazon
1. Click here to Reviews Written by You page.
2. Select the review > under review rating click on Delete review.
3. To delete other review, follow the same steps.
Disable Amazon's Location Tracking
Like Google, Amazon also tracks your location on Android and iOS. To disable location tracking on Android and iOS follow the steps below:
Disable Location Services on Android
1. Head to device settings.
2. Under Privacy section, tap on Location.
3. Toggle to left to disable location services.
Note: Android Marshmallow and higher version allow user to disable location permissions on an app-to-app basis.
Disable Location Services on iOS
1. Head to your iPhone settings.
2. Tap on Privacy > Location Services.
3. Toggle to disable location tracking for specific apps.
How to Delete Amazon Echo Recordings on Amazon
1. Click here to Manage Your Content and Devices settings.
2. Click Your Devices > choose Amazon Echo > Manage voice recordings.
3. Click Delete to wipe all recording. Before doing so read the Disclaimer.
How to Mute Alexa?
Alexa-powered Echo devices can be muted by pressing physical microphone-button to off. This will ensure that no recordings are taking place.
Disable ads shown by Amazon when you visit other sites
You can not only delete browsing history, wish list or remove recommendations. You can also switch off personalized adverts shown by Amazon.
To do so follow the steps below:
1. Head to https://www.amazon.com/adprefs
2. Here, select Do Not Personalize Ads from Amazon for this Internet Browser > Submit

This will stop Amazon from showing personalized ads and collecting data.
Using these simple steps, you can secure your personal data and can stop Amazon from recording it. Certainly, you cannot be totally private when on the Internet. But by following these simple steps you can limit data collection by Amazon. The choice is yours shopping or privacy which is important for you. But remember, one wrong decision can put you and your data at risk.
We hope you found the guide helpful, if there is any other information that you would want us to share. Please leave us a comment.