Metadata attached to photos is a risk to your privacy and security. Here's how you can easily remove it from your pictures.
Certainly, technological advancements have made things simple and easy. But at the same time, things such as EXIF data, metadata, stored by digital devices pose a risk to privacy. This means, images captured using either phone, digital camera, or for that matter using any device will have information like – location, date, time, device model number, settings used to take the picture, and more. And when these photos are posted or uploaded online snoopers have full access to this data, this causes privacy issues.
If this fact troubles you, and you are looking for a way to remove metadata from images before making them public. You are at the right place; in this post, we will discuss the best and most straightforward way to delete metadata.
Designed and developed by Systweak, Photos EXIF Editor is a tool that helps get rid of information from images. Using it in no time, you can modify or erase details.
Download Photos EXIF Editor
Excited? Want to know more about the tool?
Read the post till the end to learn about this extraordinary tool. Before getting into details, for those who don't have much idea about metadata, we will discuss what is EXIF data, the risks involved, etc.
Also Read: How To Edit & Remove Photo EXIF Data in Mac
What is EXIF metadata and what are the risks involved?
Images captured via digital devices have some of the other metadata saved with them. This data is collected in the form of Exchangeable Image File Format (EXIF). Usually, the information associated with the image includes:
Location in form of GPS coordinates
Data and time when the image was captured
Aperture, shutter speed, and ISO speed settings
Manufacturer and model number of the device used
After reading this, most of you must be thinking what's wrong with it, correct? If so, you are wrong. The information stored in the images can tell hackers or people spying on you about your location. Also, if you post regularly or from your home, they can know where you live, at what time you do what, and more. They don't take time to connect the dots. Most importantly, with the help of metadata, government agencies can track location in real-time. A famous example of this tracking involves the location of John McAfee (founder of McAfee antivirus).
Now that we know what the risks are involved, let us learn about Photos EXIF Editor and how to use it.
Review – Photos EXIF Editor
Price – US$ 29.95
Benefits
View and remove EXIF, XMP, and IPTC data
Add or edit the photo by drag and drop, Add Folder or Add Photos option
Batch photo processing
Support all image formats, including RAW
Why Remove EXIF Data?
There are numerous reasons as to why you might wish to remove EXIF data. A few noteworthy are listed below:
Erase private data like location, GPS, camera details, etc.
Reduce image size and post them easily when you have low bandwidth.
Protect data that might disclose information about the gear you use and how you processed
To remove unnecessary junk from JPEG files and keep required information.
For me, reducing image size is the main reason for removing EXIF data. However, if you want to remove personal data, you could use Photos EXIF Data.
Pros
Gives an understanding of how the image was captured.
Displays copyright information even when there is no watermark.
Shows location where the photograph was clicked.
Cons
Tells about the equipment and its settings
The file size is increased this affect load time
Home location can be compromised
Also Read: Top 10 Slideshow Editor For Windows 10
User Interface
The ease of use or how well the tool works can be judged by its interface. Using Photos EXIF Editor is a three-step application process. Once the application is installed, all you need to do is launch it > click either Add Folder or Add Photos option depending on the number of photos >
Edit EXIF, IPTC, or XMP Data > Start process and save it.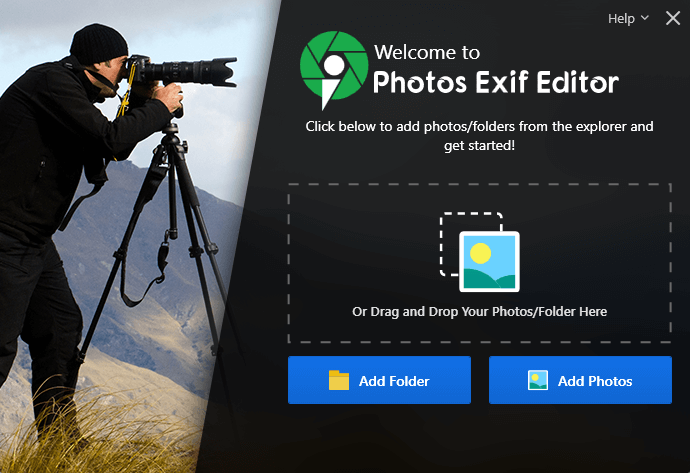 That's one of the primary reasons why Photos EXIF Editor is the best photo editor tool and my favorite.
Once the photos are added, you can easily edit EXIF data and begin the process by clicking Start Process and you're done.
This makes using Photos EXIF Editor a worthy metadata editing tool.
Drag & Drop Images
Another plus point of Photos EXIF Editor is the drag and drop option. It comes in handy when we have to change the metadata of scattered images. Instead of first putting them into a folder, we can drag and drop them and edit the EXIF data.
This option also helps in bulk photo editing.
However, if you are a perfectionist, then you can use the Add Folder or Add Photos options. All these options are available on the Home Screen. With that being done, you can then start with the EXIF, IPTC, or XMP data editing. Once you use Photos EXIF Editor, editing metadata is a piece of cake.
Metadata Edit
If you are a photographer, you will surely love this feature of Photos EXIF Editor. After adding the pictures on the next screen, you will edit different editing options. You can either select bulk images for processing or can select one.
To check what metadata an image holds, click the three lines at the bottom right of each image and select Metadata.
This way you can see what data is saved and what needs to be modified. Where EXIF data holds personal information, camera settings, IPTC metadata shows information related to location, copyright notice, caption, and keywords.
Adding keywords makes searching a picture easy. XMP data on the other hand includes creation and modification date, lens name, etc.
Using Photo EXIF Editor, you can alter all under one roof.
Bulk Metadata Editing
Photos EXIF Editor allows editing photos as per the user's preference. This means you just don't get to add on the metadata; you also get to clear existing data from photos.
To get these options to click the down arrow next to Choose Editing Options:
Only Modify Edited Fields and Keep Others As It Is
Modify Edited Fields and Clear Others
Clean Metadata Info
You can choose either of the options to edit and delete metadata as per your choice. To keep it anonymous, choose to remove all the metadata info.
Once you edit the details they will be reflected in the properties of the newly saved image. While the ones that you don't edit will be blank.

Erase Camera and Lens Setting Information
If you are an aspiring photographer, camera settings will come in handy. Using these settings a photographer can learn how to take pictures. The metadata helps gain knowledge and understand how a photograph should be captured. This helps analyze and look forward to what you know and what is left to learn.
Moreover, you can impart understanding to others and choose the information you would like to share with others. However, for professionals, this tool is helpful as it allows sharing knowledge, skills, and technical ideas.
Edit Geo-Location Coordinates
Another noteworthy option of Photos EXIF Editor is that it allows editing GPS coordinates present on the image. Using this option can mask the reallocation of the image and save yourself from being tracked. The advantage of this feature is that once the editing is done, it will reflect in the properties and any other app you use to edit or remove EXIF data.
Restore Data Edits
If you think some metadata edits aren't to be made, you can restore edits by clicking the Restore Exif Info button. This allows making sure only those changes are made that you want.
Remember you can restore edits in the current session only.
Delete Metadata in Bulk
Photos EXIF Editor allows removing complete EXIF data from the picture, this offers complete protection from security threats. Also, remember once the changes you make, they will be reflected everywhere.
Final thoughts:
Metadata provides useful information and is embedded into digital images, but it is not always required. Luckily, there are various options available that help delete EXIF data. So, before you upload an image consider clearing EXIF data, IPTC, and XMP data.
You can do it manually, but the best way is to use Photos EXIF Editor, a fine tool for enthusiasts and professionals. Available for both Mac and Windows, this tool not only helps learn a lot about capturing images but also tells what information you share with others. Moreover,  you can learn how to click photos and how to hide sensitive information and stay secure.
We hope you will give this tool a try as it helps remove EXIF data, the information that discloses a lot about location, camera setting, and more. Using this tool, you can not only edit EXIF data but can also modify IPTC and XMP data. The decision whether to use the tool or not depends solely on you. But if you don't want anyone to snoop around or strip information from the images you clicked and use them then you should consider using Photos EXIF Editor.
Do share your experience with the tool in the comments section. We love hearing from you.