Instagram is currently the most widely used social media platform. What earlier started as a photo-sharing platform, has now become a full-fledged digital advertiser, influencer, and marketer for hundreds of small and large brands. Whether it is a service provider or product seller, almost every business owner is resorting to Instagram for direct communication with the respective targeted consumers. Under Facebook, Instagram has gone through numerous updates, and we have seen a variety of new features introduced in the mobile-based app. The app is not just an image-sharing platform but has evolved into content creation and publishing area for global artists and influencers. Among these features was Instagram Stories, a modification to Snapchat stories, but categorized not only as a momentary album for users but as a promotional banner.
These stories highlight and cover for substantial engagement of consumers and the general public towards a particular brand. If you wish to achieve a high level of consumer engagement and conversions via these IG stories, just keep following tactics in mind and get your consumers to hear you out loud:
Instagram Stories Feature for Brand Promotion
1. Tap for More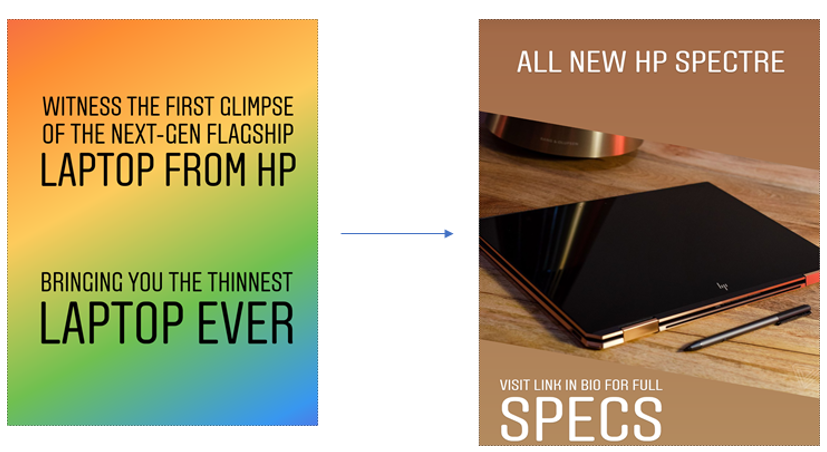 While creating Instagram stories, you must create an actual story to get consumers immersed in. Stories aren't meant for a ten-word statement. As the word suggests, "Stories" means connecting the dots to reach a climax-like conclusion. These Instagram stories feature called Tap For More is a giphy that take viewers to a journey, revealing information bit by bit. This leads viewers to keep tapping for next insta stories highlights to reveal the final information, thus getting them to engage in the story. You, as a brand owner or influencer, can promote your product or service using these IG insta-stories features and get people to know about it. Thus, you get your work done for free via a couple of regular stories for Instagram for ultimate business promotion.
2. Ask Questions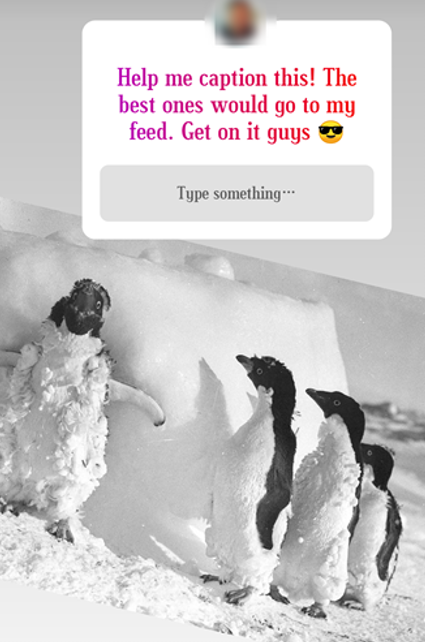 If you wish to keep your audience happy, you need to keep their opinions and preferences on the top. The best way for that is to ask people what they want next. What upgrades do they need in a particular service or product you deal in? What their opinions were on your previous designs, versions, or service methods? This works as direct feedback or a back-and-forth communication medium between you and your consumers, where you can directly ask consumers about their reviews.
Instagram stories features include a highlight icon called Ask Questions. It can be used by influencers or artists using Instagram for business purposes to communicate with their fans and followers. Moreover, photographers can put up questions on their IG insta-stories asking for captions of their latest clicks. It offers a perfect way to integrate consumers' opinions into business operations.
3. Polls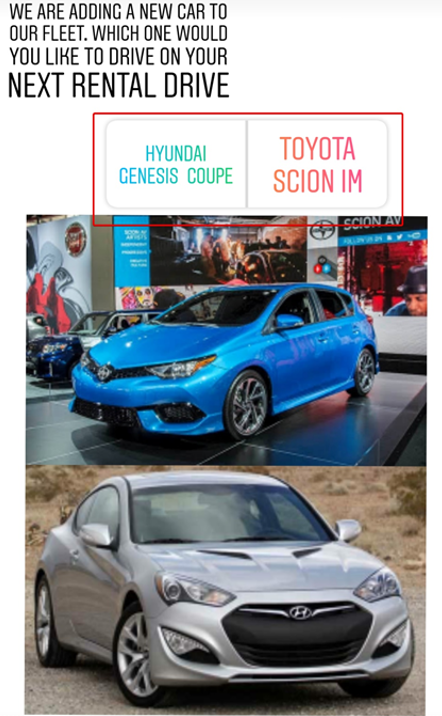 Are you planning to launch a new upgrade or product? Planning to get a new dish on your cafe menu but can't decide what consumers would prefer? Well, it's better to ask consumers themselves. Insta stories allow you to conduct polls, where you can ask your targeted audience to choose between two options as their first preference. As a brand owner, you can use the Instagram stories feature of Polls for taking the audience's preference over one product against another. For example, you run a car rental service. You can ask consumers which car they'd prefer to be added into your fleet (see image).
4. Add Conversating Videos or Word-of-Mouth Promotion of Your Brand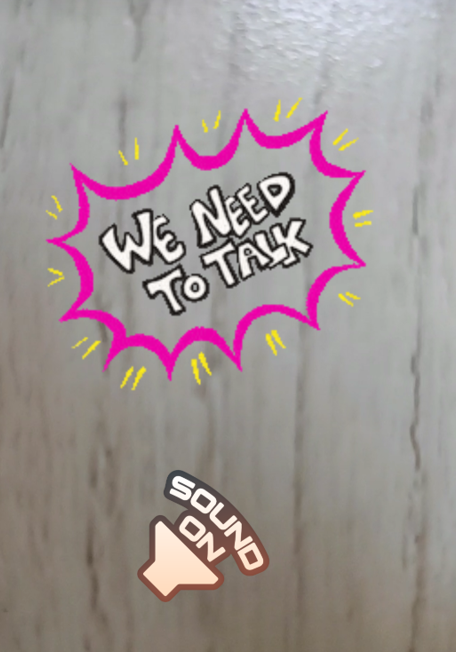 One of the Instagram stories features to allow you to add videos beside images. Here you can record yourself and send a video to your IG story to make an in-person communication with your audience. This could be a description of a service/product of yours. Could be regarding an announcement of some upcoming launch. Or it can be to promote a new outlet you have inaugurated. And to let the user know that you need to chat with them, provoke them to turn the volume up using stories highlights and icons such as Sound On and We Need to Talk.
5. Templates
To use templates as Instagram stories, you'd require some external help. Templates are not in-built IG stories feature; however, several templates for Insta stories are available on the Internet. Just download them or design one if you are a pro in image editing. Then upload them in the form of images on your stories. You can use these templates as a survey for your audiences. It can be a questionnaire for them in regard to a trending topic. These templates came in handy when you got to take a poll from the audience, and you have more than two options for them to choose from. Users can either respond to these templates on Instagram DM or can also reshare after taking their screenshots.
Here is an example of the Instagram story template: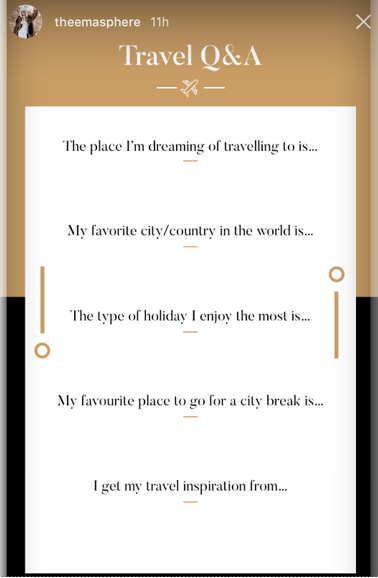 Imagine a travel and trek organizer firm is trying to get to the audience. Such a theme can help increase user engagement, which implies that the firm is acting on the audience's preferences.
6. Instagram Music
This is the latest of all the IG insta-stories feature. Now, you can add trending soundtracks in Instagram stories via its latest featurette called Instagram Music. Instagram music is currently available in selected nations only, so not everyone can take advantage of that. Brand owners cannot thrive by just posting out their brand content on stories. In order to connect with the audience, it's necessary to add some personal moments to your stories. This will help you engage more people on Instagram for your business growth. These stories can be related to the daily tasks you do at your office space. It could be an in-house party at your workstation, or it can be you, the owner, hanging out in town. Add a bit of music to these moments, and you'll surely have consumers following your feed regularly.
7. NEWPOST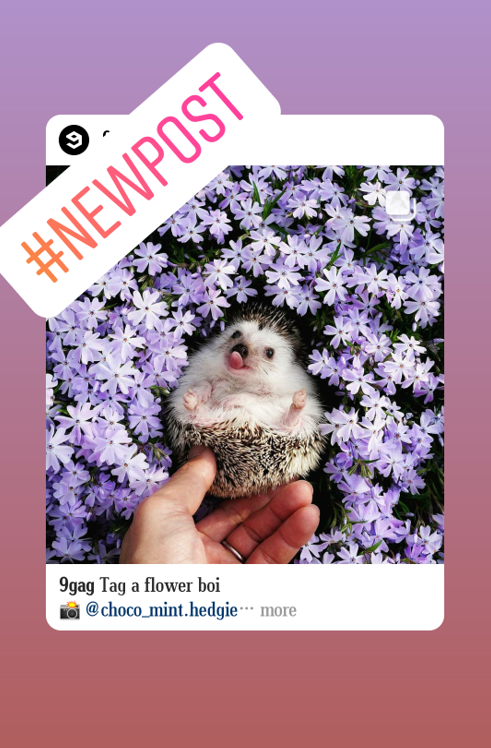 You can use your Instagram stories to generate reach for your latest post on the Instagram feed. As a brand, you can't afford to get any post of yours getting lost in user feed of audience. You can add that post in your story and let users know that there is a new post on your account via a notification added in your story. This Instagram highlight can be prepared by using the Hashtag Instagram story feature. Add a new post regularly and keep a check on your account's analytics to ensure that your steps are gathering views and followers.
8. Countdown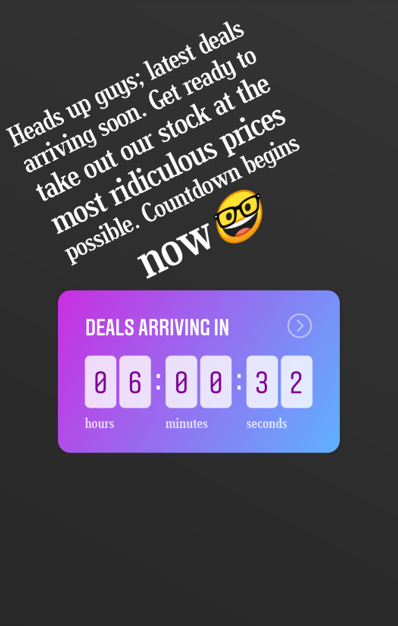 Entice your audience by making them crave for your new arrivals, deals, and upgrades. IG insta-stories feature includes a Countdown clock which you can use to let the audience keep track for your latest deals and arrivals before the launch. The countdown story highlight will create enough engagement for your forthcoming announcement already in advance with combined promotional content. This will help your brand to get more attention during the actual event.
These were the most exceptional Instagram stories features that alone can get your brand among the top social searches. The only thing to keep in mind is the creativity and regularity. You can't have stories highlights and icons posted in long intervals; it has to be a daily random business. It's essential making as much communication as possible with the targeted audience. Besides, make sure that you reply to the comments on your stories so that you can have a direct and individual interaction with audiences and use Instagram for your business effectively. And once you've enough recognition, you can always get your Instagram account verified for one-hundred percent credibility.
While the corporate sector focuses on market research at extensive levels, we say you go social right in between the modern-day youth and establish a 100% consumer-oriented brand via these little hacks. Have you ever took advantage of these Instagram stories tricks? Do you have some more ideas to use stories to market brand name? Let us know in the comments.