Windows 11 rollout was a major achievement for Microsoft as it claimed that in the history of Windows the most secure version is Windows 11. As the new OS has some minimum requirements along with TPM 2.0 and Secure Boot. Microsoft has announced to give guaranteed future security updates for the latest OS.
Microsoft minimum requirements of hardware and software and the future security updates, however, do not guarantee full protection because of several zero-day vulnerabilities and also various security threats arising every day.
Through Social Engineering attackers get into the user's computer by noticing their browsing habits. We browse the internet daily to complete various tasks and unknowingly download files, programs without knowing their source. Such files and programs may cause serious trouble to the hardware and software by inducting viruses and malware into the computer.
There have been cases when users have unknowingly suffered data loss or loss of identity and later had to pay a ransom.
Similarly, a data leak can take place due to the same password being used at various places. A habit of using one password at different places leads to a disaster and Windows 11 TPM 2.0 and Secure Boot can not protect you from this.
Microsoft's claims are not baseless that the latest OS is the most secure OS in the history of Windows but the fact is we have to be one step ahead of the attackers because TPM 2.0 and Secure Boot are just added features to enhance the security but it doesn't mean that these two features will give you all-around security.
Therefore, using an antivirus is a must and provides added security to our data. Looking after all the aspects, we recommend you to use Systweak Antivirus.
Why Do You Need an Antivirus for Windows 11?

Since TPM and Secure Boot are designed to protect against encryption, authentication, and hardware configuration changes to stand against any newer kind of attacks, a security tool with real-time protection and malware detection is the safest bet. Moreover, an antivirus does a pretty decent job of handling malware, adware, PUP, spyware, and other nasty threats.
Therefore, the need for additional security for Windows 11 arises.
Systweak Antivirus is the first line of defense for your computer which provides overall protection to your computer and secures your data. Users look for several other features besides scanning for virus and malware protection like real-time protection, secure web browsing, etc. Keeping in mind all the needs of users, we suggest users use Systweak Antivirus which is a fully loaded tool to secure your data against any type of attack and also provides you with ample features to keep your identity, data, and browsing safe.
Slow performance and unexpected shutdowns are the signs of viruses and malware in computers and thus, it is necessary to eliminate them to protect data and get the computer back to its normal state. Systweak Antivirus will flush all the unwanted elements from the computer and will give new life to the computer so that you can work on it efficiently and get effective results.
Steps to secure Windows 11 with Systweak Antivirus:
1. Download and Install Systweak Antivirus in Windows 11
Click Here To Download Systweak Antivirus
Read Full Review of Systweak Antivirus
2. Once installed, run a deep scan so that every file and folder is not left untouched from the process of scanning.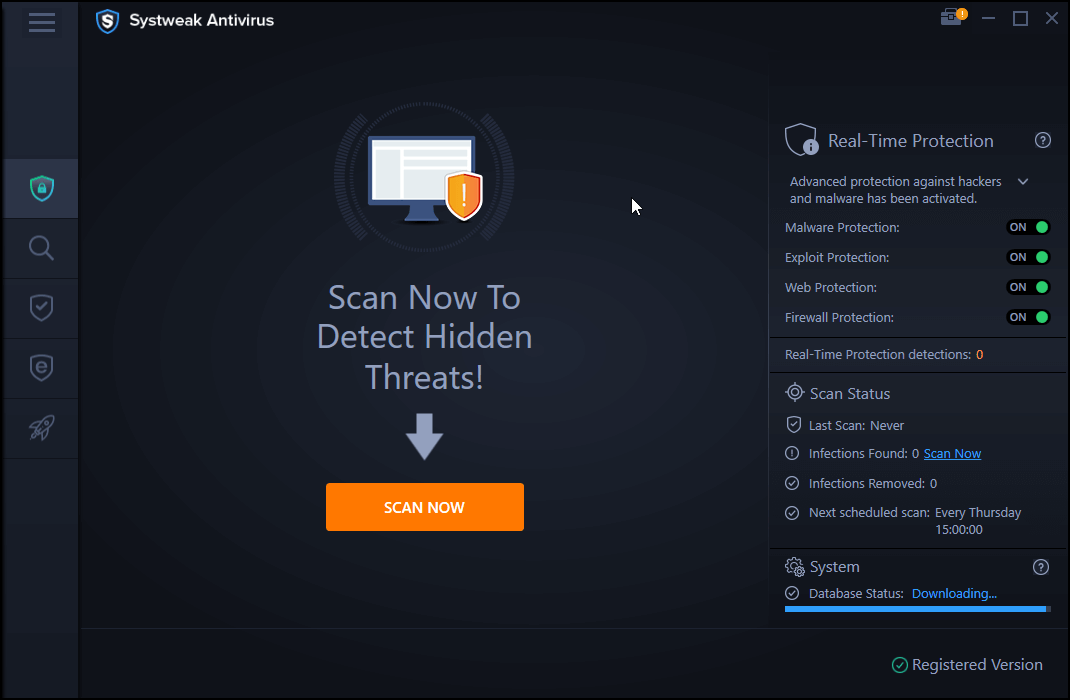 3. Once the scan is complete, your data will be safe and secure.
4. Enable Malware protection and Exploit protection to provide an extra layer of security to your computer.
5. Enable Real-time protection
6. To enhance your browsing experience and to provide you protection from unwanted ads, Systweak Antivirus allows you to install the StopAll Ads extension to your browser so that you can browse all the content smoothly.
Systweak Antivirus protects your computer from any type of virus, malware and provides you security against any upcoming threat from its vast database of viruses, and malware definitions. Systweak Antivirus is equipped with Real-Time Protection that continuously runs in the background and removes infected files from your computer, terminating the risk of infection.
Note:- Systweak Antivirus comes with a moneyback guarantee of 60 days.
Conclusion:-
Windows 11 comes with several inbuilt hardware and software features that secure your data. However, adding an extra layer of security to Windows 11 protects the files from unexpected intrusion and data loss. Systweak Antivirus is a powerpack tool that gives you real-time protection by eliminating the risk of threat. Using it on Windows 11 will provide the security cover from all aspects and your data will be kept secure.
If you wish to provide an extra layer of protection to your Windows 11 computer, then we highly recommend you to use Systweak Antivirus. Let us know in the comment section below about your experience of using Systweak Antivirus.
Related Topics