Table of Contents
Ever pondered upon spyware removal techniques? If not, now is just the right time.
First, What Is A Spyware?
Before delving into spyware removal techniques let's know our enemy first!
Spyware is any malicious software or application whose main intent is to cause damage to your computer. It intrudes your computer via your computer activities or your online activities.
Why Do I Need A Spyware Removal Strategy Or A Spyware Remover Software?
Your computer or laptop is one territory which can easily become a soft spot for hackers. 'Spyware' is a feared miscreant that can easily creep into an unsuspecting computer which doesn't have a strong line of defense.
What Can A Spyware Snoop On (And Devour Upon?)
The answer is – anything that resides on your computer. Yes! You heard us right. Your files, browsing history, images, passwords, anything and everything is likely to get infected.
Evident Signs That A Spyware Has Attacked Your Computer
Some Signs That Your Computer Has Spyware In It
Weird or unknown pop ups opening on your browser's homepage or even on your desktop or laptop's screen
You  are unable to uninstall a program and can't access the control panel
Presence of unfamiliar icons on your computer
Files and folders start to disappear from your computer with no prior intimation
You are unable to bypass your lock screen despite entering the correct pin or password
You see a sharp dip in your laptop's battery which otherwise has a good battery backup
Quite like the above point, you might find emails sent from your email account
Computer crashing frequently or taking forever to respond even to minute tasks
Your existing security software such as antivirus is disabled
Unwarranted files and folders start to appear on your computer
How To Detect Spyware On The Computer And Remove It?
(i) With The Help Of A Dedicated Spyware Remover Software
There are several spyware removal programs which dedicatedly track and kill all kinds of infections from your computer. One such spyware remover software is Advanced System Protector.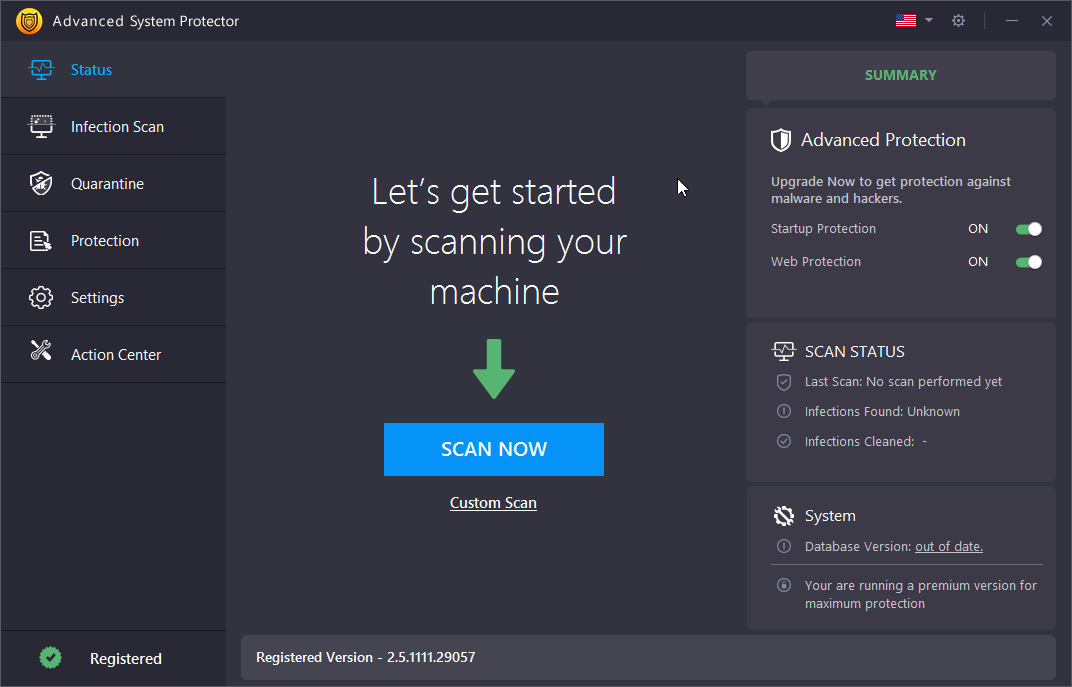 Click Here to Download Advanced System Protector
So, What Is Advanced System Protector?
It is a spyware removal tool for a Windows PC that provides you a comprehensive protection, not just against spyware but even Trojans, adware and several other threats that can make your computer vulnerable for an attack. In the process, it even helps enhance the speed and overall performance of your computer.
At the outset, Advanced System Protector scans your computer for any impending infections which may put the data in your computer and your personal information at stake. The best part is that Advanced system Protector regularly updates spyware definitions because of which no new spyware can bypass.
What Does Advanced System Protector Scan?
How Does Advanced System Protector Help Remove Spyware From Your Computer?
To remove spyware from PC, the modules of Advanced System Protector exhibit the following features-
●  Quarantine Infected Files
Easily separate suspicious files from the other files and put them in quarantine so that further spread can be prevented.
●  Total Browsing Protection
If not from anywhere else, a hacker can intrude your computer through your online activities and Advanced System Protector is well aware of this. It secures your online history, deletes any browser hijackers and any other malicious apps, and removes password traces.
Multiple Scan Types
It has a one-click scan feature to scan your PC for impending threats. You can choose from three different scan modes namely –
Quick Scan – This mode performs a fast scan but is less extensive
Deep – The mode scans your entire system but it may take a while to scan
Custom – You can browse files from system registry, internet cookies and system folders to perform a security scan
(ii) Other Ways To Remove Spyware From PC
1. Immediately Disconnect From The Web
Close all browsers and disconnect from the internet to mitigate any further chances of incoming or outgoing of information. If you use an Ethernet cable, plug it off
2. Use The Standard Uninstall
Like we mentioned above, there are instances when a spyware just won't let you uninstall a program. But, if you are in luck and if the spyware is in its nascent stage, you should be able to remove the contaminated programs. The path for uninstalling a program using control panel is mentioned below –
Type Control Panel in the Windows search bar > Programs and features > Click on the program that you want to uninstall > Click on Uninstall/Change on the top
3. Antivirus Software Is A Must
Time and again, we reinstate the importance of an antivirus program and how efficiently it can nip a spyware in its bud. Here are some of the best Antivirus for Windows 10
4. Constantly Delete Your Temp Folder
The easiest way is to type %temp% in the search bar next to the Windows icon. Select all the items and hit shift + delete button
5. Delete Spyware In Safe Mode
Safe Mode in Windows 10 is possibly one of the best ways to detect spyware on a computer. That's because this mode loads basic programs only. Running an Antivirus in this mode would surely help you nab a spyware easily. Once you have removed the spyware, you can restart the computer in normal mode.
Unaware how to start a computer in Safe Mode? Here's how you can do that
6. End Task
If you are able to track the malicious program, you can try to end the process using Task manager.
Keep Your Guard Up!
We hope that we have armed you with some serious spyware removal strategies and no spyware or any other such notorious infection would try to hamper your computer. If the blog helped, share the goodness with people you care for and also up vote this blog.