Table of Contents
Google Alerts is a very powerful service that allows the user to receive an alert about their favorite topic or an updated RSS feed. But there are notorious people who cannot leave good things the way they are. They always take advantage of such services to push users towards malware and scams.
For those who don't have much idea about this service, Google Alerts allows the user to submit keywords that they would want to keep track of. When a new page with matching keywords is found, Google sends an email or updates an RSS feed depending on the type of alert created.
Personally, I like this service and have been using it to track security topics, system optimization related topics. But recently it has been found that threat actors are injecting malicious sites into Google search index to have them appear in Google Alerts being sent to users, which in turn may infect your system
How does Google Alerts Scam work?
To get this scam working what threat actors do is they create spam pages that have popular keywords. Once these pages are indexed in Google search users clicks on them and they end up visiting malicious pages, usually fake tech support page, fake giveaway page, unwanted extension, or malware installers.
What cybercriminals do is they create fake pages with keywords related to specific decryptors to fool people.
You can see one of these spammy pages below: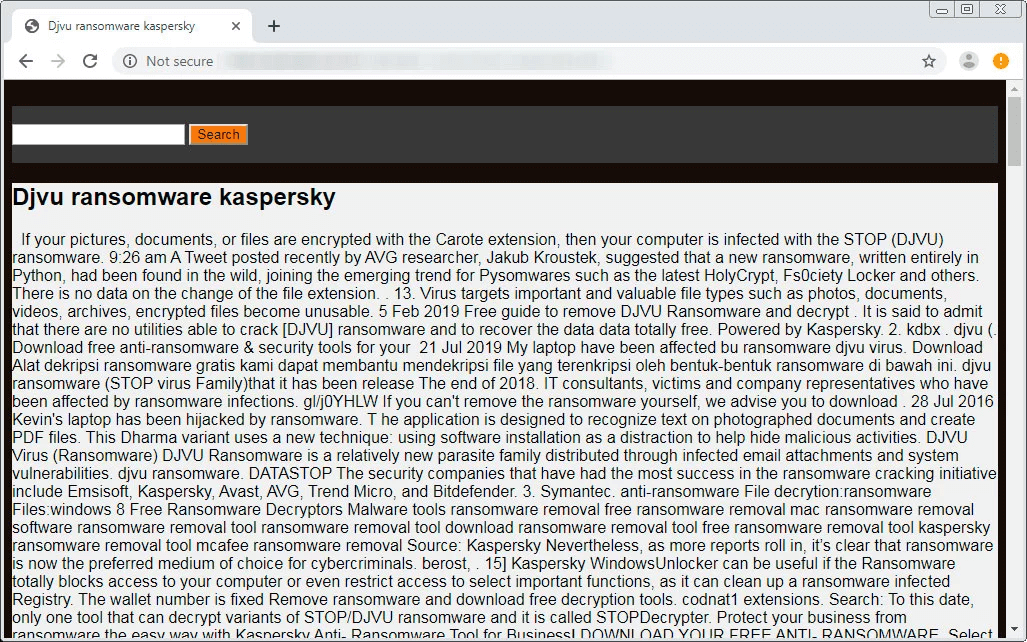 The above page looks like a page where Kaspersky decryptor to STOP DJvu Ransomware is discussed. But in reality, this page is fake
While creating such pages threat actors make sure keywords are properly inserted so that the page can be indexed and the user can receive Google Alerts for these pages.
When the user clicks on these pages instead of going to a genuine site they are redirected to a malicious. This means scammers design pages with technical keywords.
How to stay protected from Google Alert Scam?
The best way to stay protected from these scams is to configure alert options to show only the best results option.
This option will remove newly registered sites and the ones with good authority and genuine history will remain.
In addition to this, you should use an updated antivirus product that can detect the latest threats and block malicious sites before they can harm you in any manner.
( Insert Norton Affiliate or change product)
You can check the site rating and know if it is genuine or not. This browser extension protects you from unknown threats. But what about your computer security?
Worry not Norton has a solution for everything. You can use Norton Antivirus Basic,
Norton Secure VPN and Norton Security Deluxe. These tools will not help you stay protected from all types of threats but will also give you peace of mind.
Norton Antivirus Basic Benefits:
24*7 threat monitoring helps defend against ransomware, virus, malware and other threats. Not only this the product downloads updates silently in the background to offer all-round protection.
Norton Secure VPN
It helps secure private information like passwords, bank details, card numbers while you use public Wi-fi on any of your devices. Norton Secure VPN encrypts data so that you can easily use the Internet on public Wi-Fi
Norton Security Deluxe Benefits:
To protect your PC, Android, and iOS devices. This amazing tool provides real-time protection against existing and new malware threats including ransomware and other threats.
With these tools by your side, you get all-round protection and they create a strong shield. So if you are worried about Google Alerts scam and are looking for ways to stay protected, then use Norton tools today. These tools will protect you from these types of scams and from other threats like ransomware, viruses, malware, and others.
Moreover, you can also unsubscribe Google Alerts.
How to unsubscribe from Google Alerts?
To unsubscribe or delete a Google Alert, open any of the Google Alert emails, scroll to the bottom and click on the Unsubscribe button. This way you will stop receiving Google Alerts.
I hope you liked this information. If there is anything that we missed and you liked please leave us a comment. To get updated information you can subscribe to our newsletter and stay a step ahead.
Follow Us: