What is SEO Extension?
If you do SEO work for your own website or for others, you must be aware of SEO Extensions however for those who are new to this business, we would like to introduce Google Chrome Extensions.
Google Chrome Extensions are browser extensions that modify Google Chrome search results. These accessories for Google Chrome are written using web technologies like HTML, JavaScript, and CSS. They are distributed through Chrome Web Store. All users with a Google Account are able to add extensions after developing them.
Best Google Chrome Extensions for SEO
There are thousands of Google Chrome extensions out of which few hundreds are for SEO. We have reviewed and compiled the best Google chrome extensions for SEO. Let's have a look at their features.
Woorank Extension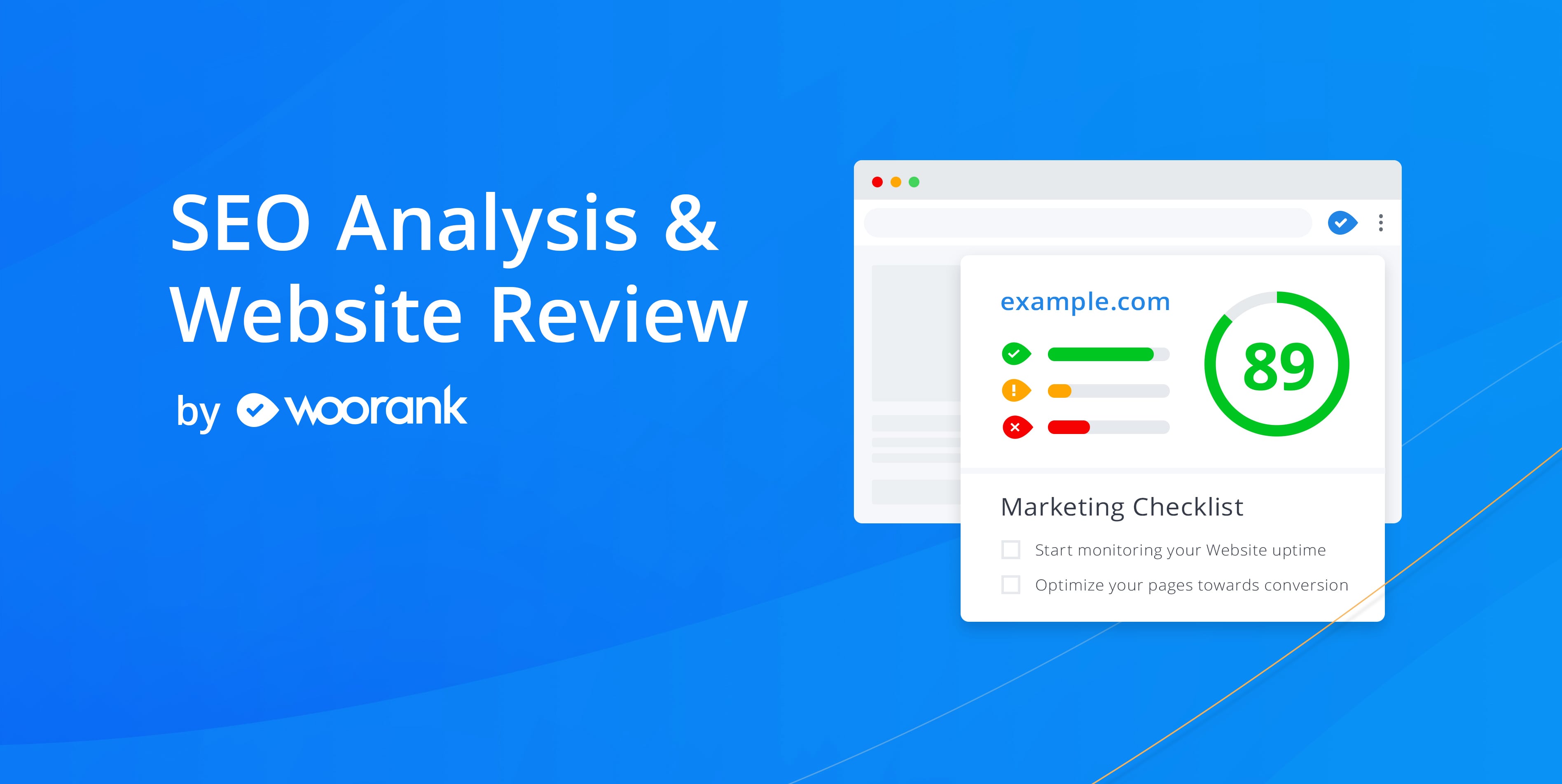 Overview
Woorank extension is one of the best Google chrome extensions available free of cost. Its an instant SEO analyzer to fetch website reviews for SEO, mobile, usability, and social media. This Chrome extension instantly provides a deep review and clear analysis report of a website's optimization.
Woorank extension generates a clear, actionable report to highlight any issues impacting the reviewed site's accessibility, readability, usability, and findability.
Data analyzed by Woorank extension includes:
Search engine optimization
Structured data
Mobile-friendliness
Usability
Website technologies
Backlinks
Social media
Website traffic
Specifications
Version – 2.2.0
Updated – July 22, 2019
Size – 14.1KB
Languages – Deutsch, English, Français, Nederlands, Español, Português (Brasil), Português (Portugal)
Developer – woorank.com
MozBar Extension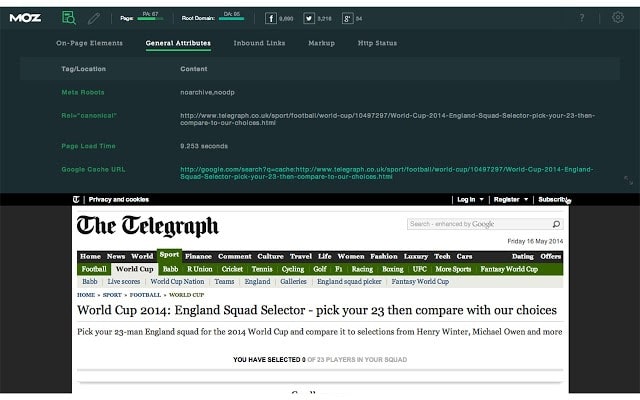 Overview
MozBar extension is again one of the most popular and best Google chrome extensions from Moz. It is an all-in-one SEO toolbar for research on the go. MozBar extension gives you instant metrics while viewing any page or SERP. With MozBar extension, you can create custom searches by a search engine, country, region, or city. You can quickly assess the Page Authority and Domain Authority of any site or page and access / compare link metrics across pages while viewing any SERP. You can find and highlight keywords on a page and differentiate links by type: Followed, No-Followed, External, or Internal. MozBar extension can expose page elements, general attributes, markup, and HTTP status. You can export your search engine results page (SERP) analysis details to a CSV file with MozBar extension.
Specifications
Version – 3.1.239
Updated – April 29, 2019
Size – 1.26MB
Languages – English
Developer – moz.com
Also Read:  Best Google Chrome Security Extensions
SEOquake Extension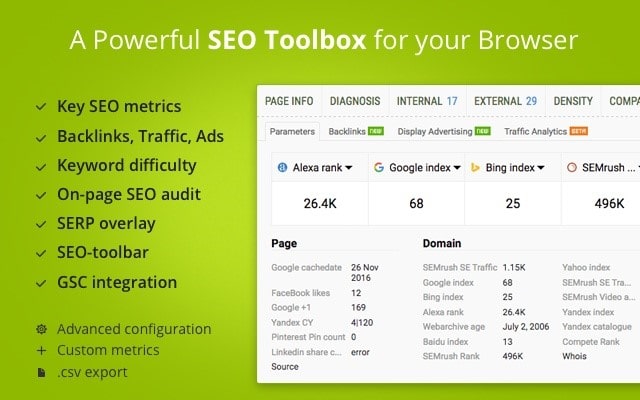 Overview
SEOquake extension is one of the most useful and best Google chrome extensions available with a free plugin that provides you with key SEO metrics. Along with other useful tools such as SEO Audit and many others, SEOquake also allows you to:
Compare URLs/domains
Estimate keyword difficulty instantly
Review all major metrics in a heartbeat
Check your social statistics for Facebook and Google+
Get a thorough analysis of SERPs and export the results in CSV format
Run a complete SEO audit of a webpage, including a check for mobile compatibility
Use a wide range of default parameters or create a custom set
Determine a keyword's density and configure a stop-word list
Get a full report for internal/external links
Set parameters for a search query
Specifications
Version – 3.7.1
Updated – July 18, 2019
Size – 1.43MB
Languages – English, Deutsch, Français, Español, Italiano, Português (Brasil), português (Portugal), русский
Developer – seoquaketeam.com
Keywords Everywhere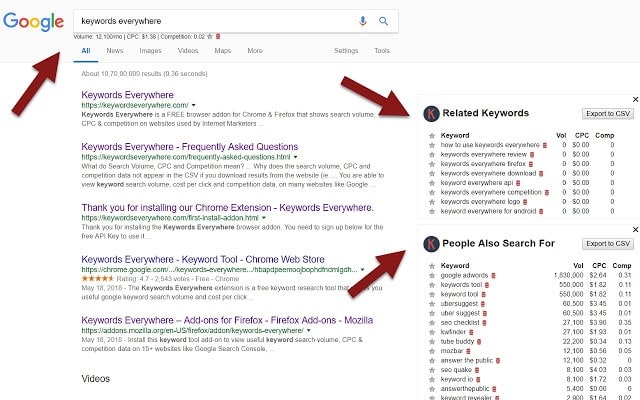 Overview
Keywords Everywhere extension is an SEO keyword research tool that shows you useful google keyword search volume and cost per click data on multiple websites. Keywords Everywhere extension looks for keyword search volume on 15+ websites like Google Analytics, Google Search Console, Moz, Majestic, YouTube, Amazon, Google Trends, Google Search, Bing, eBay, Soovle.com, KeywordShitter.com, AnswerThePublic.com & more.
The result & data is shown under the search box and in the right-hand side panel (People also ask for & related keywords) and organic and Search Engine Optimization section.
Specifications
Version – 7.2
Updated – July 17, 2019
Size – 226KB
Languages – English
Developer – axemantech.com
Meta SEO Inspector
Overview
Meta SEO Inspector is useful to inspect the meta-data found inside web pages. Meta-data is usually not visible while browsing websites however Meta SEO Inspector reveals the same for inspection. There has been various revisions and updates to this extension with a lot of fixes.
Listing header tags, improved video detection, UI translations, large images detection, resource hints tags, and more features are added to the updated version of Meta SEO Inspector.
Specifications
Version – 2.3.2
Updated – July 24, 2019
Size – 210KB
Languages – English, Español, Italiano, 日本語, Spanish and Japanese
Developer – Unknown
Summing Up
Apart from above-listed Google chrome extensions for SEO, there are few of them which are specific for their usage. These are again a few of the best Google chrome extensions for SEO purpose.
Majestic Backlink Analyzer, Page Analytics by Google, WebRank SEO Extension, Checkbot SEO Extension, Open SEO Stats, SEO Meta Extension, VidIQ Vision for YouTube, Serpstat Plugin, Ninja Outreach Lite, BuzzSumo Extension, Mangools SEO Extension and LinkMiner are few of the open SEO stats chrome extension which can be added to SEO toolbar for chrome browser. These SEO quick extension for chrome are useful tools for beginners and advance users.
If this article turned out to be helpful to you, please like and share this with your colleagues. For more such tips, tricks and tech-related updates visit Tweak Library and if you are more into tech-related videos do watch and subscribe to our YouTube channel. You can also reach us on Facebook and Pinterest.