In this era of accelerated technological progress are you still using the browser to download files? If yes, it shouldn't come as a surprise if people consider you old fashioned or historic. Downloading files via browsers in this age is frustrating, time-consuming and clumsy. In addition to this, you never get a good download speed, and download can pause at any time. That is the reason why using download manager software is a good idea.
The best Download Manager for windows 10 not only delivers good speed but also offers a handful of utilities:
Option to pause and resume downloads
Converting files between formats
Playing media files automatically
Scheduling downloads
BitTorrent support, batch downloading, file preview, security features, etc.
Compressed file support
Both free and paid-for download manager software are available that you can use. A free download manager is also packed with several features. There's so much choice that it can be difficult to decide where to start. Here we will enlist best download manager for Windows 10 that you can use. This list has both paid and free download manager for windows 10.
Read on to find out about the best Windows 10 download manager we think are the best out there.
Best Download Manager for Windows 10
The Internet is a vast and endless ocean where you find – videos, music, movies, GIF and a lot more. Mostly all these things can be downloaded and if you have the best download manager then things become pretty easy.
Certainly, every modern browser today comes with an in-built download manager. But they only have basic functionality which isn't helpful when you want to download big files. So, using the Best Download Manager for Windows 10 to download all types of files is recommended.
Note: A few download managers listed below will allow downloading content from YouTube, Vimeo, etc. Remember, downloading content from these platforms for piracy or profit-making is illegal. Hence, we recommend reading terms & conditions and privacy policy of these tools before you decide to use them. Tweak Library will not be responsible for any action taken against you.
1. JDownloader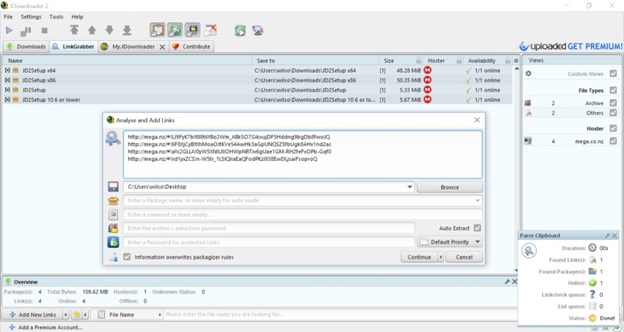 First on our list is JDownloader – a free download manager that offers amazing features.  Unlike paid download manager for windows 10 this free download manager is simple and easy to use. The best part about JDownloader is, it has no ads. Users can start, stop, pause downloads, auto-extract archives, set bandwidth restrictions, and do a lot more. It offers an easy to use interface that save hours of your valuable time every day!
Some of my favorite features of this Windows 10 download manager are:
Multiple file downloads.
Supports sites like YouTube, Vimeo and a lot more.
JDownloader changes IP address automatically while downloading if any Downloading service has blocked the original IP address.
Moreover, this one is a dynamic download manager as it comes with 300 plugins. Scheduler Plugin that allows to schedule downloads is my personal favorite. This feature comes handy when you want to download large files. As you can set a schedule to download when you know download speed is at its best. This is just the beginning you can enhance the effectiveness of this free download manager for windows 10 based on your needs. JDownloader is worth giving a try.
Pros
No ads
Allows parallel multiple file downloads
Supports popular video streaming websites
Large plugin library
Cons
User Interface isn't quite interesting
Visit: Website (free)
2. Internet Download Manager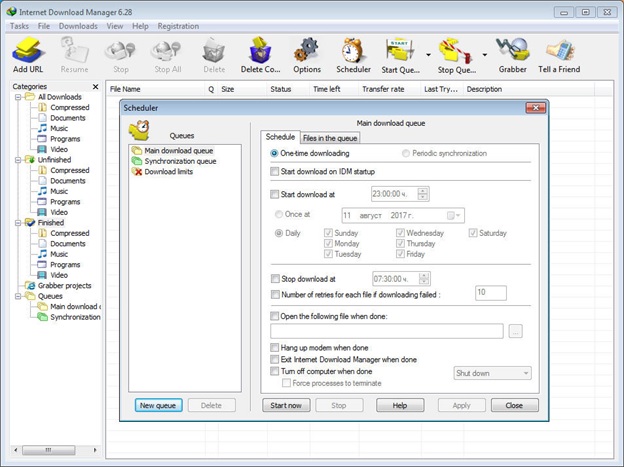 Another popular Windows download Manager is Internet Download Manager (IDM). USP of this download manager is its compatibility with all the major browsers. Talking about its features IDM supports pause and resume downloads, multiple files download, quick downloads, and more.
Further, Internet Download Manager uses smart download logic accelerator. This means even when you face a system crash IDM will resume the download. This download manager also supports proxy servers, firewalls, video content processing, HTTP and FTP protocols, etc.
Although IDM is not a free download manager for windows 10, undoubtedly it is one of the best Download Manager app for Windows 10. You can use it to download a torrent and see the download as it consists of an interactive progress bar.
Pros
Support video hosting websites, proxy servers, firewall and a lot more.
Good download speeds
Multiple file downloads in parallel
Cons
Need to pay to use it after 30 days.
Visit: Website (free 30-day trial, $29.95)
3. Ninja Download Manager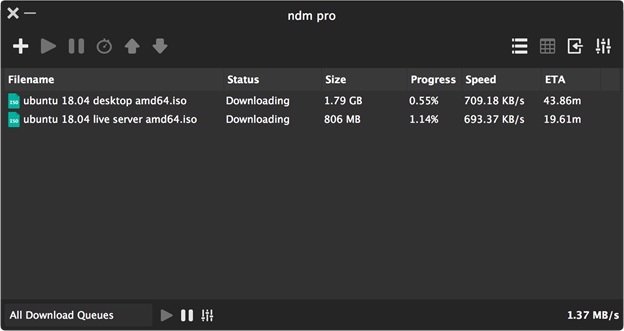 This Windows download manager is one of the best looking download managers. This means Ninja Download Manager wins a design award for its user interface. Although new in the market it has made its mark and is considered one of the best download manager for Windows 10.
Since Ninja Download Manager is new it UI looks similar to the latest Windows 10 app. It can be used as a download manager extension for Chrome on Windows to download large files with ease.  Discussing the features it comprises of pause/resume of the downloads, themes, and multiple language support, etc. Those who don't want a standalone download manager Ninja Download Manager is useful. This best Windows download manager software divides files into chunks to offer great download speed.  Other features are similar like scheduling downloads, queuing downloads, pausing and resuming downloads, multiple downloads, etc.
One of the features I like the most is sequential downloads. This means files are downloaded from start to finish, allowing to preview downloads even before completion. It is helpful when you want to check the video quality of the file being downloaded.
Pros
Interactive user interface
Multiple file downloads in parallel
Download scheduler
Sequential downloads support
Cons
Media parsing on non-popular websites is not supported
Visit: Website ($19)
4. Free Download Manager
Free Download Manager or FDM as the name says is another powerful free download manager. It offers faster download speeds as it divides file to download, it also supports pausing and resuming of downloads. Torrent files support along with bandwidth management is FDM's unique feature.
With all that said, Free Download Manager is one of the best download managers for Windows 10. Moreover, it allows organizing downloaded files by their type. If you are looking for a free and powerful download manager for Windows, FDM is worth trying.
Choosing between FDM and Ninja Internet Download Manager was difficult but since FDM is a free download manager with similar features it is better. The best thing about Free Download Manager is its ability to allocate bandwidth to separate multiple downloads.
Pros
Modern UI
Bandwidth monitoring
One-click torrenting
Free to use
Cons
Link parsing is sometimes slow
Visit: Website (free)
5. EagleGet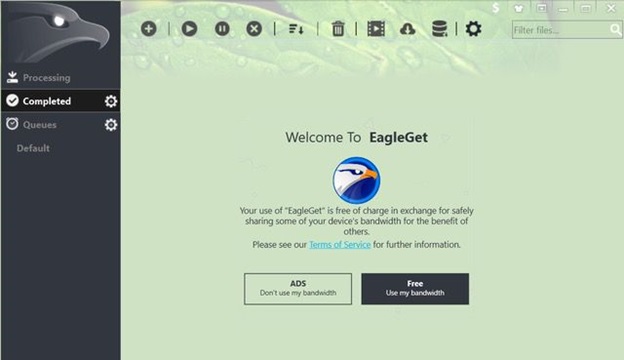 Another free download manager for Windows 10 is EagleGet, that comes with built-in malware checker and file integrity verifier.
This download manager is integrated with Chrome, IE, Firefox, Opera, offering support for MMS, HTTP, HTTPS, RTSP, and FTP protocol. This means software automatically reads download links when the popular browsers mentioned above are used allowing to download files without any problem.
Malware checker and file integrity verifier guards users from malicious attacks ensuring file only original and genuine files are downloaded.  EagleGet closes the open browser when installed hence save your work before installing it.
Even though EagleGet is underrated yes it offers certain unique features like multi-threading to enhance download speeds. This means no bandwidth is lost and you get full speeds during file download.
Pros
Quick and speedy downloads
Built-in file integrity verifier and malware checker
Supports sequential downloads
Visit: Website (free)
6. uGet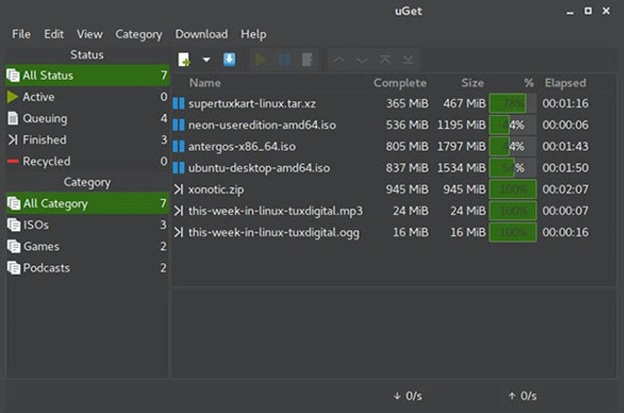 Like Free Download Manager, uGet is also an open-source Windows download manager. It has a browser integration, offers multithreading downloading options and automatically prompts for downloads. uGet has an intuitive UI, it offers multiple file download, batch download queuing and similar features like other download managers.
In addition to this uGet, a free download manager for Windows 10 offers various themes like dark, normal light and others. This is what makes this download manager stand apart. Its clipboard manager keeps an eye for any copied download link and asks if you would like to download those files. uGet is a great option for those who don't want to spend on a download manager.
Pros
Beautiful UI
Supports most popular browsers offer different themes
Support batch download with file queuing
Cons
Installing is a bit difficult for a novice
Visit: Website (free)
7. Xtreme Download Manager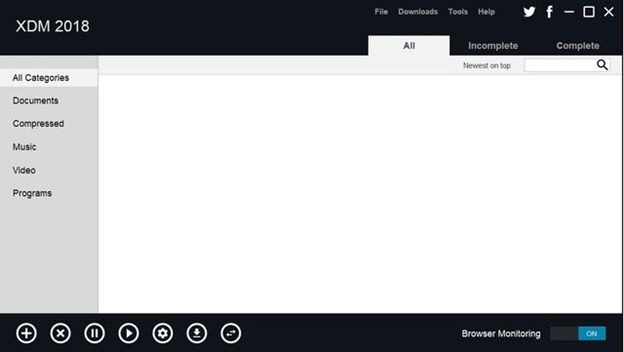 If you like downloading movies and videos, Xtreme Download Manager is what you must have. It supports downloading video from YouTube, Dailymotion, Vimeo, and more such sites. But this doesn't mean Xtreme Download Manager is for videos only. It lets you download other files types also.
One of its best and most unique is a smart scheduler that allows you to schedule download time. This one is one of the oldest download managers available for Windows. Xtreme Download Manager The app integrates easily with popular browsers – Google Chrome, Mozilla Firefox Quantum, Opera, Vivaldi, and other Chromium and Firefox-based browsers.
Xtreme Download Manager's other features include pause and resume downloads, scheduling downloads, speed limiter, proxy server support, and a lot more.
Pros
A great video download manager
Playlist download without needing an additional plugin
Download scheduler
Visit: Website (free)
8. iDownload Manager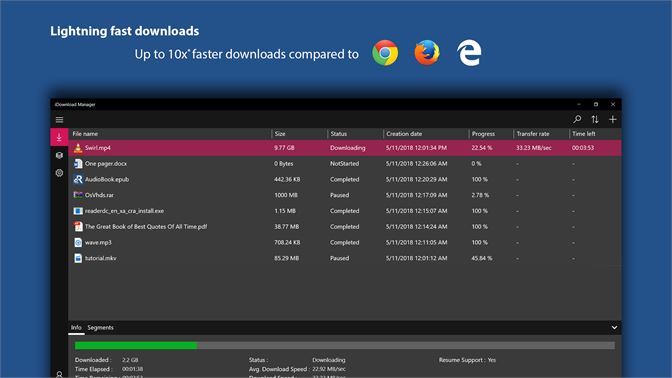 Nothing can be better than a download manager available on the Microsoft Store, iDownload is that download manager.
This Windows download manager is lightweight yet powerful. It includes multithreading and file splitting options that make downloading large files quickly. Besides, this iDownload has advanced features like file allocation system, pause, resume downloads,  bandwidth allocations, and more. This isn't the complete story the best part is about to come iDownload Manager is a free download manager available on Microsoft Store. This means you don't need to go through the hassle of setting up. Simply visit the Microsoft store and click on the install link. This means whatever the case may whether you are using Windows S version or any other Windows version you can use iDownload Manager.
Pros
Integrated with the most popular browsers
Allows batch downloads
offers Automatic file management system like Free Download Manager
Cons
sometimes you might find it slow. 
Note: This software is not working.
9. Internet Download Accelerator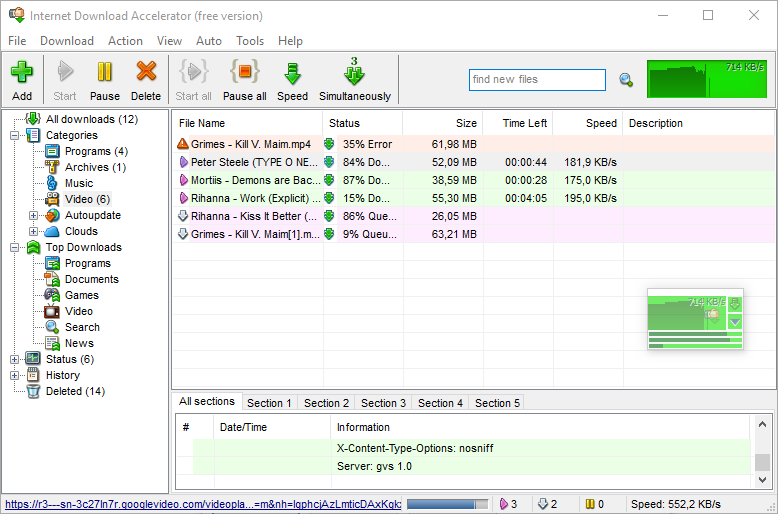 One of the advanced download managers we have on our list of best download manager for windows 10 is Internet Download Accelerator. As the name suggests accelerates download speed, manages file download, includes resume option for broken download files. This is the most impressive feature of Internet Download Accelerator. Moreover, it has all the features like Free Download Manager – browser integration, multiple file downloads, splitting large files and more. 
Tip: if you did not like any of the above download managers, give this one a try.
Pros
Integrated with major browsers
feature to resume broken downloads
Manages downloaded files
Cons
Limited capabilities when we talk about multithreading.
Visit: Website (free, $9.95)
10. Free Rapid Downloader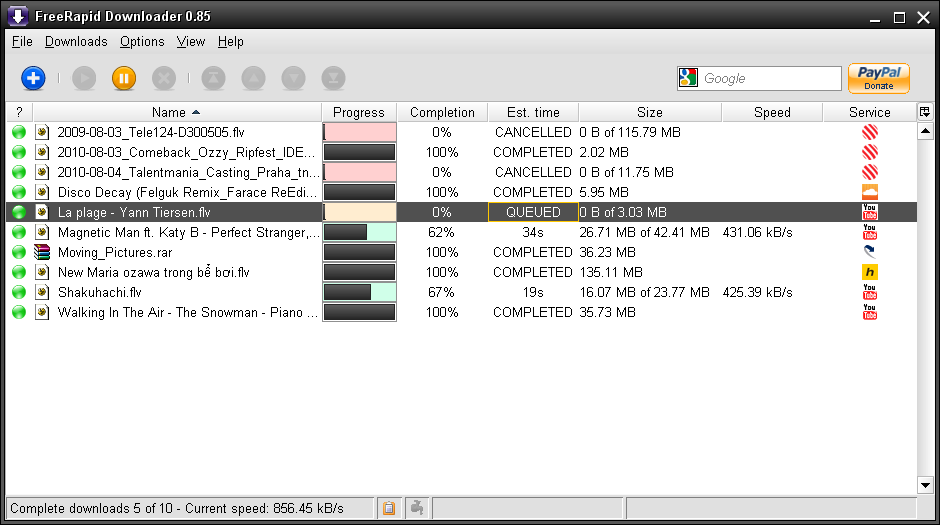 Free Rapid Downloader is an easy to use Java downloader that supports download from file-sharing services – YouTube, Picasa, and other. This is what makes Free Rapid Downloader one of the best Windows Download Manager. It even allows downloading files using a proxy list, offers clipboard and other amazing features. 
Pros
Supports popular file sharing websites
Offers clipboard monitoring
Streaming support for videos
Cons
 A bit slower when we talk about Link parsing 
Visit: Website (free)
11. Download Accelerator Plus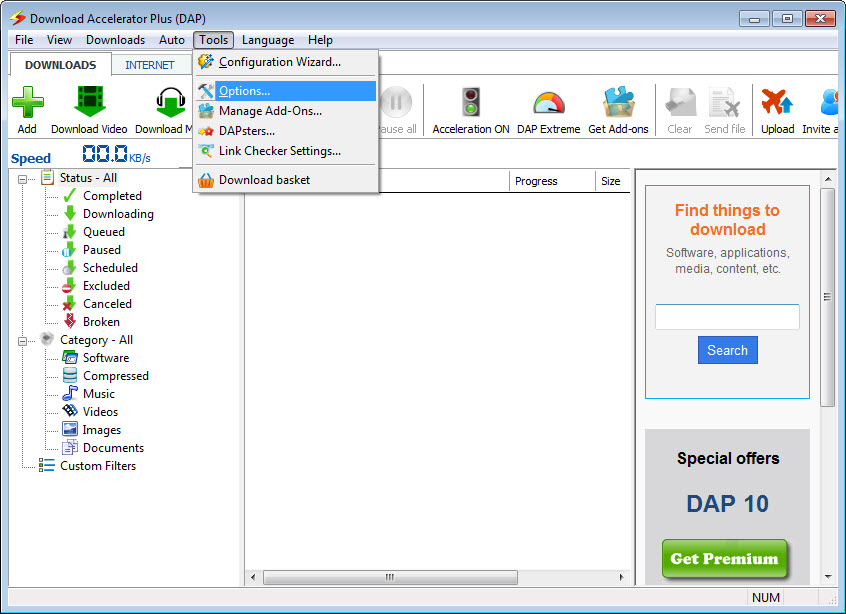 Download Accelerator Plus (DAP) is a built-in web browser using which you can browse your downloads. It is an excellent free download manager that supports importing the list of links via M3U. Plus it has a link checker that helps to download files securely. Moreover, once all the files are downloaded you can disconnect Download Accelerator Plus. Although the free version of Download Accelerator Plus lacks advanced privacy protection yet it is one of the best Windows Download Managers. This download manager is designed for media fans and helps you overcome slow servers and internet congestion problem.
Pros
Great download speed
Link checker
Free download manager
Cons
Pared-back version of the premium edition
12. Orbit Downloader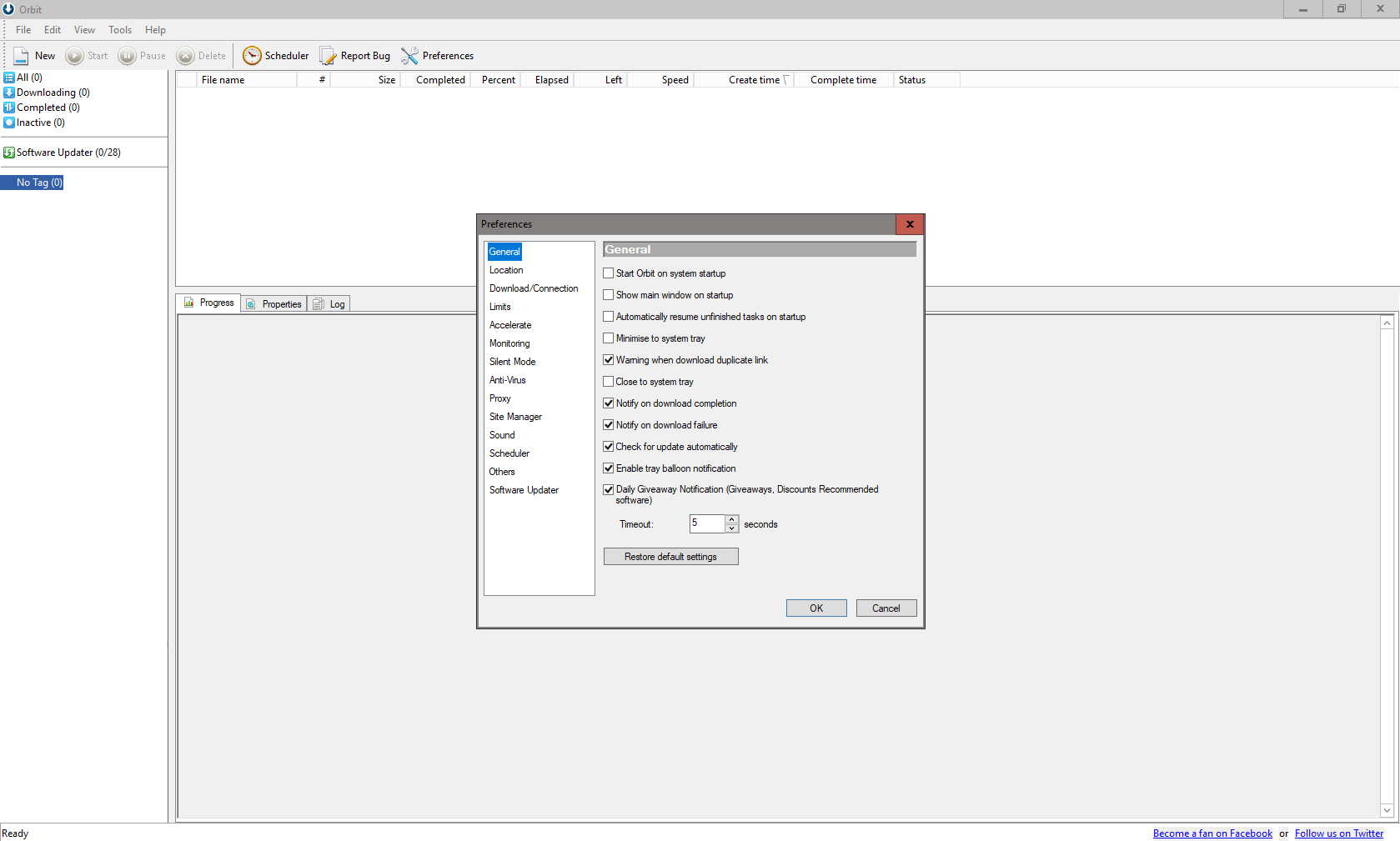 Another popular download manager for the windows in our list is Orbit Downloader. It allows downloading content from third-party video and music streaming websites. This download manager supports almost every file transfer protocol like HTTP, FTP, and others. Moreover, Orbit Downloader free download manager boosts download speed when the downloaded is from file sharing sites.
13. GetGo Download Manager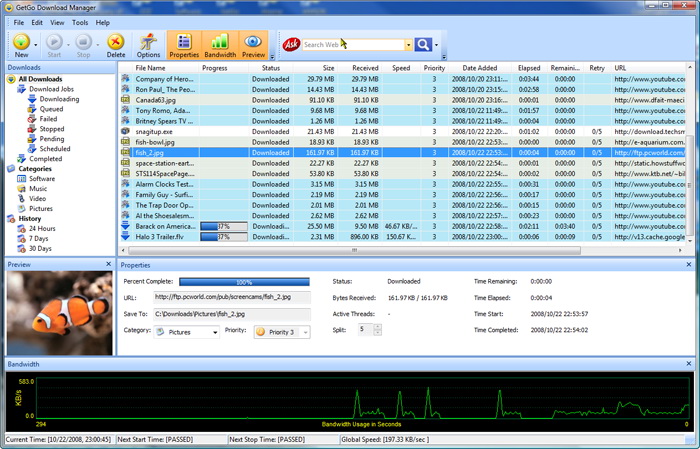 If you want to download multiple files GetGo Download Manager is the best download manager for windows 10. It comes with certain unique features likes – drag and drop, importing of LST file with links, sorting downloads, categorizing using file extensions. GetGo Download Manager is compatible with popular web browsers. This small and simple to use a download manager is made by Microsoft especially for your PC. 
 14. FlashGet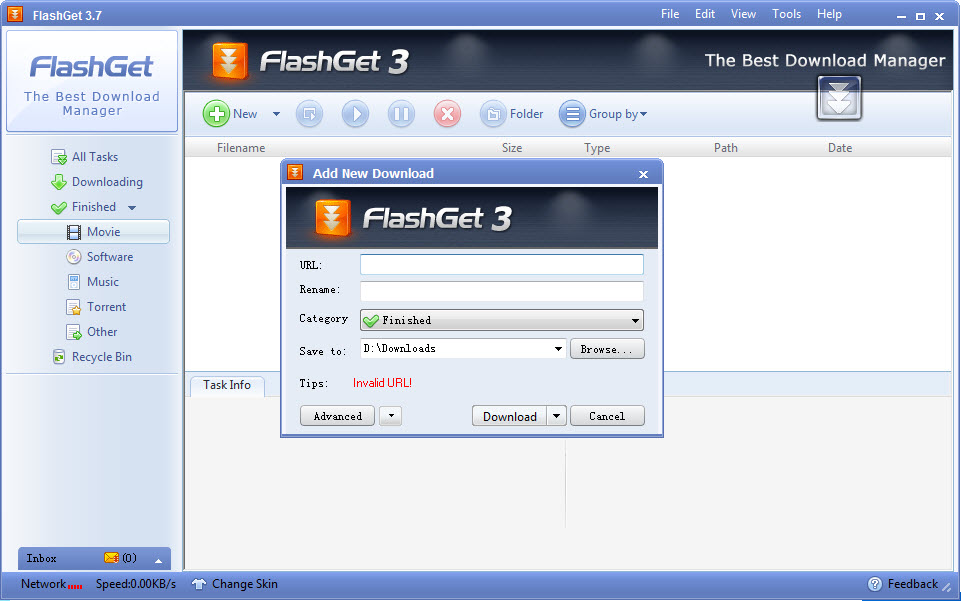 Last on our list of best Windows Download Manager is FlashGet. This download manager supports FTP, HTTP, BitTorrent, and other protocols. Not only this FlashGet has excellent integration with browsers. Using a single-download button, you can get your files downloaded as it automatically detects file type that needs to be downloaded. 
With this, our list of best download manager for Windows 10 comes to you an end. You can use any of these download managers according to your requirement. In this list, both paid and free download manager are included. Do check out the list and let us know which one you liked. Also, if you enjoy using any other download manager do share it in the comments section. Do share this article with your friends and family who are still using the browser to download files. 
Sharing is Caring :-)
Recommended Readings:
How To Download And Update Microsoft Bluetooth Driver?
Fixed – Can't Access Device Manager In Windows 10
Best Software Updaters For Windows 10