If you are looking for a file manager for Android, you would aim to have a complete grasp on the files in your device.  You would probably be looking for various things under one roof. You would look at a file manager that can help you with several things and that too while you are on the move. If you are managing the files on your Android device, here are a few things that you be juggling with, something that a file manager for Android so brilliantly tackles.
Managing your storage space
Help you find files at once glance
Easily move files from one folder to another
Also Read: How to Make Android Phone Faster
Which Is The Best Android File Manager 2023?
We have curated the list of popular file management applications based on user reviews, benefits and ease of use. Find the most suitable for you!
1.
Smart Phone Cleaner – Speed Booster & Optimizer
Click Here To Download Smart Phone Cleaner
It might not be a dedicated file manager for Android but it is way more than that. While it helps you manage the files on your device efficiently, it even helps you get rid of all the unnecessary junk. Moreover, it even boosts your devices RAM too.
Features
Manage the storage of your device through categorized media
Separate categories for all media-related files on your device
Simple, easy and intelligent way of organizing documents, pictures, and videos. By doing these you can free up a lot of precious space on your device
Backup important apps and uninstall the ones that are taking a lot of space on your device
Rating on Google Play Store: 4.6 Stars
No. Of. Installs: More than 1 million
2. Mi File Manager : Free and Easily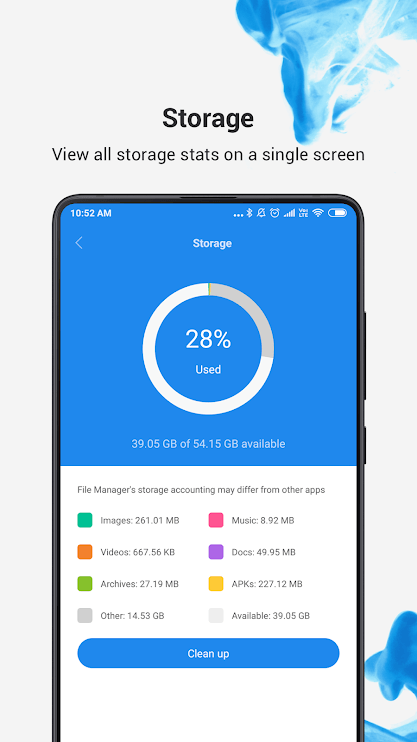 Touted as the best file manager for Android, Mi File Manager comes with several features. You can do many things with this file manager app apart from just opening, moving or deleting files.
 Manage files easily using these features:
Mi File manager recognizes various formats pertaining to videos, images, documents, etc. It also recognizes RAR, APK and ZIP files
Mi File Manager app has a very clear, clean and crisp user interface that makes it easy to manage files
Files can be organized and categorized according to their formats
Easily transfer files between PC and mobile using the Wi-Fi network
Global search algorithm which means you can enter keywords to search for files
Easily access external memory like OTG devices and SD cards
Rating on Google Play store: 4.8 Stars
No. Of. Installs: 100 million
3. Astro File Manager & Storage Organizer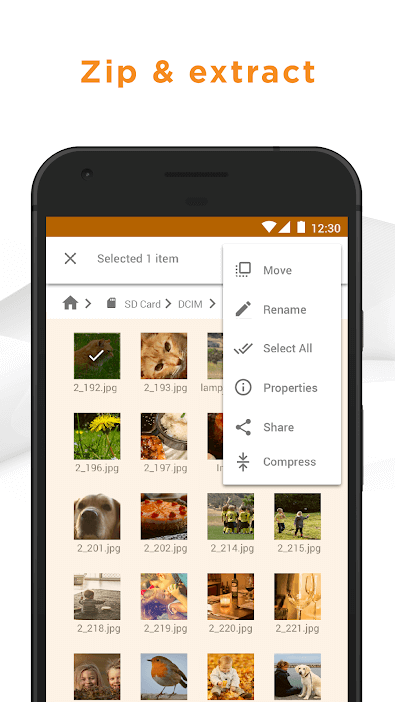 Astro File Manager is a file manager for Android that can help you easily sort your internal and external storage by the way of managing the files on your device. With the features mentioned below, you can clean your phone, manage files and free up tons of space.
Features
With this file manager app you can easily perform basic file functions such as move, copy, share, rename, delete and compress files on all storage areas – SD card, internal storage, and the cloud. Also, manage the backup of your files on the mentioned storage areas
Inbuilt compressor and ZIP file opener that can compress files to RAR and ZIP format and even open them
Neatly organize and sort your files and folders with the inbuilt file organizer
Create a backup of your apps and restore them should you need to factory reset your device
Rating on Google Play Store: 4.3 Stars
No. Of. Installs: More than 50 million
4. Amaze File manager
You might perceive Amaze file manager as light (which it is as it weighs only 7.6 MB), yet, the app proves to be one of the best file managers for Android. One thing that makes the app even more wonderful is that it is open-source and ad-free.  
Features
Easy app management – open a file, create a backup and uninstall an app, all through the same app
Multitask by working on multiple tabs all at the same time
Cut, copy, paste, delete, compress or extract files in a hassle-free manner
Several themes and attractive icons
You can get cloud support (with the help of additional plugins)
Rating on Google Play Store: 4.3 Stars
No. Of. Installs: More than 1 million
5. EZ File Explorer  
The reason why you should download EZ File Explorer is that it is a fully-featured (image, video, documents & multimedia files) management tool for both local and networked use. It is known for cleaning, optimizing and organizing your files in the most efficient way possible.
Features
Access contents of documents in several file types.
Remote file connection – link your files from anywhere.
Tools to speed up your smartphone.
Offers the capability to uninstall applications within the file manager.
You can use it as a video player & photo viewer..
Rating on Google Play Store: 3 Stars
Total Installs: 1,000,000+
6. Files by Google: Clean up space on your phone
Smartest of all the file manager apps for Android, Files by Google was launched as an experiment, but soon got huge popularity and became the mainstay for several. Similar to every data management application, Files by Google lets you browse your device's local storage and perform a variety of actions to optimize and organize the files and folders.
Features
Free up unnecessary occupied space more quickly and easily than ever.
Hassle-free file transferring to SD card.
Remove junk files & temp files to get more storage and boost smartphone performance.
Get smart recommendations to erase files that you no longer use.
Easy photos, videos, docs & apps sharing.
Supports encrypted files sharing with WPA2 encryption technique.
Rating on Google Play Store: 4.5 Stars
Total Installs: 500,000,000+
7. X-plore File Manager
Meet the most robust file management app for Android – X-plore File Manager. It's a complete package of smartphone cleaning, optimization & management tools and features. Unlike most of the Android file managers & explorers, it features a disk map that allows you to see while files consume most of the resources.
Features
It has a dual-pane view – to handle the window and copy files across two folders.
Gives cloud storage access for Google Drive, Dropbox, Amazon Cloud Drive & more.
Has a built-in PDF viewer to access and read PDF files.
Capability to batch rename.
Supports Wi-Fi file sharing.
Offers a special vault for encrypting sensitive files.
Rating on Google Play Store: 4.5 Stars
Total Installs: 10,000,000+
8. Solid Explorer File Manager
Next on our list of Top 10 Best File Management Applications for Android is Solid Explorer File Manager by NeatBytes. It will help you manage files and folders in dual pane layout. Similar to most of the Android data managers, it supports viewing, deleting, moving, renaming, sharing files without any hassles.
Features
Keeps all your files and folders safe with strong AES encryption.
Use multiple search filters to quickly locate important files.
Analyse the storage space by checking which folder is taking most of the storage space.
It even allows you to browse system files if your device is rooted.
Supports batch renaming.
Offers tons of themes and icon sets. The file manager is rich in customization.
Rating on Google Play Store: 4.1 Stars
Total Installs: 5,000,000+
9. Total Commander – file manager
Here comes the classic choice in the category of Best File Managers for Android – Total Commander. It features a simple, straightforward interface and it is as good as its Windows counterpart to get the tasks done. Free from advertisements and annoying pop-ups, Total Commander has tons of options and tools that makes it an amazing choice to consider.
Features
Has a built-in text editor.
Offers search functionality to quickly find important files and folders.
Supports drag & drop (you can long press file icon to move)
Supports bookmarking.
Has a built-in media player to stream directly from LAN, cloud plugins and WebDAV.
Multilingual file manager for Android.
Rating on Google Play Store: 4.5 Stars
Total Installs: 10,000,000+
10. FX File Explorer: the file manager with privacy
If you are highly concerned about the security permissions that most of the File Managers for Android ask before using the product, then choose FX File Explorer, which takes the opposite approach. The tool is designed while keeping user privacy needs in mind. Here's a list of functionalities and benefits FX has to bring.
Features
Offers straightforward cleaning features to optimize storage space.
Multiple window support.
Ad-free file manager app for Android.
Built-in image viewer, media player and pop-up audio player.
RAR, ZIP, 7zip, GZip, Tar file extractor.
Create AES-256 encrypted ZIP files without any hassles.
Rating on Google Play Store: 4.2 Stars
Total Installs: 5,000,000+
To Sum Up
Every device comes with its own file manager for Android but, maybe you expect a little more. The fact is that the file manager that comes preinstalled in an Android device may lack one or the other features. This is where a  file manager app download can be greatly beneficial.
Was our list of help? Would you like any other app to make it to the list? Do mention it in the comments section below. Also, we regularly post a lot of fun stuff in the form of blogs and videos too.
You can also find us on social media by following the links mentioned below.