Table of Contents
Dashlane undoubtedly is ruling the market for being one of the password managers that are there. Having said that, there are certain shortfalls of this fantastic password manager keeper as well and if you wish to keep your options and wish to enjoy tons of other benefits, we have got you covered with these Dashlane password manager alternatives.
Best Dashlane Password Manager Alternatives
1. TweakPass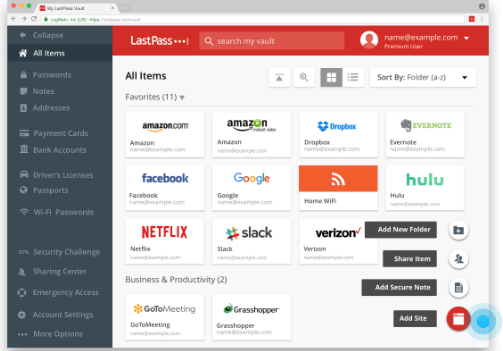 As a Dashlane password manager alternative, TweakPass does stand out, thanks to its myriad features. Let's have a look at some of the features of this password keeper manager –
As a password manager, TweakPass logs you into accounts automatically
You don't have to remember passwords with this Dashlane alternative – TweakPass generates complex passwords for you and logs you into account automatically
It secures all your passwords and confidential credentials such as debit/credit card numbers, Social Security Numbers, bank account details and several others in one place. What you have to remember is a single master password
It has an easy to use interface and ease of accessibility and great integration with chrome
It's a great Android password manager as well. Just as its desktop variant, you can log into accounts and generate complex passwords. It's just that here things get even simpler, all you need is just a single tap.
2. LastPass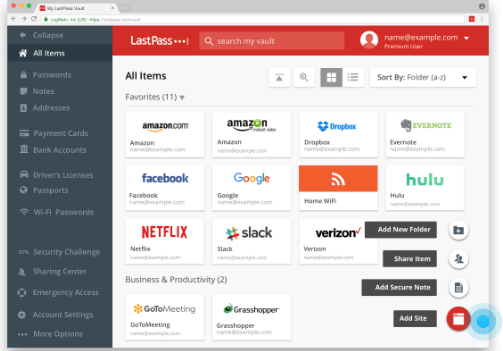 LastPass has been around for quite some time now and is undoubtedly a remarkable Dashlane alternative. Here's why you should definitely consider LastPass –
Here a strong single master password secures all your passwords
It embeds in your extension as soon as you download it and that is from where you can log in and access all your password
LastPass is encrypted by a very strong AES 256-bit encryption with PBKDF2 SHA-256
LastPass exhibits a cross device functionality – it efficiently backs you both on your browser as well as your device
Prompt customer chat support. Although this function is available if you opt for premium features
On a given device, this Dashlane alternative even supports a fingerprint functionality too
On the downside, you might have to pay a high price for its subscription even if you have opted for LastPass for a single user.
3. 1Password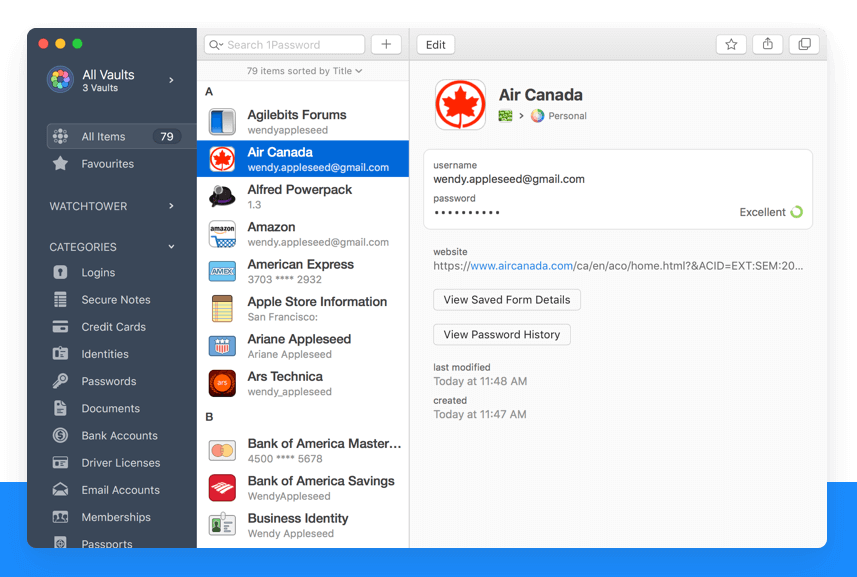 1 Passwords quite vocally asks you to forget passwords. You could use it at your home and safeguard the passwords used by you and your family or you could use this Dashlane password manager alternative to protect the data of your business.
1 Password, as the name suggests requires you to remember just one password. The moment you are on the login page, 1 Password only requires your click, look or touch to log you in.
1 Password offers a vault that stores all your password, documents, and other credentials
1Password is available for all devices, operating systems and browsers. The best part is that all your passwords and details are synced across these platforms
Another reason why it is a great Dashlane alternative is because of the fact that it prompts you the moment it finds that you have a weak password
On the flipside, for any issues, there is just a form using which you can explain your queries. The to and fro conversation could take time. For even a minimum of $ 3.99 per month, the customer support could have been better.
4. Enpass

If you are looking for a Dashlane alternative that is well worth the buck, you should not go any further.
As far as the interface is concerned, it is pretty decent and simple
Even as a free keeper password manager, Enpass lets you save 20 passwords
Talking about the pricing, there are no recurring fees and you can enjoy the premium features at a flat fee of around $ 12
Again Enpass is a password manager which has a cross platform functionality and you can use Enpass on both desktop and mobile
On the downside, you will have to sync your account to a cloud service such as DropBox as this Dashlane password manager alternative doesn't have a dedicated cloud service.
5. Bitwarden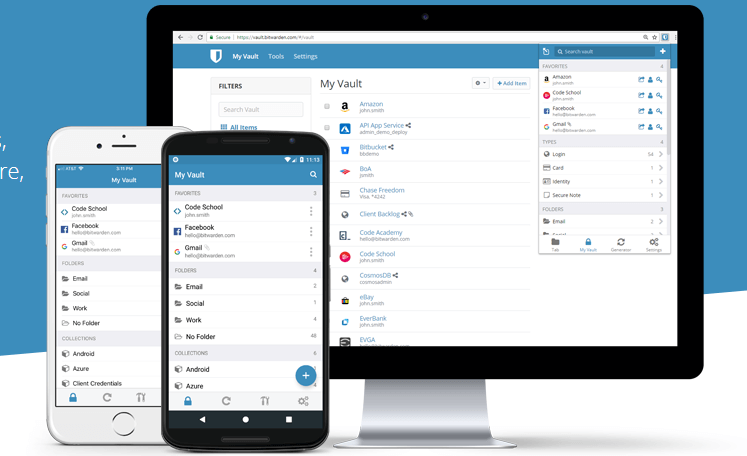 Bitwarden rightly marks its place as a Dashlane password manager alternative since it easily and safely stores, syncs and shares data of individuals, business organizations and teams.
Security is at its peak with Bitwarden – your notes, passwords, identities, login IDs, etc are protected by a 2-step verification (even with the free variant). The premium variant has an add on 2 step authentication facility with U2F, Duo, and YubiKey
Hassled by what password to keep for a new login? Jitter not! Bitwarden comes with a secure password generator.
You get an end-to-end AES 256-bit encryption which is further layered by salt hashing.
Here's the fun part – if you are into coding, you can execute command line in Bitwarden vaults using CLT (command-line tools)
There is just a small flipside and that is customer support. If only you subscribe for the premium variant will you be eligible for a priority customer support.
In The End
Password breaches are on a rampant and you certainly need password managers the likes of which are mentioned above. Undoubtedly, Dashlane is a hot favorite, but have our word for this once you get your hands on Dashlane password manager alternatives like TweakPass, LastPass, 1Password and many others, you will for sure admire security even more.
Follow Us: