As smartphones are capturing precious memories of our lives, our devices are crammed with video. But not every device is capable of playing every format, which is why a video converter comes into the picture. We've done a lot of exercises to find the best video converter for windows 10. The best video converter software are easy to use and can take care of a huge array of various file formats.
Usually, video files use diverse codecs and container formats resulting in different file extensions. Different codec changes the quality and size of the video file and impacts conversion speeds. Typically, a Windows video converter takes an input video file and converts it to another file format.
There are various online video converters available however we don't recommend using one of those as it takes up a lot of bandwidth to upload and download the file, the privacy of our personal video gets compromised as it's already uploaded on some portal.
Also Read: Best Free Image Converter in 2021
There can be numerous reasons why you might wish to convert a file format. Maybe you want to play a particular video on a device with limited storage and there arises a need to reduce the size or quality of the file. You might wish keeping your entire video collection in a specified file format or changing a recorded video in a readable and sharable format, you need the best video converter software to get this done. An effective Windows video converter can convert to or from MKV, AVI, MP4, FLV, MOV, 3GP, and many more.
Platform
Price
Supported Video Formats
Batch Processing
Hardware Acceleration
Wondershare UniConverter
Windows and MacOS
$45.95/year; $69.95 lifetime
1000+
Yes
No
VideoProc Video Converter
Windows and MacOS
Free; $29.95
420+
Yes
No
WinX HD Video Converter Deluxe
Windows and MacOS
Free; $59.95
420+
No
Yes
Wise Video Converter
Windows
Free; $19.95
All the Popular Formats
Yes
No
Ashampoo Video Converter
Windows
Free Demo, $39.99
Popular Formats
Yes
No
Any Video Converter
Windows
Basic: Free
Premium: $59.95
100+
No
No
HD Video Converter Factory Pro
Windows, MacOS
$39.95
21
Yes
No
Freemake Video Converter
Windows
Free
500+
No
No
HandBrake
Windows, MacOS, Linux
Free
Few
Yes
Yes
NCH Prism
Windows and MacOS
$33.24/year
$50-$70 lifetime
Few
Yes
No
Here's our best video converters for Windows 10
Video Converter Software Companies are trying to add as much functionality as possible into their software, even if it doesn't relate to the core functionality of their software. Wondershare too contains a feature to record the screen with your own Audio Narration which is a great addition. On the converter part, it can help you convert videos with over 1000 different input and output formats (I didn't even know that there were actually these many formats). It allows Batch Conversion for the hardcore users. If you can deal with its sometimes-confusing interface, it is definitely one of the best Video Converters for Windows 10.
Features:
Built-in Screen Recorder
Supports over 1000 File Formats
Allows Batch Conversion
GIF Maker
Pros
Supports 1000+ File Formats
Offers Batch Processing
Built-in VR Converter and GIF maker
Allows to Burn Video Discs
Cons
Confusing User Interface
No Hardware/GPU Acceleration
Also Read: Best Video Compressors For Mac 2021
2. VideoProc Video Converter:
VideoProc is another popular and easy-to-use Video Converter for Windows 10. It even comes equipped with powerful editing tools. With VideoProc's advanced engine you can flawlessly convert 4K and even 8K videos into over 420 different video formats. Like, WinX HD Video Converter Deluxe, it can convert videos at a much greater speed. It also allows Batch Conversion and is available for Windows and Mac OS for Free. With all the different Conversion options, solid video editing tools and bunch of other features, VideoProc Video Converter is one of the best Video Converters for Windows 10.
Features:
Support all the Input Formats, more than 370.
Allows you to convert Videos in over 420 different formats.
Allows batch conversion.
Built-in Video Downloader that allows you to download videos from over 1000 different websites including YouTube, Facebook, etc.
Pros
Supports more than 370 input and 420 output formats
Supports Batch Processing
Supports 4K and 8K Video Conversion
Allows you to Upscale
Built-in Online Video Downloader
Cons
No Hardware/GPU Acceleration
3. WinX HD Video Converter Deluxe:
WinX HD Video Converter Deluxe is a premium and powerful video converter software. With WinX HD Video Converter Deluxe, you can convert large 4K files into more than 420 different formats suitable for all the different devices you can think of; iPad, iPhones, Android, DVDs, Camcorders, etc. With the help of Level-3 Hardware Acceleration tech, it can process all the videos at a much greater speed. With all the features and an easy-to-use interface, WinX HD Deluxe is one of the best Video Converters for Windows 10.
Features:
Convert 4K/HD videos to MP4, AVI, MKV, WMV, MOV, MP3, and other 420+ formats
Compress Large 4K Videos
Extract Audio and Snapshot from Video
Create Photo Slideshow
Reduce File Size
Pros
Allows to Convert even 4K Videos
Lets you convert videos from and to over 420 different formats
Contains GPU Acceleration
Allows you to cut, crop, and merge videos
Cons
Doesn't Offer Batch Processing
Supported Formats: 4K, HD video to MP4 (HEVC/H.264), MKV, AVI, iPhone, iPad, Android and 420+ Video Formats.
4. Wise Video Converter
Wise Video Converter is ranked the best video converter for Windows 10 throughout our testing. Its wide range of features and options allows you to convert videos in any file format. Any video can be easily playable on any multimedia device with its converting codec feature. This converter is available in a portable version permitting you to easily wrap it in a USB stick or a Memory card to carry on the go. This converter is the best suit for converting video clips to be played on PC, Smart-TV, Tablets, Smartphones, Gaming Pads, etc.
Features:
User-friendly Console
Add Watermark on Videos
One-click Video Conversion
Videos Compatible with All Devices
Multiple Video Conversions at A Time
Easy, Fast & Effective Video Conversion
Portable Version Made Conversion On-the-go
Pros
User-Friendly Interface
One-Click Video Conversion
Allows Batch Processing
Supports all the popular Video Formats
Cons
Lacks hardware acceleration
Slow Video Processing
Formats Supported
AVI, 3GP, AVM, DAT, MP4, AVS, MKV, MPEG, F4V, FLV, MOV, MPG, OGM, RM, NSV, VOB, RMVB, TP, TS, WEBM, WMV, and more.
5. Ashampoo Video Converter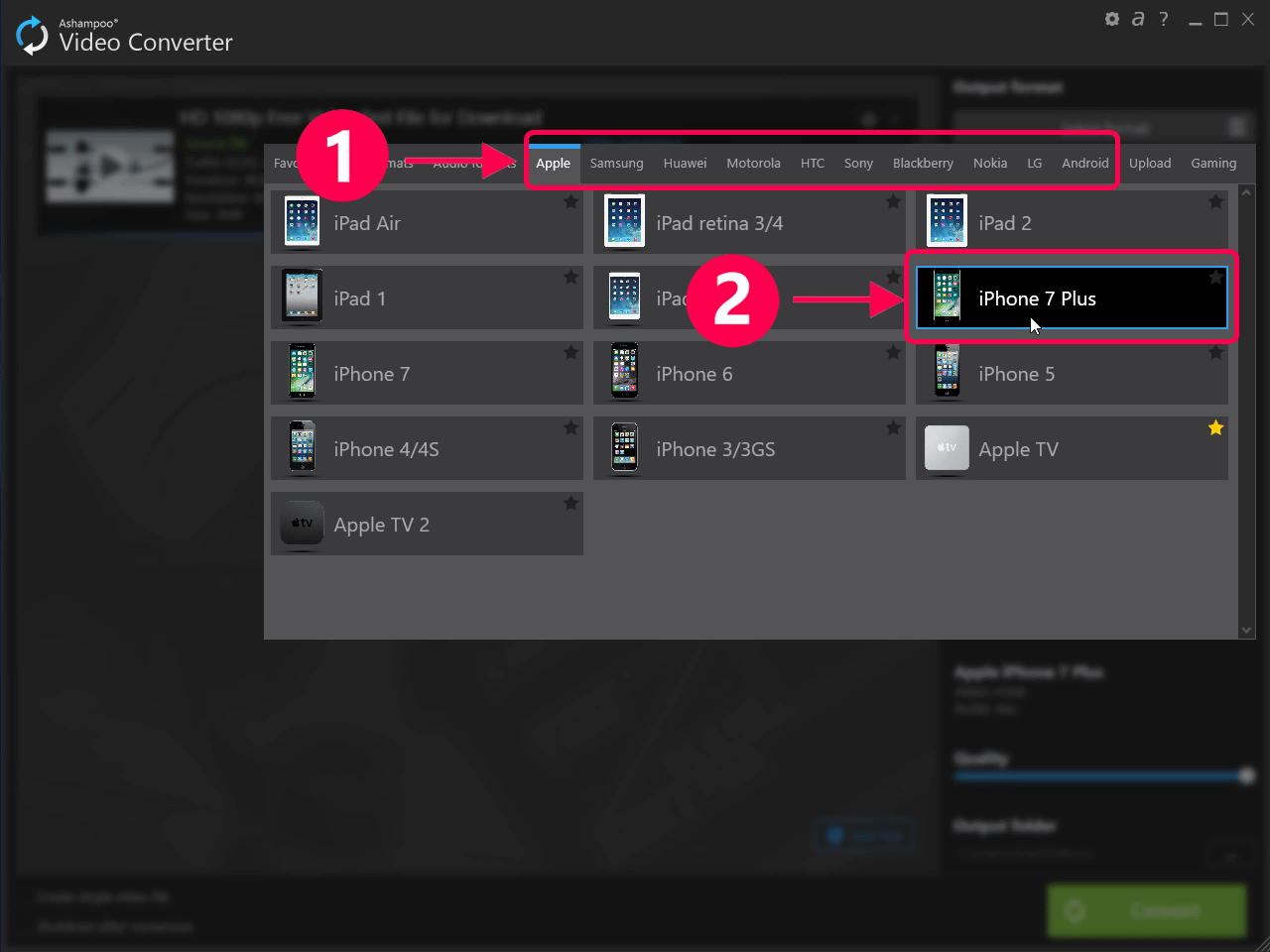 Ashampoo Video Converter is ranked second in our best video converter for Windows 10 roundup. Ashampoo video converter has all features required for the best viewing experience. Ashampoo Video Converter converts your videos in 3 easy steps in any file format. You just need to select the video you want to convert and declare the targeted device you want to play it on, and you're good to go. You don't have to be a professional to struggle with file formats or device specifications to convert a video.
Features:
Easy to convert in any file format
Best for Large Resolutions up to 4K
Inbuilt Video Sharpness Editing Tools
Gives Perfect Viewing Experience on All Devices
Fast Conversion with NVENC & Intel HD Graphics
Gives Perfect File Formats for Facebook / YouTube Uploads
Extract Audio in MP3, AAC, OPUS, WVA, FLAC, WMA Formats
Pros
Simple User-Interface
Timeline and Storyboard Views
Built-In Video Editing Tools
Support 4K Video Conversion
Supports Batch Processing
Cons
Slow Video Editing and Conversion
No PiP
Formats Supported
AVI, MKV, MPEG, WMV, MP4, MP3, AAC, OPUS, WAV, FLAC, OGG, WMA, and many more.
6. Any Video Converter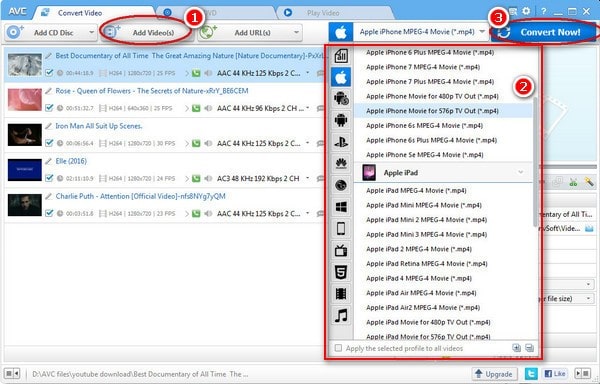 If you want to get bonus file formats, Any Video Converter for Windows 10 will not disappoint you. Any video converter turns out to be one of the best video converter software as it comes with an option to convert online or offline files, which means you can swiftly convert an online video on YouTube or Facebook into a format appropriate for offline viewing on any device without consuming your data limits to the core. Any Video Converter also enables you to rip audio files from CDs or DVDs. It also features multiple editing options such as cropping, trimming, and rotating. You may also add special video effects to get a unique style. Any Video Converter lets you convert videos by removing DRM protection and burn videos directly to disc.
Features:
Excellent Formats Supported
Convert Videos Hosting Online
Bonus Features of Filters and Effects
More Than 60 Input Formats Supported
Batch Processing for Converting Multiple Files
User Defined Video Outputs for Multiple Files Simultaneously
Pros
Supports over 100 Formats
Excellent user interface
Contains Filters and Effects for quick video editing
Cons
Doesn't Support Batch processing
Hardware Acceleration Missing
Formats Supported
MPEG, VOB, MOD, MOV, TOD, WMV, MPG, MP4, AVI, ASF, M2TS, 3GP, 3G2, FLV, MKV, SWF, WEBM, HTML5 WEBM, HTML5 OGG, HTML5 MP4 and many more.
7. HD Video Converter Factory Pro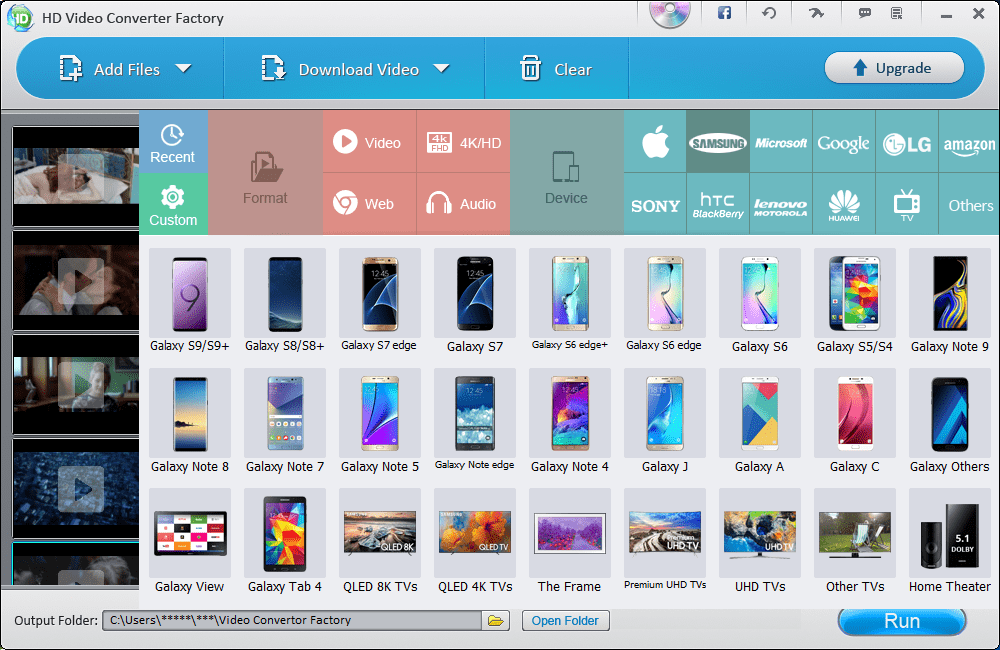 HD Video Converter Factory is such a user-friendly video converter for windows 10 that the company website displays a 10 Seconds Guide to be handy with the tool. This may sound exaggerated but it's really true. You just need to drag and drop a video or use the selection menu on the program interface, select the desired file format or destination playback device and click on the Run button. That's all it takes to convert a video. You may start the conversion process in no time however, you may wish to take out a little more time in customizing the desired output. Destination formats are accessible in a highly visionary manner to select the exact codec for conversion. Novices can select a tailored output format to a specific playback device however professionals can select from deep customization options.
Features:
Improved Video Quality from SD to HD
Readymade Device Profiles for Beginners
Built-in Editing Tools for a Perfect Conversion
Takes Seconds to Master the Conversion Process
Save Favorite Settings or Custom Profile for Future Use
Advanced Cropping, Cutting and Impressive Special Effects
Special Smart-fit Settings for Video and Audio Enhancement
Pros
Built-in Editing Tools
Allows to improve quality from SD to HD
Supports Batch Processing
Advanced Video Editing Features
Cons
Doesn't support a lot of video formats
No Hardware Acceleration
Formats Supported
HD MKV, HD MP4, HD MOV, HD AVI, HD MPG, MKV, AVI, MPG, MP4, MOV, M4V, MPG, H264, MTS, FLV, SWF, M2TS, WEBM, VOB, TOD and many more.
8. Freemake Video Converter
Freemake, as the name suggests, is a powerful, easy to use video converter for Windows 10 software, yet available free of cost. Freemake Video Converter is the best video converter software that comes for free with an exceptional online video converting options and a few limitations being a freebie. Freemake Windows video converter not only converts files stored on your hard drive but also can be used to download and convert live videos from YouTube in any file format. It is featured with simple editing tools to add subtitles, the ability to trim unwanted footage and convert files to and from a DVD. The first time when you install Freemake Windows Video Converter, some features like converting YouTube videos may appear locked however, after three days it will send a free Web Pack as a gift to remove the restriction. The free web pack should appear as a notification in System Tray informing you about the availability of the pack.
Features:
Available in Multiple Languages
Simple Editing Process and Effects
Free of Cost Available for Unlimited Use
Save Output of Your Video to Portable Devices
Compatible Video Converter for Windows 10, 8, 7
Convert Videos from Computer and Web to Any File Formats
Pros
Multi-lingual Support
Basic Built-in Editing Features
Allows to convert videos directly from web
Supports 500+ Video Formats
Cons
Doesn't offer batch processing
Slow video conversion
Formats Supported
AVI, MP4, MKV, MP3, WMV, DVD, SWF, 3GP, FLV, MOV, HD, RM, Divx, QT, Xvid, MTS, TS, Fraps and many more.
9. HandBrake Video Converter
HandBrake is another popular and free video converter for Windows, MacOS, and Linux. Though HandBrake is highly popular, it lags heavily in the number of formats to which you can convert the videos. It is an open-source video converter. Thanks to Hardware Acceleration, the software can convert videos at a blazing fast speed. If you don't usually convert videos from a whole lot of different video formats, HandBrake is one of the best Video Converters for Windows 10 in 2021.
Features:
Allows Batch Conversion
Offers Hardware Acceleration for faster output
Offers manual and automatic scaling, deinterlacing, and cropping.
Pros
Allows Batch conversion
Supports Hardware Acceleration
Scaling and Cropping Options
Cons
Supports only a few popular Video Formats
10. NCH Prism
To begin with, NCH Prism is only capable of converting popular video formats. You can also do some basic video editing with the help of software. It allows you to split or trim videos and add effects to your videos to your taste. Also, it offers a direct DVD converter that can help professionals where they don't need to copy the content to their device. It only suffers because of the support of a limited number of Video Formats. If you can find the support for the format you are looking to convert, it is definitely one of the best Video Converters for Windows 10 available in the market.
Features:
Split and Trim Videos
Add Effects to videos
DVD Converter
Allows Batch Conversion
Pros
Built-in DVD Converter
Allows Batch Processing
Built in Video Effects
Allows to Split or Trim Videos
Cons
Supports a limited Video Formats
FAQs:
FAQ 1
What does a Video Converter Software do?
A Video Converter lets you convert the format in which the Video File is stored on your device. The format of a Video is important for many reasons including that its output is defined by the format it is stored in. Video Converter Software is generally used to make a video workable with a particular device or program.
FAQ 2
What features does a Good Video Converter Software possess?
A Good Video converter should feature an easy-to-use interface to begin with. Though most people only require the basic format support, the formats a Video Converter software can handle the better. Also, the feature to convert the resolution, codec, and bitrate is useful.
FAQ 3
How does a Video Converter work?
Video Conversion Software converts videos with two different methods – One by changing the container format without making any changes in the video. The other method works by compressing the video by the process known as transcoding.
So here we conclude the list of best video converter for Windows 10. We hope you found this article helpful. Please subscribe to our posts for more articles like this. Please share your experience in the comment section or value add with your inputs if you found any other best video converter software with more features.