Table of Contents
Mac Cleaners are dedicated utilities primarily designed to speed up system & enhance performance for smoother running. The time you bought your first MacBook, it promises incredible speed & quick operations. But today, in all these months of use & stored collection of photos, videos & apps, it has started to yield sluggish behavior. Meanwhile, you might be getting constant notification, saying "Your Disk Is Almost Full!"
To get rid of such performance lags & enjoy smooth running, you need a strong Mac Cleaning Software! It would help you to thoroughly clean & maintain your Apple's computer health!
PART 1: Which Are The Best Mac Cleaner Software In The Market?
Here's a rundown to the most ideal Mac Junk Cleaner & Optimizer tools that can you try to free up huge chunks of space & boost speed!
Top 10 Best Mac Cleaner & Optimizer 2020
Top 10 Mac Cleaner
Score
Highlights 
Product
Try
Smart Mac Care
10/10

Mac Junk Cleaner
Mac Uninstaller
Duplicate Finder
Malware Remover
Memory Optimizer

Download Now
CleanMyMac X
10/10

Scan Thoroughly To Clean System Quickly
Identify Large Hidden Files To Save More Space
Malware Remover
Clear Cache In A Click

Download Now
MacBooster 8
8.7/10

 Fix Mac Storage Issues
 Effective Junk Cleaner
 Mac Uninstaller
Mac Memory Optimizer

Download Now
Dr. Cleaner Pro
8/10

Optimize Disk Storage
 Clean Caches, Logs & Temp Files In A Jiffy
Easy File Management
Duplicate File Finder & Remover

Download Now
TuneUpMyMac
8.5/10

One-Click Cleaning
Logs, Caches Cleaner
Manage Startup Apps
App Optimizer
Shredder

Download Now
CCleaner
9/10

Removes Browsing Traces
Monitors System In Real-Time For Security Threats
Remove Unwanted Software In A Click
Boost System Speed

Download Now
DaisyDisk
7.5/10

Easy-To-Use
Find & Clean Unnecessary Occupied Space
Removes Junk Files In One-Click

Download Now
Disk Doctor
7/10

Removes App Caches, Logs
Manage Partial Downloads
Discover Large Files That Are Taking A Lot Of Space

Download Now
Mac Optimizer Pro
8.7/10

Comprehensive Suite To Clean Mac & Free Disk Space
Helps Fixing Startup Disk Full, Freezing, Browser Not Responding Issues & More
File Shredder

Download Now
Onyx
8.2/10

Set Of System Maintenance Tools
Delete Mac Cache
Securely Erasing Trash
Font Manager

Download Now
What These Mac Cleaners & Optimizers Has To Offer?
Here's the complete list of features & benefits that all these Top 10 Mac Cleaning Software brings to speed up system & boost performance.
1. Smart Mac Care (Professional Mac Cleaner)
Smart Mac Care by Systweak Software is an all-in-one solution to clean, optimize & protect your Mac machine effectively & efficiently. The mac cleaning software comes with a lot of tools & functionalities to maintain your machine & enhance speed for smooth functioning. You can try out its One-Time Cleaning' feature with a free version, to observe a noticeable performance boost.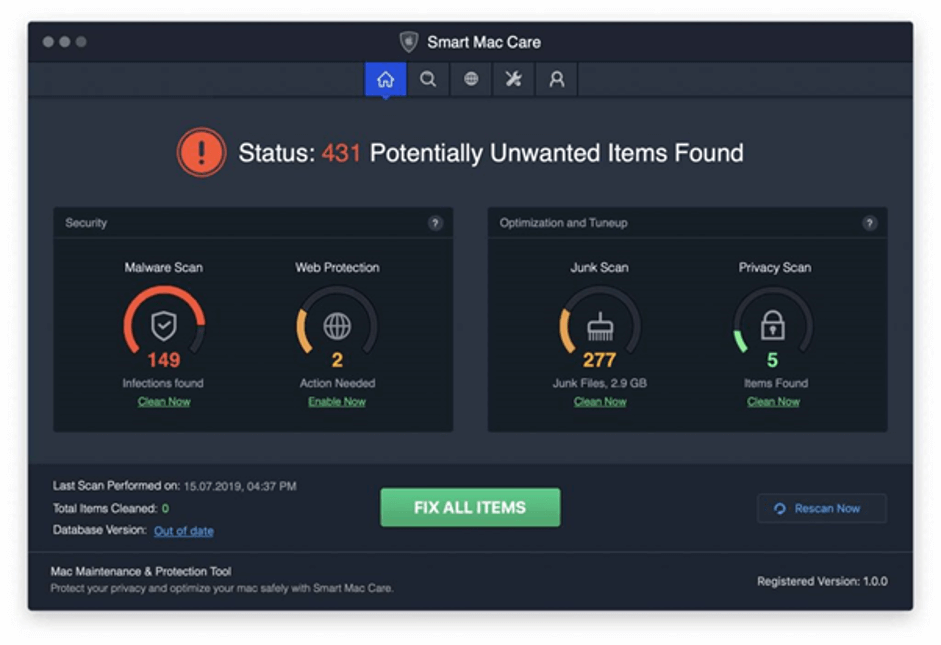 HIGHLIGHTS:
A perfect blend of advanced tools to get rid of security threats, junk & privacy issues.
Improves browsing experience by blocking malicious links & unwanted ads.
Helps you identify & remove junk, login items, caches, failed downloads & duplicates.
Manage startup apps, disk usage, applications to optimize mac for smooth performance.
Locate & remove redundant data such as old iOS updates, backups & data on iTunes to acquire more space.
Abundance of other features to boost Mac running slow.
2. CleanMyMac X
CleanMyMac X takes the second place in our list of Best Mac Cleanup Software 2020 with a good reason. The Mac Optimizer comes packed with a bunch of utilities that fulfills the qualities of an ideal cleaning & antimalware tool. The application works similar to what it claims, clear junk files, logs, temporary files & other trash that are making mac run slow.  You can find tons of features to optimize & protect mac.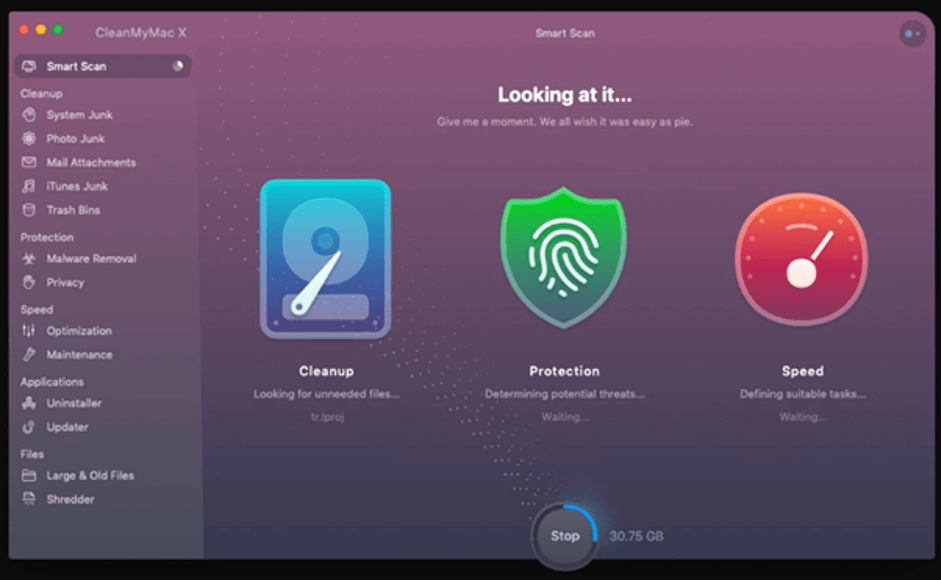 HIGHLIGHTS:
Find & remove hidden junk, useless background app & other heavy memory consumers.
Instantly block adware, malicious content, virus extensions & browser pop-ups.
Shred files that you dont wish anyone to revive.
Offers a useful set of tools in one package such as macOS cleaner, performance monitor & malware remover.
Optimize storage space by removing temporary files, useless parts of apps & other odds left behind after uninstalling.
Free version available but restricts cleaning up to a maximum size of 500 MB.
3. MacBooster 8
This powerful Mac Cleaner offers not only standard disk clean-up features, like duplicates cleaning, deleting large files, recovering tons of space or general performance-boosting ways. But it also presents functionalities to perform virus & malware scanning to keep your mac machine free from malicious & security threats.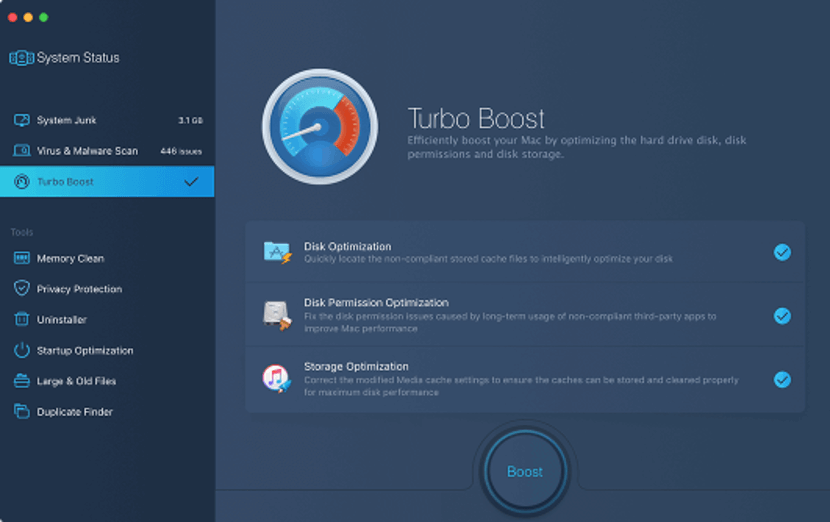 HIGHLIGHTS:
One-stop Mac maintenance utility to clean over 20+ types of junk files.
Remove Mac malware & provides all-round virus, spyware, adware protection.
Deep System Cleanup.
Remove large & old files to reclaim huge space on mac.
Turbo Boost to fix several disk permission issues & optimize disk space for peak performance.
Available for 14-day free trial, so that you can get to know how the mac cleaner works.
4. Dr. Cleaner Pro
Dr. Cleaner Pro does an excellent job of cleaning your mac quickly & efficiently.  It features a complete suite of cleaning & monitoring tools that works well to scan & clean junk, big old files, duplicates, login items & more. Using Dr. Cleaner Pro you can analyze the disk usage effectively, remove unneeded apps & delete files securely to make in unrecoverable.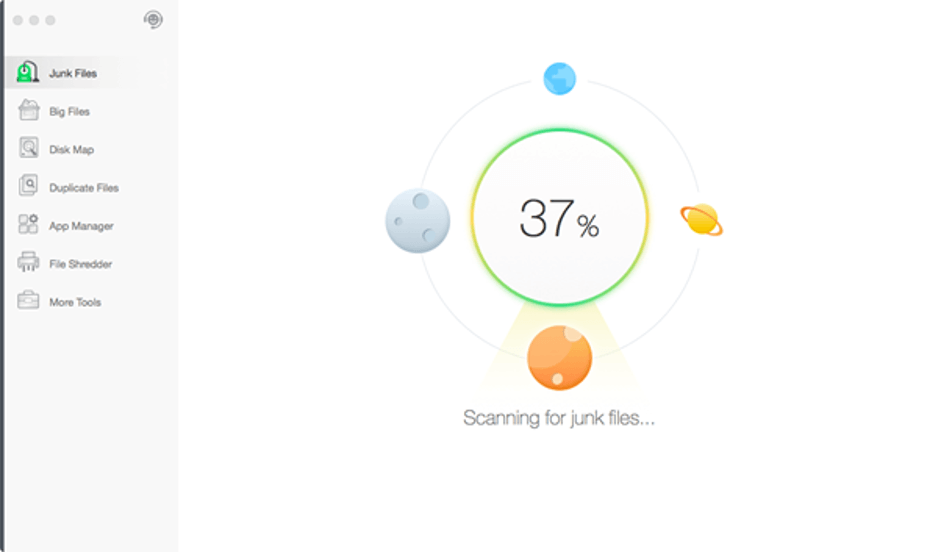 HIGHLIGHTS:
Clean & systemized interface, suiting both beginners & pro users.
Has both free & paid versions of Mac Cleanup Software.
For standard versions like smart scanning, mac junk cleaner, big files remover, you can check out the free (trial) version.
To use modules like Duplicates cleaning, app management & file shredding, you have to switch to the premium version of Mac Optimizer.
Displays a Disk Map module to provide a visual repetition of what's taking up your Mac Storage.
Offers More Tools to speed up mac.
5. TuneUpMyMac
TuneUpMyMac, name comes up a lot when you look for some of the Best Mac Cleaners available today. And, there are lots of good reasons for this.  TuneUpMyMac offers a comprehensive set of features to solve a variety of system issues. Be it boosting speed, getting rid of malware or optimizing mac for a longer run. TuneUpMyMac has everything!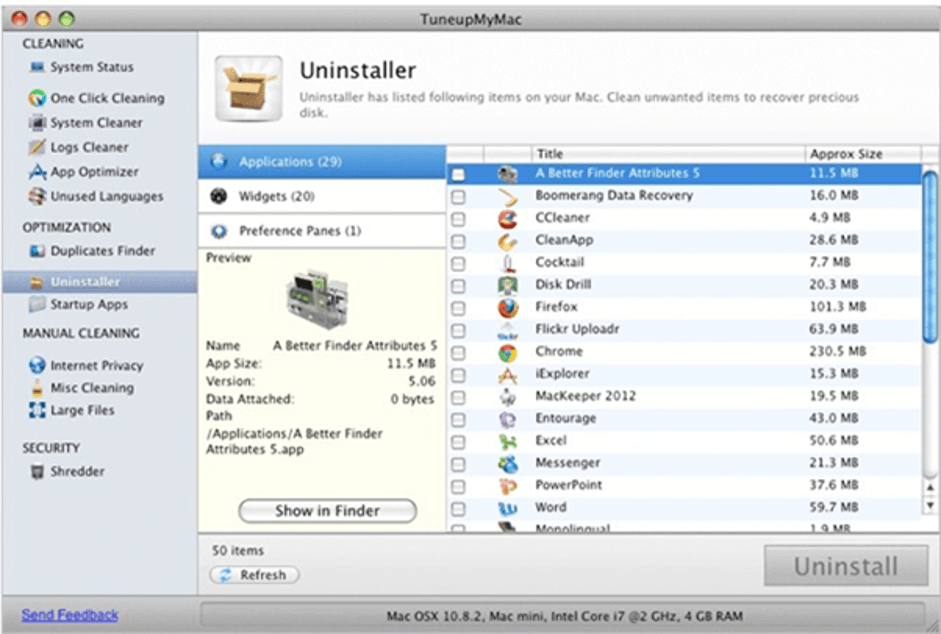 HIGHLIGHTS:
User-friendly interface.
One-click cleaning to remove all the obsolete & useless files.
Deep scanning for finding & removing caches that are making Mac run slow.
Dedicated Mac Junk Cleaner for locating unnecessary junk files, residues of apps, login items, duplicates & more.
Helps you manage startup items to maintain the speed of a Mac.
Delete files & folders securely to make them unrecoverable.
6. CCleaner
Popular Cleaning & Optimization Utility, CCleaner by Piriform has to be included in this list of Best Mac Cleaners of 2020.  The software offers both free & professional versions, equipped with all the essential tools required by a user. It's undoubtedly a great mac utility if you want to boost a significant amount of speed & maintain your machine for a longer run.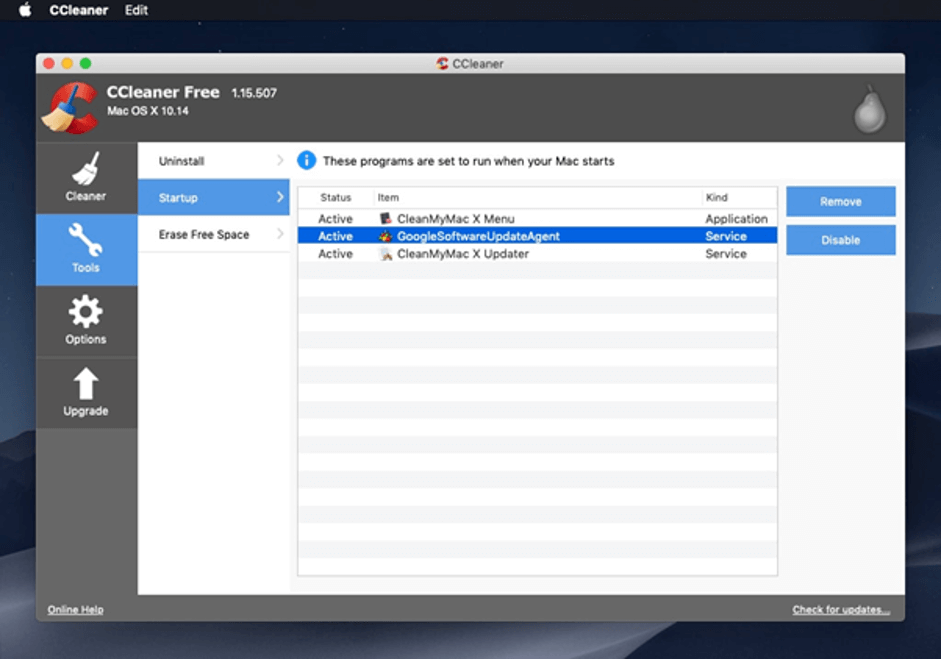 HIGHLIGHTS:
Professional, quick & easy-to-use to speed up slow running Mac.
Real-time monitoring & automatic browser cleaning & updating possible with the premium version.
Remove junk, unused data, cookies & files that are decreasing the performance of a Mac.
Clean browsing history timely & manage to save passwords for secure surfing.
Capable of scaling thousands of files in one go to attain peak performance in a single scan.
Standard features like Duplicate finder, Startup Manager & Mac Uninstaller are also available.
7. DaisyDisk
DaisyDisk is another recommendable Mac System Cleaner of 2020. It features a visual representation of all your mac folders & files. You can skim them in a jiffy, find out its contents & manage apps that are taking a lot of storage space. It comes with a fast scanning engine that lists all the large unused files, so that you can get rid of them quickly and optimize mac for better performance.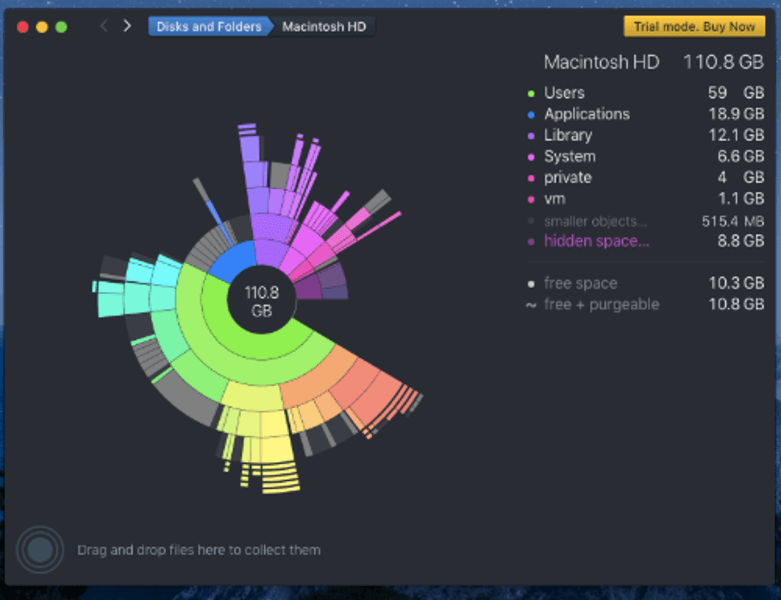 HIGHLIGHTS:
Beautiful yet different disk space analyzer.
An excellent mac optimizer software for seeing all the contents of your drive.
All the files are categorized into different groups, including Large Files, Music, Documents, Downloads & so on.
Analyze how much space is allocated to each group & then you can remove it as per needs.
Free version shows you how the app works, but you won't be able to clear anything as such.
8. Disk Doctor
Awarded as the 'Mac Gem', Disk Doctor is an amazing Junk File Cleaner that helps you remove all the useless trash, temp file, logs & more that are making your Mac run slowly. It's single-scan can improve mac performance & helps you identify & remove larger files which might of no longer use.  The interface is quite modern & user-friendly, every feature is classified properly for easy navigation.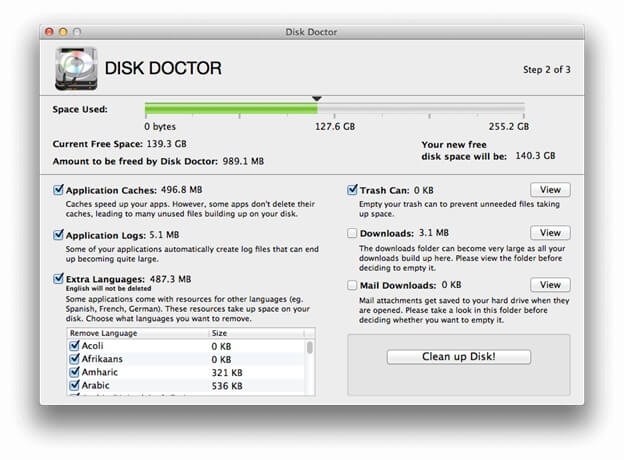 HIGHLIGHTS:
Fixes common Mac issues & errors in no time.
Remove junk files quickly that gets piles up on the system.
Displays a small window, telling the capacity of your hard drive with free space available.
Scans different areas including Caches, Unused Languages, Logs, Apps, Trash Scans, Mail Downloads & Failed Installs for optimizing storage.
9. Mac Optimizer Pro
Mac Optimizer Pro is an excellent cleaning and optimization solution that does a good job of clearing out junk, broken links, login items, failed downloads & other gubbins. The Speed Booster presents a comprehensive set of tools to clean, organize & optimize your Mac for faster & enhanced performance.  Its single scan checks your entire system & remove all the useless residues that are making mac run slow.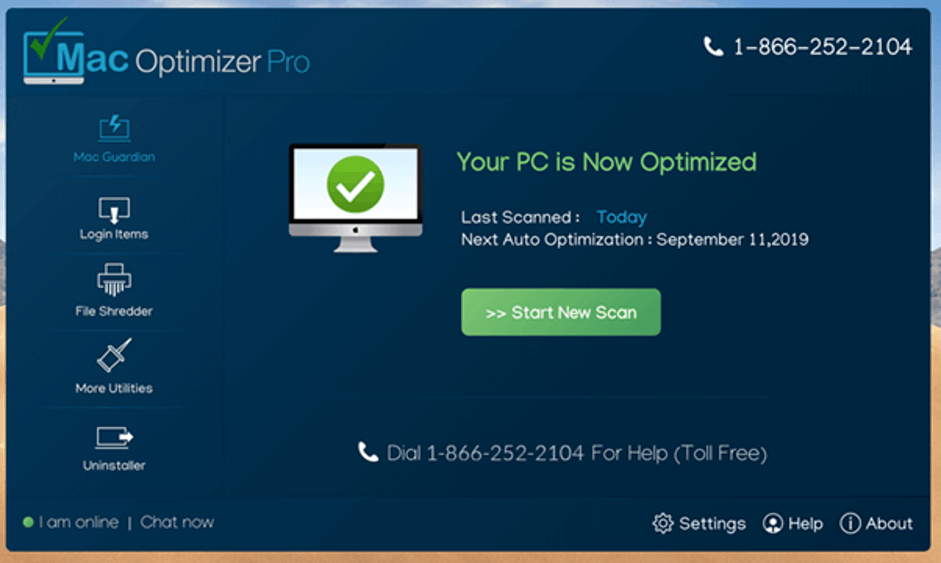 HIGHLIGHTS:
All-improved suite that flaunts comprehensive tools to clean mac & free disk space.
Manage caches, incompatible login items & helps you get rid of 'startup disk full' issue.
Solves common Mac problems such as browser not responding, freezing issues & more.
Securely erase all the privacy traces & files that might compromise security or pose danger to your personal & financial security.
10. Onyx
Last in the list, but not into consideration, Onyx is a versatile free mac cleaner that can verify the structure of file system on the startup, repair regular disk issues, empty system trash, font caches, mail indexes and more. Seeing its first look, Onyx might feel overwhelming with all its rich selection of tools, but it gets pretty useful when you start exploring it.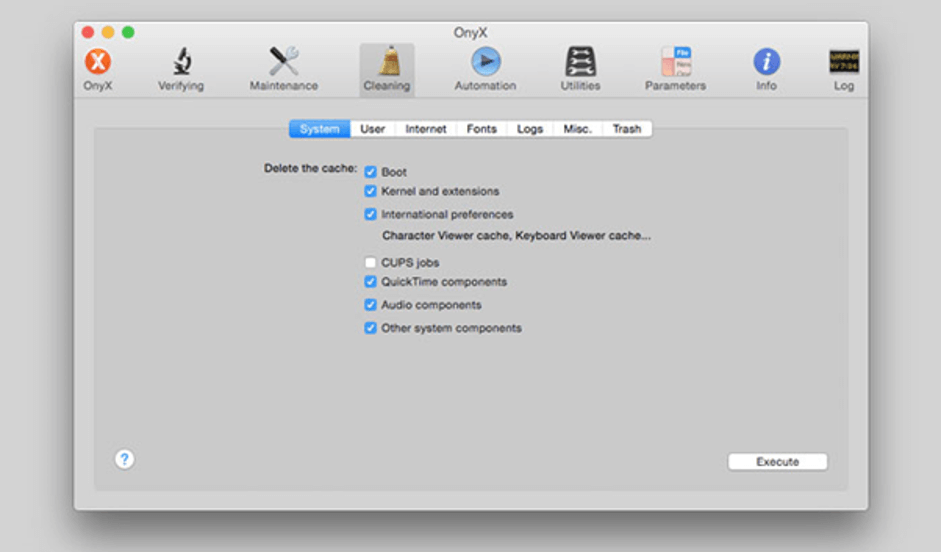 HIGHLIGHTS:
In-depth cleaning & maintenance tools, making it one of the best free mac cleaners in the market.
Offers a bunch of macOS utilities such as storage manager, screen sharing, network diagnosis & so on.
Has certain hidden settings that can easily be accessed using Terminal.
One of the most noticeable features of Onyx is its accuracy, with which it unearths junkies very quickly. Hence, you have less clutter to survive.
PART 2: How To Clean My Mac Manually?
If you clean your mac drive carefully, you can easily improve its performance & speed up mac. Once you figure out what is making your mac running slow, you can start removing useless & unwanted items to boost speed & enhance performance.
Things To Clear To Speed Up Mac:
System Trash
Duplicate Files
Old Disk Images
Large Old Files
Mail Downloads & Partial/Failed Installs
Uninstall Unnecessary Apps
Caches, Login Items, Plugins, Junk Files & Other Residues
PART 3: What Are The Qualities Of An Ideal Mac Cleaner Software?
Let's figure out the elements that make a Mac Cleaning Software an ideal optimization utility:
Should be safe to use.
Has an intuitive interface with easy-to-navigate
Capable of cleaning junk files, caches, unnecessary data, broken links & more.
Should be packed with essential modules such as Duplicate Cleaner, Mac Uninstaller, Startup Manager, Memory Optimizer,
Provides a one-click-cleaning solution for a quick speed boost.
Have a great selection of utilities to organize & maintain the macOS for a longer run.
Should be available in different languages.
PART 4: How Much Space Can I Free Up With Mac Cleaner App?
As much as you like, it depends on which Mac Cleaning Utility you're choosing to optimize your machine. All the listed apps are distinguished from each other. Some have more cleaning features, while others focus on the privacy & security of the user. Get to know about each cleanup solution & then decide which one is more suitable for you to reclaim maximum space.
PART 5: Is Using Mac Cleaner Safe?
To be honest, currently, no Mac Cleaner or Optimizer is entirely safe. Regardless of the nature of the product, a dedicated Mac Junk Cleaner simply accesses the disk storage to run properly. While most of the developers claim to follow the privacy policies, but as a layman user, no one knows what's going behind the doors.  The alternative way to see what experts are saying about specific mac cleaners can surely give a benefit of the doubt.
PART 6: Bottom Line
That's all folks! These are the Best 10 Mac Cleaning Software that will optimize your disk space and will let your Mac run smoother. Download now by just clicking the given links. All the Mac products are authentic, legal & some are even free to use.
If you find this helpful, do let us know about it in the comment section given below. You can also drop your feedback and queries by connecting with us on any of our social media handles.
YOU MIGHT WANT TO REFER THESE ARTICLES AS WELL: