Although, Comparison of both the apps is like comparing Oranges with Apples but we have still tried to lay a common ground.
Where Microsoft's Skype is considered as Pioneer of the industry, Whatsapp was bought over by Facebook a few years ago to lead the competition.
You might not know what VOIP Call stands for though you're using it for long. VOIP call means Voice Over IP, that allows you to make free voice calls over the internet. Since the year 2003, Microsoft's Skype messenger has contributed a lot in promoting VOIP calls and later in 2015, the WhatsApp Messenger app also joined the race.
Now there are several messaging apps across the world and apart from Skype, Facebook Messenger, IMO, Line, WeChat, SnapChat, and Viber are few of the best used messaging apps to make VOIP calls. Here is a comparison of two of the most used messenger app.
Technical Specifications
| | | |
| --- | --- | --- |
| Specifications | WhatsApp | Skype |
| Audio recording | Yes | No |
| Cloud Sync | No | Yes |
| End-to-end encryption | Yes | No |
| File Size | 100 MB | Device Dependent |
| Groups | 256 | Yes |
| In-App Purchases | None | None |
| Location Sharing | Yes | Yes |
| Media | Images, Video, Audio, Documents | Images, Video, Audio, Emoji |
| Messaging systems | Data | Data |
| Multi Device | Message Mirroring | Yes |
| Platforms | Android, iOS, Web, Mac, Windows, Windows Phone | iOS, Android, WP OSX, Windows, Linux, Web, Blackberry, Chrome |
| Publisher | WhatsApp Inc. | Skype |
| Required Android Version | 2.3.3 or above | Device Dependent |
| Server stored messages | Transitory | Limited for (30 days) |
| Video recording | Yes | Yes |
| Videoconferencing | No | Yes |
| VoIP | Yes | Yes |
| Screen Sharing | No | Yes |
| Service integrations | No | SIP (paid) |
| Android App: | Download Whatsapp for Android | Download Skype For Android |
| iOS App | Download Whatsapp for iOS  | Download Skype for iOS |
| Web Login / Download: | Visit Here | Visit Here  |
"If using on a Smartphone, WhatsApp messenger app is better than Skype messenger or any other Messenger app."
WhatsApp vs Skype Pros & Cons
Pros
Cons
WhatsApp
One step registration process
Design needs renovation
Compatible with all smartphones
Face Filters are not available
Group messaging for up to 256 users
Lack of fancy stickers and other visual options
1.5 Billion users throughout the world
Only connects with other WhatsApp users
Direct playback to Audio & Video messages
Virtual assistant missing
Email Chat conversation for backup or printing
Make Free Voice Calls, Video Calls, Conference Calls
Free Text Messaging, Multimedia File Sharing with any WhatsApp user
Available for iOS, Android, Windows, Mac, and another OS
256 Bit Encryption for secure calls and messages
Share live location with desired contacts
Broadcast bulk messages and invitations
Share stories through status feature
Low data usage for calls and media
Ad-Free and Free of cost available
Mostly used for personal use
Pros
Cons
Skype
Unlimited chats and conference calls
Freeze up issues
Cheapest VOIP call service with subscriptions
Needs login every time you use it
Hold video chats for multitasking and other IM responses
Data compression is below average
Free Text Messaging, Multimedia File Sharing with any Skype user
Call back or Call blocking option not available
Make cheaper Local, Domestic, and International VOIP calls to any number
High Data usage while making video calls
Special features of using Whiteboard, Post-a-Poll, and Hold Q&A sessions
A bit complicated user interface
Screen sharing and large document sharing made easy
Low with features and settings
Mostly used for official purpose
"Skype messenger is best used on PCs as an official communication tool with additional features."
Additional Features of WhatsApp Messenger App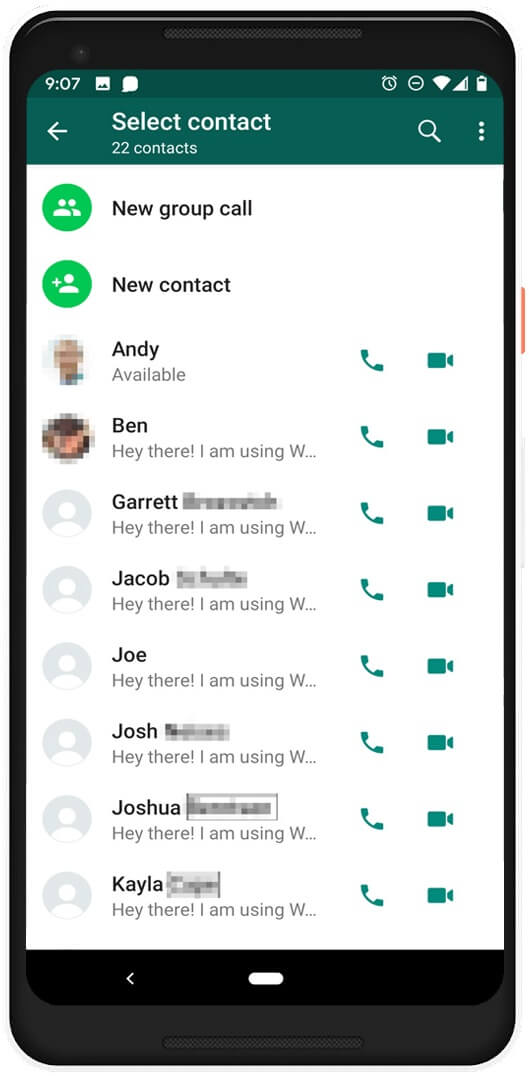 Use WhatsApp Web to sync your messages on your PC
Works well with 2G, 3G, 4G or Wi-Fi to send free messages to any WhatsApp user
Share IM, Multimedia and Files with up to 256 people using Group chat or Broadcast feature
End-to-End encryption on all types of conversation for additional security
Record voice messages on the go to share with other WhatsApp users
Additional Features of Skype Messenger App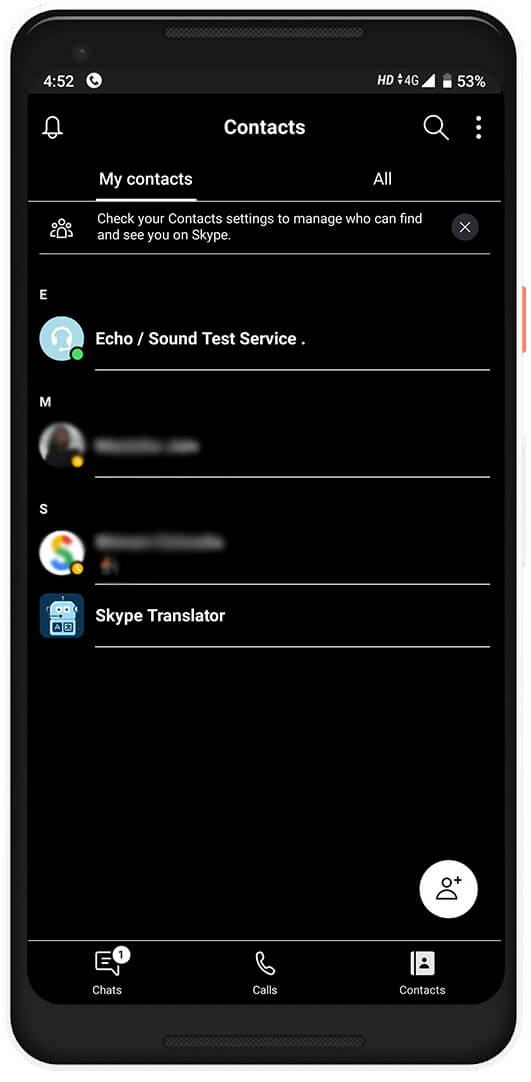 Drop a voicemail on unsuccessful calls by recording a message
Skype Translator can translate messages, voice calls, and video calls in any language
Share your screen with one or many participants in a video call to discuss, guide or troubleshoot an issue
Crystal clear VOIP calls on Landline or Mobile Phones anywhere in the world at the least cost
Skype can share all file types including.EXE or.APK up to 2 GB of file size
Final Verdict
In the comparison of skype vs WhatsApp messenger apps, WhatsApp took charge over Skype messenger reason being WhatsApp is better when it comes to team chat or group chat and the user interface of using WhatsApp has turned out to be more convenient and user-friendly throughout the world. WhatsApp also allows you to communicate with anyone in the contact list using WhatsApp however skype needs a Microsoft account to configure and start communicating.
Even Facebook Messenger app could not make its existence in front of WhatsApp messenger. If this article turned out to be helpful to you, please share your thoughts in the comments section.
Follow Us: