As the US government and Kaspersky go through a messy breakup, people have started looking for Kaspersky alternatives. If you are one of them and looking for an alternative to Kaspersky, you are at the right place. In this post, we will discuss the best alternatives to Kaspersky and why they are the best alternative.
The comparison below is done for your convenience so that you can pick the best tool to secure your system and data.
Top-selling Kaspersky Antivirus Alternatives: –
Best Kaspersky Alternatives – Windows 10
1. Systweak Antivirus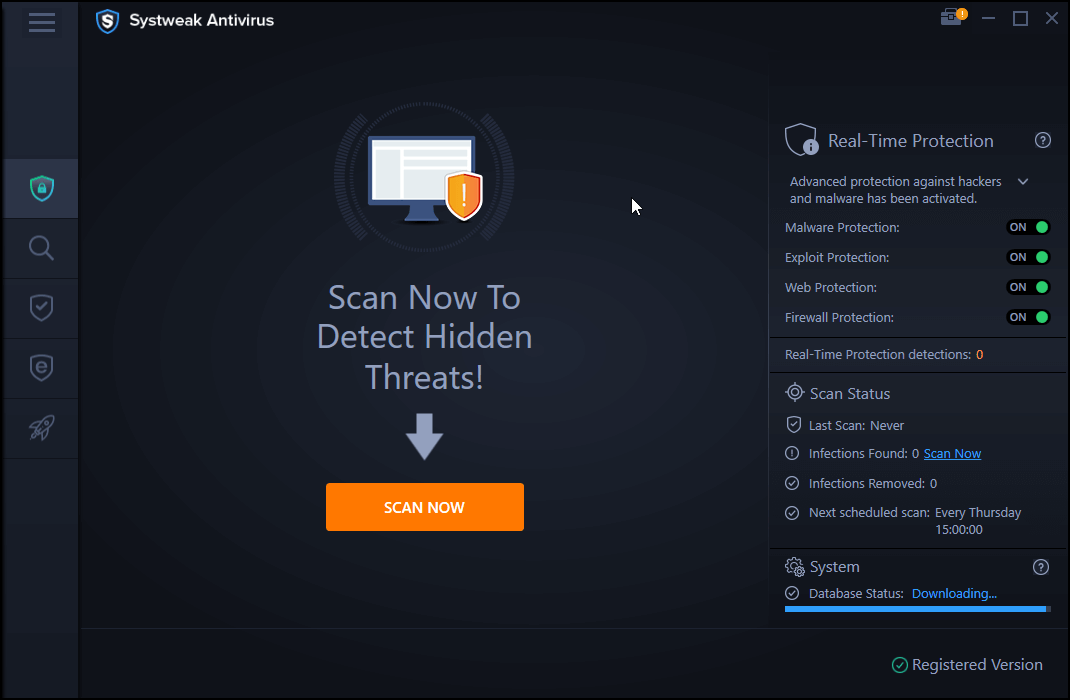 Click Here To Download Systweak Antivirus
Systweak antivirus tops the list of top antiviruses available to the users. With Systweak Antivirus, you can protect your computer against any threat like malware, spyware, virus, PUP, trojan, etc. in real-time. It is all-around protection for you and your family. With help of this tool, you are always one step ahead of anyone else in protecting your computer.
Features of Systweak Antivirus: –
Clean unwanted startup items
Real-Time protection
Exploit and Malware protection
Security for 10 devices
Home network security
Startup manager
USB protection
Read full review of Systweak Antivirus
2. McAfee
McAfee is a famous tool amongst users. It protects your computer from outside intrusion by scanning the files in real-time. This provides the security to users that the computer is in safe hands and users can browse the internet without any fear of getting attacked by cyber attackers. It protects your identity by providing you the option of browsing through its secure VPN.
Features of McAfee: –
Real-time scanning, On-demand scanning, Scheduled Scanning
Protect financial and personal info from potential fraud by a password manager
Browse on public Wi-Fi with a secure VPN
Safe and protected navigation on websites
Encrypted storage with 256-bit AES encryption
Can be used up to 5 devices
McAfee Shredder deletes sensitive files completely to ensure no traces are left
3. Norton Plus
Norton is not a new name in security solutions. It comes with artificial intelligence technology and machine learning which provide you the security against all the ransomware, malware, spyware, etc. It gives you the option of password manager so that you do not need to remember all the passwords and you can store them securely to use them anytime.
Features of Norton: – 
Intrusion Prevention System (IPS) protects from online threats
Reputation Protection (Insight) classifies software application files on their attributes
Proactive Exploit Protection (PEP) helps against zero-day attacks
Power Eraser detects and lets you remove high-risk applications
Protects against Trojans, Phishing, Pharming, etc.
Smart firewall for PC blocks unauthorized traffic
PC cloud backup for important files
4. BullGuard
BullGuard is a fantastic antivirus that allows users to set up parental control for children. It is also equipped with a PC tune-up kit that optimizes your computer so that you can get great speed and no performance loss. It also can automatically update its database so that it can provide you protection against new threats.
Features of BullGuard: –
Game booster
Vulnerability scanner
Multi-layered protection protects against zero-day threats
Dynamic Machine Learning enables real-time detection and blocking
Improves performance as the virus definitions file sizes
Parental control
Cloud integrated backup
5. AVG Ultimate
AVG Ultimate provides computer protection by scanning your files for viruses, spyware, malware, ransomware, etc., and keeps your computer unaffected by any threat. It detects and sends you security alerts if it finds anything suspicious in the behaviors of software running your computer.  It also comes with the feature of blocking new threats by regularly updating its virus database.
Features of AVG Ultimate: –
Webcam protection
Startup Optimizer
Email protection
Smart photo cleaner
The browser and disk cleaner
Automatic maintenance
Sensitive data shield
6. Bitdefender
This is the second-best antivirus which provides you protection against all viruses and ransomware. Besides its main job of protecting against virus attacks it also protects you against phishing and online fraud so that you can make online transactions without any fear of getting attacked by cybercriminals. You can also use its VPN to securely browse the sites which are banned in your geographical region.
Features of Bitdefender: –
Available for Home, Business, Providers, partners
Built-in Wi-Fi Security Advisor
Social Network Protection
Vulnerability Assessment feature scans for security holes in just one click
Web attack prevention
Anti-fraud warns you while visiting a suspicious website
Safe Files prevents unauthorized changes to the most important files
7. Avast Ultimate
Avast Ultimate is an all-around performer when it comes to your security needs. It comes with a great feature of protecting you from strangers while you use your webcam. It also secures your passwords which you use while browsing the internet and provides you security against password theft. If you love online shopping, then this is the best tool because it avoids fake websites.
Features of Avast Ultimate: –
Come with Avast secure line VPN
Avast Anti track stops snoops from tracking you
Single and multi-device options up to 10 devices
Website protection scans websites for security risks
Protects against remote access attackers
Advanced firewall
Secures your browser stored passwords
8. K7 Ultimate Security Infinity Edition
It provides you award-winning protection for up to 5 devices with the facility of not renewing the product as it comes with lifetime validity. This gives you protection against all malware, APT's, spam, malicious websites, etc. It has a lifetime free technical support and also if you do not like the product then you have an option of getting your money by its 30 days money-back policy.
Features of K7 Ultimate Security Infinity Edition: –
Protect 5 devices with 1 license
Internet protection
Data backup and restore and identity protection facility
PC tune-up tools
No renewal is required because the product is valid for the lifetime
Lifetime free technical support
Privacy/Parental control
9. ESET Internet Security
This is a great tool if you use different platforms like Windows, Mac, Android, Linux because with a single license you can protect all your devices.  It gives your computer a new life because it protects it against phishing, botnet, etc. You can freely navigate the websites of your choice because it will be tracking you in real-time and if there is any threat then it will protect you against it.
Features of ESET INTERNET SECURITY: –
Encrypt photos
Stores and prefill passwords
Keep home network safe across all connected smart devices
Anti-theft protection
Install and forget helps you to automatically renew and upgrade
Minimal power usage with a slowdown
Multi-layered protection
10. Net Protector Antivirus
It provides you multilayered protection against any threat and keeps your computer smooth and establishes a fast internet connection for surfing. Its real-time protection helps you in detecting the viruses before they can attack your computer and hence allow you to be one step ahead of cyber attackers. It comes with an ad blocker that saves internet bandwidth.
Features of Net Protector Antivirus: –
Web security like anti-phishing, email scanners, etc.
Registry backups
Free up disk space
Vulnerability scan
Intrusion detection
Parent control
Fix spyware alerts
Conclusion: –
We have discussed all the best alternatives of Kaspersky in detail with their features. You can select any one based on your budget to spend and your needs. But we recommend you to use Systweak Antivirus because it is pocket-friendly and is a feature pack solution to cater to all your needs. Do let us know in the comments section below which product you select and how it is.
Related Topics