You are so sure, that now you have an antivirus on your computer, no malicious threat on Earth – be it a virus, spyware, malware or any such threat will be able to touch your computer. But, then after some time, you realize that your privacy is being invaded, your data is being snooped upon. And, the surprising part is that your so-called "antivirus" is not even flagging the threat off. Read the last line again, "so-called antivirus".
Whether it is a genuine antivirus or a spying antivirus both use personal data. While the genuine antivirus scans your data to detect malicious threats, the latter itself has malicious intentions.
In this blog, we'll discuss some that should ring a bell that your antivirus is tracking you. We'll also discuss things you should do, in case you have a spec of doubt that your antivirus is spying on you –
How To Know That Antivirus Is Tracking You?
Scary Scareware
Has your free Antivirus found tons of malware infections and is now prompting you to pay a huge amount to remove them? No doubt that the scan this so-called free Antivirus conducted was free but, here's where we'd like to warn you, don't pay a dime, you know why? The moment you'll pay the amount asked and subsequently furnish your credit card details, not just will lose your hard-earned money but you'll even end up giving your crucial financial details, and free access to your computer.
These Rogue "Scareware" Antivirus Scan Quickly
Even a quick scan on a legitimate antivirus will take some time to finish. That's because the software is scanning your files for malicious files proficiently. But, the rogue antivirus is in reality, doing nothing. Its so-called scan will end quickly. So, that's yet another thing that should give you an indication that there is something wrong with your free antivirus.
Is Your Computer Bombarded With PUPs
Let's put this straight into perspective (and something to ponder upon), you install an antivirus (free or paid) doesn't matter, and end up seeing a bunch of other applications on your PC that you probably don't need at all. For instance, certain antivirus programs claim they'll secure your browsing and end up plugging in extensions that may hog on your privacy.
Check Your HTTPS Data
Several legitimate antivirus programs guard you against malicious websites. For that, they need to have an idea of what kind of website you are visiting.
To ascertain whether the website you are visiting is malicious or not,  a legitimate antivirus program creates a proxy. The proxy then further creates a fake SSL certificate. When your computer establishes a connection with a website, the proxy gets its hands on it, then checks the URL, and then passes it forward with a new certificate.
But, imagine if the same process is used by fake antivirus software? And what if it's the same antivirus that's bombarding your PC with PUPs or has posed itself as scareware? Here's how you can check if it's peeking into your web traffic –
1. Visit a website
2. Click on the padlock icon
3. Click on Certificate
4. Under the General tab check the Issued to section
If you find the name of your antivirus there, chances are that it is peeking into your web activity.
What To Do If You Suspect That An Antivirus Could Be A Spy?
It's better to invest in a paid Antivirus
Why Be Careful When Using Free Antivirus Software/ Why Trust Paid Antivirus Software?
At the outset, we'd like to mention that not all free antivirus programs are bad. There are some free antivirus programs that, despite being free, are aimed at freeing a user's system of malicious threats. Still, we recommend that a paid antivirus is a safer investment.
A free antivirus often has to generate revenue and make profits. But, when it's not asking you to pay for its services, how would it then make money? A free antivirus often uses customers' data and monetizes upon it. Here is the kind of data that can be sold around – searches, websites visited, location history, and a lot more.
Most paid Antivirus software are scrutinized by renowned AV testing labs and have to undergo stringent scrutiny. This way, you can rest assured that no matter what malware hits your computer, it won't be able to stand your Antivirus.
Paid antivirus often are feature-packed. They have features that you might not get from the free version. For instance, the free version may let you scan your system for viruses (and yes! The scan, even though free, will take time).
Which Are Some of The Best Antivirus Around?
Systweak Antivirus, for instance, is one of the best Antivirus programs for Windows. You can check out its in-depth review here. Here are some of its best features –
Real-time protection – Systweak Antivirus promptly neutralizes a malicious threat, be it viruses, adware, PUPs, Trojan, zero-day threats, or any app that may try and invade your security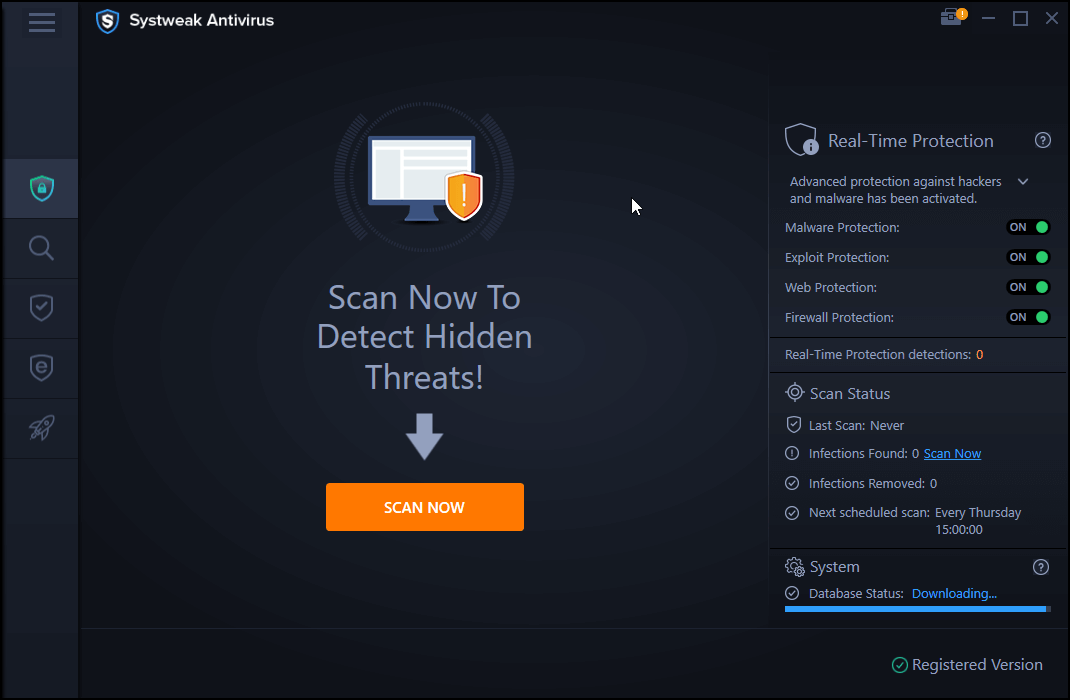 Multiple Scan Modes – You can choose from quick, deep, and custom scans to remove viruses at all levels, even if they are hidden deep into your computer.
USB Protection – Needn't worry when inserting a USB drive. Systweak Antivirus automatically intercepts and removes malware before it infects your computer or laptop
Steer Clear of Unwanted Startup Items – Systweak Antivirus removes unwanted startup items that don't just hamper your system's performance but can even compromise your system's security as well.
Click Here To Download Systweak Antivirus
Price: Starts from US$ 39.95 for 1 device for 1 year
You Don't Have To Install Every Program That Comes Bundled With Your Antivirus.
Be wary of any antivirus software that installs tons of other (unwanted) applications, you should try and stay away from it. This especially applies to those antivirus applications, whose name you haven't heard of or that have been in the news for all the wrong "data breach" reasons.
 Rely On Your Operating Systems Own Line Of Defence
Here we'll talk about two popular operating systems and how their inbuilt antivirus can help you catch the fake antivirus –
Windows – To know whether or not the antivirus you have is genuine, you can employ Windows Security. Here's how you can do that.
macOS –
If you have your hands on macOS Big Sur, you are in for a treat as far as antivirus protection is concerned. Technologies like ASLR (address space layout randomization), SIP (system integrity protection), and XD (execute disable) shield your Mac against malware attacks. Gatekeeper further ensures that all the apps that you install from the internet go under Apple's scanner before they pave their way into your Mac.
But, if you are looking for some of the best antivirus software for Mac, here are some options you can consider.
Wrapping Up
The bottom line is it is always advisable to invest in a legitimate Antivirus program. You can always refer to reviews given by experts and even keep your eyes and ears open on any latest news that might have popped up regarding your antivirus. If you liked the blog, do give it a thumbs up and for more such content, keep reading Tweak Library.