Table of Contents
Wondering how to shoot a perfect slow-motion video on your regular smartphone?
Well, nowadays most of the best flagship phones like Samsung Galaxy S10, Note 9 & Sony Xperia X74 come with fantastic slow-motion video capturing features. Some other brands like OnePlus & Poco also allow users to capture interesting moments in slow motion. However, not everybody can afford these expensive smartphones.
What if we tell you that you can create those same slo-mo videos on your regular Android phone? Yes, you read that right, there's no such need to have a high-end device to shoot slow motion videos. All you need to do is just browse the list below and try the Best Slow-Motion Video Maker apps on your Android phone.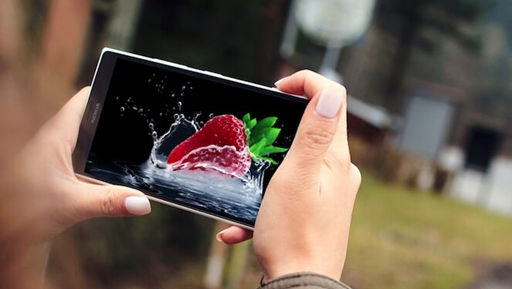 7 Best Slow-Motion Video Makers For Android To Try In 2019
You can use these slow-motion video camera apps to record quirky dance moves, cool stunts, funny videos and much more.
1. Slow Motion Video FX
Slow Motion Video FX tops our list of Best Slow-Motion Video Maker, that you can use to create your own slow-motion videos. With Slow Motion Video FX, you can easily record new videos and convert existing clips into slow motion. To use the application, all you have to do is install the app & launch 'Start Slow Motion' button.
If you choose an existing video to be converted into slow motion, just set the desired speed between 0 to 1. The lesser this speed is slower the video would be. Slow Motion Video FX is best known for creating quite natural slo-mos without dropping or stuttering frames.
Install Slow Motion Video FX now!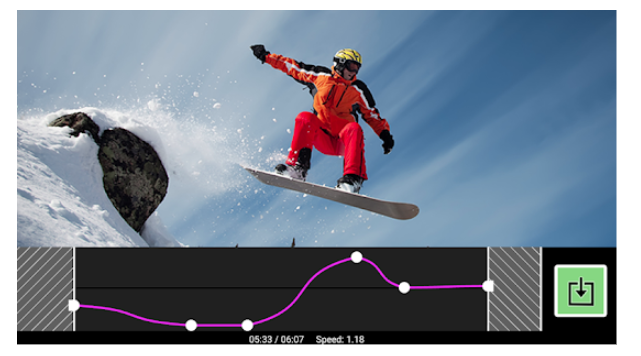 2. Coach's Eye
Coach's Eye, Slow motion video maker is specifically designed with the aim to target people who are into sports and stunts. You can easily record the video with the app and apply slo-mo effects to it. Its comparison window lets you observe the original video and slow mo video side by side. Hence, you can comprehensively understand the basketball dribbling or golf swing. Coach's Eye has both free & premium versions.
The premium version has more features, obviously. With the paid one, you can get a whopping 150 GB of cloud storage space, so that one can organize videos for each game. Coach's Eye also gives the option to share and evaluate the videos & to access from a global database of mobile coaching tools.
Download this wonderful slow mo camera app now!
3. AndroVid – Video Editor
AndroVid by Visover is an all-in-one slow-mo video maker app that features an easy-to-use interface for creating amazing videos with music, texts, emojis, stickers & more. The application has everything that you'll ever need to create a piece of art. The fully-featured slow motion video app has a bundle of effects including, fading, sepia, vignette, vintage, blur & more.
Additionally, it boasts tools for video splitting, trimming, creating animated GIFs, voice recording, adding background music, overlay texts & much more. You can even extract music from videos or fast convert any video to MP3 format. What's more? You can easily compress & enhance your video for better quality with just a few taps & swipes!
Download AndroVid from Google Play Store!
4. Videoshop – Video Editor
Videoshop is another great slow-motion video camera app that lets you record new videos or import any other clip from the gallery to create a slow motion effect. Once you have recorded or uploaded the video, you'll be taken to the editing screen. Use the speed icon to decrease the frames and make the video slow.
The slow mo video app is a complete package of various editing options. You can easily crop, trim, add text, apply effects and other filters to the video. Not only this, but Videoshop also lets users click photos & create time-lapse shots with its built-in camera.
You can download this Slow Motion Video Maker, right here!
5. Hudl
Hudl is another best slow-motion camera app best suited for sports lovers. For beginner players who wish to match the skills of their favorite sports athlete, they can use this app and analyze their performance for improving their own game. You can record their game with the Hudl app and analyze the video frame by frame.
The slow mo camera app allows users to compare two videos side by side for better understanding.  Not only this, but It also features a few drawing tools to highlight. To use the application, all you have to do is set up an account on Hudl.com & log in to start creating slow mo videos.
Download this slow-motion video maker now!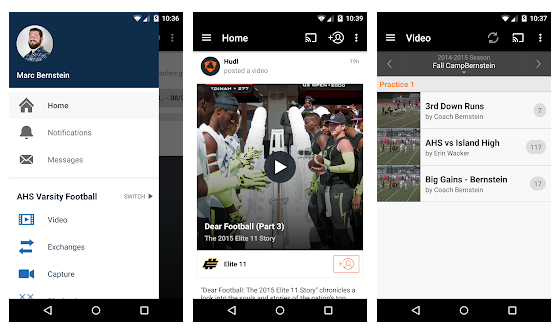 6. FilmoraGo
While you must already be aware of this video editing tool for Android, but not many people know Filmora Go features plenty of options to slow down, speed up video and do much more. The application offers a plethora of collages and presentation templates. You can add animation, effects and other transitions to your existing videos with FilmoraGo.
Additionally, FilmoraGo is equipped with lots of professional editing tools like Video trimmer, Music, Cropper, Video Rotator, Color Adjustments features and much more. You can effortlessly rely on this slow-motion video maker to create quality and beautiful clips.
So, what are you waiting for? Download FilmoraGo now!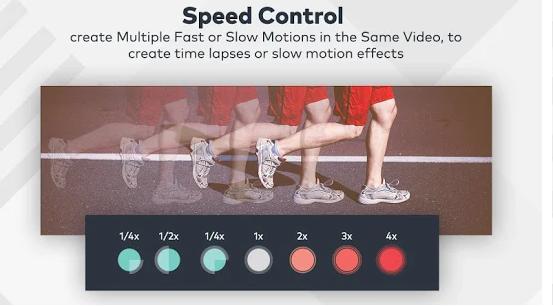 7. Efectum
Efectum is another well-performing slow-motion camera app for Android with millions of install on the Google Play Store. The application simply adds Unique Reverse Video Effects with Slow Motion to make your videos stand out.  With Efectum, you can also create slow-motion videos via smartphone's camera.
You can even add music and other video effects to existing saved videos to make it more aesthetic. Control & adjust the speed of the video with Efectum and share them on social media networks within the app. Additionally, this slow-motion video maker features a lot of options to rewind the video, cut/trim, add reverse video effects and do much more.
Download Efectum on your Android to create amazing slow-motion videos!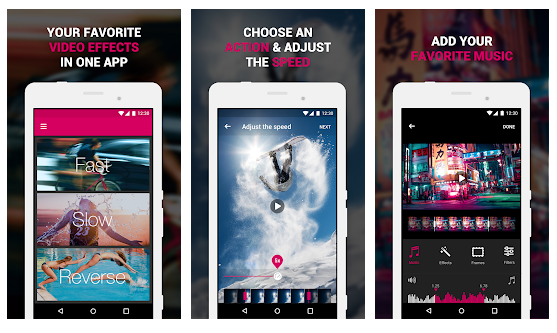 That's All For Now!
Now that you are aware that there's no need for a high-end device to record slow motion videos, go ahead with any of these Slow-Motion Video Maker Apps and have some fun creating amazing videos!
If you have already been using a Slow-Motion Video Maker on your Android device, that we haven't included in this list, do not forget to share them in the comment section below. We'll surely review it and include it in our list of Seven Best Slow-Motion Video Camera Apps!