Facing issues with MacBook? Don't worry we've got solutions for the most common MacBook problems.
Struggling with spinning wheel, flickering screen, keyboard issues, and others on Mac? Because of this
do you feel it's time to replace your old Mac? If the answer is yes before you invest in a new Macbook. Let's try these easy fixes to revive your Mac and fix safari slow, Macbook running slow and other problems.
Also Read: 11 Best CleanMyMac X Alternatives to Clean Mac
Here are Fixes to Common MacBook problems
1. Startup issues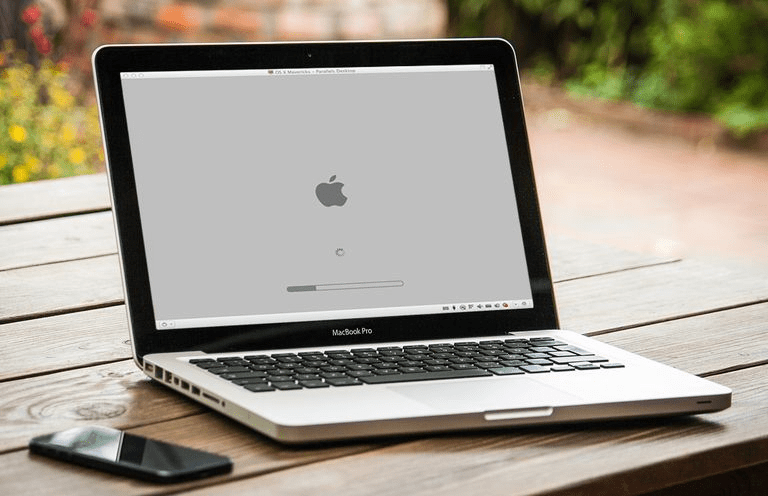 If your Mac is giving you trouble while booting like you see a blank screen or a grey startup. It's time to boot in safe mode. To start your Mac in safe mode boot your Mac, press and hold the Shift key.
Once you are able to see the Apple logo followed by the login screen, release the shift key. You are now logged into Mac Safe Mode where basic software and drivers run. We have logged into Safe Mode because running a check on startup disk and repairing it is easy here.
Running diagnostics on your hard disk on macOS might take time. Therefore, wait for the process to finish and then restart Mac normally without holding any keys.
Also Read: Best Mac Cleaner Software & Apps For Mac Optimization
2. Flickering Mac Screen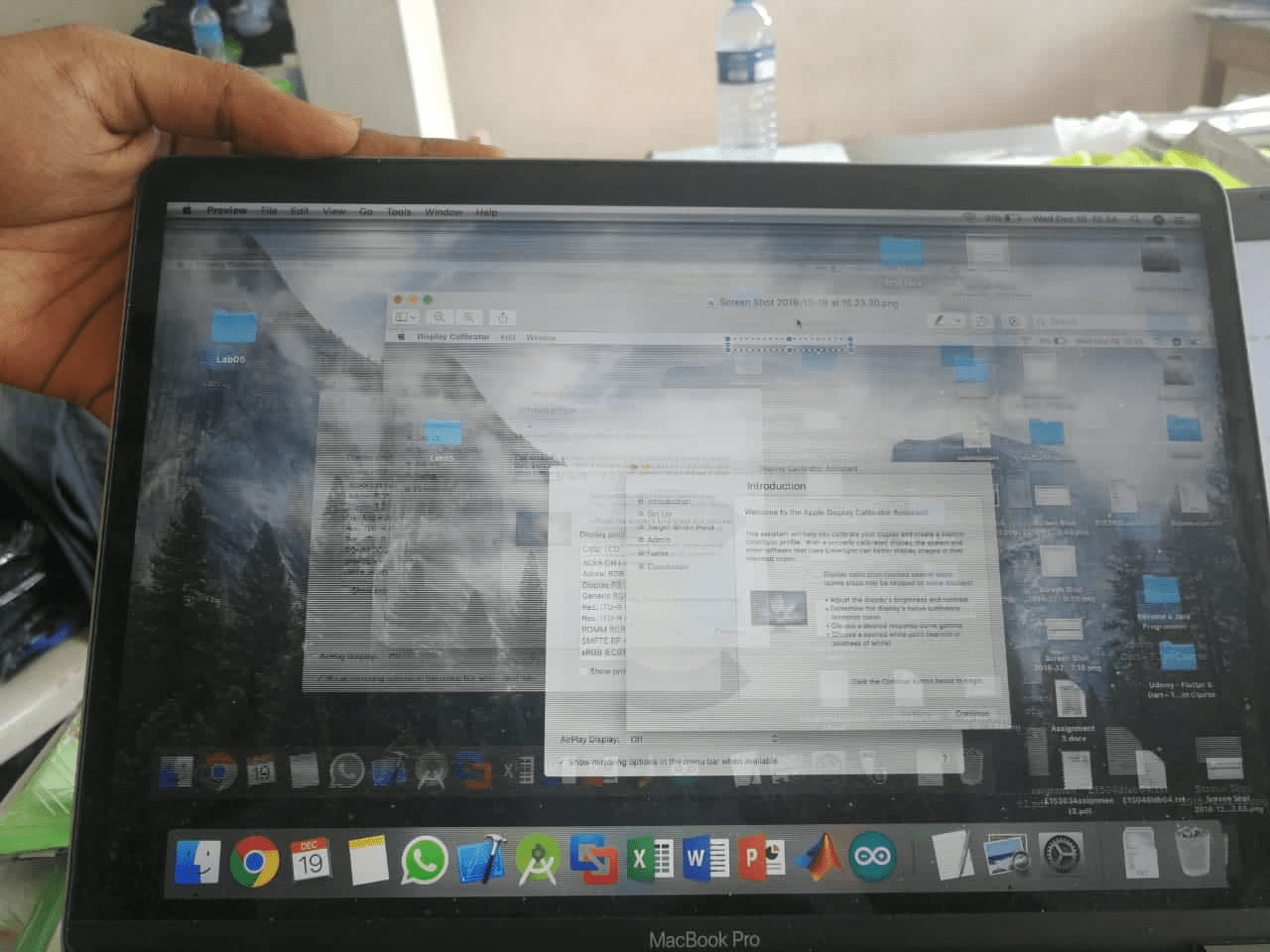 Mac's screens are made up of retina displays to give sharp displays. Usually, they don't give issues but when there's a discrepancy between the hardware and software of screen, Mac screens start to flicker and the display goes light and dim.
Finding the source for flickering MacBook screen is difficult as software on Mac controls certain hardware. But this doesn't mean flickering Mac screen problem cannot be resolved.
By following steps explained below you can resolve flickering MacBook screen:
Restart Mac in safe mode: The first step you need to follow to troubleshoot flickering screen on Mac is to start mac in safe mode. To do so, follow the steps below:
Restart your Mac
Once it starts to boot hold Shift Key until you see the Apple logo.
Once you see it means you are into Mac's safe mode.
Now login to see if the screen flicker issue is resolved.
If this doesn't help move to the next step.
Reset NVRAM:  NVRAM is a non-volatile small memory used by Mac for quick access of files. These settings are stored in RAM but if they overload RAM you might face screen flickering issue on Mac. Therefore, we will need to reset NVRAM. To do so, follow the steps below:
Shut down Mac.
Restart Mac, when you hear boot sound press and hold Command (⌘), Option, P, and R
Keeping holding the keys until Mac restarts.
This will fix the flickering Mac screen.
If this doesn't work either move to the next step.
Disable Graphics Switching: When your Mac automatically switches graphics system while running the application you face screen flicker on Mac. Therefore, to resolve this we will need to disable Automatic graphics switching:
1. Head to system settings > Energy Saving.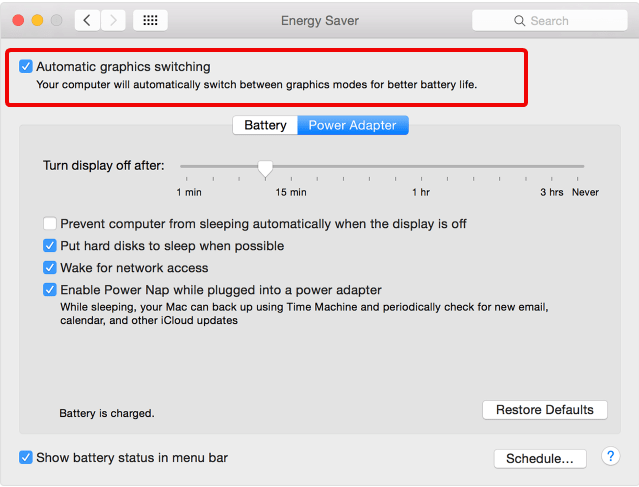 2. Here uncheck Automatic graphics switching.
Now check the flickering issue must be resolved.
If this too doesn't help then you'll need to enable Default for display settings. To do so follow the steps below:
Set Default for display
1. Head to System Preferences > Display > select Default for display.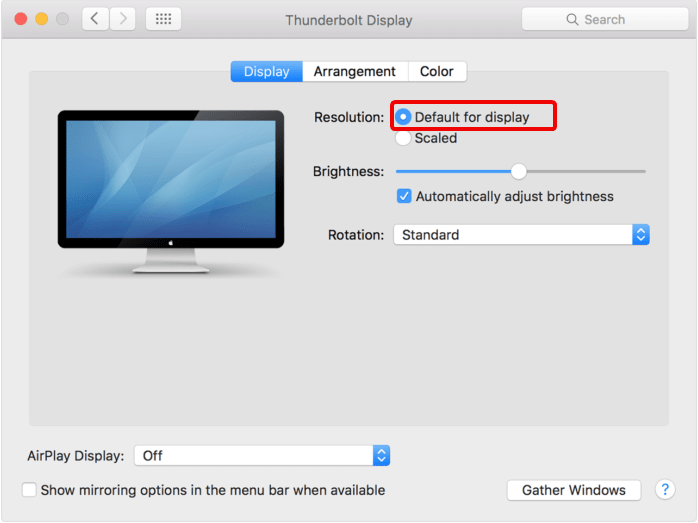 This will change the display size and will help to resolve Mac screen flickering.
Lastly, try resetting SMC to resolve screen flickering on your MacBook.
To do so, follow the steps below:
Shut down MacBook > connect to charger > hold Shift+ Control+ Option+ Power button keys altogether for 5 seconds.
Release the keys waiting for MacBook to restart.
Check flickering Mac screen should be resolved by now.
3. MacBook running slow
 If your Mac is running slow and you are facing difficulty in reading or writing data, you'll need to upgrade MacBook. But if you don't want that then cleaning hard disk space and optimizing Mac will help. To resolve MacBook running slow problem you can try a few things explained below:
Restart your Mac. This step works for most of the Mac problem.
Downloads and install updates there are any pending updates.
Head to Activity Monitor. To open it go to Utilities folder of your Applications folder or use Spotlight. It is similar to Task Manager of Windows. If you see any suspicious app consuming too much memory try closing it. As it can be a sign of malware. Also, we suggest running an updated anti-malware that will help to fix the problem. For this, you can try using Systweak Antimalware.
 Next, remove unwanted files and folders from the desktop. As in many cases, they are the reason for Mac resource drain.
Try running Apple Diagnostics to check if there is an issue.
Moreover, if you hear any noise you'll need to take your MacBook to Apple Store as it can be a hardware issue.
4. Blue Screen on Mac
If you are welcomed with a blue screen as soon as your Mac boots up, it is essential to check and manage startup items that are selected to run automatically when your Mac starts. Receiving Blue screen problems can be related to incompatible startup applications. Hence, using a Mac cleaning and optimization suite like Cleanup My System can help you remove one or multiple launch agents alongside the useless login items without any hiccups. This will help users to improve boot time & enhance overall speed. It even provides multiple modules to find and remove junk files, caches, logs, mail attachments, trash items & eliminate privacy and identity exposing traces as well.
Download Cleanup My System
Trusted by thousands of users worldwide!
However, if you want to do this manually, you can do so, by following the steps below:
Head to System Preferences > Users & Groups > click on the user name > Login Items tab > select the app > click "-" sign below. This will help you remove the app from the Login Items list!
Restart your Mac to see if the issue has been fixed. If not, you'll need to follow the same steps to remove other unrecognized items until the culprit is identified. Later if you want you can add the items by clicking on the "+" button > select the application from the Applications folder.
5. MacBook keyboard issues
In 2016 Apple updated MacBook keyboard to new butterfly keys and since then MacBook keyboard started to give issues. Users have reported issues like – keys stop working, keyboard keys in MacBook make noise, keys come out when MacBook heats.
Butterfly keys do not work like scissor keys that's the basic reason why the MacBook keyboard gives issue. It's not that Apple does not know about MacBook keyboard issues. To resolve keyboards issues you face on MacBook we recommend taking your MacBook to an Apple Store.
However, if you want to deal with this problem yourself get air can > hold MacBook vertically and blow air between keys. This will remove dust and might help to fix some of the keyboard problems you face on MacBook. But be careful while doing so.
6. Mac won't shut down
Even after you shut down you MacBook properly it might freeze. This means your Mac won't shut down instead it freezes on shut down screen no matter how long you wait. To resolve this we suggest closing all apps and foce quitting apps if required. This will help as this is what Mac needs to shut down properly. However, even after this if Mac won't shut down try resetting SMC and NVRAM. We have discussed it above how to do that. This should help if this doesn't help try running Apple Diagnostics.
In case this doesn't work either try starting your Mac in safe mode. For this, you can try the steps we discussed in flickering screen on Mac.
At last, go to System Preferences > Security & Privacy > FileVault. Here check FileVault should be disabled. If not disable it as FileVault sometimes can cause shut down issues on Mac.
7. Safari running slow
Apple claims Safari is the fastest web browser. This might be true if you use it on iOS because many users have reported Safari running slow issues on Mac. Certainly, it is frustrating as one expects Safari to work flawlessly since it comes pre-installed on OS X. But when it doesn't users look for alternatives or ways to resolve Safari running slow.
To resolve Safari running slow try using following ways:
Clean Cache, Browsing History, Disable Extensions: If you do not have enough space on your Mac and use the web extensively, you'll need to clear cache, browsing history. To do so, follow the steps:
Head to Safari > Preferences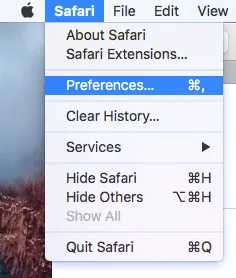 Click on Advanced tab > tick the box next to Show Develop menu in the menu.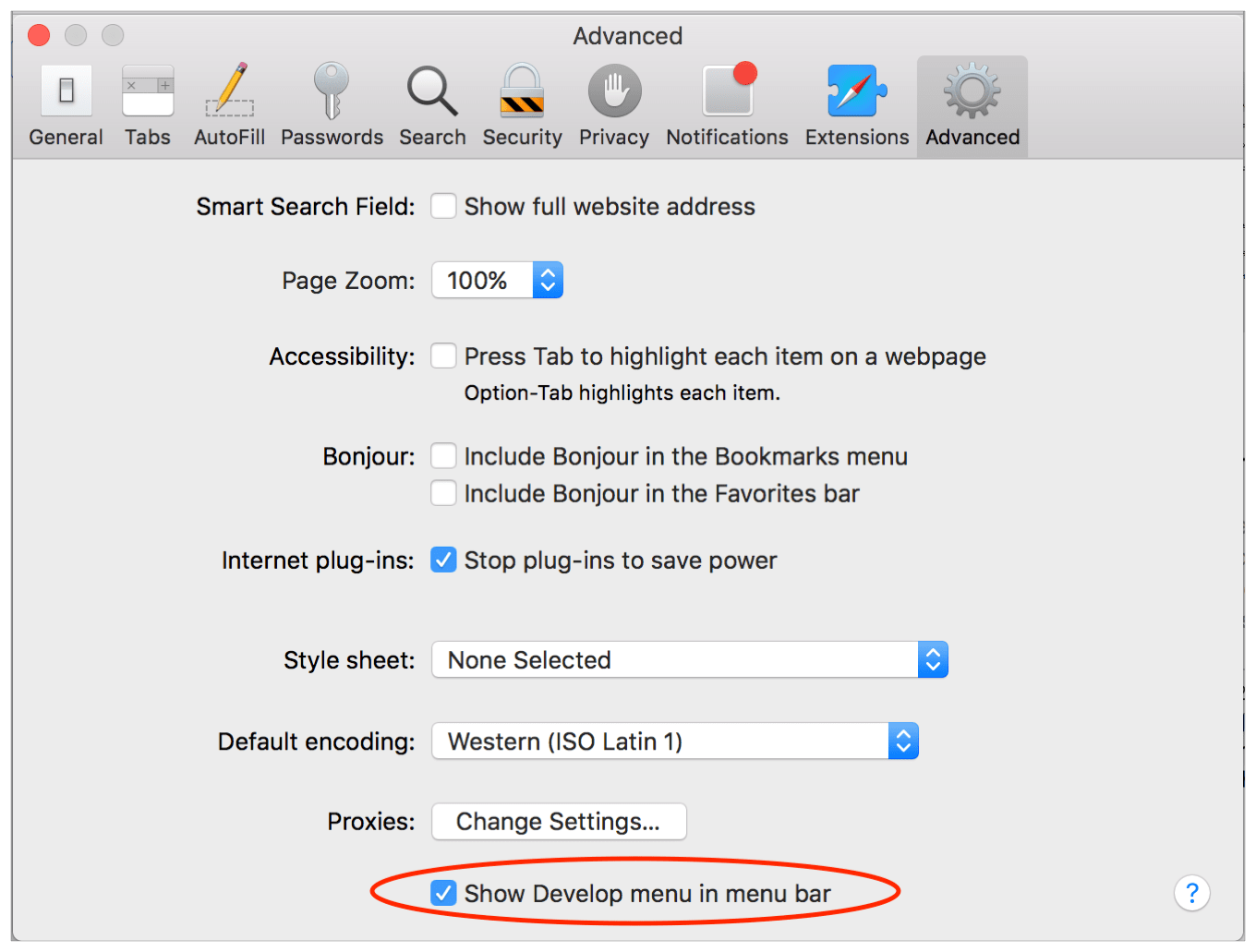 Exit Preferences.
Now, click on Develop under the Safari menu and click on Empty Caches. Wait for the process to finish. Once done again click on Develop and click on Disable Extensions.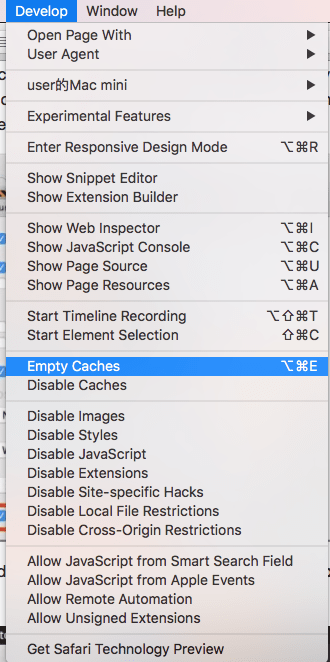 Lastly, click on Safari > Clear History.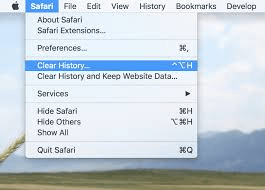 Ensure all history is selected > Clear History.
Now see if Safari running slow on Mac is resolved or not. If not, clear Cache. DB file manually. To do so, Open Finder > Go> Go To Folder.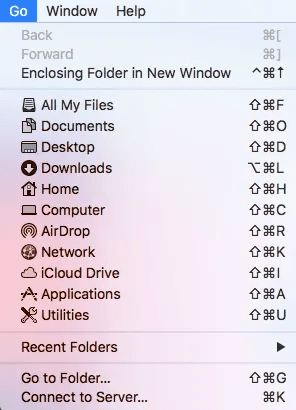 Now copy-paste: ~/Library/Caches/com.apple.Safari/Cache.db in the text box and click Go.

Finally, select Cache.db right-click on it > Move to Trash.
Ensure Safar is closed while you perform this operation.
Now run Safari to see if it is running fine or not. However, if Safari is still running slow try changing network order if you are connected to Ethernet and WiFi. To do so, head to System Preferences > Network.
Try disconnecting one network source and see if it makes any difference. If it does use the source. However, if you want to use both we suggesting changing service order. To do so, click on gear icon you see at the bottom of the Network box > Set Service Order > drag services to change the order.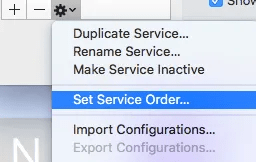 Make sure the connection that was working fine should get the highest priority.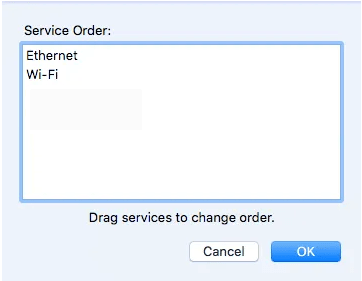 Finally, try deleting preferences file. To do so, head to Finder > Go > Go To Folder. Copy and paste ~/Library/Preferences in the text box.
Look for com.apple.Safari.plist and delete the file. This should work. In addition to this, we suggest updating to latest macOS. Now try using Safari your problem of Safari running slow should be resolved by now.
We all love our MacBook but when it starts to give problem it is frustrating. Therefore, to help you fix problems like Mac flickering screen, Mac won't shut down, keyboard issues on Mac, Safari running slow and others. In this tutorial, we have discussed some ways to resolve these problems. We hope your problem was resolved. However, if you are facing any other problem and looking for a solution please leave us a comment.
Also, Follow us :