Table of Contents
We use Google.com on a daily basis however there is more that Google can offer for free. Not more than 10% of Google users are aware of 'Google Trends' and 'Google Keyword Planner' to perform market research for their business.
So if you're a business owner, here in this article, you will explore how to use Google Trends for SEO or how to use Google Trends for market research to boost your business. You will also understand how to make use of Google AdWords keyword planner to write engaging content for your product and services. After understanding these theories, you can boost your business by knowing what's in demand and where you should target your business.
What is Google Trends?
Google Trends is a website run and managed by Google that studies the acceptance of top search queries in Google Search worldwide in numerous regions and languages. Using Google Trend analysis, you can get graphical comparison results on the search volume of a particular product or service time over time.
Using Google Trends, you can analyze how often a specific keyword, subject or phrases is been queried over a specific period of time. In simple words, Google Trends compare and analyze how often something is Googled and in which region.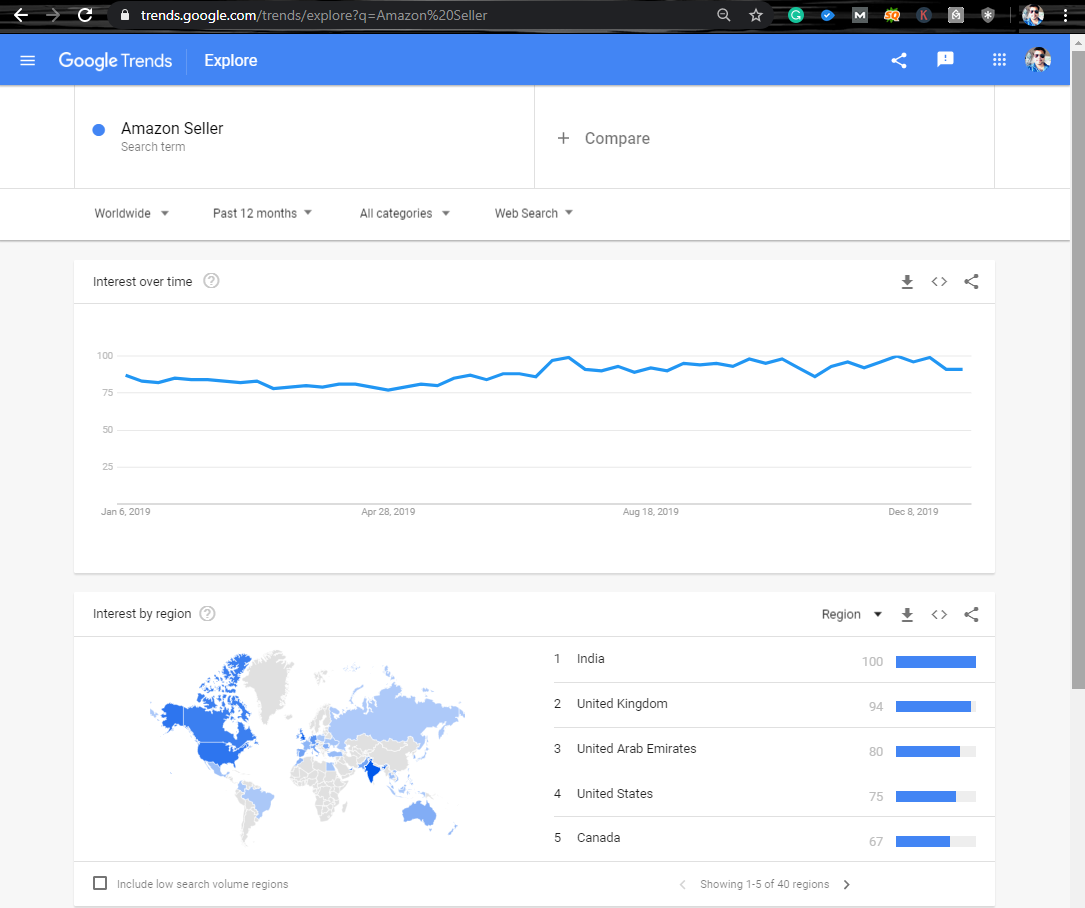 How to Access Google Trends?
Using Google Trends is easy if you have a Google Account.
Step 1. Login to your Google Account on Google Chrome.
Step 2. Type Trends.Google.com and hit enter.
If you are not logged in, still you can access Google Trends by typing in Trends.Google.com.
"Tip: Though you can access Google Trends using any browser, it is recommended to use Google Trends with Google Chrome logged in with your Google account."
How to Use Google Trends?
As soon as you get to the home page of Google Trends, you can search for any product or service you are looking for. Just type in the search string and press enter to run Google trend analysis.
There are four drop-down options below the search bar. You can customize your desired location from country to state, city or town. When you run Google Trends compare, it allows you to select a time frame that may vary from the past hour to the past 5 years. You can only go up to the year 2004 as it will not give you the option to go beyond that.
There are numerous categories that you can choose from to narrow down your search. You can also select from Web search, Image search, YouTube search, and other search types.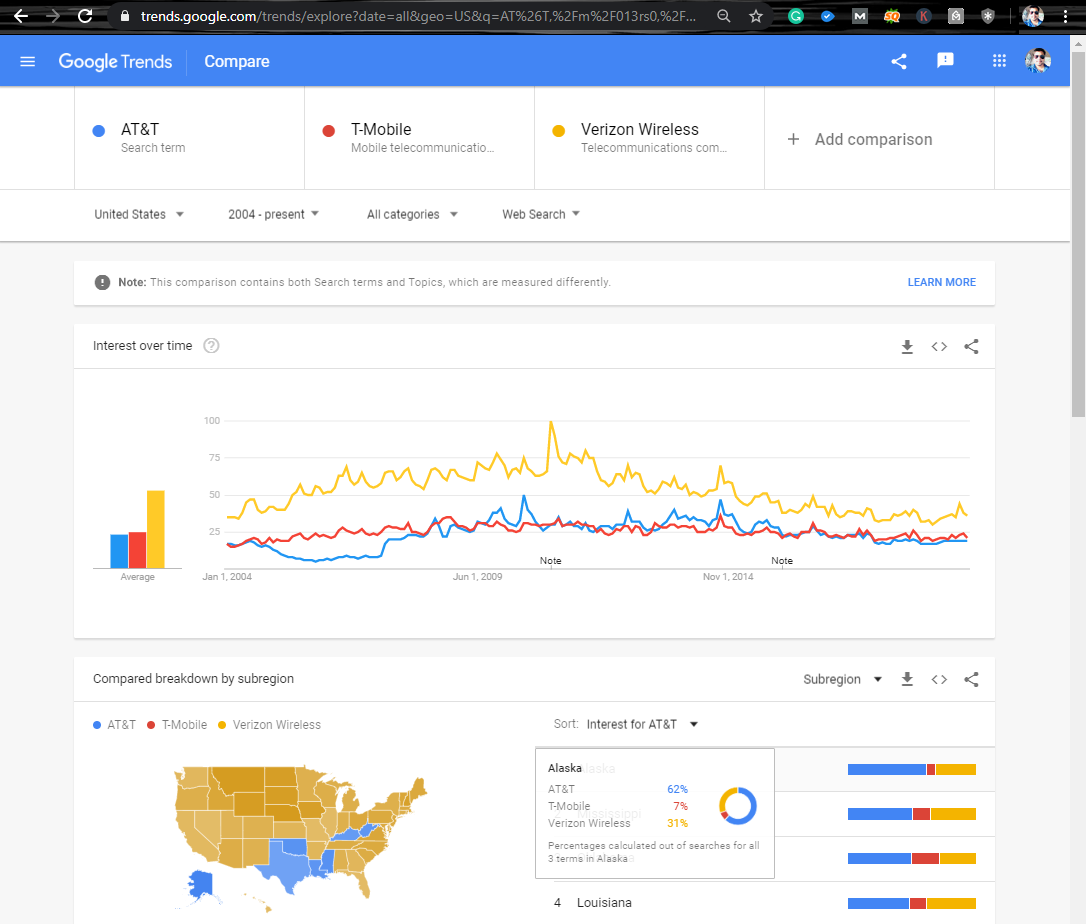 For Example, If You want to perform Google Trends compare between the top three mobile networks, you can just search and compare them in one go. Enter their names one by one by clicking on (Add Comparison) and press enter.
It will show you the Google trend as per your selected location. As per the above image, we can figure out that Verizon is the most searched mobile network in the United States however if we look at the second graph, it shows that AT&T is more popular in Alaska. Similarly, we can look for all different subregions and figure out which provider has got the highest coverage in which state.
Google Trend Analysis will also show you the list of related topics searched instead of your main Google Keyword. Google Trends allows you to download the results in a CSV Format or share the results on Facebook, Twitter, LinkedIn or other platforms in one click.
Seeing such Trends and the graphs, you can figure out your peak season and months of the highest revenue. You can also figure out fresh content based on Google Trends results. Google Trends not only help in comparing, but you can also monitor your competitor's position and popularity.
What is the Google Keyword Planner?
Google Keyword Planner is a free Google AdWord tool to figure out organic keywords for your new blogs or articles. These keywords also help you to generate new campaigns for your business. You can use Google Keyword Planner to choose modest bids and budgets to use with your campaigns.
Earlier Google AdWords keyword tool used to show exact monthly search volume however now it just shows you a vague range of monthly keyword searches.
Benefits of Google Keyword Planner?
Whenever you are performing research on keywords for your new or existing campaign, you can perform a relevant or similar search as per your product, service, website, or landing page.
Get access to historical statistics and traffic forecasts.
Use statistics data like Google keyword traffic, monthly search volume, competition, top of page bid with low and high range.
Easy to decide keywords based on keyword ranking analysis to use for your new or existing campaign.
Forecasts like predicted clicks and estimated conversions can help you get an insight into how your list of keywords might perform with a given bid and budget.
Get forecast by intuitive market research to decide on which bids and budgets to configure.
Google Keyword Planner can only offer some great keyword ideas and traffic forecasts based on Google keyword analytics but campaign performance might depend on a variety of factors.
Your bid, product, budget, organic keywords, and customer behavior can influence the accomplishment of your campaigns.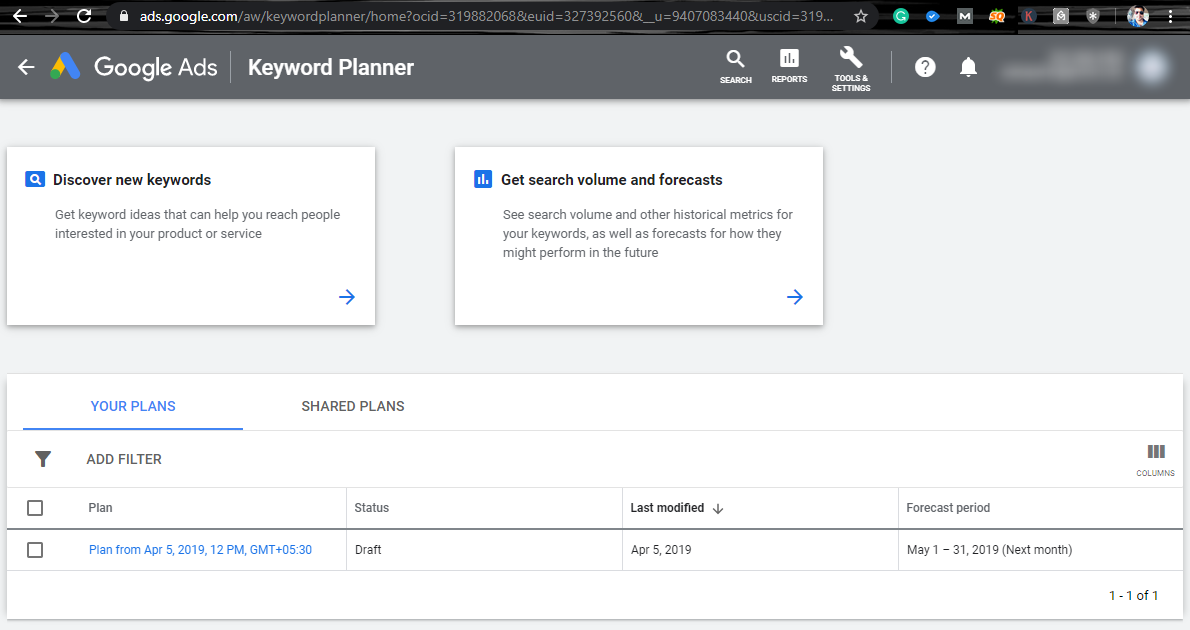 Also Read: Best Keyword Research Tools
How to Access Google Keyword Planner?
Accessing Google Keyword Planner is absolutely FREE! All you need to have is a Google Account.
Step 1. You just need to go to Ads.Google.Com and sign in with your Google Account.
Step 2. On the top-right hand side corner, you need to look for the 'Tools & Settings' option near your account details.
"Tip: If you see the "What's your main advertising goal?" screen, You are not supposed to choose any of the three options. Just click on the small "Experienced with Google Ads?" link highlighted in Blue color below the options. On the next screen, click on the "Create an account without a campaign" link to continue and then click on the 'Submit' button."
Step 3. Click on the 'Keyword Planner' option from the left-hand side 'Planning' section.
Step 4. On the next screen, click on the 'Discover New Keywords' box to look for new organic keywords. By default, the 'Start With Keywords' section will be highlighted.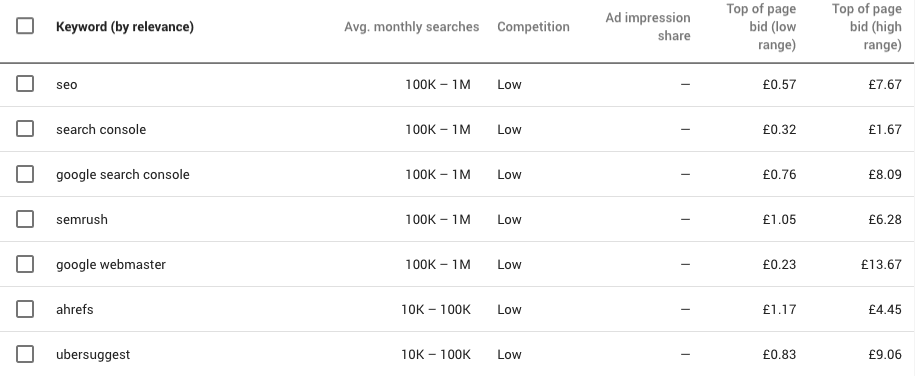 Step 5. Type in a keyword that you want to use for the next project that you think can boost your business.
Step 6. Perform a keyword ranking analysis on the suggested Google keyword traffic (Avg. Monthly Searches) and always look for 'Low' competition keyword suggestions.
Step 7. Consider looking at the Google keyword suggestions below your search string to broaden your search results.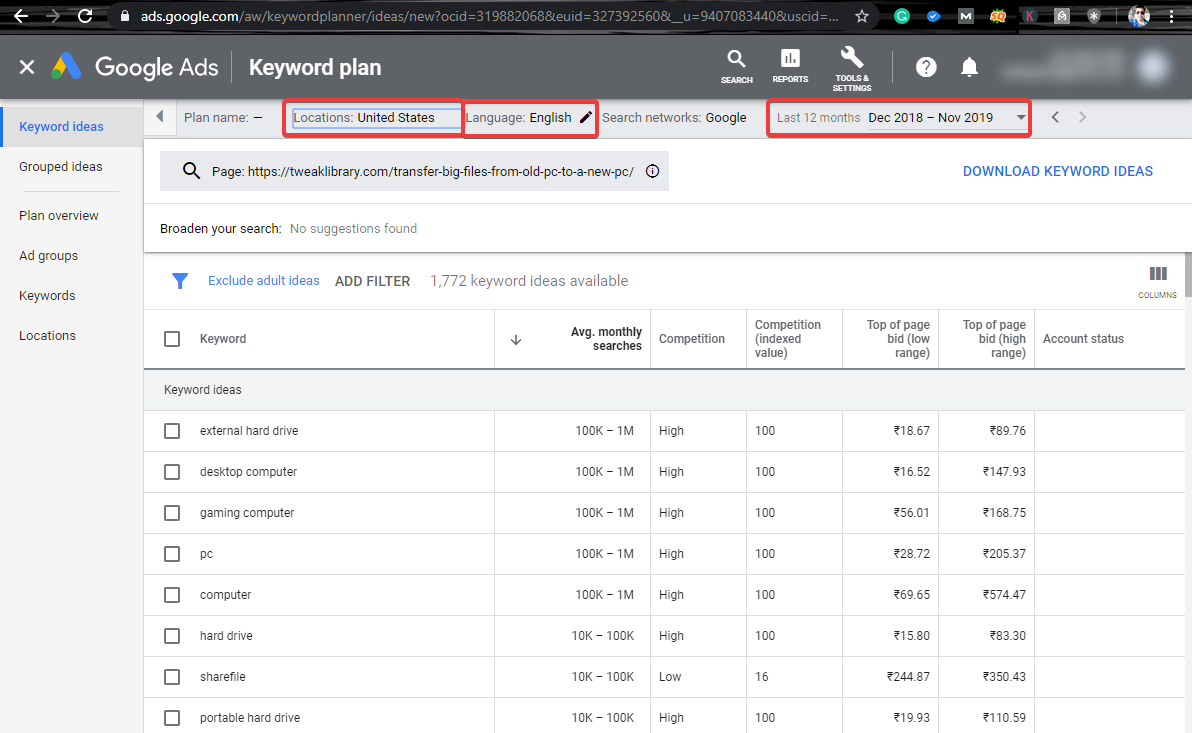 Step 8. This is an important step to narrow down the result to the exact match. Filter and Sort your search by Location, Language and Duration.
"Tip: You can also make use of top search results to look for keywords for your own page."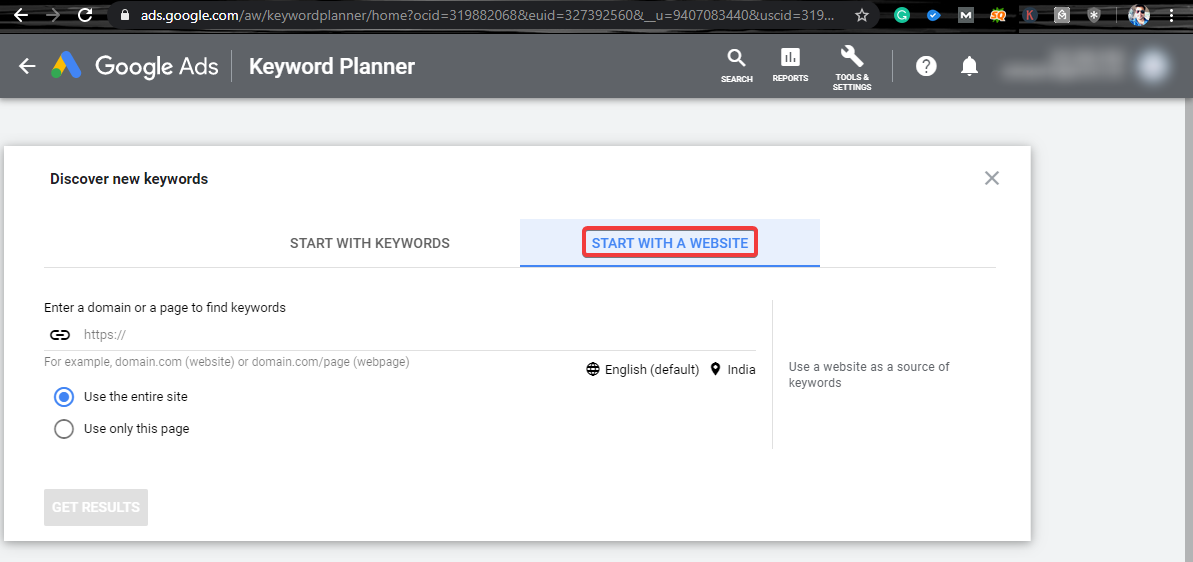 Google Keyword Planner With URL
If you want to check the best keywords that made a website ran on number one page, just copy the link of the website or webpage you want to get inspiration from.
Step 1. Click on the 'Start With A Website' tab on the top.
Step 2. Paste the link copied in the space provided.
Step 3. Select the ' Use only this page' radio button and click on the 'Get Results' button.
Step 4. Click on the 'Average Monthly Searches' tab to sort the keywords according to the highest number of searches.
Step 5. If you want to download the Google organic keywords suggestion, you may click on the button 'Download Keywords Ideas' to download the results in an excel sheet.

"Tip: You can search up to Ten keywords including a web page URL at the same time."

Keyword Ranking Analysis
There are a few things to keep in mind when you use the Google Keyword Planner tool to choose the right keywords to target for your campaign.
The topmost factor in the Google AdWords Keyword Tool is the Search Volume of the keyword. Always select keywords with maximum searches every month. (10K-100K) is the most desired keyword volume.
Next comes the Competition. Always look for keywords with low competition. Keywords with higher search volume and low competition, are the most actionable keywords.
Once you have shortlisted your keywords, ensure that the selected one has the lowest Average Bid Rate.
The next factor to look at is the Ad Impression Share. The more it is, the better your results will be.
Try to make use of Grouped Ideas from the left-hand side panel to identify relevant keywords.
Identify the Keywords Forecast to gauge clicks, Impressions, Cost, CTR, Average CPC, etc.
Set the Target Location to engage your budget for the targeted audience only.
There is more to explore in the 'Tools and Settings' menu. Once you are ready to build a paid campaign for your business, you will need these tools to boost your business and increase revenue with proper market research.

Wrapping Up
Understanding the use of Google Trends and Google Keyword Planner Tool was never made so easy. Now you are aware of what is Google Trends, how to use Google Trends for market research and look for organic keywords using Google AdWords keyword planner. These Google keyword analytics will help you invest in the right keywords to boost your business.
We are open to Feedback and FAQs, Please drop in a comment in the comment section with your thoughts, findings or queries. If you find this information useful, please like and share the article with people who can be benefited from the information in this article.