Table of Contents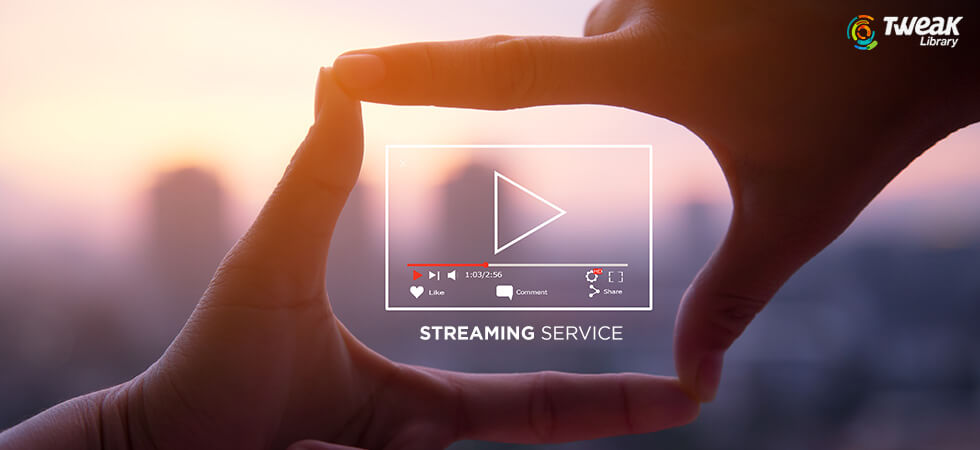 Rabbit, also known as rabb.it was one of the premium video streaming services that has enabled multiple people to browse and watch the same content in real-time. Sadly, Rabb.it is no longer available for video streaming as it has been acquired by Kast. Rabbit was shut down in May 2019 and was essentially a web-based group chat with video stream. Well, we understand you surely miss Rabbit streaming services and therefore we have compiled a list of best Rabbit alternatives for you. Take a look at these alternatives and keep enjoying watching videos and movies in groups.
Best Rabbit Alternatives To Look For in 2020
1. Watch2Gether: Registration Free Streaming Service

Watch2Gether is one of the popular Rabbit alternatives and known for its registration free streaming service. It allows you to watch videos and other content in sync with your friends by creating a chat room without signing up. It is an online video streaming service that is easy to use and lets you invite other users to join chat. The video streaming is restricted to supported platforms such as YouTube, Amazon, Facebook. Vimeo and Dailymotion. Watch2Gether restricts you to stream videos along with your friends on streaming services like Netflix and Hulu.
Features:
Watch videos, listen to music and go shopping on Watch2Gether.
Integrated chat room to communicate with your friends.
Organize content into playlists.
Webcam support.
Try Watch2Gether
2. myCircle.tv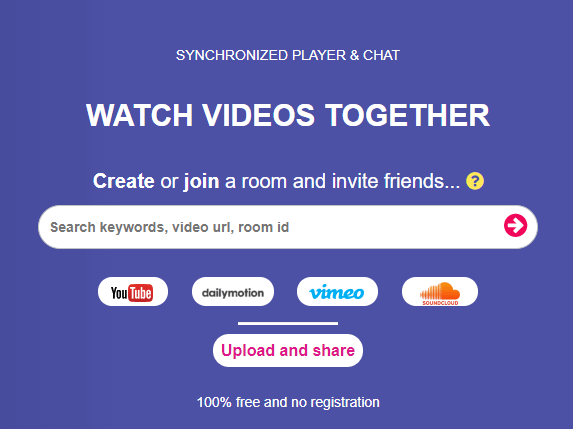 Another amazing video streaming channel to use as an alternative to Rabbit is myCircle.tv. Just like Watch2Gether, you can stream on myCircle.tv for free and with no registration. Simply open myCircle.tv on your browser and start watching together with your friends by creating a room. Though you are free to create your account for streaming online, you can also do this without signing up if you do not want to. This amazing streaming channel is easy to navigate and lets you set up a private chat room owned by you.
Features:
Social share feature to invite friends to join you.
Creates your own private chat room.
Lets you upload files to myCloud.
Try myCircle.tv
3. Rave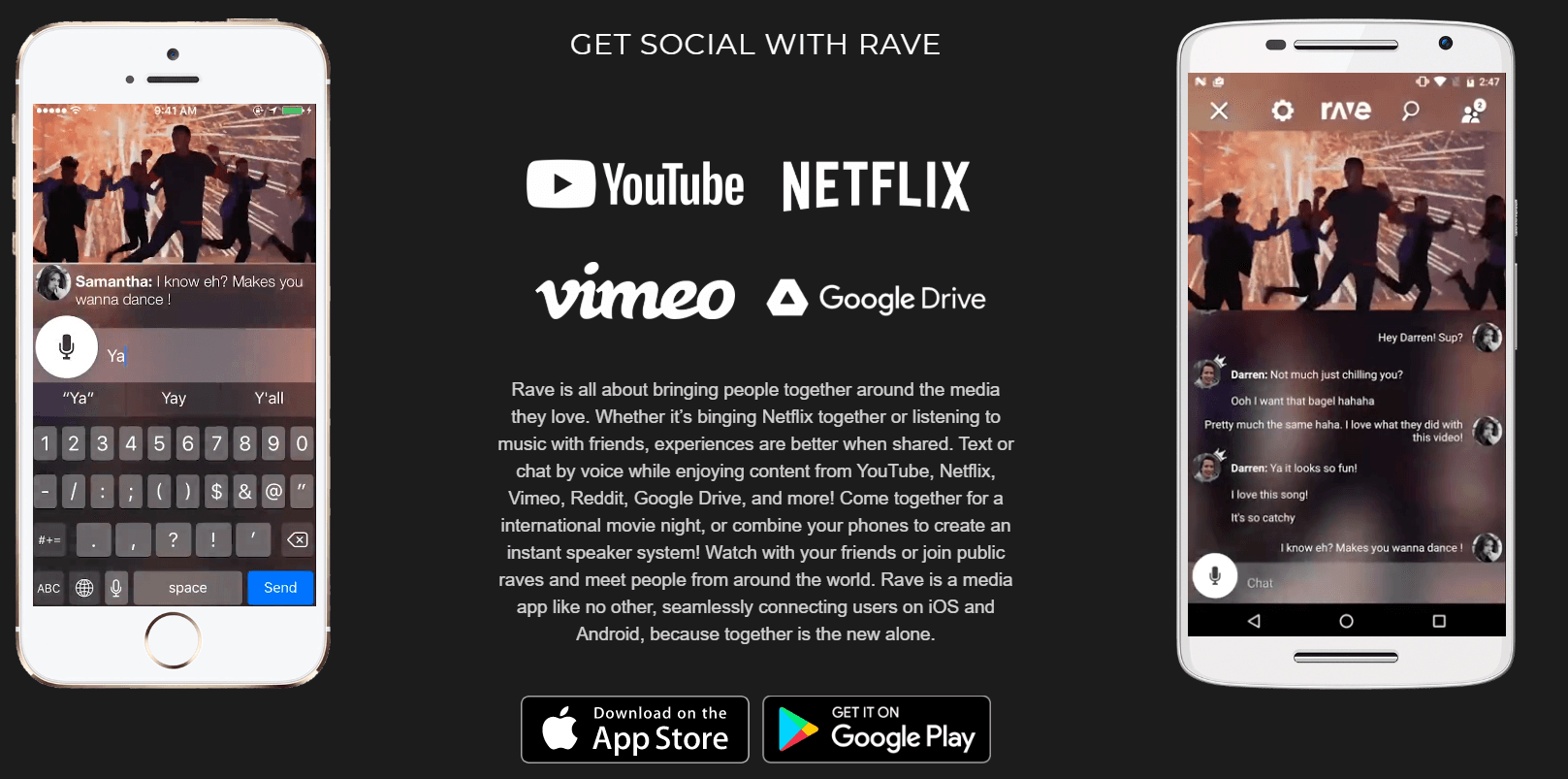 A streaming service for mobile phones is quite handy, isn't it? Rave is a social media platform offering you and your friends to come along and enjoy together the content you love on tablets and mobile. It further perfectly synchronizes videos while talking and texting. Rave is yet another alternative to Rabbit streaming service and is available for both iOS and Android devices. It features streaming content from YouTube, Netflix, Vimeo, Reddit, Google Drive and DropBox, etc. On your Android or iOS app, you need to sign in with either Twitter, Facebook or Google, to start streaming. It says, together is the new alone.
Features:
Watch shows, movies or listen to music together with your friends.
Chat while browsing content.
Create an instant speaker system by combining your phones.
Try Rave
4. Kast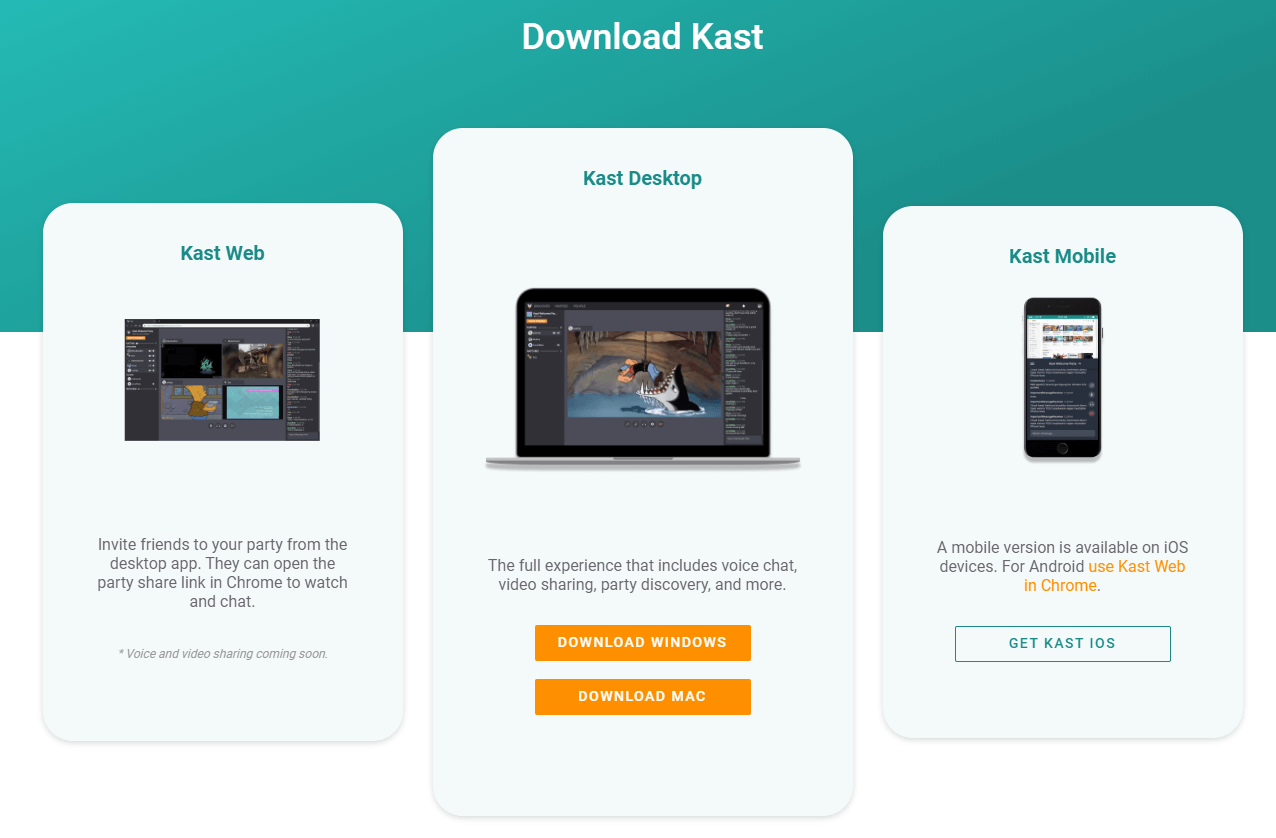 As stated in the beginning, Rabbit or Rabb.it is acquired by Kast. This is one of the Rabbit alternatives we cannot miss mentioning in the list. With Kast, watch parties are made easy. You can share movies, TV shows, games, and whatever you want with more than one hundred people. You can create a room on either of the platforms from web, desktop or mobile. This is a real-time video sharing application with many features. Along with watching movies and TV shows you can even play games and share the video gaming experience in real-time.
Features:
Available on almost all platforms i.e. web, Mac, Windows and iOS mobile.
Host watch parties for 100 or more people.
Connect with friends wherever they are.
Try Kast
5. Netflix Party
Netflix Party is yet another co-watching platform and a great Rabbit alternative. The only limitation with this streaming service is that it is only meant for streaming Netflix content. You and your friends have to install the extension before sharing your video experience with each other. Using Netflix Party is as simple as using Netflix. Login to your Netflix account and select a video, create a Netflix Party and invite your friends. Enjoy the same shows and movies in real-time.
Features:
Only available for Chrome browser.
Stay in sync with your friends watching Netflix shows.
Customize your Netflix Party.
Try Netflix Party
Also Read: YouTube Alternatives : Best Video Sharing & Streaming Sites
What Streaming Service Do You Use?
Using streaming services is more popular than watching television nowadays. Everyone is shifting to Netflix, Hulu and Amazon like streaming platforms for different shows and movies. They say streaming is more affordable in terms of money than cable connections and DTH recharges. Also, streaming services offer a wide range of TV shows and movies. So, what streaming service do you use to watch TV shows and movies? How do you feel about real-time sharing what you watch along with your friends? Let us know in the comments section below.
Keep following Tweak Library for more such content!