Smartphones have become an essential organ of the human body and with the increasing addiction and dependency of these mobile devices it would not be long before an innovation enables us to carry our phones into our dreams for the state of sleep is the only time when they are not in our hands. But one of the major drawbacks of smartphones is that it is not convenient to share what we experience with others due to small screen. If there was something that could enable us to project out smart phone screen on to our TV so we could share stuff with our family and friends.
Probably someone at Google Inc though the same and in 2013, launched Chromecast and started off as a dongle for HDMI supported TVs. Google is a company which has all its fingers in almost all the pies! And that does provide a sense of confidence that a product by Google would be worth purchasing. The company has subsequently launched a dedicated audio only device and an ultra 4k resolution dongle in 2015 and 2018 respectively.
What is Chromecast?
Google Chromecast is a media player that plugs into your TV's HDMI port and allows you to easily access to multiple streaming services, from Netflix and YouTube to Google Play and Hulu. It projects your Chrome Browser contents from your mobile or laptop to your TV screen. It uses a Wi-Fi connection to connect to other devices and can be controlled by them. Just turn it on, pair it and watch with your smartphone acting as a remote.
How does Chromecast work?
In simple terms, Chromecast is a device powered by USB cable connected to any wall socket and connected to your TV through HDMI port. It requires Wi-Fi connection to receive data and display it on your TV. It can get data from the apps installed like Netflix, You Tube or from any other device connected to the same Wi-Fi network. It means you can view your smart phone, tablet and laptop content on your TV, including Chrome browser.
For those who are tech savvy, the technology used is one of Google's proprietary protocol called Cast. It was primarily designed to mirror content from one device to another, in this case, your mobile and Chromecast. Once a Cast receiver and sender establish a connection on the same network, A Cast icon will be enabled on the sender device. Chromecast also uses another protocol by the name of DIAL which stands for Discovery and Launch protocol. It was developed jointly by Netflix and You Tube.
How many types of Chromecast are there?
There are two types of Chromecast (3rd gen) available today. The 3rd generation is the latest with all the technological enhancements possible and removing the shortcomings of the previous generations.
Google Chromecast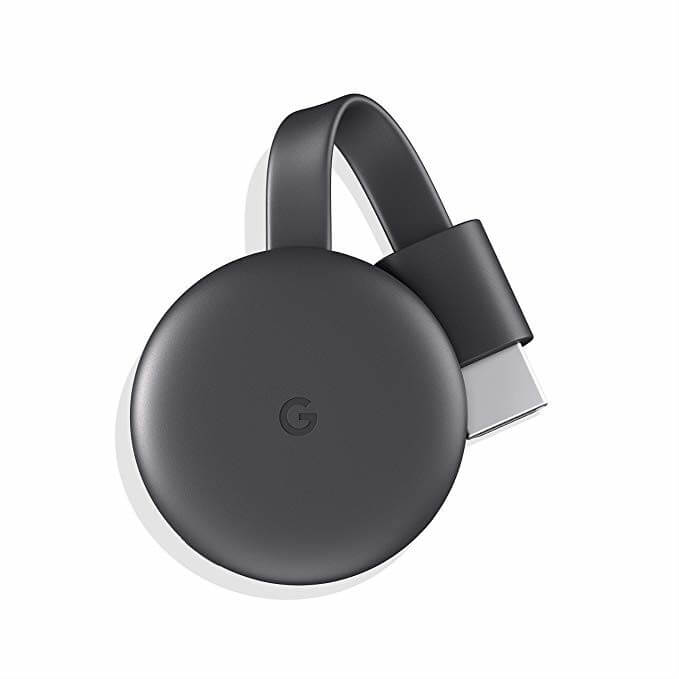 The basic version comes at $35 and provides all the features of a streaming media device. But being reasonable has its own limitations. The output quality is restricted at 1080P and does not have an Ethernet port for wired connections.
Google Chromecast Ultra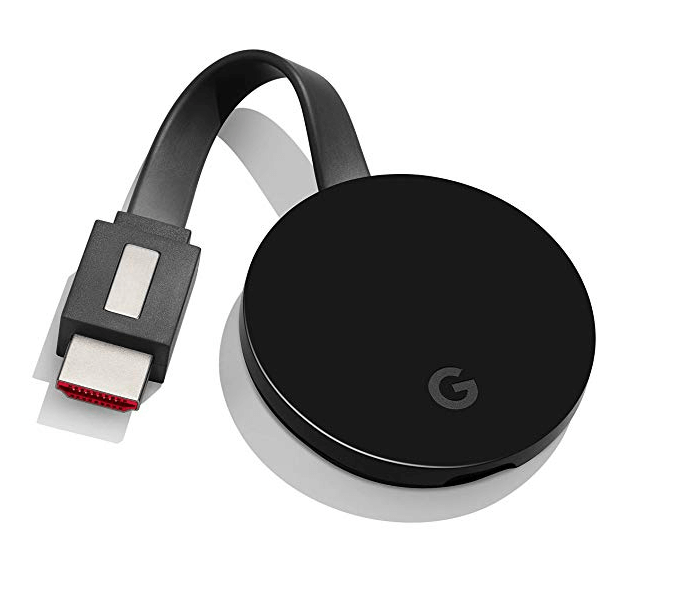 The advance version at double the price at $69 steams media at 4K video quality and has the much needed ethernet port if you face WIFI issues. Also provided is the support for Google Stadia which enables the users to play games.
The comparison between the two models is summarized in the table below:
| | | |
| --- | --- | --- |
| Feature | Chromecast (3rd gen) | Chromecast Ultra (3rd gen) |
| Price | $35 | $69 |
| Ethernet Port | NO | YES |
| Video Quality | 1080P | 4K & HDR |
| Stadia Support | NO | YES |
| Weight | 1.44 ounces | 1.6 ounces |
| Color | Charcoal | Black |
| Dimension | 2 x 0.5 x 2 inches | 2.3 x 0.5 x 2.3 |
Both the models have an HDMI output on one end which would plug in the TV and a micro-USB port on the other end which would be used to supple power to the device. It also features a reset button in case it freezes and an LED status light.
What can you do with Chromecast?
There are countless possibilities of mix and match with regards to Chromecast (3rd gen). I have mentioned a few that I thought of. Do share if I have missed anything in the comments section below:
Stream Audio, video and images from your phone, tablet and computer directly to your TV. The only requirement is you have all these devices connected to the same network as your Chromecast.
Mirror your Chrome browser to a bigger screen while demonstrating your presentation to your clients.
Engage in multiplayer games and display it on the TV for others to watch during a party. Google Stadia games can be cherished through Chromecast.
Use voice commands on your phone directly through Google Assistant and watch your favorite series on TV by just asking for it provided you have the required subscription.
And of course, the primary function is to enable the user to watch channels such as You Tube, Pandora, Netflix, Hulu and many others on your TV without having to pay for a cable bill.
Note: Some channels may require individual subscriptions and other may have ad supported free content.
Google home Chromecast initially supported You Tube and Netflix only but over years it has managed to attract many other channels in its bouquet. Channels which provide news, sports, music and many more have been integrated. Here are a few notable ones:
Netflix
Hulu Plus
Pandora
HBO GO
Post TV
RealPlayer Cloud
Red Bull.TV
YouTube
Vevo
Viki
Google Play Music
Google Play TV & Movies
Also Read: How To Set Up A Chromecast Using Android Phone
What are the basic requirements with Chromecast?
To use a Chromecast (3rd gen), one must have the following prerequisites:
The first and foremost requirement is to have a TV with an HDMI port where the Chromecast would be plugged in. Older TV with the traditional AV cables would not be supported.
A Chromecast (3rd gen) device requires a decent Wi-Fi connection to stream the media uploaded on the internet. If you purchase the Chromecast Ultra, then you have the option of using the ethernet cable for uninterrupted streaming.
The internet cables that come across the street from a Hub are plugged into the router and then converted to Wi-Fi signals and are transmitted across your house.
Smart Phone. The only drawback, (if you consider it to be) is the absence of a remote with the dongle. But you can always use your phone (Android/iPhone) to control the device. Once you install an app and configure it, you can switch channels, mute, play games and do much more what you could not do on a normal remote.
Now the device comes along with a few essentials so that you don't have to buy anything extra to make it work. The box includes:
A USB cables. It is used for providing power to the device with a micro-USB at one end that fits into the device and a standard USB 2.0 connector that fits into the power supply or can be attached to the TV's USB port.
A power supply that fits into the electric socket along with your TV's power socket.
Note: It is important to use the cables that come along with the device. Other cable may not work.
What are the other features?
Benefits: –
Limitations: –
Not functional for older TV sets.
No functional remote control along with the dongle.
No way to record and play back your media later.
It does not support Amazon prime.
Google Chromecast (3rd gen), without doubt is an amazing device that is a must for your collection. Though it has a few limitations but nothing serious which cannot be worked around. At $35, you probably will save your cable bill in the first month and can watch all those media in your phone on a bigger screen along with your family and friends. Though it is plug and play with very easy installation steps, but if you face any issues installing it, do let me know in the comments section below and I will try to resolve your queries.
Follow us: