You've just attained a sound sleep and out of nowhere, your phone rings aloud. Have you ever wished you could block these untimely calls? Have you ever wished that you could get rid of untimely notifications that ping you unnecessarily or embarrass you every now and then?
That's exactly where a Do Not Disturb Android App can come to your rescue.
But, you would ask, isn't there a feature that goes by the same name?  Why would you spend a considerable part of your device's memory on a third-party Do Not Disturb Android App for something that is already there?
While the need and importance of the Do Not Disturb feature cannot be stressed enough, the third-party apps have the capability to deliver a lot more in addition to what the already present Do Not Disturb feature has to offer.
Having said that, in no way does this post demean the feature, it's a great feature and you can get to know more about it from here.
Some of the Best Do Not Disturb Apps for Android
1. Nights Keeper (do not disturb)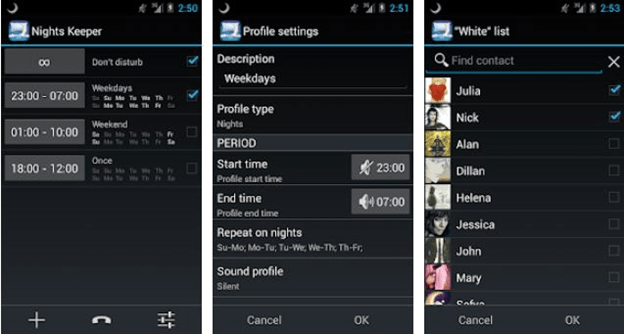 This is one of the best Do Not Disturb apps for Android that let's only whitelisted calls get through to you. You are sure going to like it for its features like –
A "Don't disturb" profile that can be managed via a home screen widget.
"Emergency call option" that lets contacts that aren't whitelisted get through to you after a certain number of attempts.
You can add "day" and "night" profiles for different dates and times.
Rating: 4.4 Stars
2. Do Not Disturb – Call Blocker – Free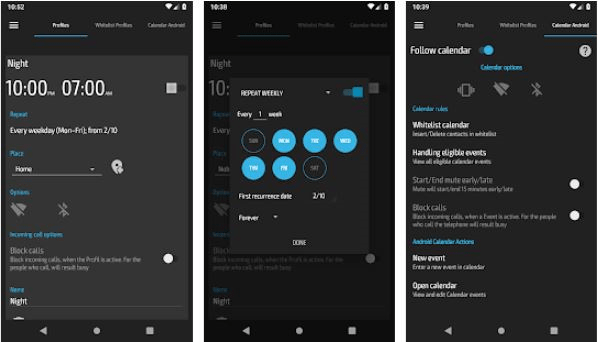 Yet another fantastic Do Not Disturb Android app that keeps unwanted calls from disturbing you during an event, meeting or during a time of the day when you want an off. Some of its enticing features include –
Completely block an incoming call or mute the sound.
"Follow calendar" feature will block calls on a specified event. It also enables you to view and customize events as well.
Instantly mute the phone or schedule a time range of 5, 15, 30 minutes.
Rating: 4.1 Stars
3. Gaming Mode – The Ultimate Game Experience Booster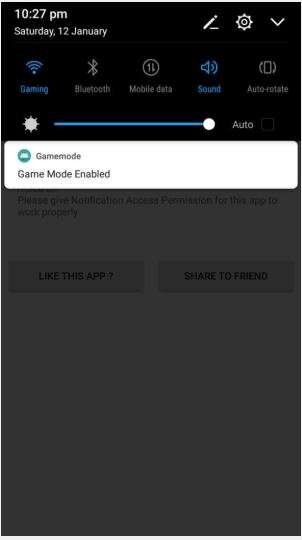 If you are a gamer and are engrossed in a nail-biting game level, you wouldn't want a call or notification break your focus. That's where Gaming Mode – The Ultimate Game Experience Booster comes in and don't just go by the name, this Do Not Disturb Android app is for gamers and non-gamers alike. But, of course, gamers are going to thoroughly enjoy this app, why? Let's find out.
App rejects incoming calls and blocks notifications automatically which means no calls or notifications would come in between you and your gameplay.
The app intelligently clears other apps running in the background thereby boosting RAM which is important for a clean gaming experience.
Enable "dark mode" or set brightness to your desired level.
Rating: 4.4 Stars
4. Silence Premium Do Not Disturb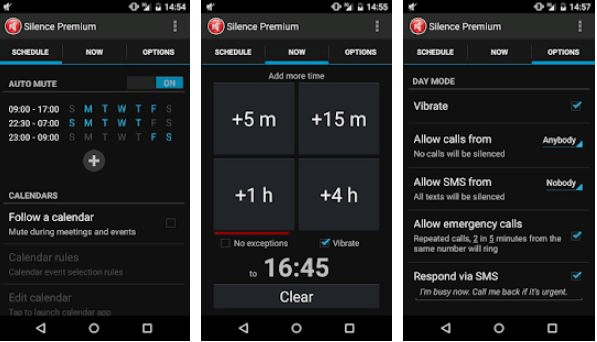 While other apps may ask for SD card storage access or network permissions, Silence Premium Do Not Disturb doesn't. Thereby ensuring the safety of your personal data. Features like the ones mentioned below, and several others justify every penny you are going to spend–
You can choose which contacts will make your phone ring in the day or night.
Option to cancel the mute feature during instances like meeting got over early or you have woken up early in the morning.
Google calendar integration for better management of call blocking during certain events.
You can choose to have your phone completely silent during the night and have your phone on silent + vibrate mode during the day.
Rating: 4.4 Stars
Choosing an App Wisely is Your Call
If you have a smartphone, you sure must have an ocean of apps and you would want to have apps that can make your life easy. A Do Not Disturb Android App can be a pearl in that ocean something that will prevent unknown calls, notifications and several other things from destroying your peace of mind.