Table of Contents
Have you ever felt that you need to access your home computer while you are away from home? Or you forgot to copy the presentation you made over the weekend on your personal laptop back home? There are many similar situations where you would want to access a PC that is not within your reach. It seemed impossible sometime back but with innovations in Android, your mobile phone can not only assist you to access your computer screen on your mobile device but also copy files between them. Using this technology developed for professional use, Gamers have modified it as per their needs and can control the game being played on their computers via the virtually created joystick on their smartphones.
The Best Apps To Control PC from Phone:
Note: This list is a compilation of tried and test apps that can help you control Your PC from Android Phone. You can choose anyone from the list but I strongly recommend using Team Viewer which has come along way in remote industry.
Also Read: Best Apps to Remotely Access Android Device
1. TeamViewer for Remote Control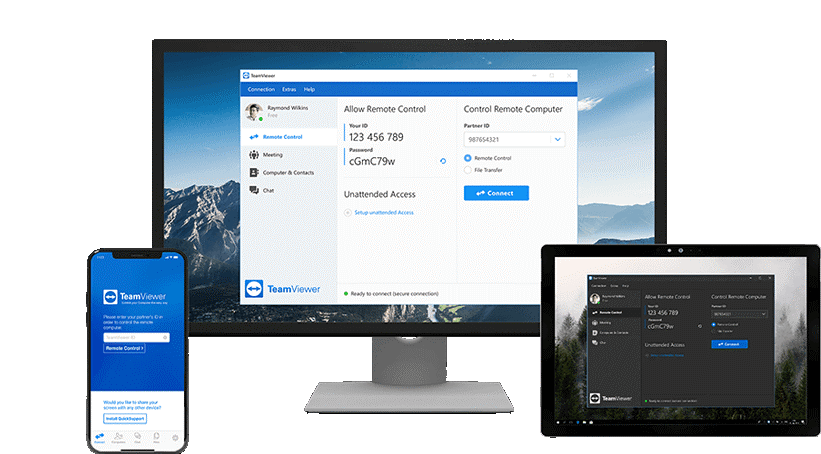 The most known app for sharing any two devices has to be TeamViewer. It is used by millions of users across multiple platforms including Windows, Android, Chrome OS, Mac, iOS, Linux and Blackberry. It is also one of the most reliable and hassle-free apps which can be used to control the PC with a phone.
Features include:
Supports 100% control of the remote devices including screen sharing.
Offers Chat and VOIP features for conferences to business professionals.
Any two devices can establish connection even if they are not on same network.
Facilitates copying of files from one device to another.
Allows users to reboot or shutdown the remote computer.
The TeamViewer app can be efficiently used to control the computer with a phone and can be downloaded from here.
The TeamViewer for PC can be downloaded from here.
2. Kiwimote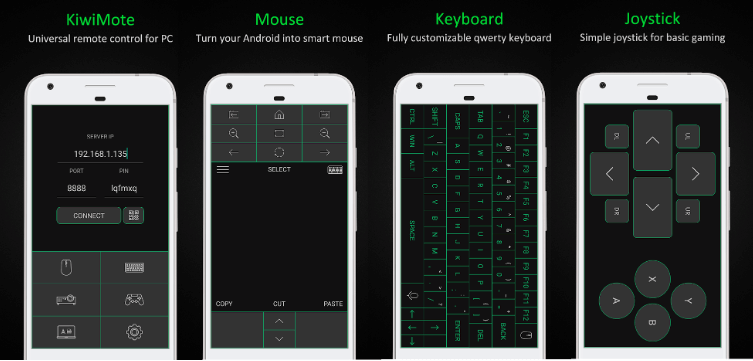 Kiwimote is an android app which allows the user to use the computer's installed apps through an android smartphone but does not allow the user to view the computer screen. To use this app, install Kiwinote on your mobile device and its mirroring application on your PC with a Java Plugin.
Features include:
Built-in interface for desktop applications like VLC Media Player, Windows Photo Viewer, Adobe PDF Reader KM Player and many others.
Its main purpose is to control PC via an android app but consists of a lot of ads to support its existence.
The keyboard, mouse, and gamepad provide an excellent response while controlling the computer.
The PC and Mobile devices must be connected to the same Wi-Fi network.
The connection between both the devices is established by scanning the QR code or by entering a PIN.Kiwinote is free to use application which can be used to control the computer with phone and is available from here.
3. Chrome Remote Desktop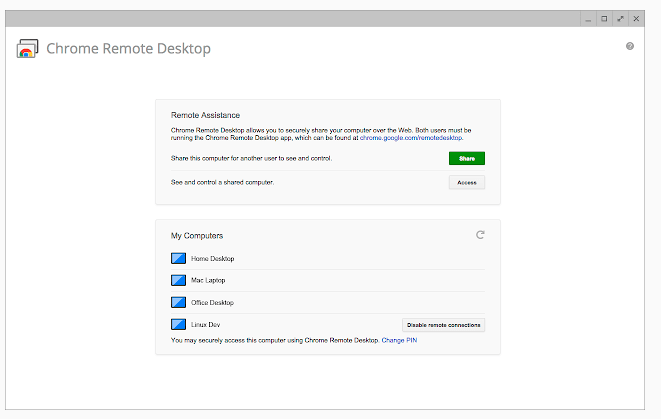 Chrome Remote Desktop is a free-to-use app by Google and hence can be considered as the safest and most trustworthy app in the ocean of Google Play Store. A one-time pass code is necessary to control your PC from Android phones and it also encrypts session using Chrome's SSL.
Features include:
Requires a sign-in into a Google account to be able to use the app.
Simple and easy-to-use app to control PC from Android Phones.
Provides users a view of live screen sharing of the computer and  the ability to control it from anywhere.
Allows users to use the phone's touch screen to control any PC irrespective of its operating system.Chrome Remote Desktop is free to use application which helps control PC via Android app and can be download here.
4. PC Remote by Monect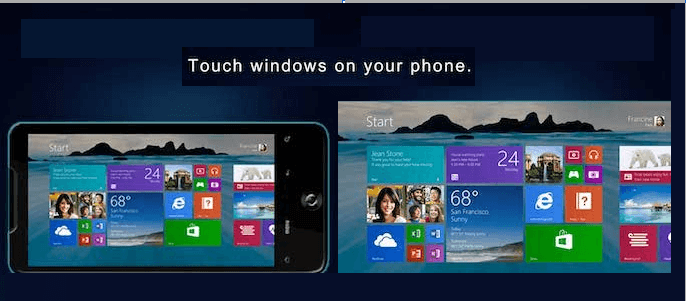 PC Remote is an android app designed with the sole purpose of connecting and control your PC with the android app on any smartphone.One of the most important features, perhaps the reason it was developed for, is the game console which allows gamers to regulate their game play. It has 25 built-in default console games that can be played by launching them on the desktop screen and controlling them from your phone.
Features include:
Connection between your computer and phone is established through  Wi-Fi or Bluetooth.
Users can view the computer's screen in real-time and even control most of the features.
The app provides an in-built keyboard and mouse that gives the user an opportunity to use their PC on small screen.
PC Remote also gives the user the ability to control programs like PowerPoint and Excel.
It allows users to control your PC from Android phones and view all drives, folders and files and open any of them from your android smartphone.
PC Remote is free to use an app with In-app purchases. Click here to download.
5. Unified Remote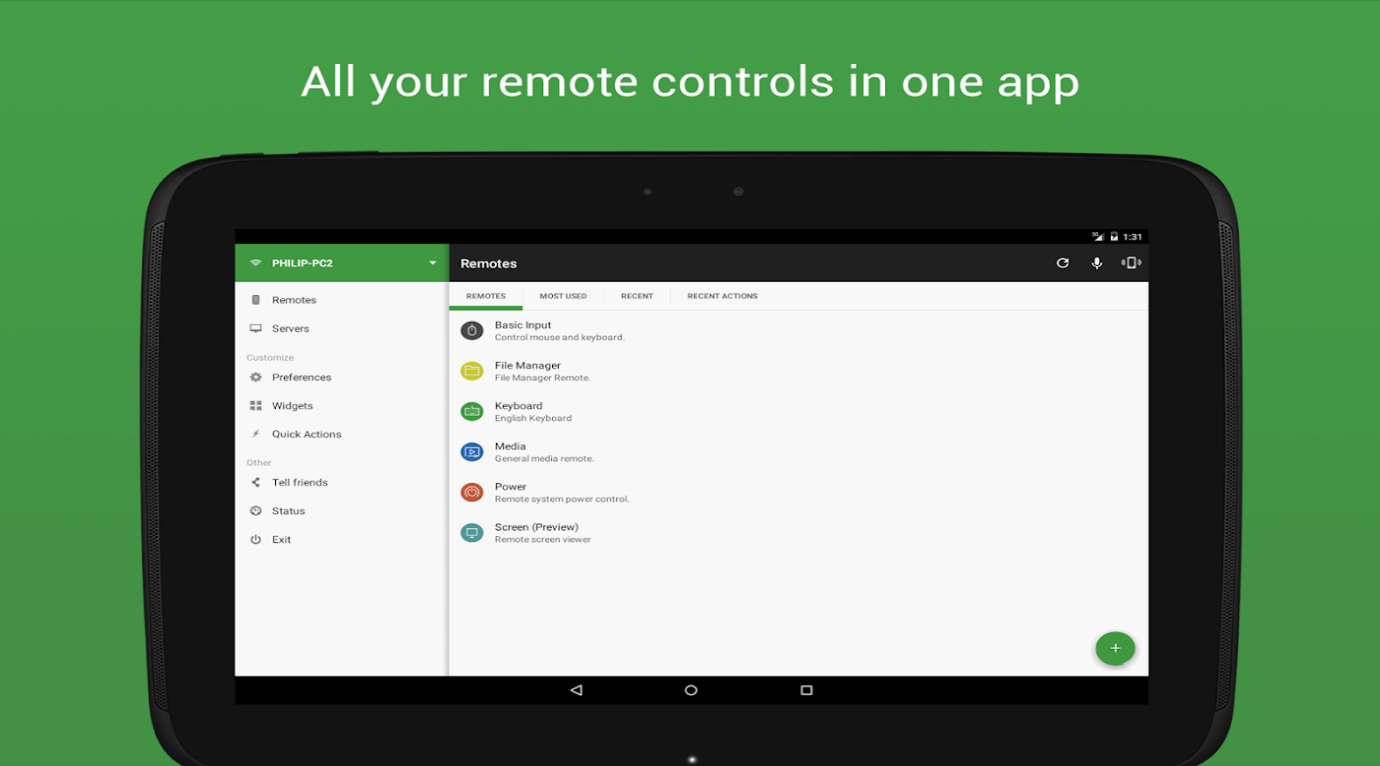 One of the oldest apps developed to carry out a remote between devices is the Unified Remote. Unified Remote converts the phone into a universal remote app thus allowing users to view the computer screen on your mobile.
Features include:
Allows users to control PC from Android Phones via Bluetooth or Wi-Fi
Features include support for over 90 programs which include music and video players, live streaming, presentations, browsers, and others.
Users can  control the PC and use other apps in their Android devices at the same time.
It can also control devices like Raspberry Pi and Arduino Yun.
Supports Windows, Mac and Linux operating systems
You can download the free version of Unified Remote to control PC from phone via WIFI from here.
6. VNC Viewer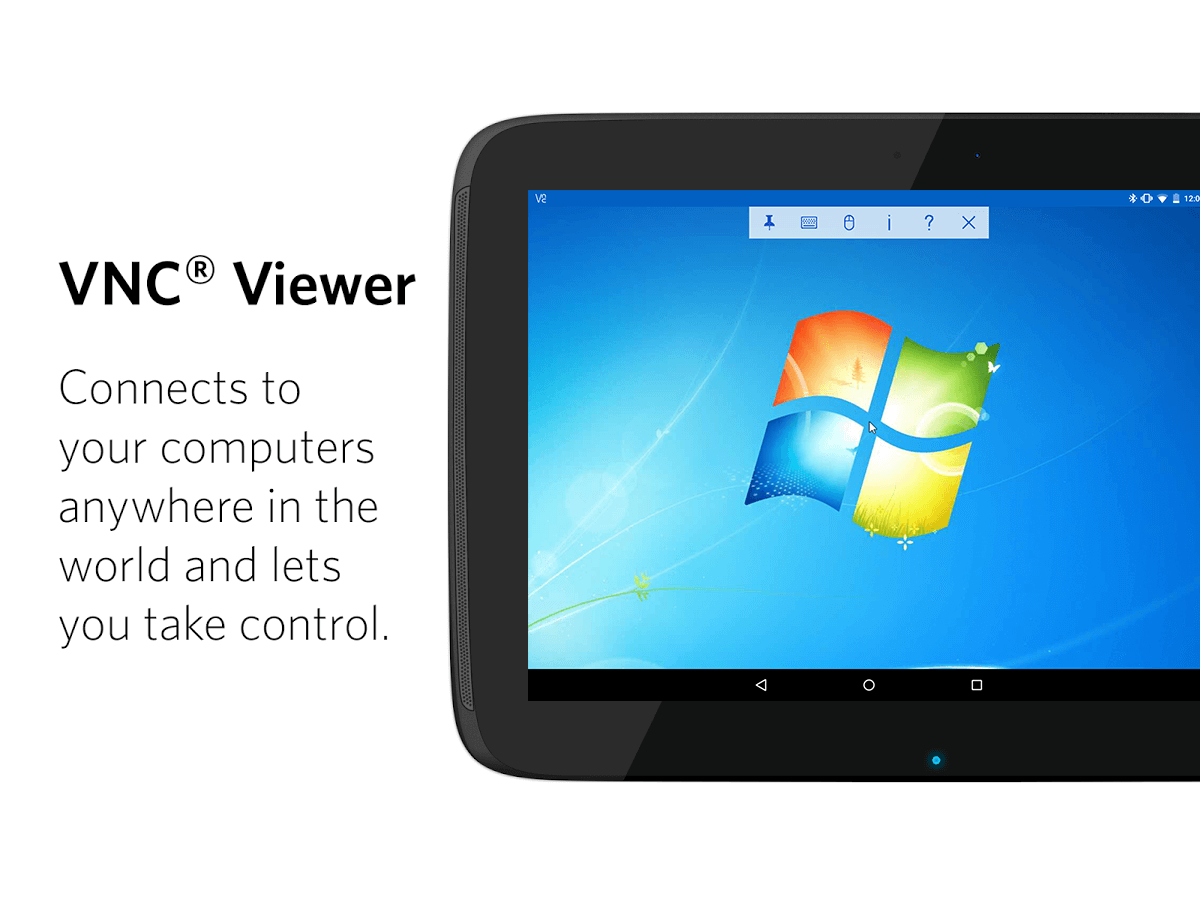 A professional remote desktop tool that allows you to control your PC from Android phones via Bluetooth and by far one of the most used apps for android. It is used for off-site access by IT professionals through their phones. The only limitation to this powerful tool is the premium price it demands for its all-in-one functionality.
Features include:
Supports Windows, Linux, Mac and Raspberry Pi.
Supports Bluetooth keyboards and wireless mouse for easy control,
Offers a cloud-based subscription for home users.
VNC Viewer app to control the computer with the phone can be downloaded from here.
The VNC Viewer server for PC can be downloaded from here.
7. Splashtop Personal – Remote Desktop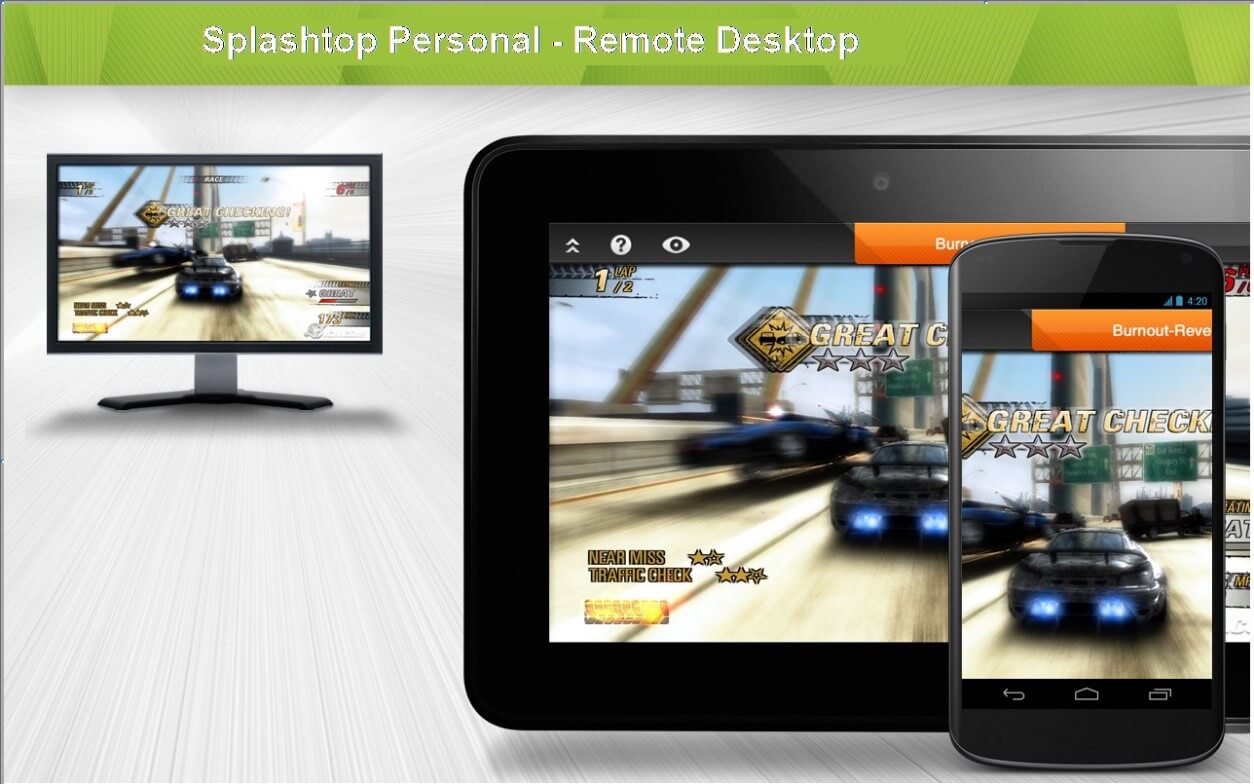 Splashtop Personal is a paid remote desktop app that allows the users to control PC with phone and provides the user experience of the next level.It is generally used professionally by support teams to assist their clients as it boasts of strong encryption and multi-level passwords.
Features include:
Facilitates streaming HD video and audio via remote.
Can connect various devices like Windows phone and Amazon Kindle.
Includes file transfer at incredible speed and print files remotely.
Supports Windows and Mac users only. Linux systems are not supported as of now.
Note: Though it is available in a limited free version, I recommend using the Paid version for a smooth experience.
You can download the Splashtop to control the computer with a phone from here.
8. Remote Link by ASUS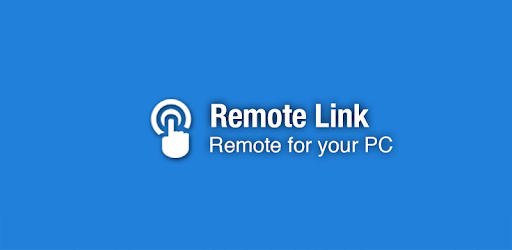 Remote Link is a free Android app that acts only as a remote for your PC. You must install a PC version first in order for your Android device to establish a connection.
Features include:
It allows the users to access the media files and play them for you.
Includes advanced joystick mode which lets users to use your mobile for a better gaming experience.
Supports Windows 10  operating system and connects via Wi-Fi and Bluetooth.
It can also be used as a touch pad remote, a keyboard remote, a presentation remote, a media remote and more.
Note: If you have an ASUS ZenWatch and then connect your PC with your mobile and your mobile with your smartwatch, and you can even control your presentation by using simple gestures on your watch.
ASUS Remote Link app that can be used to control PC with a phone is available from the link given here.
The PC version can be downloaded from here.
9. DroidMote Client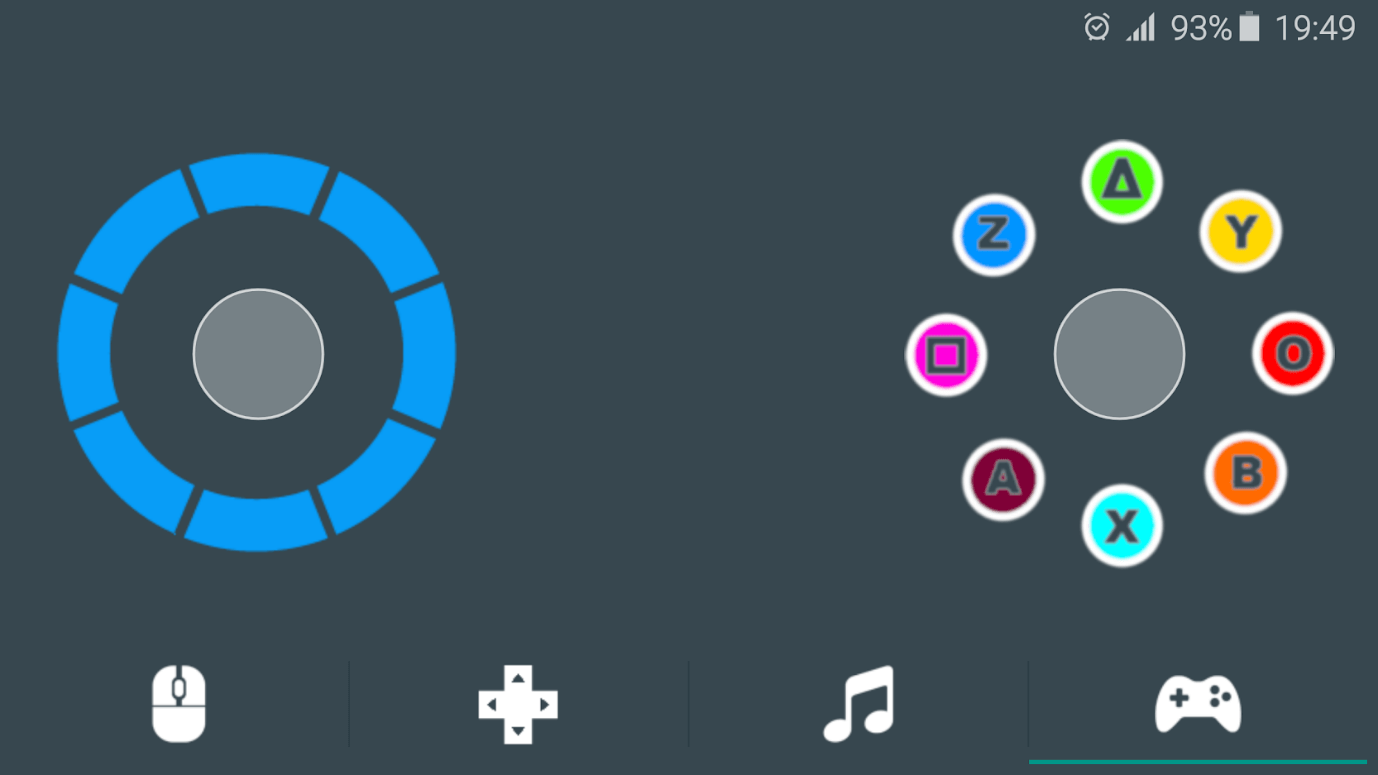 Droidmote is free to install with in-app purchases app designed especially for gamers.
Features include:
Supports multiple operating systems like Android, Linux, Windows, and even Chrome OS.
It also facilitates using all multi-touch games and applications even on smart TV's that do not feature a touch screen.
Droidmote allows the user to use voice dictation by supporting microphones.
Facilitates copy and paste from one device to another.
Droidmote app can control PC from phone via WIFI and is available here.
The Droidmote server for PC can be downloaded from here.
10. Microsoft Remote Desktop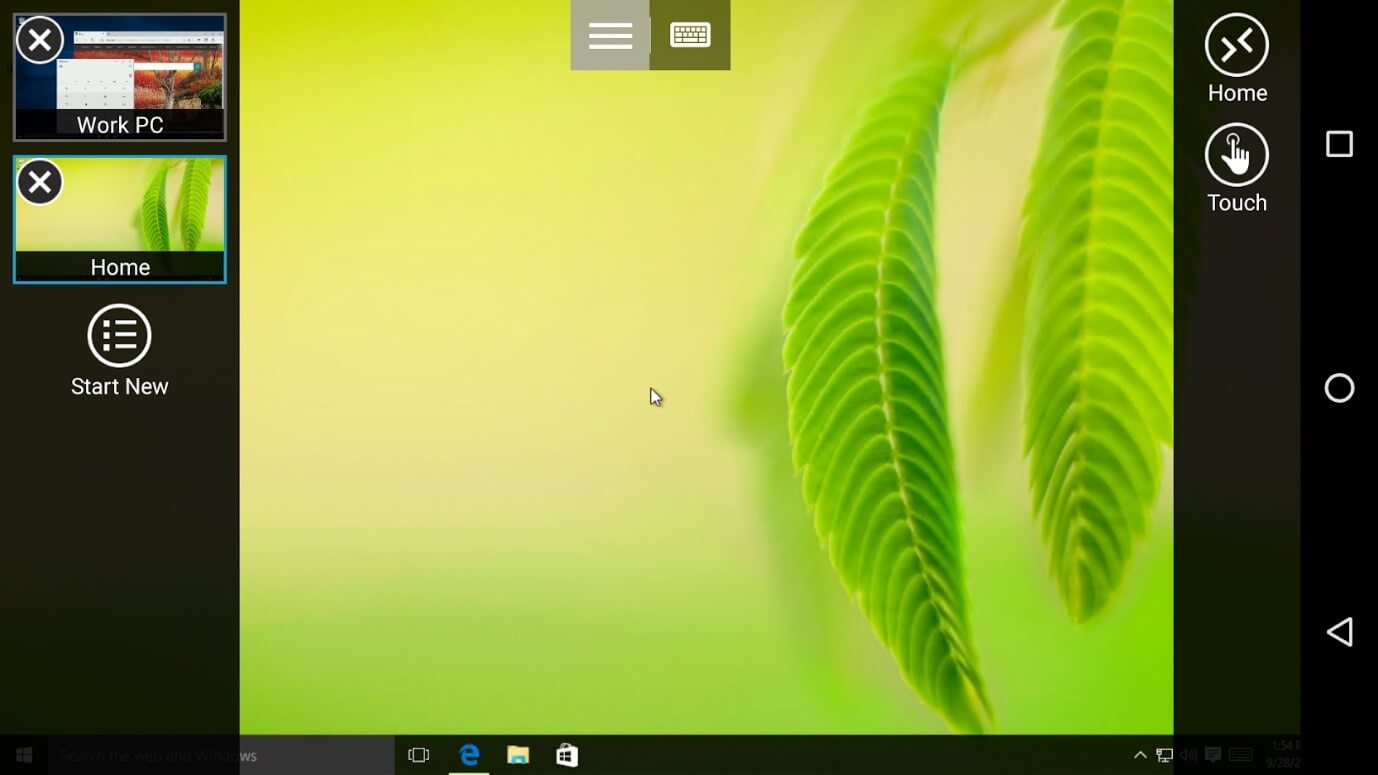 Microsoft Remote Desktop is the best tool for being productive where ever you are. It is truly one of the best software to control PC from phone being developed by the best in the software world.
Includes all the basic features like screen and clipboard sharing.
Allows the users to control remote resources like printers and scanners, provided they are on the same network.
Easy to configure as Microsoft has included the Remote Desktop Assistant on Windows 10 PC by default.
It lacks some evidently important features like file transfer, Chat options.
Microsoft Remote Desktop app which can control your PC with phone can be downloaded from here.
To configure the PC for a connection, download and install the program here.
Next You Can Read:
Best Google Play Store Alternatives
How To Remotely Lock Your Windows 10 PC
Finally…
To connect and control PC with a phone has become an easy task with many apps available on the Play Store. However, it all depends on the purpose of connecting that really matters and is the true factor to decide which app would be suitable for you. If you simply want to view your Desktop screen, then you could go for Microsoft's Remote Desktop app but for games, you could try Droidmote. While Chrome Remote Desktop app is free and very easy to use, Team Viewer, though paid offers the maximum features. In order to select the best app, you might want to install a few of them and try it out one by one for a couple of days before you get the app that was best designed for you. Do let me know your experience with these apps and kindly mention any important ones that I missed out in the comments section below.