Having a dual display can turn out to be of great help as it can boost productivity and will allow you to do multitasking to meet all your goals in time. If you have a second screen at home, be it a laptop, tablet or smartphone, you do not need to buy secondary display because you can easily use your Android devices to get a secondary display.
You must have heard of Duet Display with iPads. Thankfully, this same way can be used for Android devices to act as a dual display and share multiple screens. But, marrying these devices to have a secondary display isn't possible without an app from the Google Play store. Not only this you will need to install the app driver that will help to establish a USB or Wi-Fi connection between both the devices.
Note: Internet connection is not required here, it works another way.
Let's see how it goes.
Duet Display or secondary display was first introduced for iOS devices only in 2014. The Apps were programmed to use iPhones and iPads to showcase secondary display for a Mac or a PC. The same feature is now added on Android devices like Tablets or Smartphones running Android 7.1 and higher. Such types of connections offer 256-bit encryption, monthly updates, and lag-free performance.
Apps that will help turn your Android device into a secondary display
So, far we learned how Duet display will help, but what apps can we use? Here, we enlist the apps that you can use to turn your Android device into a secondary display.
1. TeamViewer Remote Control App
TeamViewer is one of the most wonderful apps used throughout the world to take control of your system or anybody else's system from any corner of the world. Using TeamViewer, you can look at a secondary screen, perform tasks on that screen and give assistance. It is widely used to provide assistance and do you know, TeamViewer app can be used to initiate a secondary display? Yes, it's true using TeamViewer you can initiate secondary display. To do so, simply install, initiate and share remote session ID.
TeamViewer Features
Easy file sharing in both the directions
Best for Screen sharing and remote control of any device
256 Bit AES Session Encoding, Highest security standards
Real-time Sound and HD Video Transmission
Download TeamViewer Remote Control App
2. Chrome Remote Desktop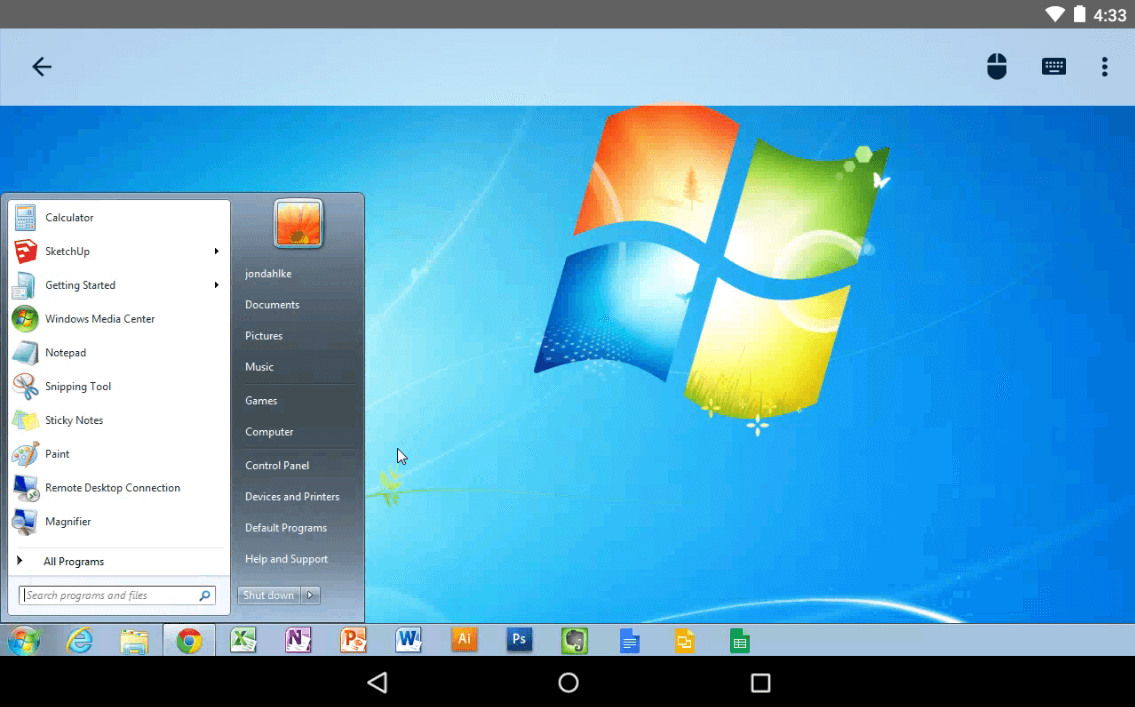 Chrome Remote Desktop is another wonderful app to install on each of your devices to set up remote access. On your Android device, you need to open the app and tap on any of your online computers to connect.
This App works great on a WiFi connection, to access any computer screen and perform multitasking between your tasks. It's a screencasting app to get dual-screen of your computer on your tablet or smartphone and establish a secured connection between your desktop and Android device.
Like other remote desktop sessions, it also allows taking control of your PC using an Android device. Google Remote Desktop is a wonderful app however it doesn't allow you to use separate apps on both the screen. You can control your phone using this App however you can't use your phone as an extended display.
Download Chrome Remote Desktop
3. ApowerMirror – Mirror&Control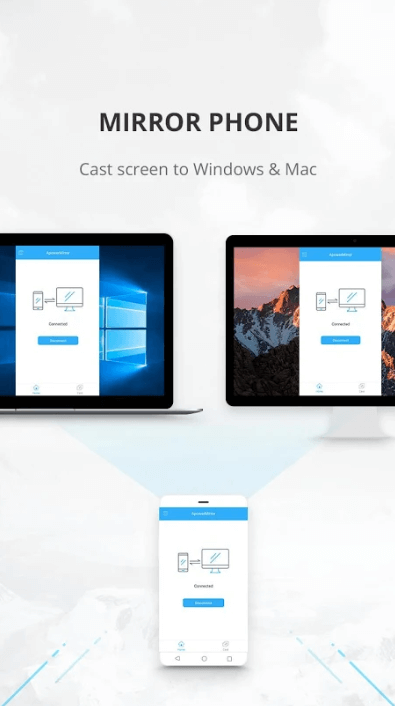 ApowerMirror is one of the powerful screen mirroring apps to stream your Android & iOS screens on a Windows computer or Mac machine. It offers a reverse control to remotely control Android devices on the computer to use with a mouse and a keyboard.
ApowerMirror Features
Control & Mirror your Android Screen
Record & Capture your Phone Screen
Send Message using Keyboard
Get Android Notifications on your PC
Establish a Connection using a USB or WiFi
4. Splashtop Wired XDisplay Free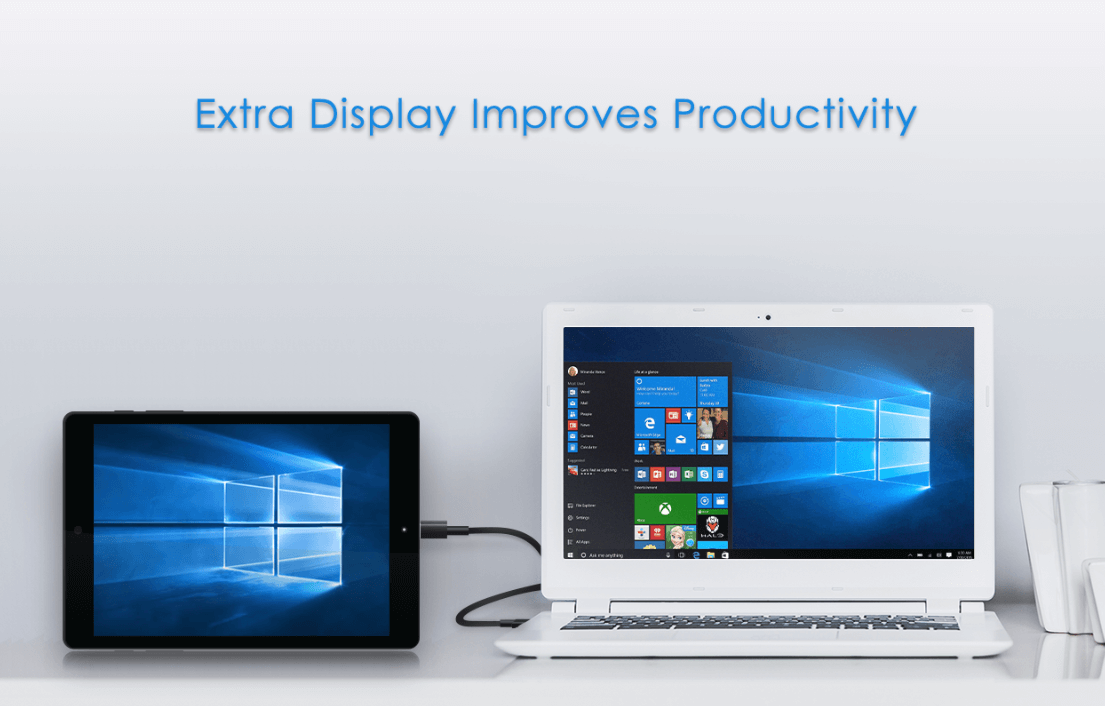 Splashtop is one of the best wired dual display and remote desktop app used by over 20 million users worldwide. It can be used with your Android screen to host multiple screens side by side. You can open multiple screens on your PC and stretch them on to your Android display in portrait mode. The best feature of this app is, it allows to use your Windows applications with a touch of your Android device. That means you can turn your touch screen Tablet to work for your Windows Desktop PC. It comes with a secured wired connection which doesn't even require Internet connectivity.
You can explore the features with a 10-minute free session and if you like it, you can go for a paid Pro version of Splashtop.
Download Splashtop Wired XDisplay Free
5. Spacedesk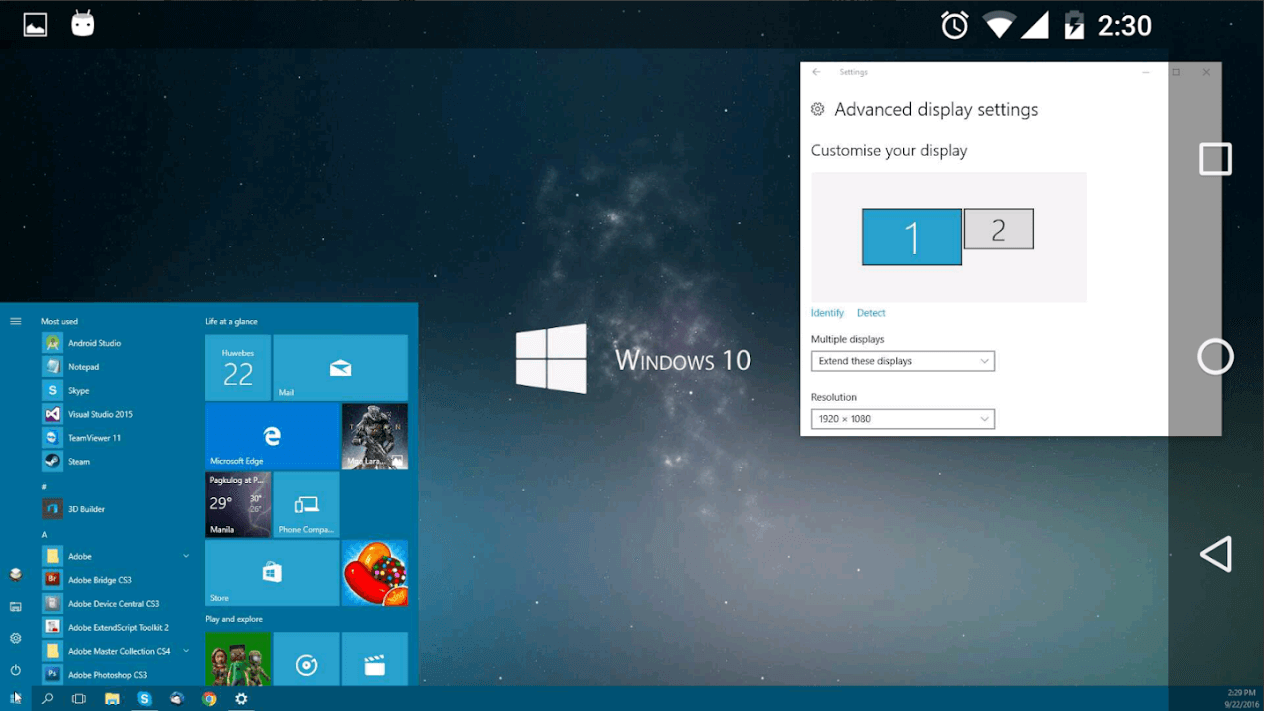 Spacedesk is exactly what we look for to transform the Android device into an additional display monitor for Windows PCs and Tablets. You can use an Android device as a secondary device to mirror your PCs screen and use your computer on smartphones or tablets.
This App is compatible with Windows 10, 8.1, 8 or 7 and supports a dual monitor or multi-monitor features. You can install Spacedesk Drivers from its official website on your computer and the app from Google Play Store.
Summing Up
Taking remote control of your computer using an Android device is a wonderful experience. PC's secondary display on your Tablet allows you to convert your Windows PC into a touch screen display. This dual monitor feature allows you to work on multiple screens of Windows 10 on your PC and Android device simultaneously.
If this article turned out to be helpful to you, please like and share this with your colleagues. For more such tips, tricks and tech-related updates, click on the bell icon to get regular updates from Tweak Library. Do share your thoughts about this article in the comment section.