Good nutrition is important to lead a healthy lifestyle.  Everyone is so busy with their hectic schedule, that they forget to maintain their necessary nutrients intake. 
Our daily life routine is so occupied that instead of a healthy and balanced diet, we prefer junk or ready to eat food.
But despite knowing the results of toxic food, we are still searching for packed foods or head towards a cafe instead of a home-cooked meal.
Consuming unhealthy food will result in an increased risk of obesity, cardiovascular disease and so on. Therefore, a little meal planning could avoid all of this. 
With knowledge of nutritious food and well-eating concepts, we can lead a happy and healthy life. A healthy meal plan can help maintain weight, BMI and cholesterol levels.  
In this dietary article, we will understand the concept of meal planning along with some restorative healthy meal plan apps.
What is Meal Planning?
Meal planning is a process of planning a number of meals for the week. These meals help in providing all the vital nutrients required by the body. Moreover, it also promotes making the best use of time and financial resources. 
Meal planning is a combo of art and science: Art is a skillful blending of texture, colour & flavour, wherein, science is needed when it comes to nutrition and digestion.  
Also Read: Best Meditation Apps
Here Are The Best Meal Planning Apps for Android & iPhone 2023
1. Mealime- Meal Planner, Recipes & Grocery List
Mealime is the easiest way for working professionals, families and busy singles to design their healthy meals. Start with creating a profile, adding food preference and customize the meal plan with suitable taste and lifestyle.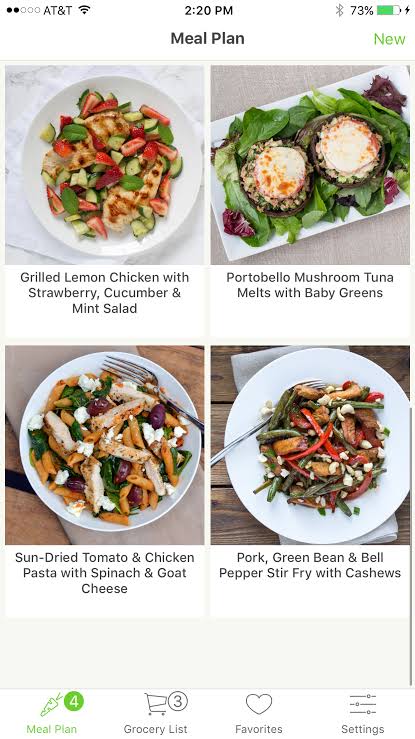 Features of Mealime includes:
You can easily prepare meals with step-by-step cooking instructions without any fuss.

This app enables a minimal-waste meal planner to cook what we want to eat without wasting food.

Mealime automatically generates a new meal plan and a grocery list that you will need for the week.
Android: Download here
iOS: Download here
2. Paprika
Paprika is another tool to organize recipes, meal plans and create a grocery list. This app also offers a built-in browser where you can save recipes from the web. The application is available for both iOS and Android platforms.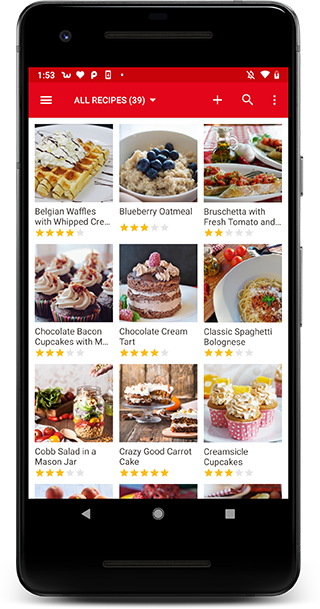 Features of Paprika includes:
This app empowers you to

download recipes from several websites with a single click.

If you don't have an internet connection, you can view your saved recipes.

Moreover, you can store recipes, meal plans, and grocery list by syncing them between all your devices.
Android: Download here
iOS: Download here
3. Yummly
Yummly is a perfect app and website which offers a whole nutrient meal plan along with a bunch of versatile taste and recipes. You can find nutrition information with every selected meal.  This app is available on iOS and Android. 
Features of Yummly includes:
This app helps in step by step cooking, with the help of video tutorial and timers to simplify your cooking time.

You can create a collection of favorite recipes with a tap of "yum" button. Moreover, you can view them while cooking or grocery shopping.

Additionally, schedule the desired recipe according to your time and need in the built-in calendar.
Android Download here
iOS Download here.
4. Eat This Much
Eat This Much app offers a vital combination between a calorie counter and a meal plan. You can easily customize your meal with the information of calories. Apart, you can also add personal data including your weight, height and health goals.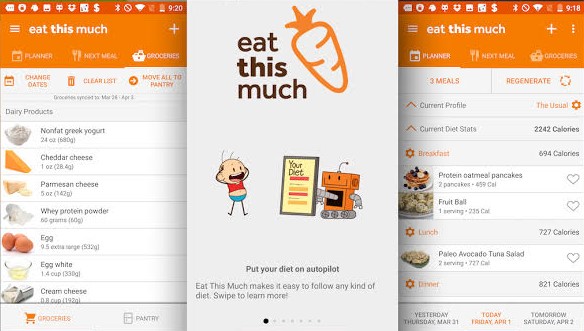 Features of Eat This Much includes:
You can target application set up by weight loss and

muscle/bodybuilding according to your preference.

You can also filter the recipes based on likes and sensitivities including gluten-free

Moreover, create your eating style and select from paleo, Atkins/keto, vegetarian, vegan, and Mediterranean diets.
Android Download here
iOS Download here.
5. Lose It!
Lose it! is a calorie counter application to help in reaching weight loss. You can easily set up your personalized goals and plan the workouts. This app calculates the daily calorie on the basis of personalized meal plans.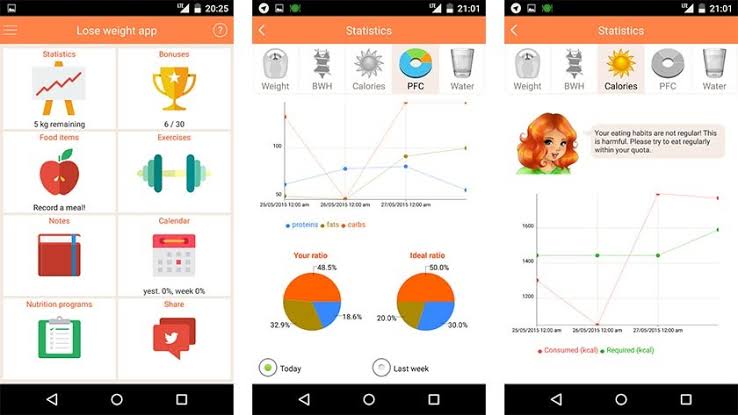 Features of Lose it includes:
With the help of this app, you can personalize your weight loss plan with customized breakfast, lunch, and dinner.

You can also track basic nutrients and calories such as

water, sugars, proteins, macros, measurements, and sleep cycles.

Additionally, this app also empowers fitness app synchronization with devices like Misfit trackers, Garmin trackers, Google Fit, Healthkit, Withings scales and more.
Android: Download here
iOS: Download here.
What is the importance of Meal Planning?
If meal planning is done accurately, it encourages buying the necessary groceries instead of buying frozen food or ready to eat items. Most people have a habit of buying extra food than required. If we are cooking meals ahead of time, wastage of food will be less with fewer leftovers. Moreover, if we stick to our meal plan than every purchase will contribute towards a healthy lifestyle and goals.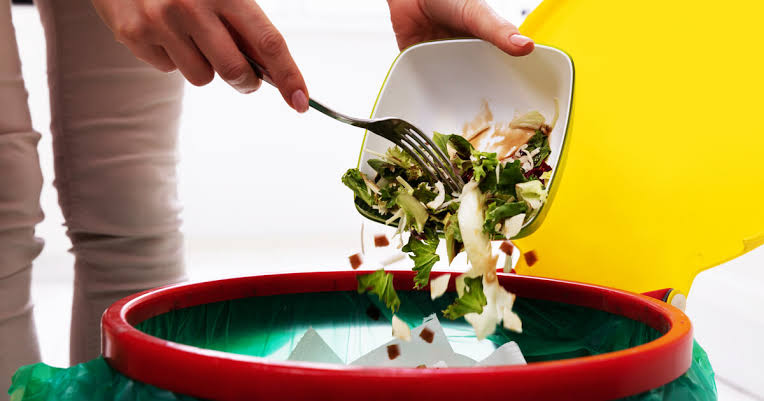 By accurately, decide what to eat for breakfast, lunch, and dinner, it will save you time and energy. If you have a planned menu written and pinned on the fridge, you are enough organized about cooking a meal, rather than finding something in the last minute. Furthermore, instead of cooking carnival feast, try easy recipes that don't need a lot of prep time or if you hate cooking!  
A perfect meal will always give you healthy ways to eat nutritious food. If you are consuming good diets and various meals, there are high chances to reach fitness goals. So, planning a meal diet can help you in various ways if you are choosing it correctly.
Final Word
Losing weight is always a tough goal to achieve. But this task can be easy with a little technological help. Numerous ways and means are available in the market to ease your pain in diet plan and weight loss with different features and plans to improve your physical health. We have created the above list of apps along with the importance of meal planning to reach your personal goals. We would like to know about the diet plan and system that works for you in the below comment section. Don't forget to subscribe to our newsletter.