Chronic stress is becoming a national epidemic for all genders and ages. Therefore, it's high time we think about it seriously. The stress problem persists across all genders and age groups. People are living a stressful life. Hence it is a must to keep stress in check.
It's better to find the solution nearby, then to consult a psychiatrist, right?
Where Smartphones are responsible for life stress they can be a savior too. Generally, we all start and end our day with a smartphone. This means we can use it to relax our body & soul too. But how?
Let's discuss this and know about the best meditation apps for iOS that can help relieve mental stress. It includes best free meditation apps and paid apps that you should try in 2023.
Also Read: 10 Best Health & Fitness Apps for iOS
Best Meditation Apps for iPhone for 2023
1. Calm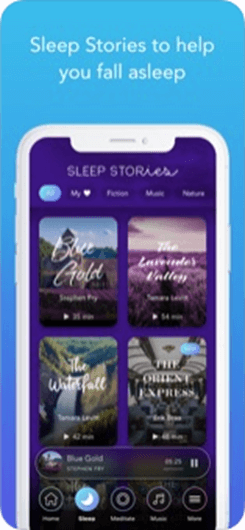 Calm is the first app in the list of best meditation apps for iPhone. It brings sound sleep, meditation, and relaxation to your life. This smart solution is trusted by millions of users around the world. It covers multiple important mindfulness topics including deep sleep, managing stress, calming anxiety, focus & concentration, happiness, and more.
Features of Calm
Here, you will find a special 10 minutes program that can be added to your day to keep it stress free.
It offers special 7- and 21-days mindfulness programs to deal with different needs of beginner and advanced users.
It offers audio classes from world-renowned experts to bring a change in life.
30+ soothing nature sounds and scenes that you can use during meditation.
2. Buddhify
Try Buddhify to bring calmness, clarity, and kindness to your life. It not only helps reduce anxiety & stress, but it is also a useful tool to make your night sleep trouble-free. If you don't get time to attend formal meditation sessions every day, then Buddhify comes as a better solution.
Features of Buddhify
It offers over 200 meditation sessions to keep your life free of stress and anxiety.
It offers various mindfulness exercises for different categories including at work, traveling, eating, waking up, and more.
It offers in-app purchase option where you can find a range of additional features.
3. Sattva Meditations & Mantras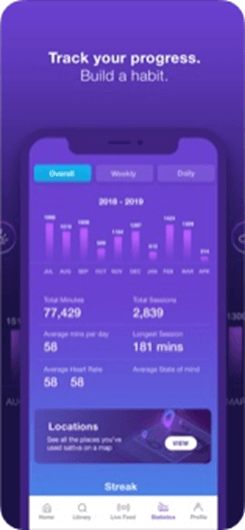 Sattva brings sacred sounds, music, meditation, and more from Sanskrit scholars who are masters of inner peace and meditation. One such master is spiritual leader Sri Sri Ravi Shankar, a thought leader in yoga and meditation. Here, meditation sessions start from 6 minutes which could be scheduled as per self-goals and reminders. Being one of the best free meditation apps, Sattva brings a lot of useful features.
Features of Sattva Meditations & Mantras
It offers curated collections and playlists to help you streamline meditation process.
It has released "Meditative Wisdom" collection to soothe your mind & body.
It offers 100+ guided meditations and sacred sounds to heal your mind & body.
4. Stop, Breathe & Think
This best meditation app for iOS brings meditation and mindfulness to build confidence and emotional strength. It helps deal with all the ups & downs in life and makes you stronger than ever mentally. It allows you to adopt unique approach to deal with mental imbalances, emotional breakdowns and more.
Features of Stop, Breathe & Think
It helps reduce anxiety by 46% when used regularly. It offers features like meditation timer, guided meditation, breathing exercises, and more for all age groups.
It offers meditation, breathing exercises, and soundscapes for better sleep.
It allows you to monitor your mood & progress based on various parameters.
5. Insight Timer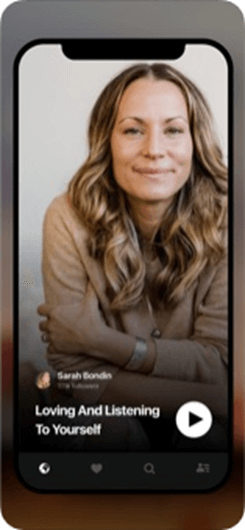 Try this best free meditation app for iPhone to bring calm in your life. It offers guided meditations and talks from world-renowned meditation and mindfulness experts. It offers calming music tracks for meditation from world's renowned artists.
Features of Insight Timer
It offers thousands of guided meditations and mindfulness activities to achieve self-goals.
It allows you to follow your favorite teachers on the go.
It sets milestones and shows stats to help you track progress.
Integration with Apple Health Mindful Minutes.
6. 10% Happier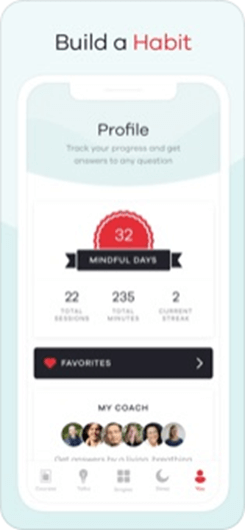 If you want to balance your work and personal life, then you should choose this app. It offers guided meditation, sleep content, motivational videos, talks, and more for meditation practice. You can use this smart solution to bring calm and happiness back into your life.
Features of 10% Happier
It offers huge library of over 500+ guided meditations on multiple topics to keep you anxiety free.
It offers short & quick stories to stay you motivated all the time.
It adds up new content every week to offer more options to you.
7. Breethe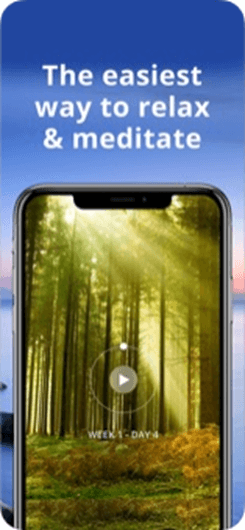 With Breethe, you will find the best mindfulness coaches guiding you step by step. This is one of the best free meditation apps that offers easiest way to relax and meditate. It offers hours of soothing music to calm your stressed mind. Use this app to de-stress and sleep better for effective results.
Features of Breethe
It offers hundreds of guided meditations and series to help you deal with bad times in your life.
It offers alarm clock and morning meditation sessions to start your day in the right
Here, you will find full 12-week program to learn how to meditate and bring calm into your life.
So, these were few best meditation apps for iOS you should try in 2023 to bring calm & happiness in life. Try these smart apps and feel free to share your experience in the comments below. If you know more such apps, then don't forget to share. We will try to add them into the list as well.
Follow Us: