There is more stress & anxiety in people's lives today than ever.
Mental stress and poor health habits are spreading like an epidemic around the world. People are burdened with work, social life, family life & personal life issues. Due to all these pressures, the fitness of an average citizen is affected negatively.
Knowing this fact, it becomes important to start setting & tracking fitness goals to avoid serious health issues in your life. To do this, best health & fitness apps come as an effective solution. Let's discuss how these apps could help you deal with various health & fitness issues efficiently. Here, we have covered both free fitness apps and paid apps that you should use in 2023.
Also Read: Best Meditation Apps
10 Best Health, Fitness & Workout Apps for 2023
While there are tons of health & fitness apps available online, it was tough to select 10 best apps for you. Despite that, we did thorough research and tried these apps before listing them here. Let's discuss what these apps have to offer you and what makes them the best health and fitness apps for iOS. .
Apple Health App
The newly designed Health App consolidates useful data from various sources including your iPhone, Apple Watch, and third-party fitness tracker apps that you already use. It is a useful feature of the app that helps view and track all your health progress in single convenient place.
It allows you to view long-term trends or daily details to help make health & fitness schedule accordingly. Health App is one of the finest fitness tracker apps for iOS that works on machine learning to gather data and determine important metrics that matter most to you.
Features of Health App
Working on machine learning, it helps view and monitor health information effortlessly.
It sets instant alerts for complexities like unusual heart rate, excessive noise exposure, and more.
It offers detailed charts for easy tracking. Here, you can track our blood glucose levels, heart rate, weight, and more.
With its new cycle tracking feature, you can log your period details using your iOS device. Here, it will help you predict your next period or fertility window.
Calm
Next in the list of best health & fitness apps for iPhone is Calm. This is a preferred app for sleep monitoring, meditation, and relaxation. This best free fitness app  is trusted by millions of users around the world. It comes loaded with multiple useful features like guided meditation, breathing programs, sleep stories, relaxing music, stretching exercises, and more.
This powerful health app is recommended by health & fitness experts from the industry. Using this best mindfulness app, you can make good use of numerous mindfulness topics including calming anxiety, deep sleep, managing stress, happiness, gratitude, and more.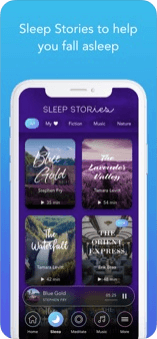 Features of Calm
It offers multiple mindfulness topics to keep you calm and relaxed.
It adds 10-minute program every day to help you stay calm throughout the day.
It offers 7- and 21-days mindfulness programs for beginner and advanced users.
It offers masterclasses from world-renowned experts.
WaterMinder
WaterMinder is next best fitness app for iPhone that is featured in multiple well-known publications. This simple and intuitive app tracks your water intake. It reminds you to drink water based on your body weight or personal goals. You can use this smart solution to keep your body hydrated. It offers in-app purchase option to help you avail multiple useful features of this amazing app. It allows you to create custom cups based on size, color, icon, and drink type to track total water intake.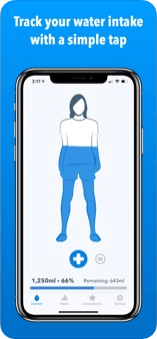 Features of WaterMinder
It offers 50+ characters to reflect your hydration level.
Here, you can create custom reminders so that you should monitor water intake effectively.
It displays history and graph to help you monitor your progress.
In other features, it offers today widget, dark mode, Apple health sync, iMessage stickers, and more.
Meditopia
Meditopia is next best free fitness app that offers the easiest solution to deal with stress. It helps stay calm, reduce stress, find peace, sleep well, and start a new life experience. It offers numerous helpful meditation sessions in quality audio in Spanish and English. You can use this best fitness and health app for iPhone to learn to meditate and stay calm in stressful situations.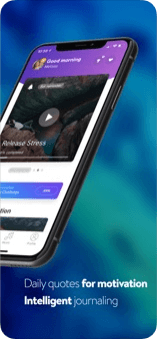 Features of Meditopia
It allows you to set the timer to meditate and listen to music to relax with soothing nature sounds.
This smart app integrates with Apple Health App to offer seamless user experience.
It offers multiple meditation modules to deliver best results during different times of the day.
It offers 250+ meditation sessions in high-quality audio.
Sleep Cycle
Sleep Cycle tracks your sleep pattern and helps get a good night's sleep. Using this smart health app, you can stay healthy while getting sound sleep at night. This smart fitness app provides you intelligent solution to start your day with full of energy. It offers intelligently designed alarm clock to wake you up when you are in your lightest sleep phase. Sleep Cycle is available for free and offers in-app purchase option. Sleep Cycle is integrated with Apple Health App to track sleep analysis and heart rate.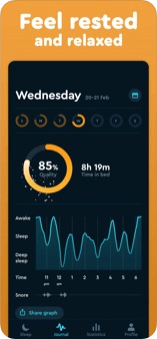 Features of Sleep Cycle
It works on patented sound technology to monitor and analyze your sleep pattern.
It displays sleep graphs and detailed sleep statistics to help you monitor how much you sleep in a day.
It offers carefully selected alarm melodies which you can snooze by double-tapping on device or shaking it.
It offers customized wake-up window from instant to 90 minutes.
Yazio
Yazio is best nutrition tracker and meal plan app for iPhone that offers tons of useful features to keep your overall health intact. With its calorie counter feature, you can manage and track your daily food intake, track your activities, and lose weight effortlessly. Yazio offers smart module to help you count calorie intake and lose weight in a seamless manner. You not only use this powerful free fitness app to lose weight, but it also helps build muscles and gain weight when needed. This top health app is trusted by millions of users.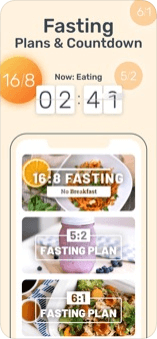 Features of Yazio
You can use this powerful health & fitness app to lose weight or build muscles.
It offers calorie table with information of over 2 million food items.
It helps monitor your carbs intake, calories, proteins, and fats for better lifestyle.
Its weight tracker documents your weight gain or loss to give you information in real-time.
In other features, it offers nutrition tracker, today widget, 3D touch feature, Watch app, and more.
Zova
Zova offers expert coaching you can trust. This is one of the best free workout apps that offers relatable and trustworthy coaching from the world's renowned fitness experts. It is available for free for 30 days and offers in-app purchase to help you explore full features of this app. You can tune into its Health+ every week to learn how you can stay healthy and happy. It offers courses that are life-changing and offers masterclasses from experts.
Features of Zova
It offers effective workout program to help you lose weight, tone muscles, feel strong, relief stress, increase agility, increase mental focus, and more.
It offers 500+ workout library and stretch & yoga library separately.
It allows you to connect Apple Music and Spotify to offer enhanced user experience.
It offers effective calorie tracking to make your body fit & healthy.
Google Fit
Google Fit is one of the finest free workout apps for Android and iOS. It coaches you to a healthier and more active life. With Google Fit, you can set and achieve your fitness goals effortlessly. It offers customized coaching actionable tips to keep you healthy and fit. It offers activity history to help you monitor your health status. It integrates with various third-party apps to give you holistic view of your health & fitness.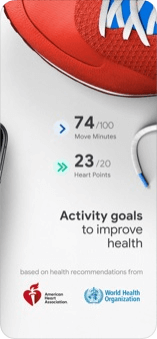 Features of Google Fit
It helps set & achieve activity goals for better health & fitness.
It displays you move minutes when you are moving instead of sitting. Thus, you can earn more move minutes to stay healthy.
It gives you heart points for moderately intense activity. Here, you get double the points when you do more intense activities.
It is available for both Android and iOS.
Insight Timer
Insight Timer is good meditation and wellness app. It helps you deal with sleep disorders and anxiety issues effectively. This powerful meditation app brings some of the best features to keep your life free of stress & anxiety. Here, you will find guided meditations and talks by global leaders in meditation and mindfulness. Insight Timer is trusted by millions of users to deal with health and mental issues.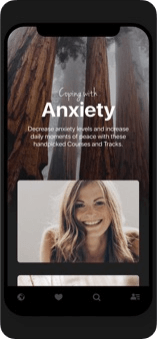 Features of Insight Timer
It offers numerous meditation modules to help you deal with various issues.
Here, you will find thousands of ambient sounds and music tracks to calm your mind and body.
For quick solution of your problems, you can discuss it in groups and communities.
Withings Health Mate
Health Mate is last in the list of top 10 health & fitness apps you should try in 2023. It helps you deal with weight, sleep, blood pressure, and other physical issues. You can use this smart solution to create a healthy lifecycle while making good use of your time. It offers you multiple modules to coach you how to live a healthy and better life.
Features of Withings Health Mate
It collects data from multiple devices to track your moves & activities to keep you updated about your fitness.
It sends you various details about your heart health including heart rate, blood pressure, pulse wave velocity, and more.
It helps set and monitor sleep cycles for sound sleep at night.
So, this was a detailed review of 10 best health & fitness apps you should try to stay fit in 2023. Do try these apps to stay healthy and fit. Also, share your experience trying these apps in the comments below.
Follow Us: