Table of Contents
Despite the human brain is a fantastic creation of god that can create things beyond imagination, it fumbles when it comes to remembering passwords or any piece of information that combines letters, numbers and other characters.
Keep Your Options Open!
Knowing the fact that you have tons of email accounts, several debit and credit cards and other critical details, how many passwords, account details or other pieces of information can you remember. That's where password managers like 1Password come into the scene and for good!
But, as every good thing comes with a catch, 1Password is no different. For instance, 1Password might soon move to cloud (SaaS). This means it won't have a local storage vault and users will have to save their crucial confidential credentials on the cloud. This cloud is accessible by a third party. If that scares you a bit, you might be in search of 1Password alternatives.
There are some great 1Password alternatives out there which in the first place, lets you keep your confidential passwords and other such information locked, right on your local machine and these come with tons of other features as well –
Make Password Management Easy With These 1Password Alternatives
1. TweakPass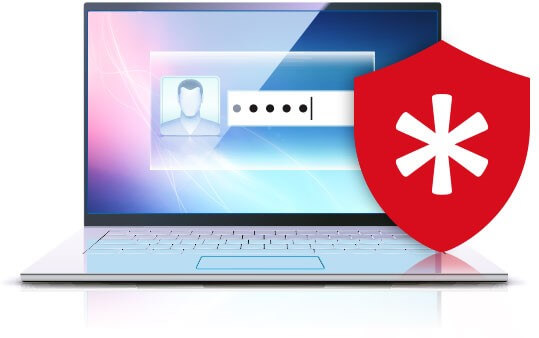 If you are looking for a 1password alternative, TweakPass is a great password manager that you should definitely consider. It saves all your passwords in one place. It provides you with a secure password vault that keeps your passwords and other critical details away from intruders.
Here are some of the key features of TweakPass – Excellent password manager
Lock password vault containing all other details with a master password
Easy to use interface
Auto fills saved stored in the password vault to make login smooth
Secure Noted to save details like billing information, credit/ debit card details, and other personal information
Access your passwords while on the go with the help of Android application
Password generator lets you generate complex passwords
One of the cheapest 1Password alternatives.
Prompt customer support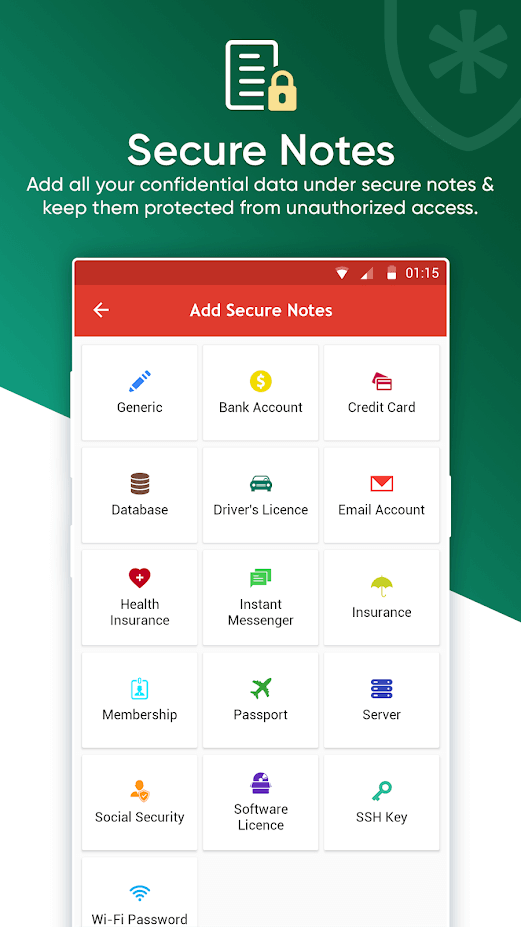 2. LastPass
LastPass another fantastic 1Password alternative that is available both as a desktop application as well as an app. They say numbers speak for themselves – LastPass is trusted by over 16 million people and more than 50000 businesses. And, if that doesn't entice you, then the below mentioned features would –
Easy to setup and user-friendly interface
A master password is required for a single password vault that contains all the other passwords (with the premium version you can save unlimited password)
LastPass premium offers features like tech support on priority, 1 GB encrypted file storage
Local-only encryptions ensures that your vault is kept secret and not even LastPass is able to see it
You can choose from options like sign-on and multi-factor authentication that combines biometrics and contextual intelligence both
3.  Dashlane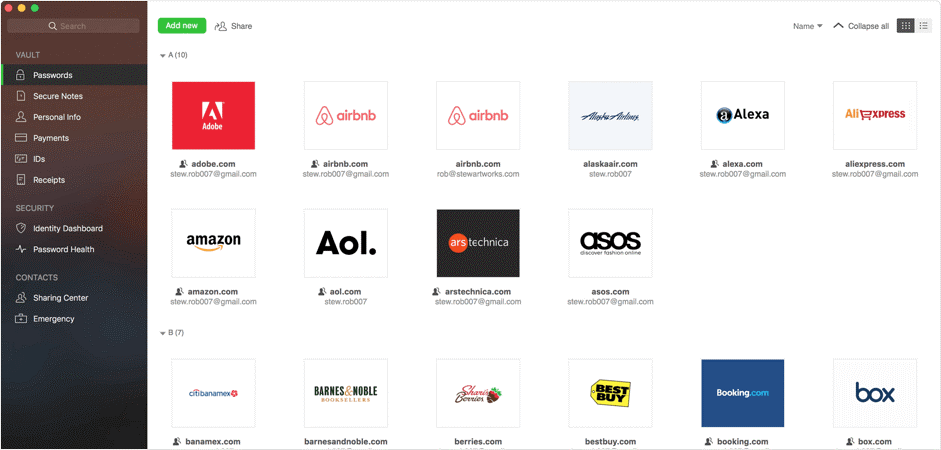 Coming at number four, Dashlane does make a great contender as a 1Password alternative. Again, Dashlane is a password manager which doesn't need an introduction. On the outset, you only need to remember a one time password that acts as a master password for your vault. The features of Dashlane include –
Dashlane is powered by military grade AES-256 encryption which is why it is one of the most secure password managers available
No nonsense, simple yet powerful and slick interface – it is sorted into three clear sections, namely, digital wallet, password manager and form auto filler
Automatically adds the passwords of your logged in sites to its database and then further, automatically logs you into websites
It's completely free – when you use it on a single device. For a few extra bucks (Approximately $ 30/ year) you can sync passwords and other details across multiple devices
Dashlane gives you the facility to track online shopping and therefore doubles as an online password manager as well
It offers multi-factor authentication. On Android device you can even use fingerprint to log into the app
4.  Bitwarden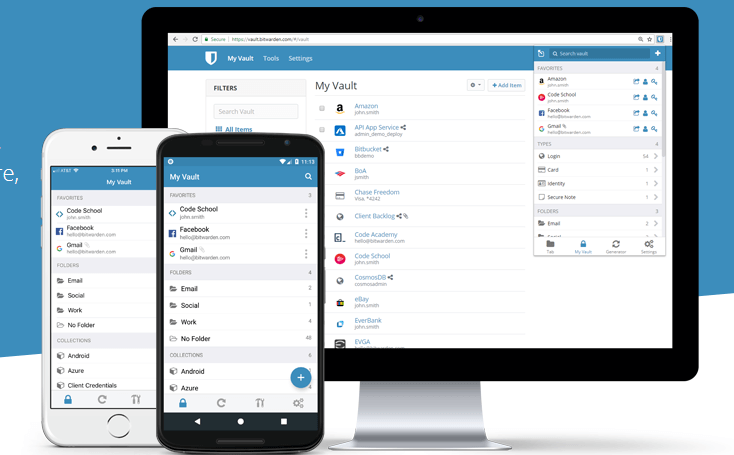 Bitwarden is a great open-source 1Password alternative which easily fixes password management issues for business, individuals, teams and organizations alike. It comes with the following features-
Powered by the end to end AES 256-bit encryption, PBKDF2 SHA-256, and salted hashing. No doubt it is one of the most secure password managers available and a fantastic 1Password alternative
The Bitwarden password vault is optimized for laptops, desktops, tablets and other devices
Can be accessed across Windows, Mac, and Linux desktops
Bitwarden is available as an application on both iOS and Android – you can even manage passwords on the go
Bitwarden can be integrated as an extension on almost all major browsers including Brave and Tor
Using powerful command-line tools you can write and execute scripts on your password vault
Bitwarden can also be used as an online password manager just in case you don't have any devices available and if you have to use someone else's computer
In The End
There are several other 1Password alternatives available, but the ones mentioned rise a notch above the rest and are therefore the best password manager 2019. Do you agree with us? Or, want some other 1Password alternative to make to the list. Mention it in the comments section below. For more fun tech related content, keep reading TweakLibrary and do subscribe to our YouTube channel .