Have you downloaded an extension and seeing a bunch of unwanted tabs opening? Are you constantly being redirected to websites? Browser extensions look so harmless, yet there are times when you could be at the end of impending danger. When you install chrome extensions, you probably don't give a second thought, do you? But, do you know that you are giving the developer of a particular extension permission to have access to your browser and needless to say, your data is being watched.
We aren't scaring you or asking you to not install Chrome extensions, what we are asking, is to practice a little caution, that's it. And, how can you do that? Needn't scratch your head, all you got to do is stay with us till the very end.
Chrome extensions fantastically improve a user's functionality by providing minimal interface and ease of access. They have been created to enhance your browsing experience and needless to say, they are trustworthy.
Use An Added Layer of Protection When You Use Chrome Extensions
If an intruder would want to get into your Computer, he could as well, through your browser. It won't matter if the extension carries a tag of google. As a matter of fact, there are various popular extensions that have caught the eyes of skilled cybercrooks and have been trojanized in the past. If one such cybercrook gets his hands on the open source code and then he would wreak havoc on your security.
But, if you have an added layer of protection in the form of a third party antivirus like Advanced System Protector, any malware or unwanted adware will have to think twice before entering your browser or even your computer.
Measures To Exercise When Installing Chrome Extensions
 Even though Google scans every Chrome extension before putting it on the web store, there are still some malicious extensions that double up as malware or hide anything more sinister. You must, therefore, exercise care when you install Chrome extensions.
The Initial Glance – First Step When Installing Chrome Extensions
 Chrome extensions are fun to have. They are interactive, make you do things with ease, for instance, they pop up information just like that or even make your online editing simple. That's all true, but you should know what for do you need an extension. You should also make it a point to go through the "Overview" section (at the top) or even "additional information" (at the right-hand side).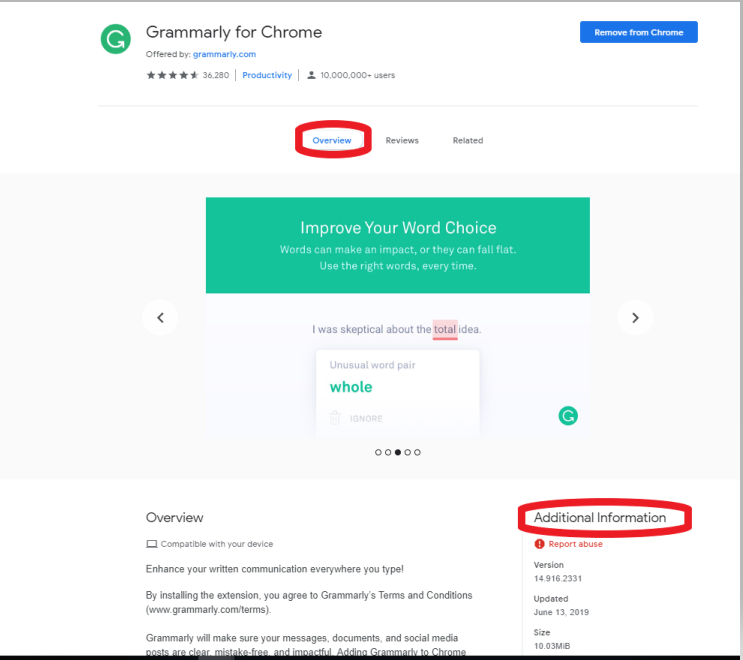 This will ensure that both the developer of the extension and the extension itself are legit. You can take a step further and even visit the developer's website.
Once, everything looks okay and you hit the "Add to Chrome" make sure you pay heed to what permissions you are giving the extensions.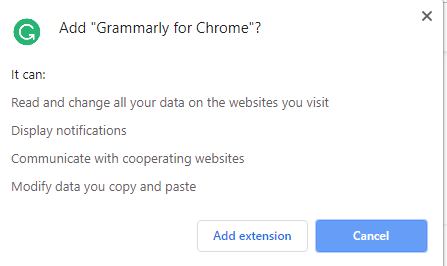 Also Read : How To Remove Page Time Search Chrome Extension
Check The Ratings And Reviews Of The Extension
If an extension is bogus, you'll see tons and tons of negative remarks being showered on the extension and needless to say, its rating will also be bad. On the contrary, an extension like StopAll Ads, as is visible has a brilliant rating and has positive reviews. The reason is so evident as it efficiently removes unwanted and irrelevant ads and content and even blocks malicious malware and ostensible or deceiving ads.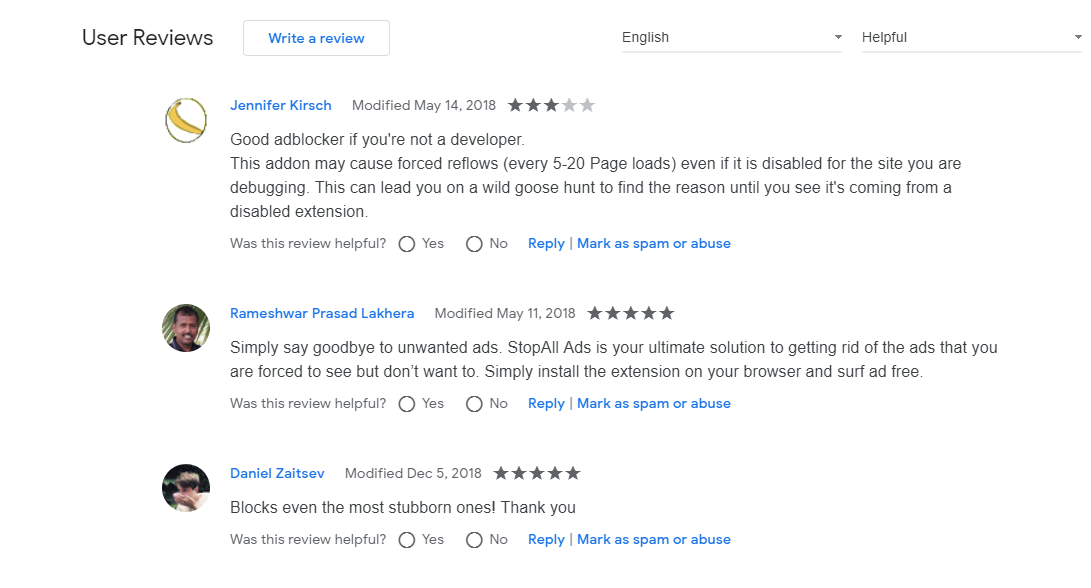 So when you install Chrome extensions make it a point to read the reviews so that you can as well learn from the experience of other users.
Use Few Good Extensions Instead of Populating Your Browser With Many
Just as too many cooks spoil the broth, too many extensions may prove to be intrusive and invite hackers to spoil your browsing experience. Also, why would you install hundreds of extensions when your web browser can do the job for you? For e.g. why have an extension to manage your tasks when you can do the same using your own browser?
Final Thought
Chrome Extensions, undoubtedly have a huge fan base and they need to be lauded for the way they make our life easy through their functionality. Having said this, you just need exercising little caution to keep malicious programs at bay.
Also Read: 20 Best Google Chrome Security Extensions