Table of Contents
To create a blog on a platform that is more like a user's delight, you should always look for WordPress. This powerful content management system (CMS) offer tons of useful features & functionalities to make your blogging experience seamless.
The benefit of choosing WordPress as a preferred CMS for your blog isn't limited to enhanced security but it also offers astonishing beautiful themes, it is mobile, SEO friendly and offer numerous other useful features.
Once you are on this platform, you can expect the most advanced features no matter you are looking for better security, functionality, or user experience. While this platform is not limited to creating a blog, you can also use this WordPress to build any kind of site you want to, be it a business site, portfolio, or anything else.
WordPress offers multiple plans for different users including personal, premium, and business plans for different needs. Let's first discuss how to start a WordPress blog for free following a few simple steps.
;
How to Start a WordPress blog for free with a Few Easy Steps
To start creating a blog on WordPress visit this site.
Once you are on the WordPress site, click on "Get Started" button.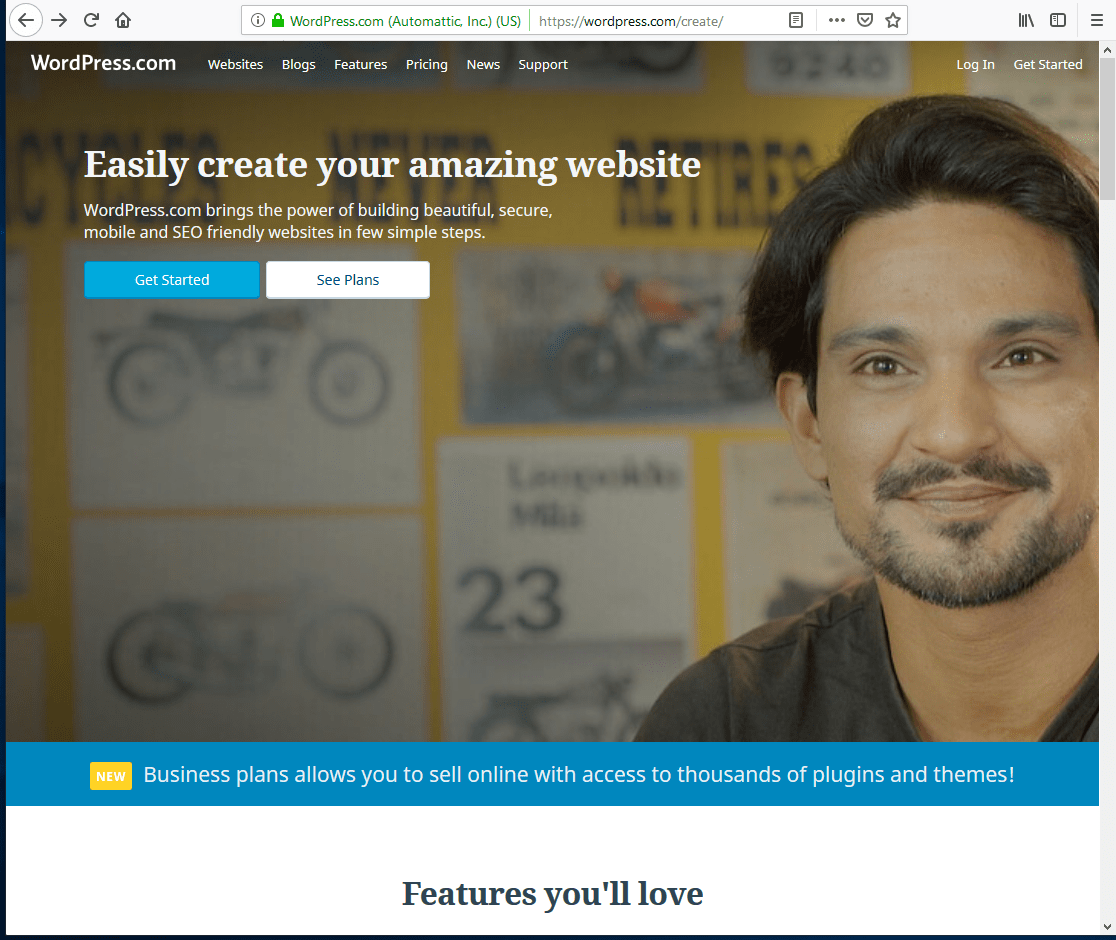 Step 1: Next, create an account by entering your email ID, user name, and password. Click on Create your account.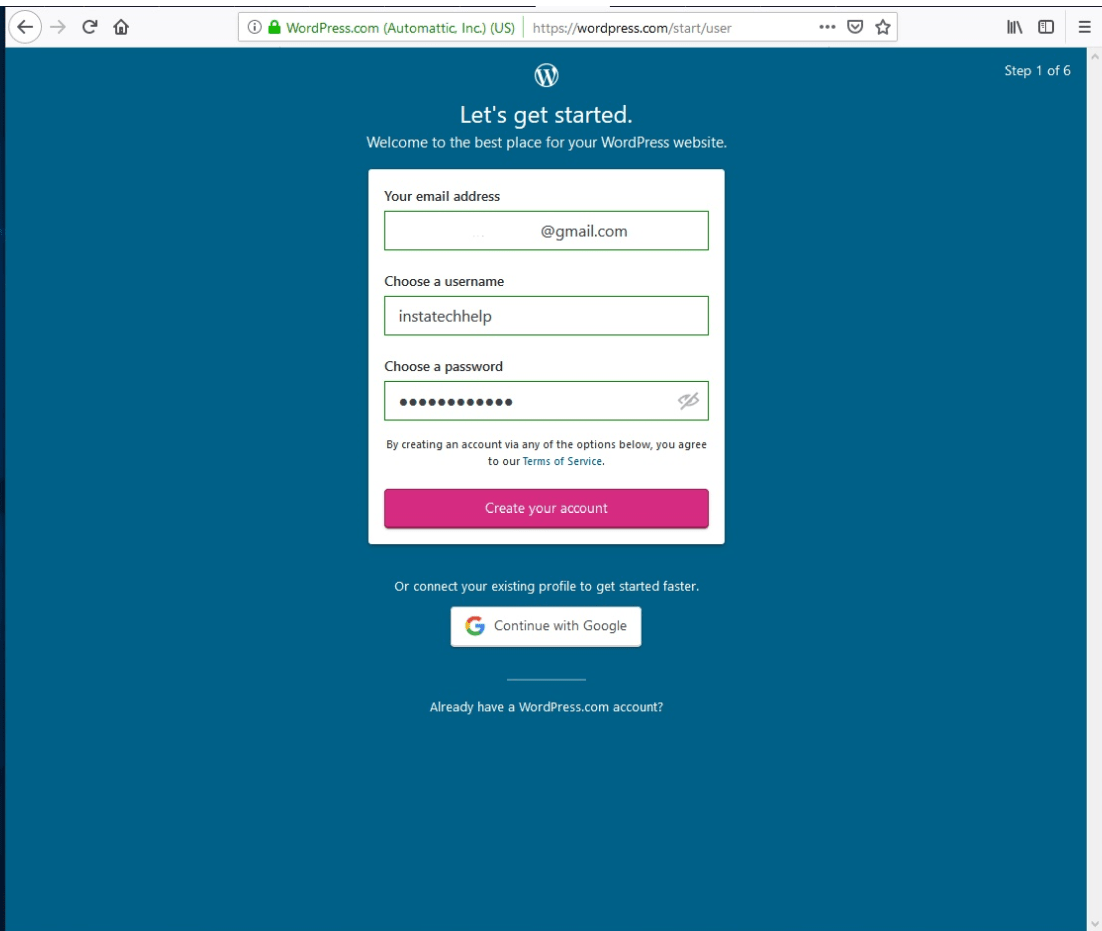 Step 2: On the next page, select what kind of site are you building. As we are creating blog, select Blog option.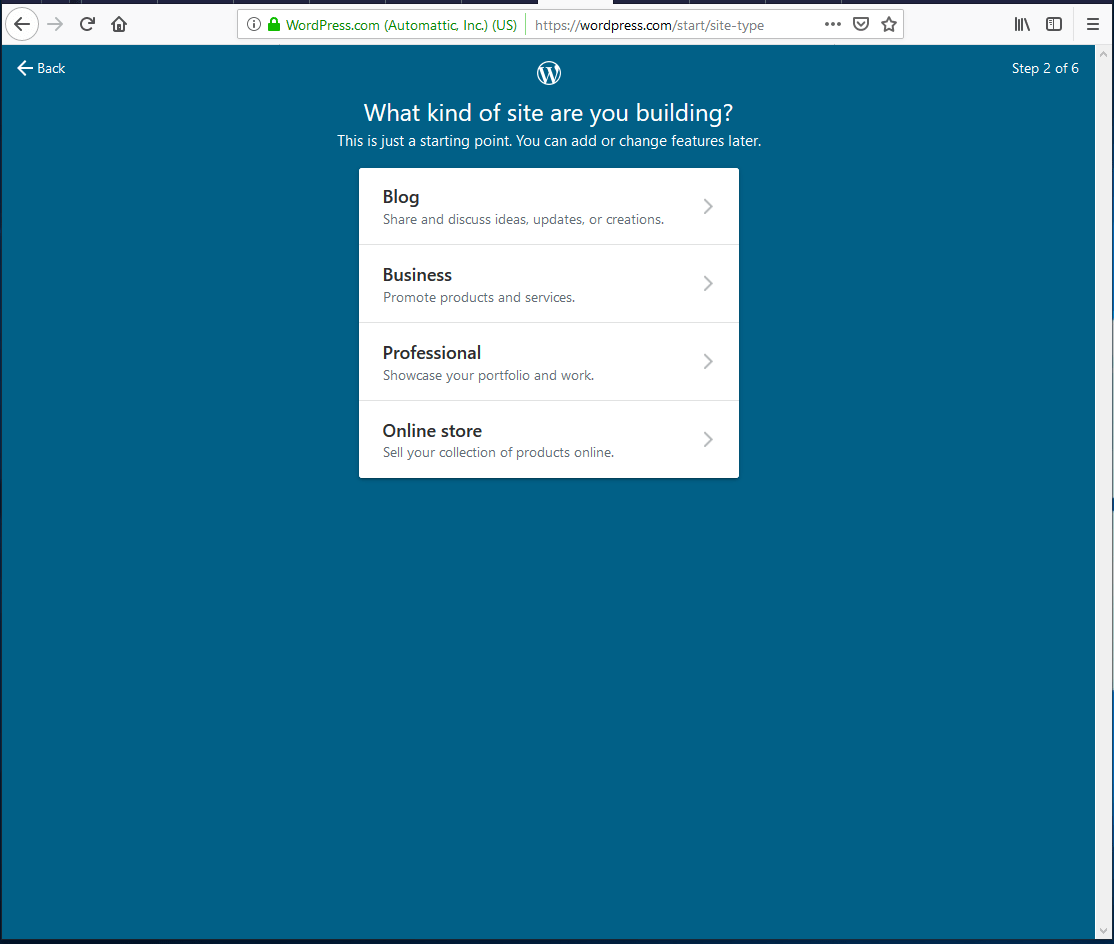 Step 3: Enter a topic or select it from the given list. For example, here we create technology blog, by typing technology.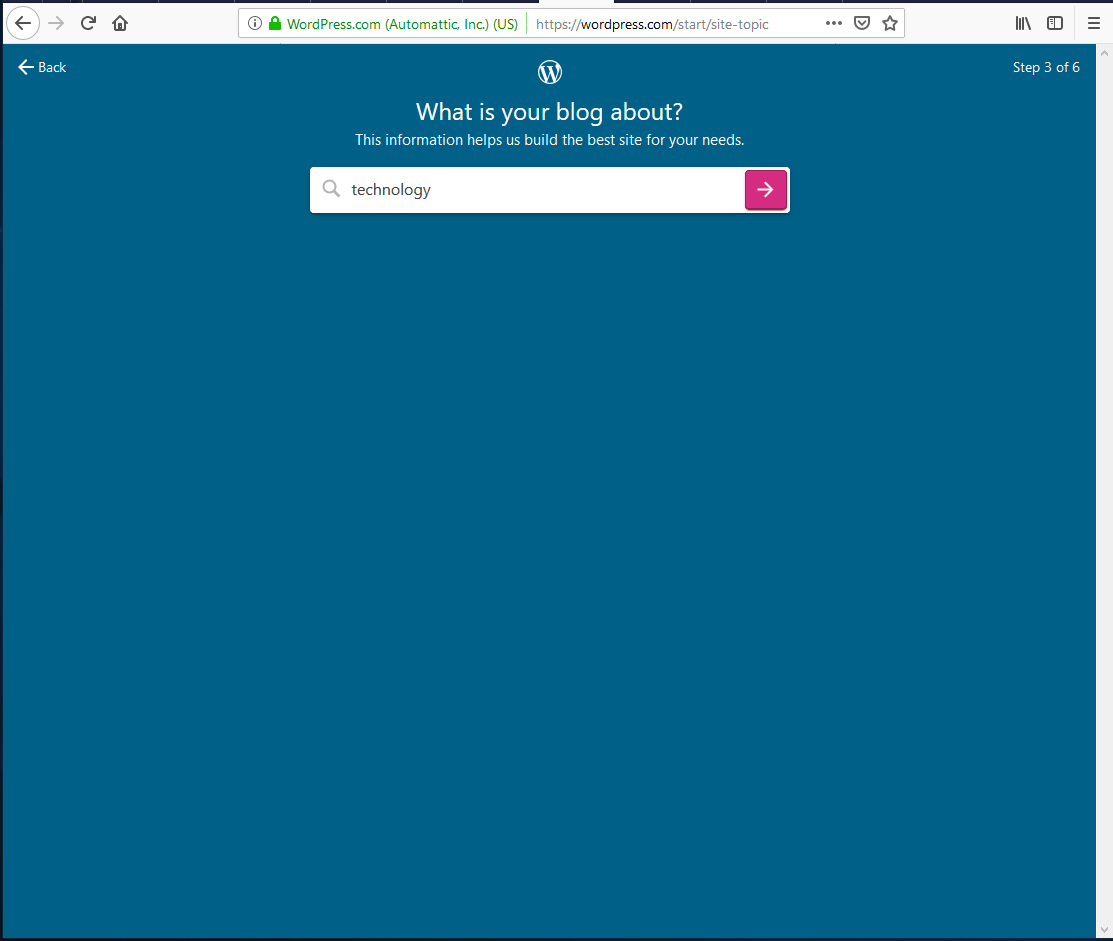 Step 4: Next, specify site's name that will appear at the top of your site. You can change it anytime. Here we are keeping it as "instatechhelp".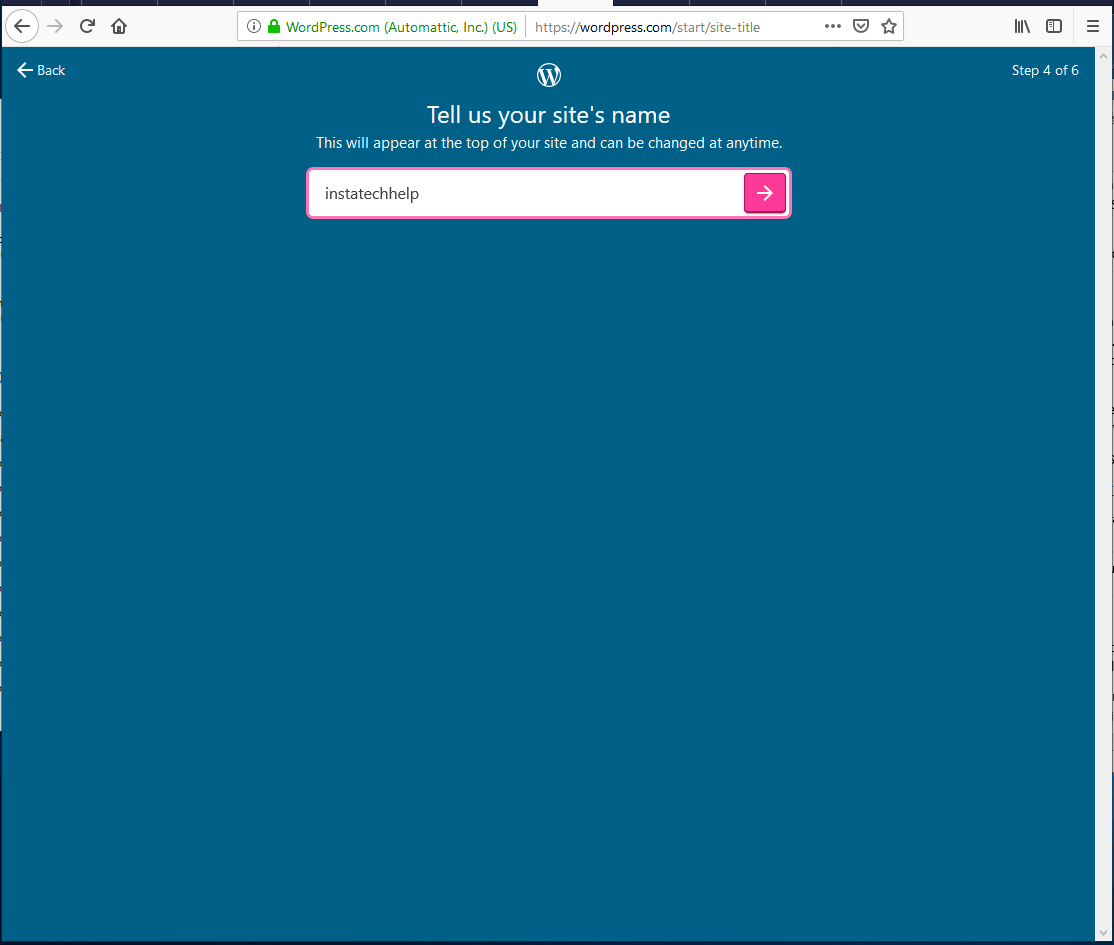 Step 5: Give your site an address (domain name), you can mention name of your choice or can even include some keywords to describe it. Domain name is the site address that will help people visit your site when they type it into their browser.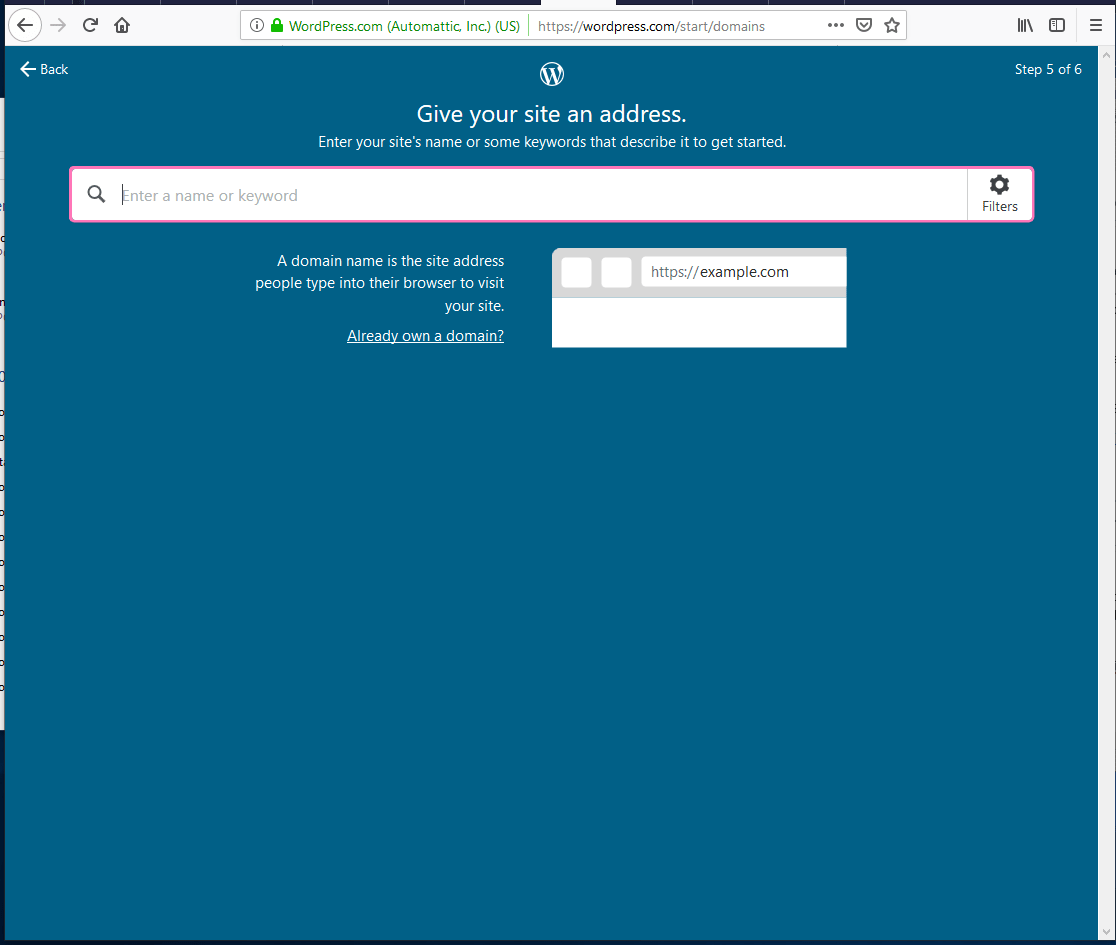 It also displays Filters option that helps you "Show exact matches only".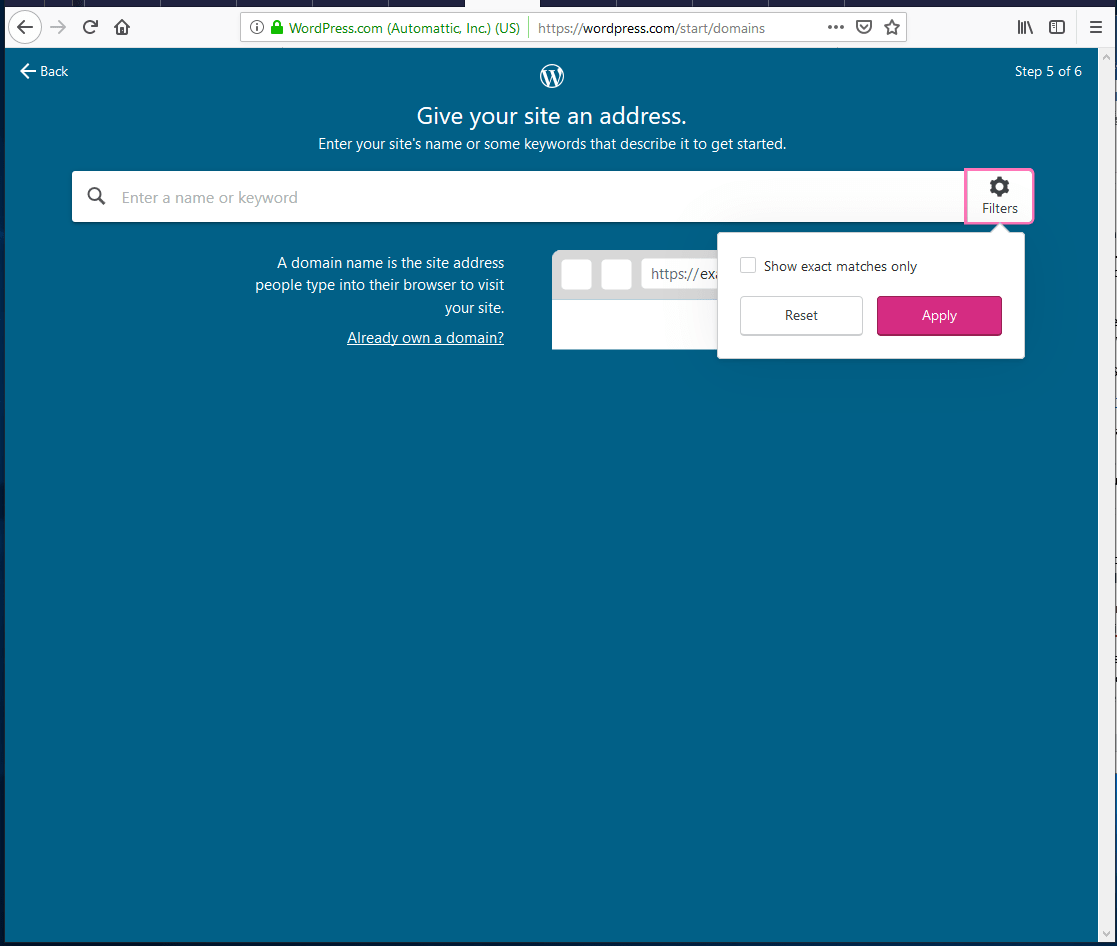 We have selected "instatechhelp" as our blog name. Once you type in your selected name it will show you multiple options to choose from. As we are looking for free site option selected the first option that is "instatechhelp.home.blog" that is available for free.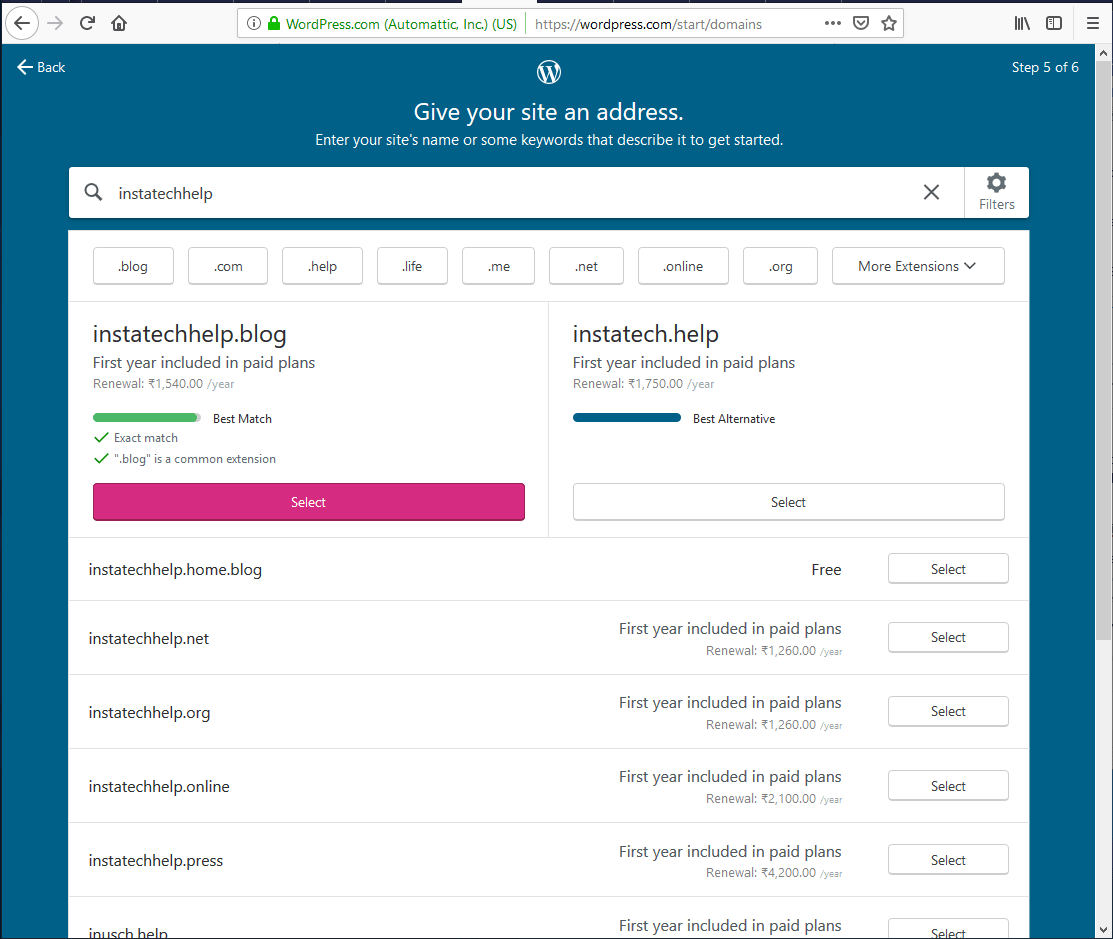 Step 6: Here, you'll see multiple payment plans to select from. As we are looking for a free blog on WordPress click on "Start with free" option given below the page.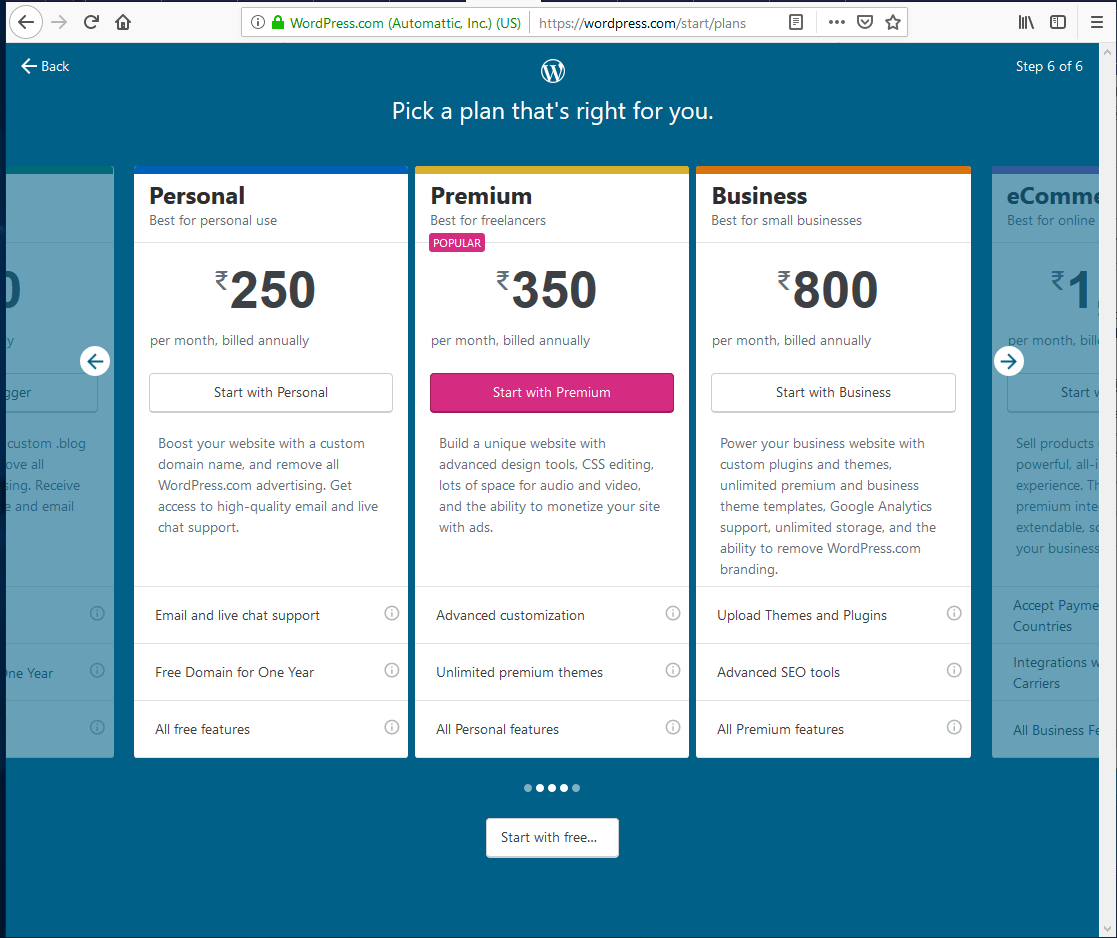 Voila! Your site has been created.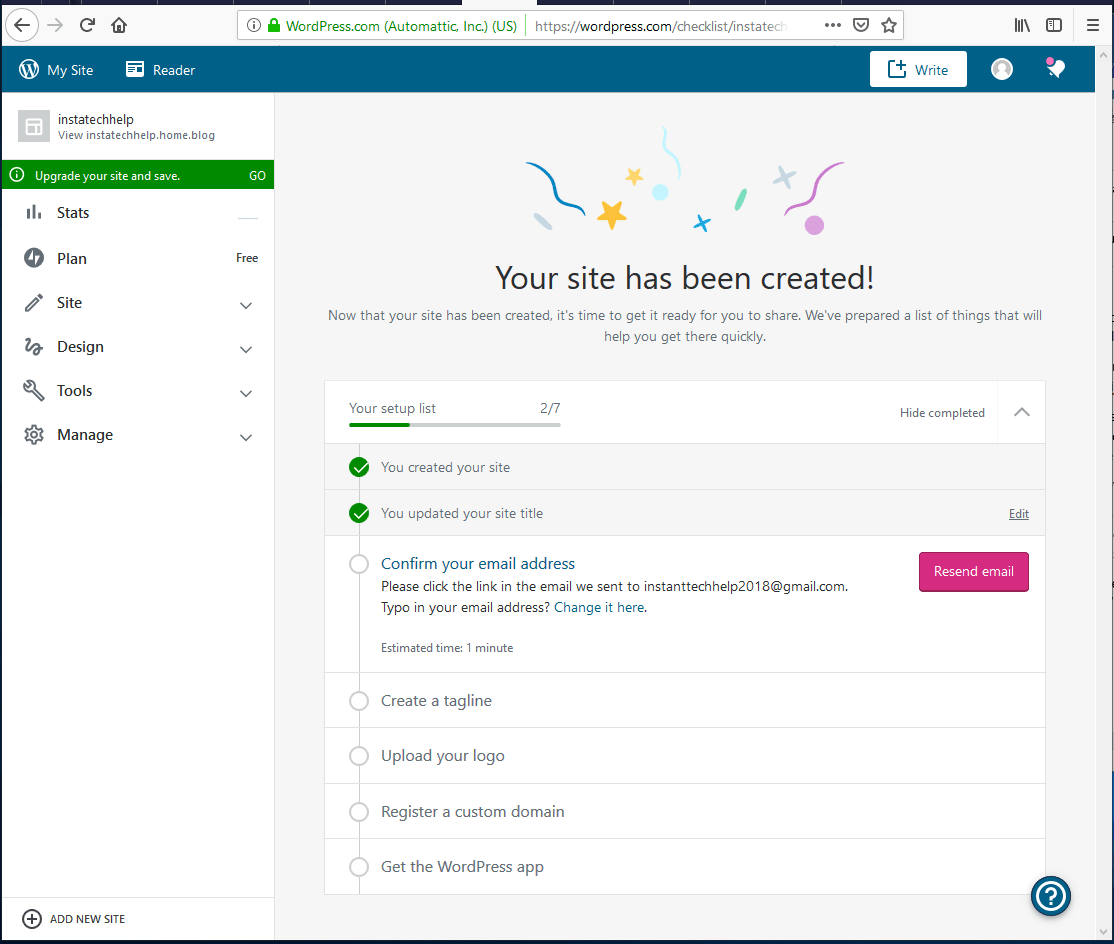 Now that your site/blog is successfully created you'd need to complete the setup. Here, you need to confirm a few details including:
Your email address: You need to confirm your email address by clicking on the link sent to your registered email address.
Create a tagline: It should be 2-3 words long (preferably) and should clearly suggest what your blog is about.
Upload your logo: Here, you need to upload your blog's logo.
Register a custom domain: If you want to edit and include a custom domain name.
Get the WordPress app: It will make access to your WordPress account easy.
You can click on Settings under Manage option from left-panel to make necessary changes. Here, you can make changes related to general attributes, performance, writing options, and discussion.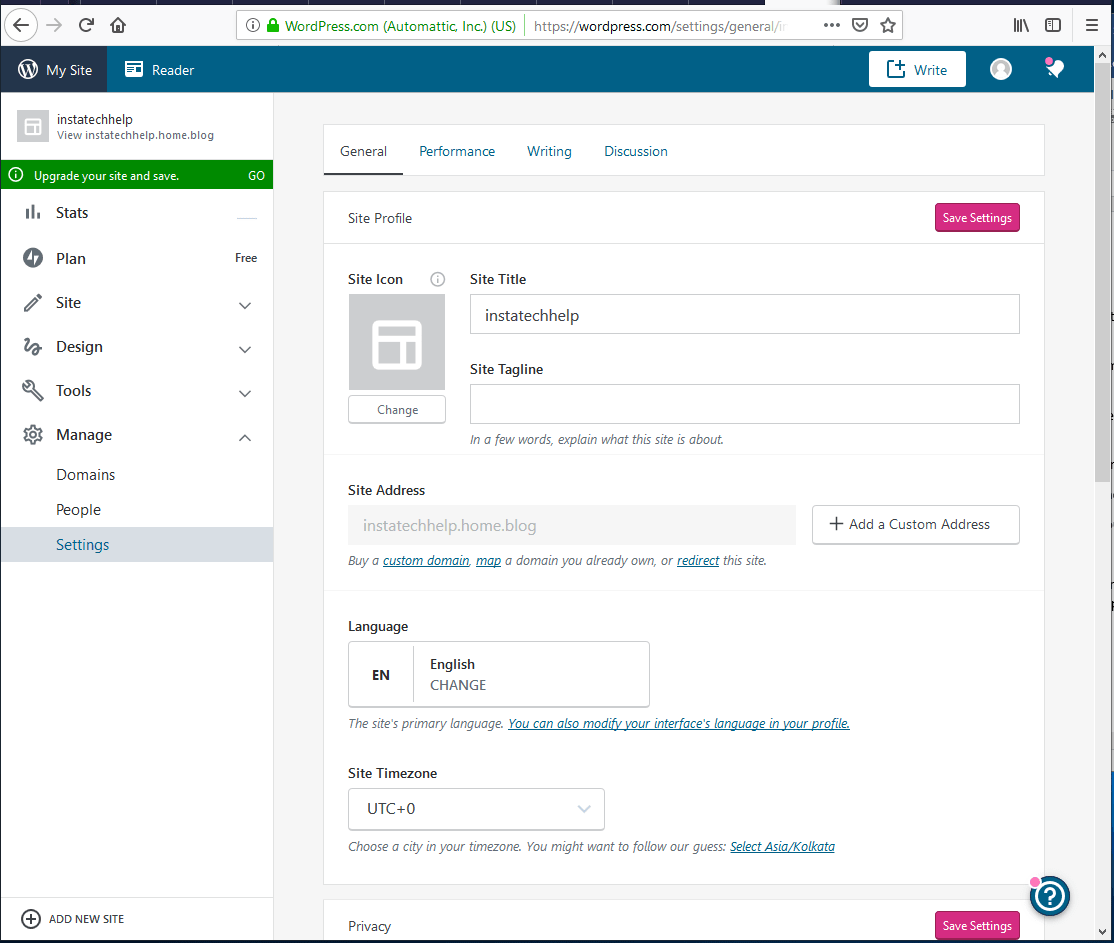 Once you are done making necessary changes in Settings, you can click on Write option in the upper-right corner to start your first post.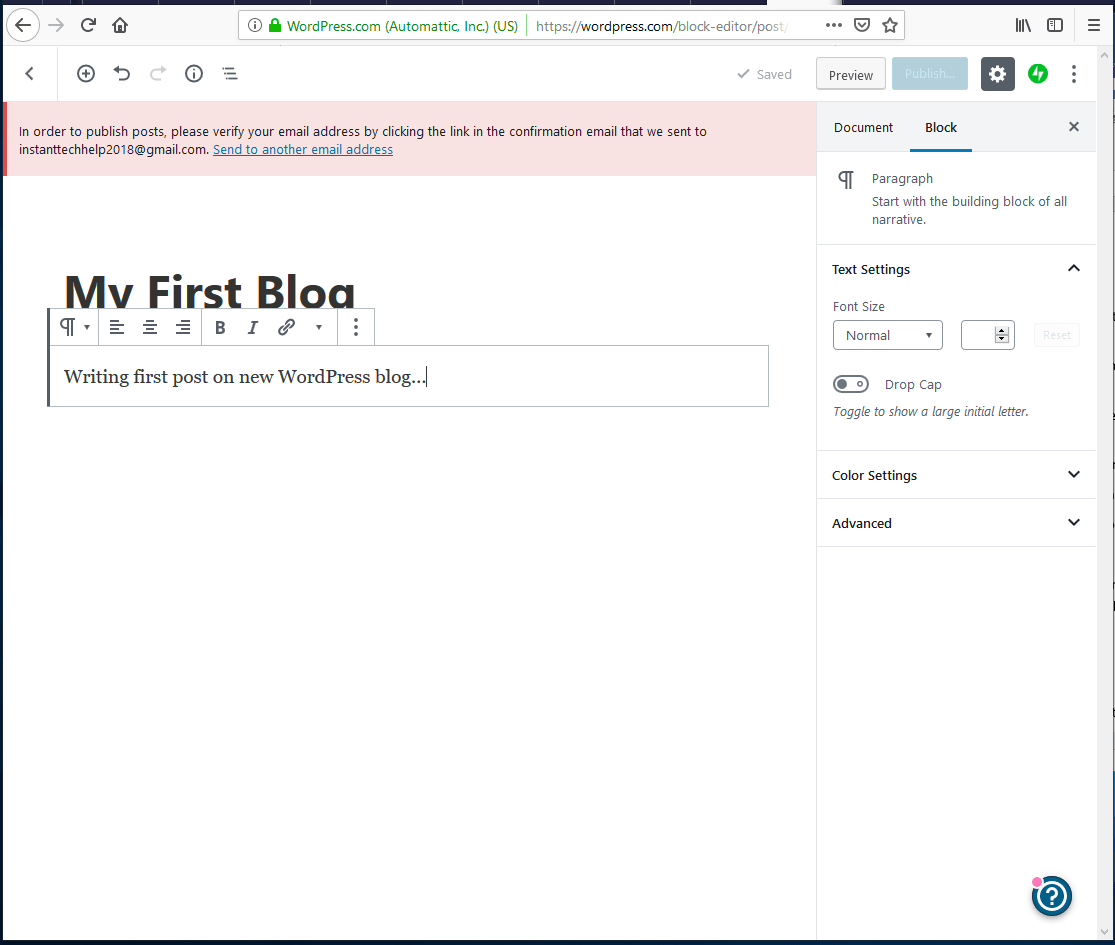 You can tap on the "+" icon in the upper-left corner to find & include multiple options in your first post.
Once you are done writing your first post simply press Publish button in the top-right corner to let see the world your creativity.
Conclusion
So, this was a quick review to help you understand how to start a WordPress blog for free in 6 easy steps. If you are done setting up your first WordPress blog following above-mentioned steps, then feel free to share your experience with others in the comments below.