Windows Movie Maker, also known as Windows Live Movie Maker was initially launched with Windows ME edition. Later on, it couldn't develop any interest in Microsoft users and now it's a discontinued video editing software by Microsoft. Windows Movie Maker is an essentials software suite offering the ability to create and edit videos as well as to publish them on Facebook, OneDrive, YouTube, Vimeo, and Flickr.
Microsoft Movie Maker 2012 was officially discontinued on January January 10, 2017, and it is replaced by Microsoft Story Remix which is built-in with Microsoft Photos in Windows 10. The same is updated on the Microsoft Support Website.
Alternatively, you can opt for third-party software available on Microsoft store which is equivalent or more user-friendly than Windows Movie Maker 2012. Get Movie Maker 10
Let's try hands first on Microsoft Photos which replaced Microsoft Windows Movie Maker 2012.
Microsoft Photos App
Since Microsoft Windows no longer carries Windows Movie Maker as its default video-editing tool in Windows 10, its Photos app movie creator has taken the charge of creating and editing videos. This is the only windows movie maker in windows 10 which can help you create awesome videos.
How to Open Microsoft Photo App?
Step 1. Press Win key and type 'Photos' and press enter.
Microsoft Photos app is very lightweight. Even if you work on a 2-hour long video project, it will not give you any performance issues or file size issues.
Create a Video

Once you launch the application, creating a video is quite simple.
Step 1. Click on 'New Video' and select 'New Video Project' from the drop-down list.
Step 2. It will ask you to give a name to the new project, by default it's saved as a new Video.
Step 3. Click on the 'Add' button on the top left-hand side corner to add images for the video.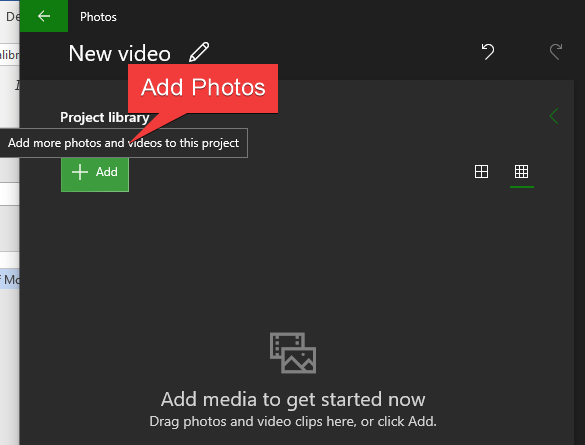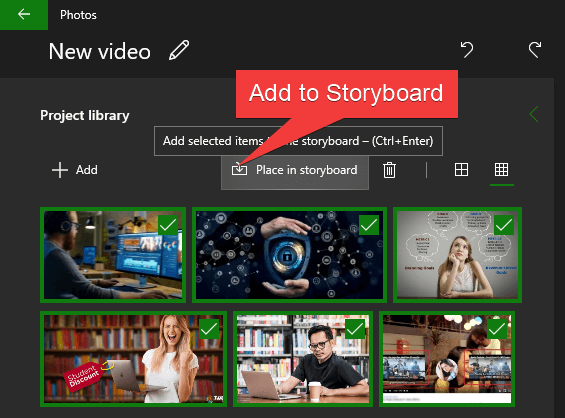 Step 4. Once the images are selected, click on 'Add to Storyboard' and the images will be framed in the list of the new project. You can easily drag and adjust the image sequence.
Step 5. Once the images are listed in the storyboard, you can easily customize the video by adding music, caption, 3D effects, motions, and filters. You can also add a theme to your project and trim the video as per your choice. You can preview the project on the top right panel. The project is auto-saved after every change hence there is no need to look for save option.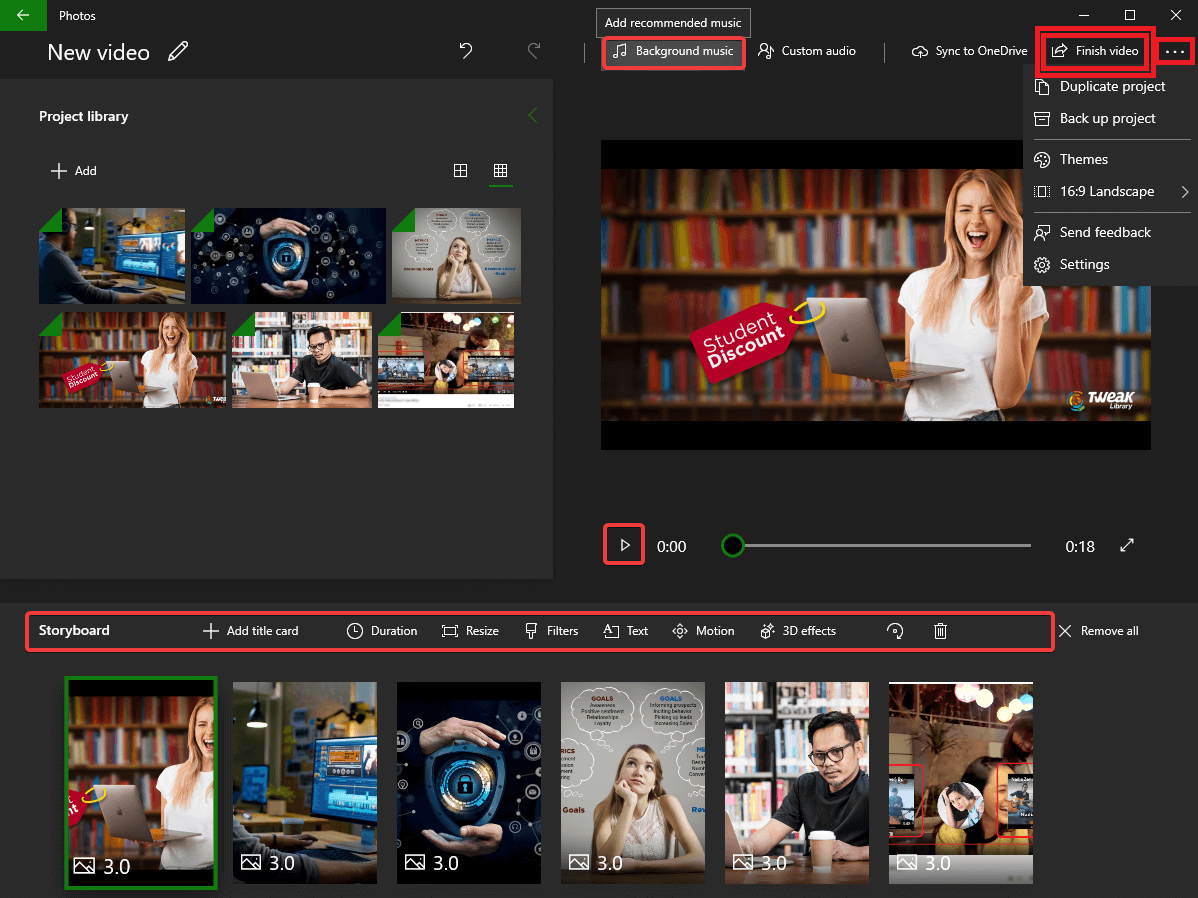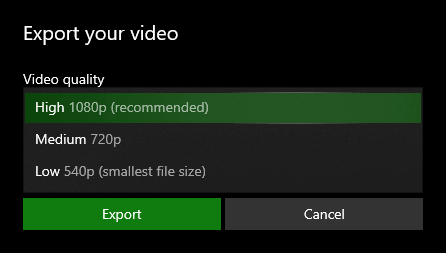 Step 6. Once you are done with editing, click on 'Finish Video' on the top right corner. It will seek permission to save the video in specified quality. Select the desired video format and click on 'Export'. By default, the video will be saved in '.mp4' format. You can now share the saved video file with any of the preferred share options.
Since we don't have an option to download windows movie maker from Microsoft site, Microsoft Photos App is the best video movie maker and video editor we can get from Microsoft. Now let's have a look at the alternative third-party app available on Microsoft store.
Also Read: Best Screen Capture Software
Movie Maker 10
As they say, "A MILLION USERS CAN'T BE WRONG!" Movie Maker 10 is one the most popular app for making creative videos using your photos, videos, music, and clips. Movie Maker 10 comes with lots of intuitive features like video joining, trimming, adding text caption, adding background music and more advanced filters like image filter, transition effects, etc.
Movie Maker 10 is the most simple, efficient, and affordable video movie maker and video editing app for your need on Microsoft Store.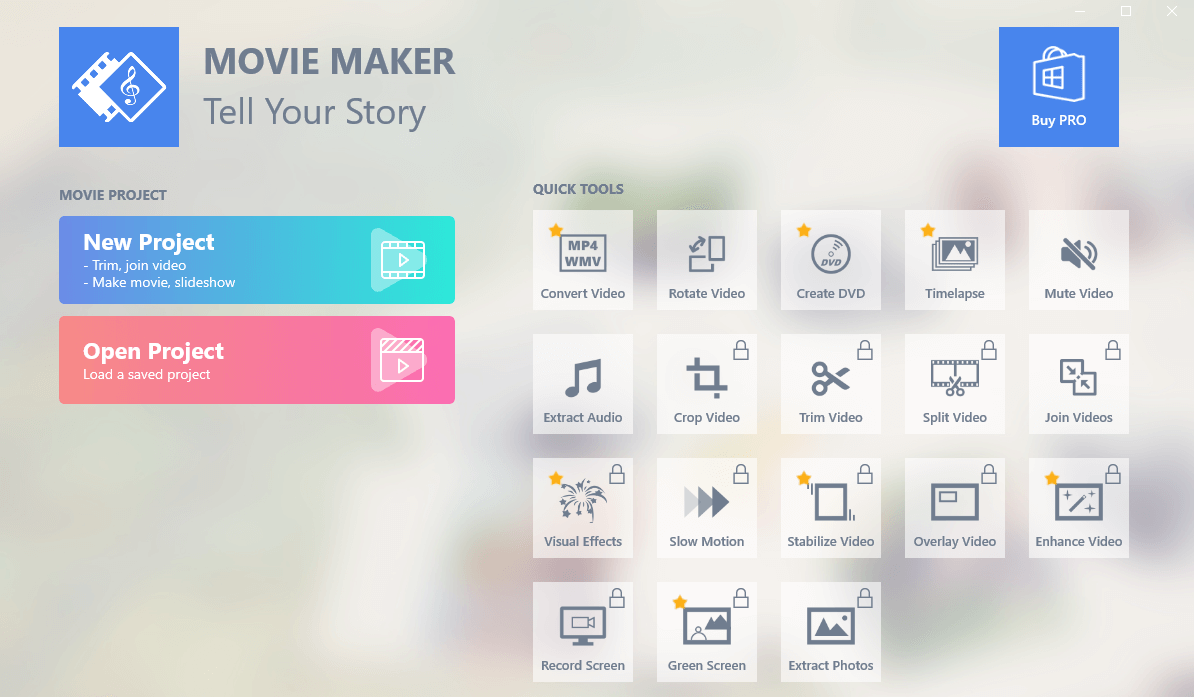 Movie Maker 10 offers Free Movie Maker and Pro versions.
FREE Version
The free Movie Maker version provides all the features listed above. You can easily create movie projects to make movies and slideshows, trim video, join video, add background music and explore the artist inside you.
PRO-Version
Pro version provides additional quick-access tools for video editing which are used by professional movie makers. It is equipped with more advanced features such as slow motion and fast motion effects, unlimited photo overlay, Full HD output, etc.
Minimum System Requirements
Your device should meet these requirements for the best experience
OS
Windows 10 version 16299.0 or higher
Architecture
x64, x86
DirectX
Version 9, Recommended: DirectX 12 API, Hardware Feature Level 11
Using Movie Maker 10, you can make movies from video clips and photos by trimming, rotating and joining video clips. You can also add and edit background music using built-in music tracks or by importing a track from your user library. Movie Maker 10 supports most of the popular media file formats like .mp4, .mkv, .mov, .wmv, .avi, .mpg, .mts, .mpeg, .jpg, .gif, .png, .m4a, .wav, .mp3 and many more. You just need to ensure that the input video files must contain codecs supported by Windows 10 UWP. Using Movie Maker 10, you can overlay text captions, emoticons, still PIP, sound clips on existing video clips.
You also get an option to add title slides with text, animated pan-zoom for still photo, text captions on the photo, photo enhancement filters and many more. Movie Maker 10 allows you to get 30+ transition effects like a ripple, fade, wave, pixelate, cross-zoom, square wipe, etc. for photos and videos. Additionally, you get 30+ fashionable fonts for caption and music editor with fading-in, fading-out effects and audio clip trimming feature. You can also adjust the audio volume for video clips and background music and get the best HD video quality.
Movie Maker 10 Features
Edit videos: trimming, rotating, joining multiple videos
Enhance the quality of photos by the variability of color filters
Modify the appearance and duration of photos and videos
Supports most popular media formats: .mp4, .mkv, .wmv, .avi, .mov, .mpg, .mpeg, .mts, .png, .jpg, .gif, .mp3, .wav, .m4a, etc.
Make movies using photos, videos, music and apply professional transition effects like pixellate, wave, fading, cross-zoom, etc.
Add text descriptions to your photos and videos with customizable fonts, size, and colors
Preview the output video before saving and converting into video format
Quickly edit or resume to the last project
If you still think that none of these options are user-friendly for you and you want to use Windows Movie Maker 2012 on your system, You can Download Windows Movie Maker and initiate the setup for installation.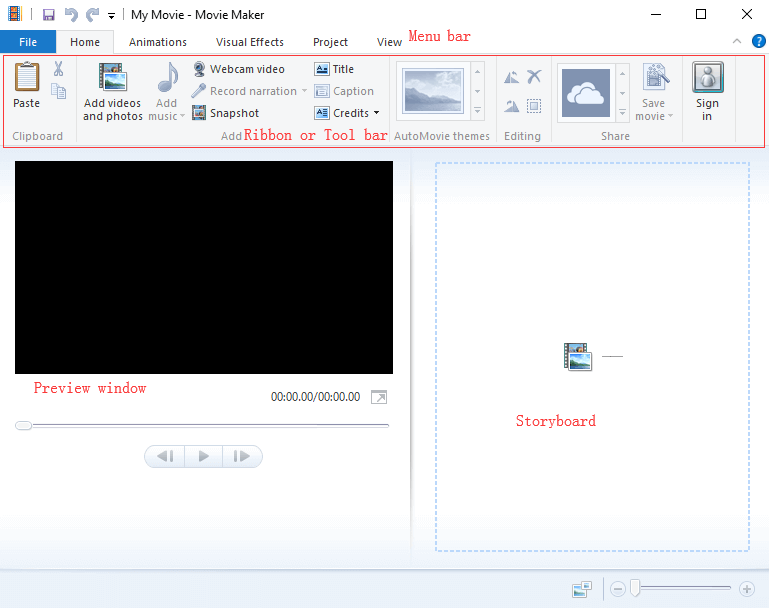 Windows Movie Maker is still the first choice of beginners as a movie maker and video editor. Windows Movie Maker has an easy to use the console and has friendly menus in which finding and using various options are hassle-free. It has almost similar functionality as we have discussed above for Microsoft Photos App.
The 'Home Menu' allows you to add photos, videos, and music to create new videos. 'Edit Menu' offers you a variety of options to set the duration and start/endpoint of the video. 'Animation' and 'Visual Effects Menu offers various options to add transition effects and other visual effects. You can simply create your video and save it to the desired format and share with your social network.
Also Read: Find What Amazon Knows About You
Wrapping Up
Here we have explored alternates if Windows Movie Maker is not working on your system. We have reviewed Microsoft's inbuilt 'Microsoft Photo App' and a third party app 'Movie Maker 10' which can be used as a movie maker and video editor.
If this article turned out to be helpful to you, please like and share this with your colleagues. For more such tips, tricks and tech-related updates visit Tweak Library and if you are more into tech-related videos do watch and subscribe to our YouTube channel. You can also reach us on Facebook and Pinterest.