The least that can be said is that an Antivirus is a great tool that can minimize your device's risk of becoming prey to a hacker. At the outset, an Antivirus creates a framework where no unauthorized file with malicious intentions can bypass your device. But, amongst several tools, why are we talking about an Antivirus as a means to combat hacking?
The bad hackers, the "bad guys" who aim at barging into your computers, your smartphones use malicious threats as a way to contrive their nefarious intentions. And, a specialist that can pin down such intentions is none other than an Antivirus.
Also Read: Can An Antivirus Slow Down Games On Your PC?
How Does An Antivirus Protect You Against Hackers?
In simple terms, hackers actualize their nefarious intentions by using malicious lines of codes that they pack inside a file. Then through a variety of online and offline mediums, they drive users into downloading their malicious files. An Antivirus perceives this, scans the file beforehand much before it can cause any further damage to your computer.
But, how?
– Database Regarding Viruses Is Regularly Updated
Let's put it this way, at this very moment, some very shrewd hacker might be developing a malicious threat that he or she thinks that no expert can catch. What such hackers don't know is that they are putting themselves up against an updated database that already contains descriptions of the threats that such miscreants create and even the method that can combat such threats. Though, there had been instances in the past when hackers did dodge even the most sophisticated Antivirus solutions. However, if you have a good Antivirus solution, the chances of this are next to none.
– By Offering Real-Time Protection Against Malicious Threats
An Antivirus constantly runs in the background and most cases don't impact the computer's core performance. Now, let's assume that you downloaded a malicious file from an unsecured website, the Antivirus will immediately flag it off as a threat and prompt you to not open the file. Furthermore, it will remove this file thereby failing a hacker's attempt to compromise your data and your device's functionality.
– By Offering Security Against Zero-Day Threats
When a hacker can sniff the vulnerability in software much before the software's developers, he or she will most likely exploit it, this becomes a zero-day threat or a zero-day attack. An Antivirus is well aware of these attacks and doesn't hold back. Thanks to the frequently updated database and an equally efficient engine, the Antivirus nips the threat in the bud.
– Web And Firewall Protection
So, this is a very interesting and powerful module that a good quality Antivirus tool packs inside. Hackers often don't spare unsecured or poorly developed websites. Your mere visiting the website can make you a hacker's target. From gaining access to your IP to stealing your credentials such as credit/ debit card and other details, there's a lot that can happen. Most Antivirus utilities come with web protection capability. The feature prompts you not to visit a malicious website.
Let's move further and talk about Firewall protection. There have been instances of SQL injection attacks and some others where the attacker was successfully able to bypass the web application firewall (WAF). That's not the only case where a firewall may fail in protecting you from a hacker. Let's assume that due to some reason your firewall isn't configured correctly or the policies in it are too permissive. In such a case, a data breach is likely evident. A modern-day Antivirus is well aware of this and keeps even your firewall intact and something that no hacker could invade.
Example of How An Antivirus Application Renders Strong Protection Against Hackers
Now that we know how an Antivirus protects you against hackers, let's have a look at an example to testify the efficacy of an Antivirus. If we consider the Windows operating system, Systweak Antivirus is one of the most renowned and trusted antivirus solutions. It is capable of delivering protection against a variety of malicious threats such as Trojan, ransomware, adware, spyware, and a variety of other malicious threats. You can check out the full review of Systweak Antivirus here to get a better look at its features, how it works, its pros and cons (if any). But to exemplify the above points, let's just have a glimpse of the tool –
What Features Does Systweak Antivirus Offers
Powerful scanning engine
Real-time protection against malicious threats
A frequently updated database
Multiple scanning modes – Quick, Deep, and Custom
Website and firewall protection
A lightweight piece of software
Even helps keep track of unwanted or unsafe startup items
How To Use Systweak Antivirus?
Click Here To Download Systweak Antivirus
Download, install and run Systweak Antivirus
Click on the SCAN NOW button to check for any impending threats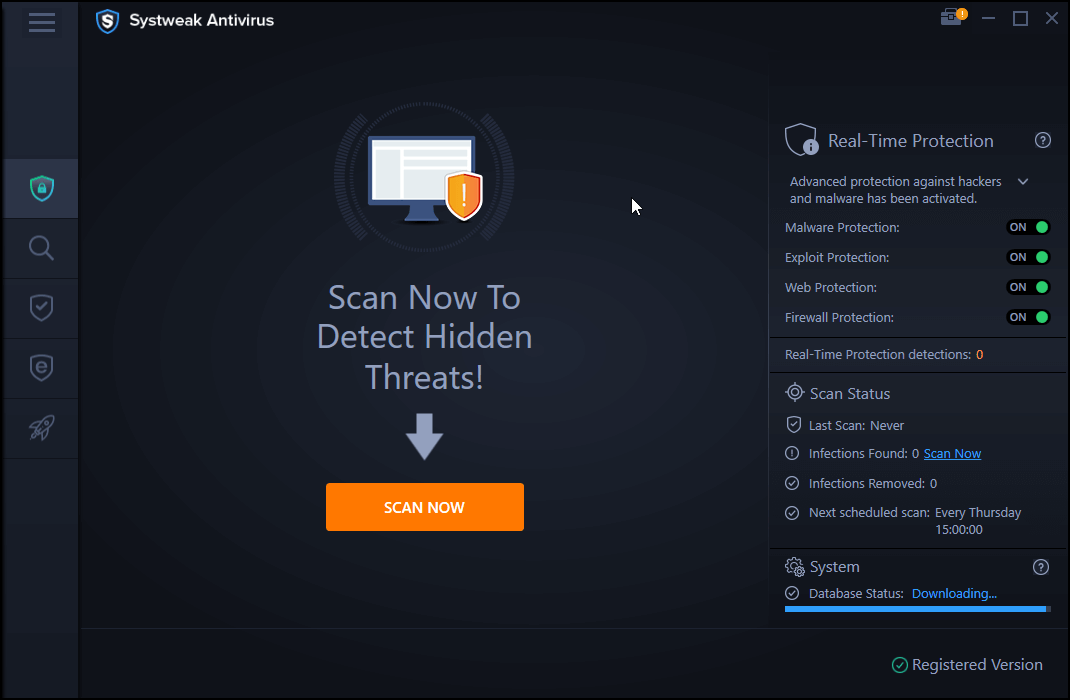 Want to run a quick scan or want to scan specific files and folders? Click on the search icon from the left-hand side, choose either of the two – Quick or Custom Scan where the latter lets you put specific files and folders under the scanner
If Not An Antivirus, Then What Else Can Stop Hacking?
It doesn't matter what device or operating system you have. In today's digital day and age, an Antivirus should be an integral part of your computer and the very concept of not having one should remain in your theories because the moment your smartphone or computer is bereft of real-time protection, a hacker will possibly catch you off-guard and inject the virus.
But, here are certain points that as a prudent use of your device, you should exercise –
Never visit an unsafe website, leave aside downloading files from there
Never miss an update either from your operating system or the software on your device
Beware of spam emails. Do not click them open or download their attachments
When on a public – Wi-Fi and even otherwise, use a VPN where you feel a hacker might exploit your IP address
Store your passwords and other crucial credentials behind a vault in a password manager
Make full use of two-factor authentication to log in on multiple devices. And, if you can use biometrics like facial recognition or fingerprint scanning, go for it.
Wrapping Up:
Have we been able to establish the importance of an Antivirus tool in combating hackers? If yes, do let us know in the comments section below and also share the post with your friends, family, and colleagues and for everyone, you care for. For more such interesting and informative posts, keep reading Tweak Library.
Related Topics