There are dozens of messaging applications all over the Internet. However, WhatsApp is the most popular messenger app to communicate through text messages, video calls, voice calls, images, documents, & geolocation. Billions of people from over 180 countries are active users of WhatsApp application.
The popularity of WhatsApp is not limited to age or gender, whether it's teens or oldies, everyone with a smartphone uses WhatsApp. With the sudden rise in social media crimes, parents are concerned about the whereabouts of their kids.
So to track your kids' activities on WhatsApp to keep an eye on what are they doing and with whom they are talking, you need a spying app. Yes, apps like these exist!
Developers have created advanced spying applications to help you monitor your kids, employees or partner to track their activities.
In this article, we will talk about the best WhatsApp spy apps to set your eyes with hassle-free spying.
Best Whatsapp Tracker Apps For Android and iOS
1.XNSPY
XNSPY is one of the popular apps in this WhatsApp tracker list. This application is available on both platforms i.e Android and iOS. Moreover, XNSPY boats a list of star highlights which enable hassle-free spying. You can take advantage of many prime features such as-
Record Phone Calls & Surroundings
This point allows you to listen & record all calls and can get to know what they are talking about. You can also control call logs and contact list.
GPS Location
You can monitor your teenager kids' and employees' locations anytime on the map. Additionally, if you want to check their location history, that can also be done from their phone or tablet with XNSPY's monitoring app.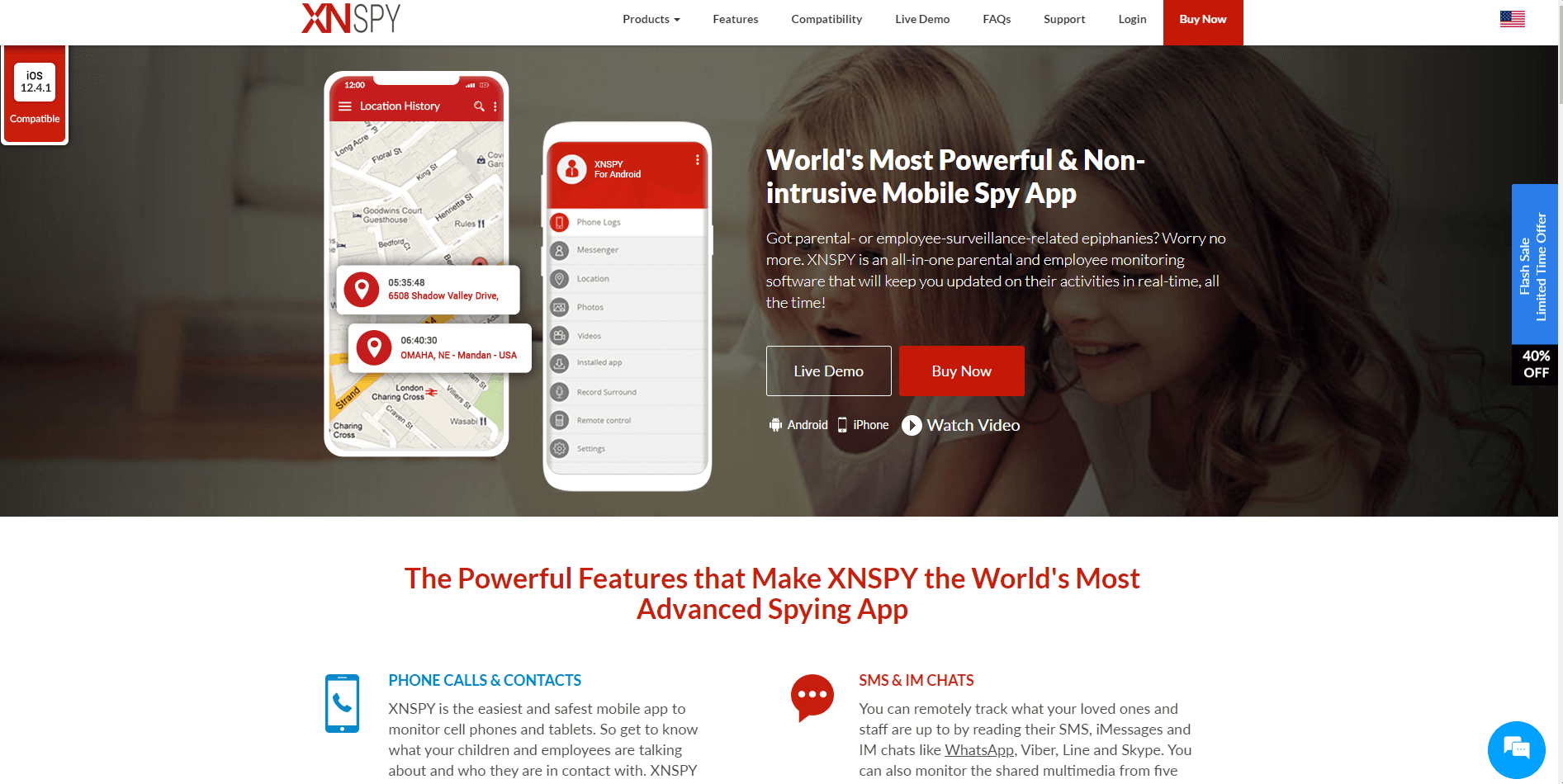 Compatibility
XNSPY runs on Android and iOS operating system. Find the below chart to find compatibility of the app of your device.
| | | |
| --- | --- | --- |
| Android | iPhone (jailbreak) | iPhone (No Jailbreak) |
| 4.x,5.x,6.x,7.x & 8.x | 6.x,7.x,8. Up to 9.0.2 | 6.x,7.x,8.x Up to 11.4 |
You can get XNSPY from here
2.Highster Mobile
Highster mobile is the perfect example of WhatsApp spy app. If you are a parent or employer, this application works perfectly on your fingertips to track anyone. This spying app is available on Android and iOS. Some of its features are mentioned below:
Browser History
By accessing this point you can easily monitor your child, what they are browsing on your internet. Apart, a business owner can also use track their employees, for wasting time online by accessing useless and time-consuming websites.
Live Control Panel
Highster mobile offers a vibrant feature to dynamically access details that are related to displaying options, time triggers and a lot more.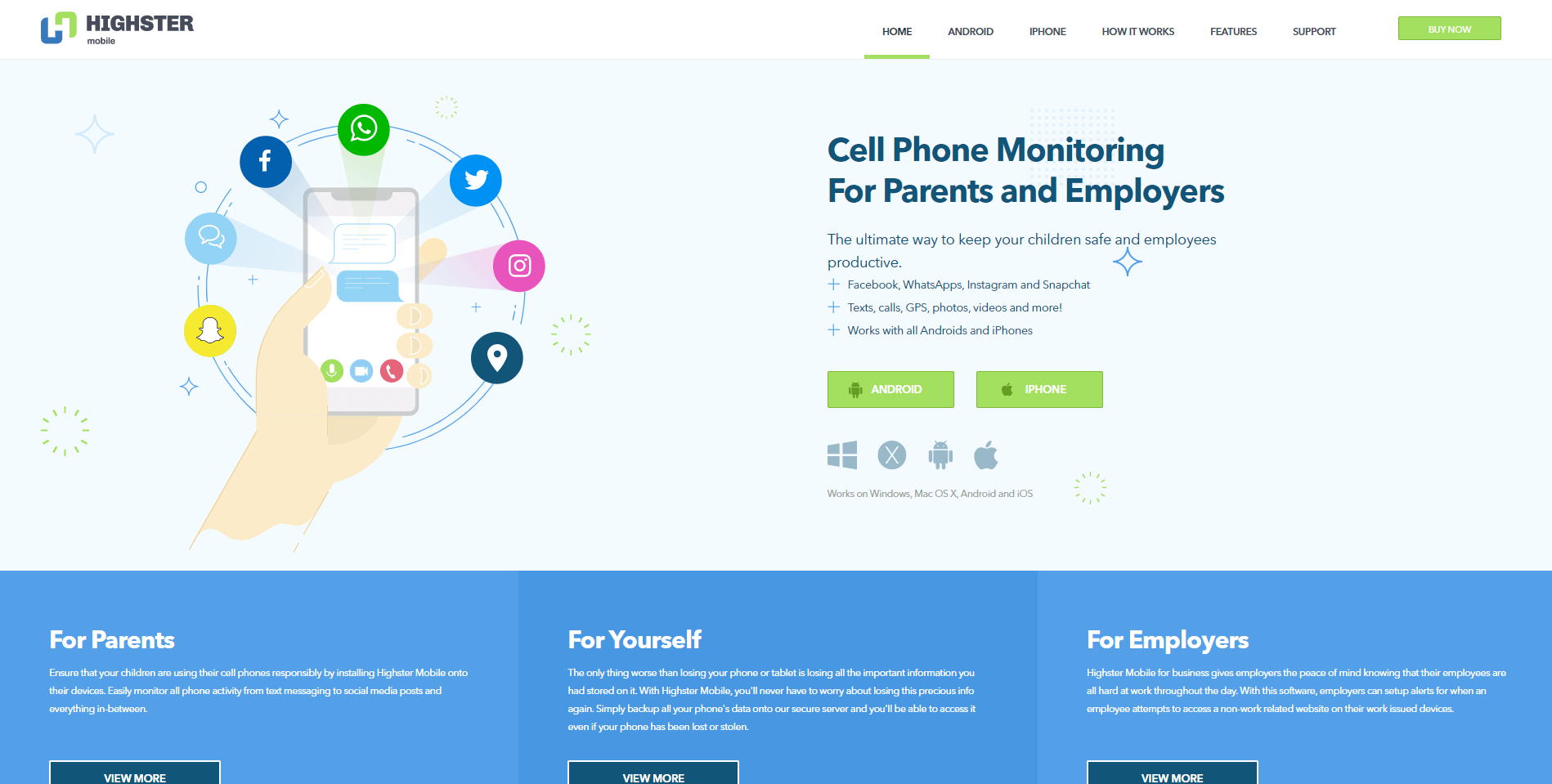 Compatibility
Find out the compatibility of your mobile device below to run this spying app on your phone.
| | |
| --- | --- |
| Android | iPhone (No Jailbreak) |
| 4.x,5.x,6.x,7.x & 8.x | 6.x,7.x,8.x Up to 11.4 |
You can download Highster mobile from here.
3. GuestSpy
GuestSpy claims itself as a leading monitoring tool as parental control and employee monitoring. This application is user-friendly and offers a bunch of star features to spy on anyone. Here are some of its features are:
WhatsApp Tracking App
You can spy on WhatsApp with this application by viewing chat conversation, and by finding out the sender's name. Moreover, you can also get to know the shared media files on WhatsApp.
Track Calls
With the help of this highlight, you can get to know about the incoming and outgoing calls. Moreover, you can also record calls along with the name of the person, date, time and how many times the telephonic conversation has taken place with a specific individual.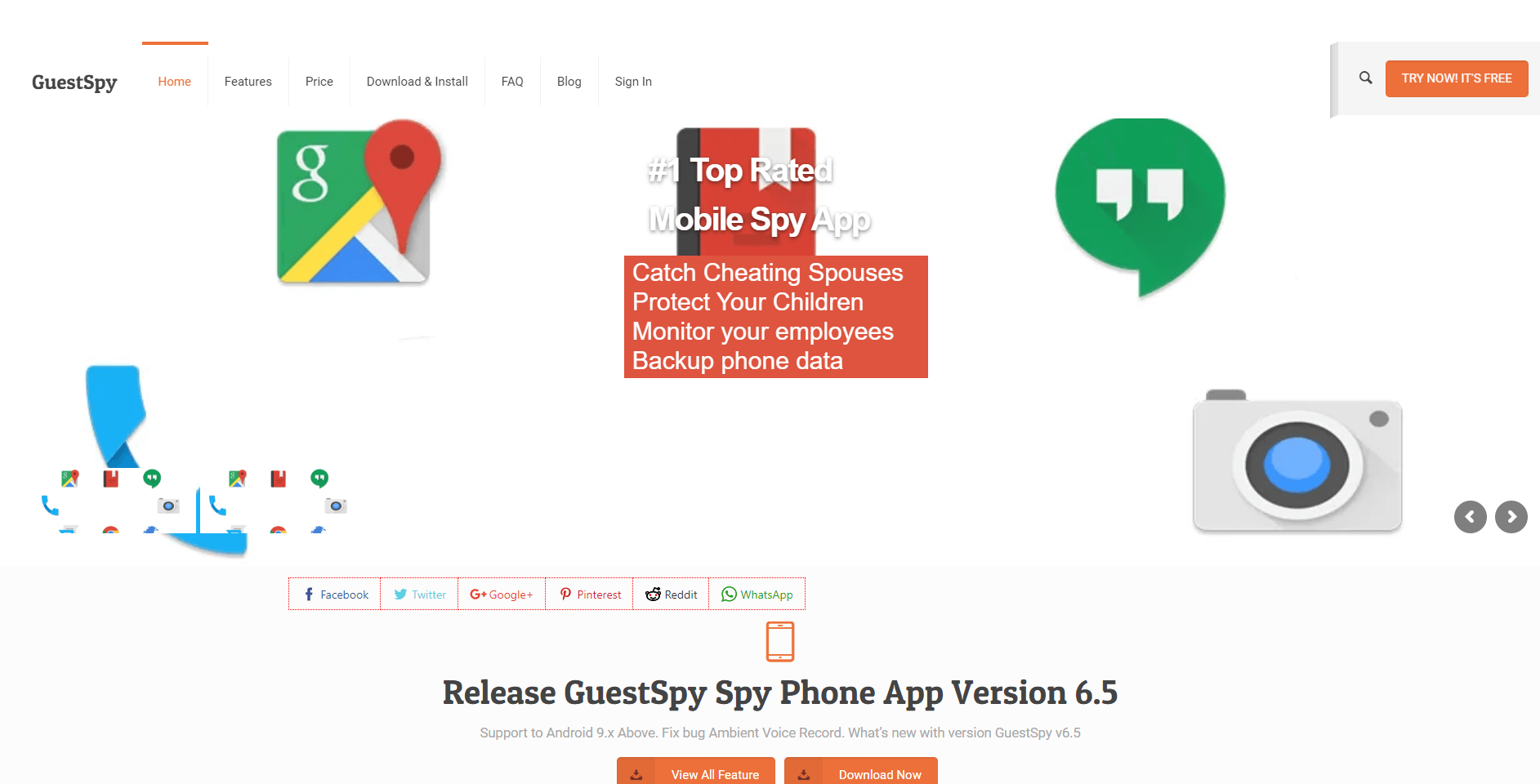 Compatibility
GuestSpy is available on both platforms i.e iOS and Android. Find out your mobile device compatibility below:
Android
iPhone (No Jailbreak)
5.x,6.x,7.x 8.x & 9.x
Supports iPhone

2G/3G/3GS/4/4S/5/5S/5C
You can download GuestSpy from here.
4.Flexispy
We have Flexispy next in our spying list. This application is an overall monitoring package which includes WhatsApp tracking too. This app works on both platforms, iPhone and Android.  With the help of this tool, you can view the charts, shared media, documents and so on. Some of its chief features are:
App Screenshot
If you are a parent or employer, with the help of this app feature you can take a look at what exactly an individual is doing on phone. Moreover, you can easily detect what your child is downloading, reading or reviewing on their mobile device instead of using a phone as an educational purpose. Apart, track your employees where they are losing valuable productivity hours by spending time on WhatsApp.
MMS Tracker
You can easily track shared MMS files on the target device. Moreover, you can view the recipient's name and phone number with attached MMS multimedia file on an online dashboard on your computer system. It allows you to record and store all the key information on the Flexispy's dashboard for future references.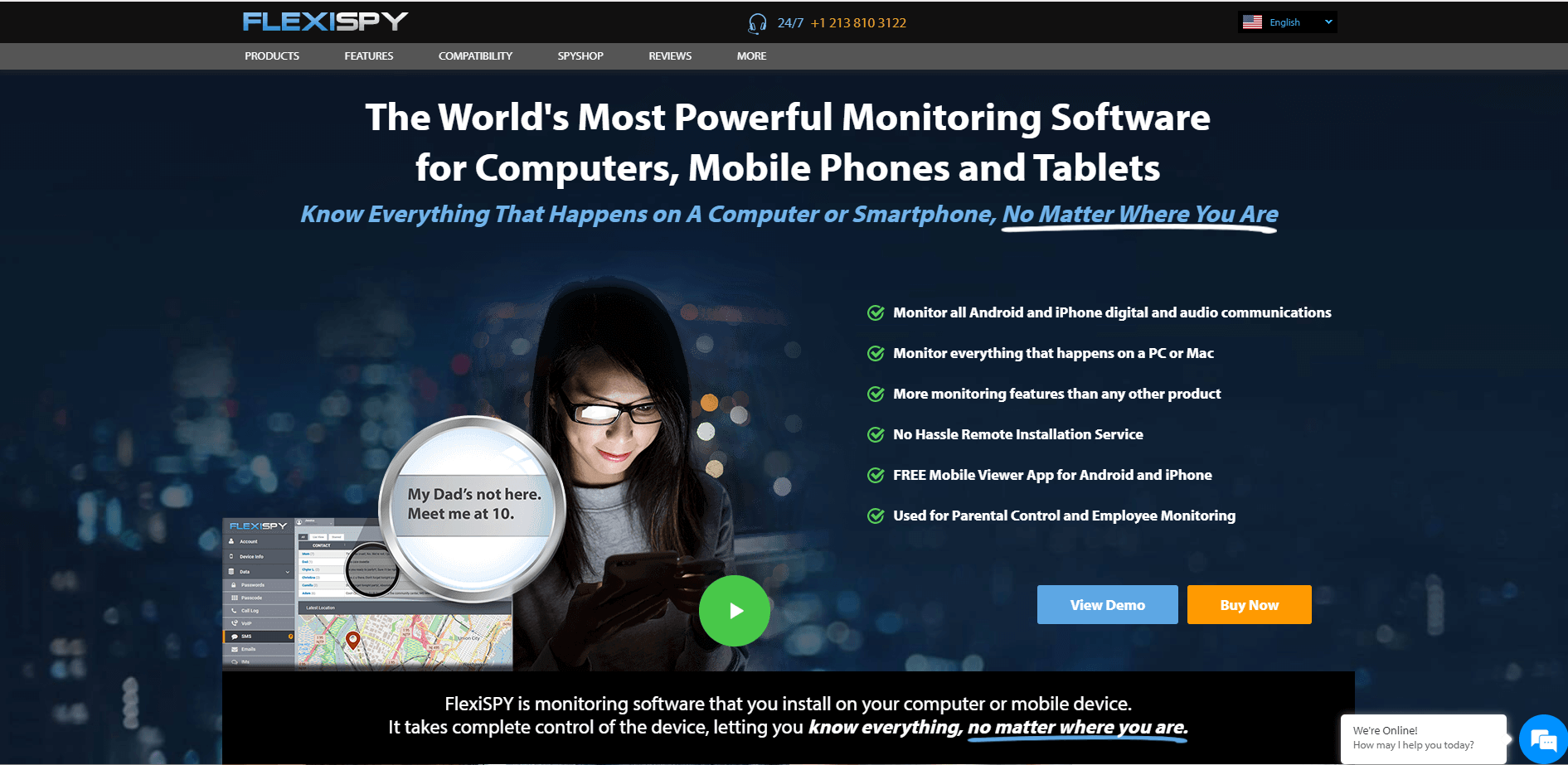 Compatibility
You can find Flexispy's compatibility from the below table:
| | |
| --- | --- |
| Android | iPhone (No Jailbreak) |
| 4.0.3x to 8.1x | 6.x to 11.1.2 |
You can download Flexispy from here.
5. Spyzie
Spyzie is another player in the family of WhatsApp spying apps that enables you to track activities on your Android or iPhone smartphone. You don't need to root or jailbreak the device to run this tool. This tool boasts many salient features, some of them are mentioned below:
Phone Activity
You can view your phone activity with this feature by tracking your child's online activities. Moreover, you can also detect web history, chat history, frequently used apps, call logs, SIM change alerts, shared text messages and many more.
Sensitive Information Alert
You will get an alert if any message, video, image, and contact is deleted from their mobile in order to hide anything from you. If you are an employer, you can identify if your employee is sharing any confidential file with anyone else and deleting afterward because of a fear of being caught.
Compatibility
Spyzie is available on both platforms i.e iOS and Android. Find out your mobile device compatibility below:
| | |
| --- | --- |
| Android | iPhone (No Jailbreak) |
| 4.x to 8.0x | 6.x to 11.0x |
You can download Spyzie from here.
Final Word
If you are a parent or an employer, tracking your kids or employees becomes an essential part of your job. It helps you easily understand where they are wasting their time and energy. Also, you can keep an eye on them to avoid any trouble.
We have compiled a list of WhatsApp spying app and mentioned the compatibility of your mobile device. Let us know which monitoring app you have chosen in the below comment box along with your views. Don't forget to subscribe to our newsletter for helpful tips and tricks.
Follow Us: